Opening a restaurant is neither a short nor a simple process.
Once you've nailed down a restaurant idea, found your ideal restaurant location, and pitched your restaurant business plan to investors, the most painstaking part of the process begins: licensing.
Acquiring all of the necessary food licenses and permits involves a lot of paperwork and patience. It takes time for each and every one to be approved.
It's not fun, but it is absolutely necessary. This guide covers the licenses and permits needed to open a restaurant.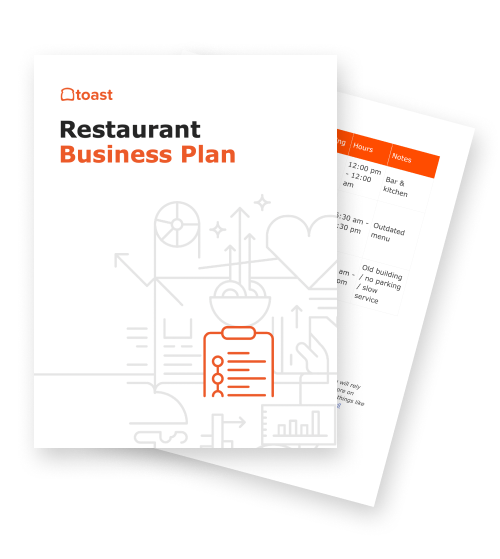 Restaurant Business Plan Template
No matter where you're at in your restaurant ownership journey, a business plan will be your north star. Organize your vision and ensure that nothing is overlooked with this free template.
Download
What Do You Need to Open a Restaurant?
1. Business License
Step one: a business license. This is required to open and operate any business in the United States.
This license legitimizes new businesses as legal entities. Depending on the specific location of your new restaurant, you may be required to pay a percentage of your total sales or a flat yearly fee.
If your restaurant sells alcohol, you will need to obtain a federal business license and a state business license. If not, you may just have to obtain a state business license.
How to Get a Business License: Simply search for your state + business license on Google and follow the application procedures as laid out on your state government's site. And don't forget: usually, you will need to renew your license annually or pay by a certain deadline.
Business License Cost: There is often a cost of registration of approximately $50 as well as the actual cost of the license, which can range from $25 to $7,000 depending on the type of business and expected business profit.
2. Employer Identification Number (EIN)
Like a business license, all businesses must also obtain an employee identification number in order to operate in the U.S. An EIN is assigned by the IRS and it is really just a tax ID number. Prepare to sit on this one for a while - the IRS only issues one EIN per day.
How to Get an Employee Identification Number: You can apply for an EIN through the IRS website, or by fax, phone, or mail.
EIN Cost: Free
3. Certificate of Occupancy
Once your location has passed the final building inspection, the local building or zoning department in your city will issue a certificate of occupancy. The certificate of occupancy certifies that the building has been properly constructed and maintained.
How to Get a Certificate of Occupancy: The procedure for obtaining a certificate of occupancy varies widely from jurisdiction to jurisdiction and on the building's structure. Search for your state + certificate of occupancy and follow the steps on your local government's website.
Certificate of Occupancy Cost: Typically $100
4. Food Service License
Food service licenses are generally issued by the city or county health department. The health department will make an in-person visit to your establishment to ensure that you are following all restaurant food safety regulations. Once this license is obtained, the health department will continue to make regular visits to inspect your restaurant.
And make sure to keep up to inspection standards: if you fail an inspection at any point, you could risk being stripped of your food service license.
How to Get a Food Service License: You can obtain a food vendor's license application from your local health department, either online or in person. You can apply for a temporary, fixed, or mobile food service license. When applying, you'll need the name of your restaurant, an address for a permanent kitchen facility (even for food trucks), and the owner's personal information. Your food service license may expire automatically in certain locations, so make sure you read the fine print and renew your license.
Food Service License Cost: The fee can vary by location and number of employees, but can range from $100 to $1000.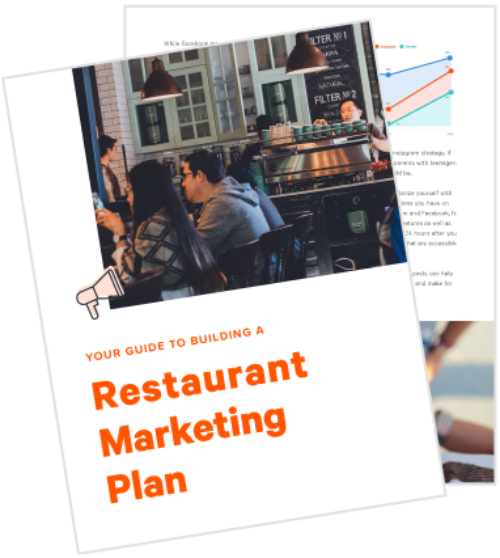 Restaurant Marketing Plan
Create a marketing plan that'll entice and engage the customers you want with this customizable marketing plan template and interactive calendar from Toast.
Download
5. Sign Permit
Your sign is an important part of building your brand as part of your restaurant marketing plan. Before you put up any signs to draw attention to your restaurant, you will need a sign permit from the city government. The specifications around what is acceptable with regards to size, location, and lighting vary by city. If you rent or lease the building, it is also a good idea to get written approval from your landlord in addition to the official sign permit.
How to Get a Sign Permit: Often, outdoor signs need to be approved by your local government. In Temeculaca, CA for example, business owners must hire a licensed contractor to design, install, and permit signage, and then bring the design ideas to the Planning Department in City Hall for approval.

Sign Permit Cost: A sign permit can cost between $20 and $50.
6. Music License
Music is essential to a restaurant experience: adding to the ambiance, mood, and individual aesthetic. To play music in your restaurant, you'll need a music license to avoid copyright infringement. This includes live music, as well as music from a CD, or streaming service.
The fines for playing copyrighted music without a license can range from $750 to $30,000.
Plus, nobody wants to get sued by Beyoncé. To protect your business from these fines, make sure you've secured a music license before you hire that DJ or host a karaoke night.
How to Get a Music License: You could pay The American Society of Composers, Authors and Publishers (ASCAP) or Broadcast Music Inc. (BMI) directly on their sites, or get a licensed music solution that pays these fees on your behalf.

Music License Cost: Rates for restaurants, nightclubs, and bars depend on whether the music is live or recorded, whether it's audio-only or audiovisual, the number of nights per week music is offered, whether admission is charged and several other factors. For background music, it can cost between $250 and $500.
7. Resale Permit
A resale permit allows your restaurant to make certain nontaxable purchases (wholesale food inventory, for example) if these items are purchased for use in the manufacture of products for resale (meals). This way, resale certificates prevent the double collection of sales tax on these types of products; rather than collecting sales tax on the product when you buy it, it's collected when your customer buys it. The state then requires the business to report regularly on sales tax collected and pay it to the state.
How to Get a Resale Permit: The need for a sales permit depends on your state of residence and your annual sales. Search for resale numbers in your state to find the specific office to submit your application. Most states have provisions for applying online as well as in person.

Resale Permit Cost: This permit can cost from $0 to $50.
8. Building Health Permit
Remember when your restaurant operation was inspected for the food service license? Your building might also have to be inspected for the building health permit, if your state requires it, especially if you're building an establishment from the ground up.
Normally, a restaurant obtains a health permit from the city or county health department when applying for a business license. The location will be subject to periodic health inspections to ensure the location is sanitary.
How to Get a Building Health Permit: Not every state requires a building health permit. Google "your state" and "building health permit" to learn more about your specific state's procedures and policies regarding the building health permit.

Building Health Permit Cost: The cost of a building health permit depends on your state's jurisdiction, but can be from $50 to $1000.
9. Employee Health Permit
Not only does the building need a health permit; the employees handling food and beverages need one too. The FDA has specific training resources for employee health and foot protection. Usually, employees must complete a state-approved food handler's course and purchase a food handler's permit. The food handler's course teaches employees about proper sanitation practices, food storage, and food handling, to avoid spreading food-borne disease.
How to Get an Employee Health Permit: Google "your state" and "employee health permit" to learn more about your state's specific requirements.

Employee Health Permit Cost: The cost varies from state to state, but can be from $100 to $500.
10. Seller's Permit
A seller's permit allows a state to identify a business as a collector of sales tax. If you're a restaurant in California, this is a permit you should research. Some states may call this permit a "sales tax" permit or license. Most businesses, especially in the food and beverage industry, need to obtain a seller's permit as well as the resale certificate.
How to Get a Seller's Permit: You can register online for a seller's permit by visiting your local government's website. Online registration, phone assistance, and in-person assistance is often available.

Seller's Permit Cost: There is no cost to apply for the seller's permit, but you may have to leave a security deposit in the situation that the restaurant closes and you have unpaid taxes. The amount of this deposit will be determined when you apply.
11. Liquor License
If you plan to serve alcoholic beverages, you will need to apply for a liquor license. In certain states, you may be required to apply for both a liquor license and a beer and wine license. Start this process as early as possible. Depending on the location, it can take months to complete the application process and receive a liquor license from the city government's liquor control board.
You can learn more about this process here.
12. Valet Parking Permit
If you are planning on opening a fine dining or full-service restaurant, you may wish to offer valet parking to guests. However, in many states you will need to apply for a valet parking permit in order to do so.
To apply, you will need to present the state with a detailed plan of the proposed pick-up/drop-off area that shows the number of spaces required as well as a letter of agreement between your chosen valet operator and the restaurant stating financial agreements including how and when a guest pays for the service.
13. Dumpster Placement Permit
Not often considered, but often needed, the dumpster placement permit allows your restaurant to situate a state dumpster outside your kitchen, where chefs can dispose of food waste.
The stipulations and cost of the dumpster placement permit depend on the size of the dumpster, the exact placement of it, and the restaurant location.
14. Live Entertainment License
Live events are a great way to bring in new guests to your restaurant.
If you plan to host live events in your restaurant or bar, then you will need to apply for a live entertainment license. The licensing authority in your state approves annual entertainment licenses where food or drink is served on the location's premises. This can apply to a concert, dance, exhibition, cabaret, or public show conducted on your restaurant premises.
15. Pool Table License
Some states and counties require restaurants and bars to apply for a pool table license in order to offer a pool table to customers. The applicant will be considered based on location (is there a high amount of pedestrian traffic or parking traffic) and can limit the hours of operation of the pool table and the number of pool tables allowed.
Pool Table License Cost: It can cost an annual fee of $10 to $15.
Your Next Steps
If you've been adding in your head while reading this post, you know that all in all, the process of licensing can cost well over $1,000 before you open doors, and should be factored into your restaurant numbers and metrics. And make sure to plan ahead, because it can take 2-3 months or even longer to get everything approved.
It's an investment, but an exciting one — that will get you started on your way to opening up that new concept. Make sure to start with a restaurant business plan to get every step planned out.
Download your free restaurant business plan template, and if you're ready, start applying for these food licenses and restaurant permits now. Click here to find your local requirements.
These are only some of the primary licenses and permits restaurants must acquire to open and operate legally. The exact laws and regulations for each license are often specific to different cities, counties, and states.
Make sure that you understand all of the various licenses you will need on the federal, state, and city level. It can be a tedious and drawn-out process, but securing all of the necessary permits is a critical step towards opening your new restaurant and avoiding unnecessary penalties.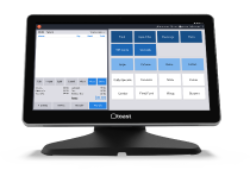 Learn how a better point of sale system can help you run your restaurant.
Read now