DISCLAIMER: This content is provided for informational purposes only and is not intended as legal, accounting, tax, HR, or other professional advice. You are responsible for your own compliance with laws and regulations. You should contact your attorney or other relevant advisor for advice specific to your circumstances.
Dream of having your own dessert spot for soft serve, ice cream sandwiches, popsicles, or other frozen treats? No matter how brilliant your ice cream creations are, you'll need specific licenses and permits to successfully open your ice cream shop.
It can be a bit daunting to try to sort out what licenses or permits you need and why. Perhaps you've already started the process and you have a fabulous ice cream shop concept that's sure to make you stand out above the rest. Or, maybe you already have your ice cream shop design and menu figured out. But, without these permits and licenses, even the most magical ice cream shops can't survive.
This is why we are giving you the scoop on everything you need to know about licenses and permits. With this guide, you can open up your ice cream shop with sweet confidence!
Restaurant Opening Calculator
This calculator lays out some of the fundamental financial costs of opening a restaurant, so you can start planning and bring your dream restaurant to life.
Download
What do you need to open an ice cream shop?
Apart from great ice cream, you're going to need certain credentials to keep your doors open. Here are the 11 permits and licenses you may need to open an ice cream shop, along with details on how to obtain them.
1. Business license
Businesses across all industries, including ice cream shops, generally need a business license to operate in the United States. How you apply for this license and what requirements you need to meet will vary by your county and/or city.
How to get a business license
Obtaining a business license for your ice cream shop is usually as simple as Googling, "Business License + Your State" and filling out the application. Your local city government's web page should have more information on additional requirements.
How much does a business license cost?
A theme you'll notice throughout this guide is that the cost for ice cream shop licenses and permits - including your business license - varies greatly. That's because the cost depends on your state, city, and/or county.
2. Employer Identification Number (EIN)
To legally operate your business and pay taxes to your state and the federal government, you'll need a taxpayer identification number (TIN). The most common TIN that the IRS issues is an Employer Identification Number (EIN).
How to get an Employer Identification Number
This is simple. You can apply for your EIN online through the IRS website.
How much does an EIN cost?
This is one part of the process that thankfully won't cost you — EINs are free!
3. "Doing Business As" (DBA) license
If you plan to operate and run your ice cream shop under a different name than its legal one (aka the name on your business license,) your state most likely requires that you register a "Doing Business As" (DBA) name. DBAs serve to inform the public that you are conducting business activities under a name other than your legal business name.
How to get a "Doing Business As" license (DBA)
If you have a DBA name picked out for your ice cream shop, you will likely need to register it with your county clerk. Their office can help you fill out the proper paperwork, ensure everything is filed correctly, and answer your questions.
How much does a "Doing Business As" license (DBA) cost?
DBA registration costs vary by city, county, or state as well as business structure; the filing fees range from $10 to $100.
4. Mobile food vendor permit
If you plan to operate a mobile ice cream truck or cart, you'll need a mobile food vendor permit. Luckily, these permits generally aren't too cumbersome to obtain as long as you maintain compliance with your state's food safety guidelines.
How to get a mobile food vendor license
After you register your business and have your tax ID, check your local county clerk's office for the correct forms. This can be done online but it never hurts to give the office a call for guidance.
You must review your state's food vendor guidelines, which usually cover how you need to keep food and general food handling instructions. For example, in San Antonio, those who plan to use an ice cream pushcart must have overhead protection and a hand wash station.
How much does a mobile food vendor permit cost
The costs for a mobile food vendor permit vary from $75 to hundreds of dollars depending - again - on your city and state.
5. Food handler's permit
While scooping ice cream is a simple task, it still requires food safety training and the right qualifications to keep customers safe and healthy. Therefore, you and your employees will need food handlers' permits to serve customers.
How to get a food handler's permit
Check your state's department of health or your county's health safety agency to find out how to obtain a food handler's permit. The process will likely require the completion of a food safety course.
How much does a food handler's permit cost?
Food handlers' permits can cost anywhere from $10 to $100 or more.
6. Ice cream vendor permit
Some cities mean business when it comes to ice cream and may even have a mandatory ice cream vendor permit! These permits allow people to operate mobile ice cream carts or vehicles. Some cities, like Pharr, Texas, require both an ice cream vendor permit and a mobile food vendor permit while other cities request just one.
How to get an ice cream vendor permit
To find out if you need an ice cream vendor permit, search "Your City + ice cream vendor permit" online or contact your local city's business development office. They should be able to point you in the right direction.
What does an ice cream vendor permit cost?
Ice cream vendor permits can cost $50 or more. You may also need to pay an additional fee for the mandatory inspection, plus an annual fee.
7. Building health permit
You may need a building health permit for a brick-and-mortar ice cream location. An inspection and a permit show to the public that your shop is deemed safe and fit to serve ice cream to the public. Cities and counties often have different requirements for building health permits. Some locations only require building health permits for new buildings while others require them regardless.
How to get a building health permit
Google "Your State + building health permit" to discover the requirements in place for new ice cream shops.
How much does a building health permit cost?
Building health permits can run quite the range when it comes to fees (anywhere from $50 to $1,000+) depending on your location.
8. Sign permit
You'll need the perfect sign to help customers find your ice cream shop. Keep in mind that you may need a sign permit, depending on the size and location. Local city governments often regulate business signage, which includes limitations on size, lighting, visibility, and location.
How to get a sign permit
Visit your local city government's website for more information on sign permits. If you live in a bigger city, like New York or Los Angeles, you may face more stringent requirements for sign permit approvals.
How much does a sign permit cost?
The cost of your sign permit will vary based on your city. You will likely pay at least $50 if not more.
9. Ice cream shop liability insurance
While insurance is neither a permit nor a license, it's important enough to be featured in this guide. General liability insurance is a must-have for any business, but especially for ones that make regular contact with customers — like an ice cream shop! General liability policies cover you as the owner if you, an employee, or a paying guest are injured or suffer accidental harm on your premises.
How to get liability insurance
Several companies specifically offer business liability coverage. Search for one that caters to the restaurant and foodservice industry. This will narrow down your search results as well as provide you with a plan that best covers your business needs.
How Much Does Liability Insurance Cost?
General liability insurance doesn't have to break the bank. Your policy will likely cost less than $50 a month, which is a great investment for peace of mind.
---
Read this next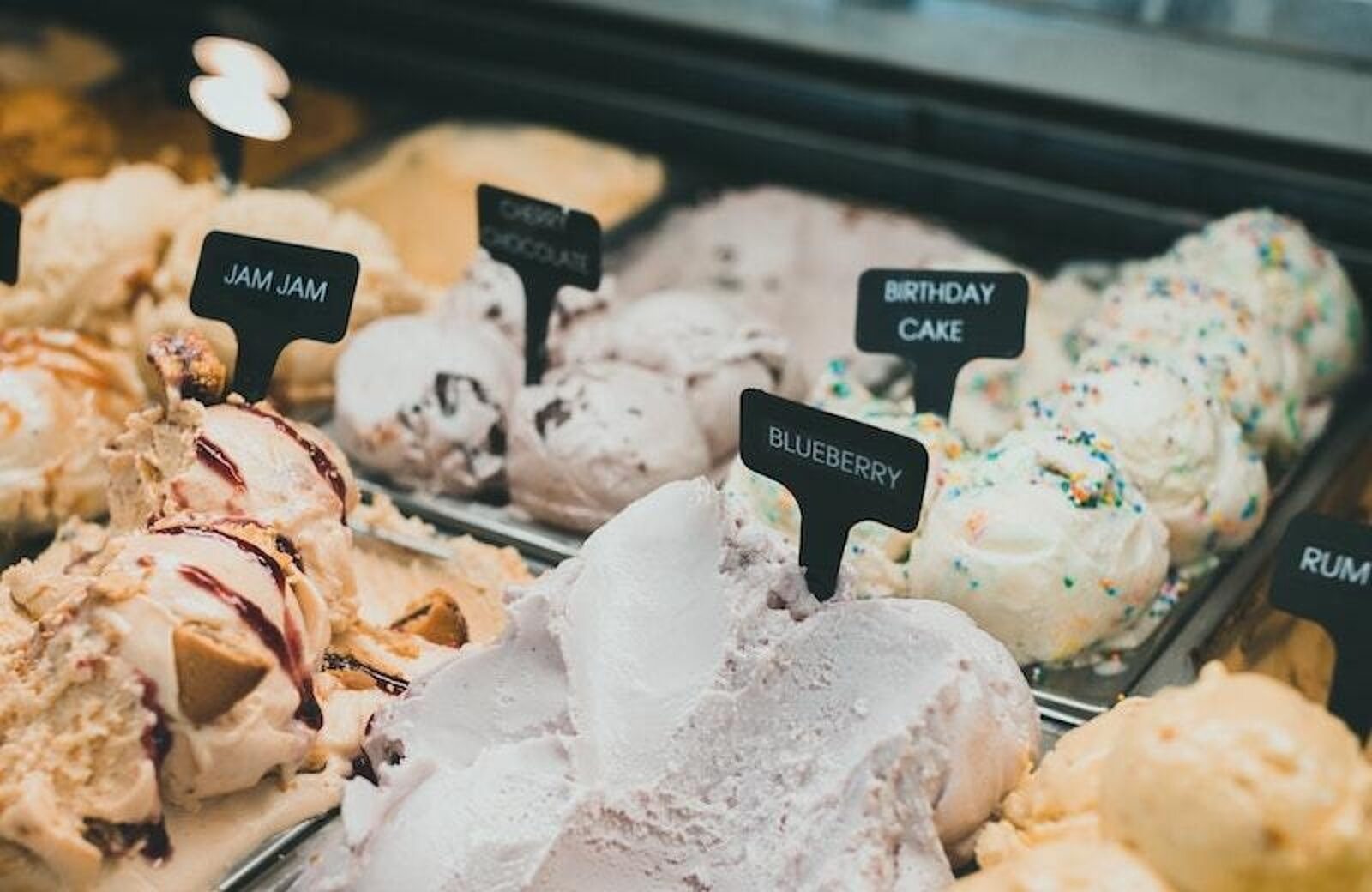 How To Design An Ice Cream Shop: 11 Ice Cream Shop Design Ideas
11 ice cream shop design ideas that will make your business stand out
10. Resale license for sales tax
If your state charges sales tax to the end consumer, then you'll likely need a resale license for sales tax.
How to get a resale license for sales tax
Your state's department of revenue has unique guidelines for new businesses seeking resale licenses for sales tax. By doing a simple Google search, you will find exactly what you need to do to attain this license.
How much does a resale license for sales tax cost?
States often do not charge a fee to obtain a resale license for sales tax. Instead, you'll submit sales tax to the state every year. You also keep your license current by filing your business taxes every year. However, failure to do so can result in a hefty fine, so don't forget to file and pay your taxes.
11. Liquor license
You probably didn't expect to see a liquor license on a list of ice cream shop permits and licenses. However, boozy ice cream and shops that serve alcoholic beverages are a trend that's taken off in recent years. It's a great way to satisfy adults looking for a sweet treat with a twist.
How to get a liquor license
Liquor licenses typically have stricter requirements than other types of licenses and permits due to the risk involved. Contact your state's Alcohol Beverage Control (ACB) Board to find out what the requirements are for a liquor license and how to apply for one.
How much does a liquor license cost?
Liquor licenses can run upwards of a few hundred dollars depending on your state. It's definitely one license you don't want to skip if you plan to serve alcohol at your ice cream shop — otherwise, you could not only face severe fines and penalties but also run the risk of being shut down altogether.
Ice cream shop licenses and permit laws in the United States
Opening an ice cream shop isn't just about the fun flavors and a memorable brand name. You'll need the right permits and licenses so that you can stay in business and avoid any government fees or penalties.
For the majority of the permits and licenses, you'll mainly need to check into the local city and state regulations. There will be very few federal regulations (besides taxes) that you'll need to worry about.
Remember - inexperience is never an excuse to not follow local practices and regulations. With the power of the internet, you can educate yourself and protect your business. Check and double-check with your local government to confirm your ice cream shop is in good standing. For example, in Massachusetts, mobile ice cream vendors need to apply for a license to transport frozen desserts and ice cream, which can be found on the Mass.gov website.
And, don't forget to keep your permits and licenses up-to-date. According to the Small Business Administration (SBA), "Some licenses and permits expire after a set period. Keep close track of when you need to renew them." It's much easier to renew what you have than it is to let something expire and have to start all over again.
Next steps to open an ice cream shop
Having an ice cream shop can be a real dream come true. Don't let the process of obtaining the necessary permits and licenses dampen your ambitions.
If you're adding up the costs of opening up an ice cream shop, try not to sweat it too much. As long as you're aware of all the expenses you'll face, you can plan accordingly and put together a budget that works for you and your business.
Eager to start scooping? Download our free ice cream shop business plan template today to map out the perfect ice cream shop roadmap. Once you have the necessary permits and licenses, you can move on to recipes, ice cream flavors, and all the fun stuff!
Related Ice Cream Resources