DISCLAIMER: This content is provided for informational purposes only and is not intended as legal, accounting, tax, HR, or other professional advice. You are responsible for your own compliance with laws and regulations. You should contact your attorney or other relevant advisor for advice specific to your circumstances.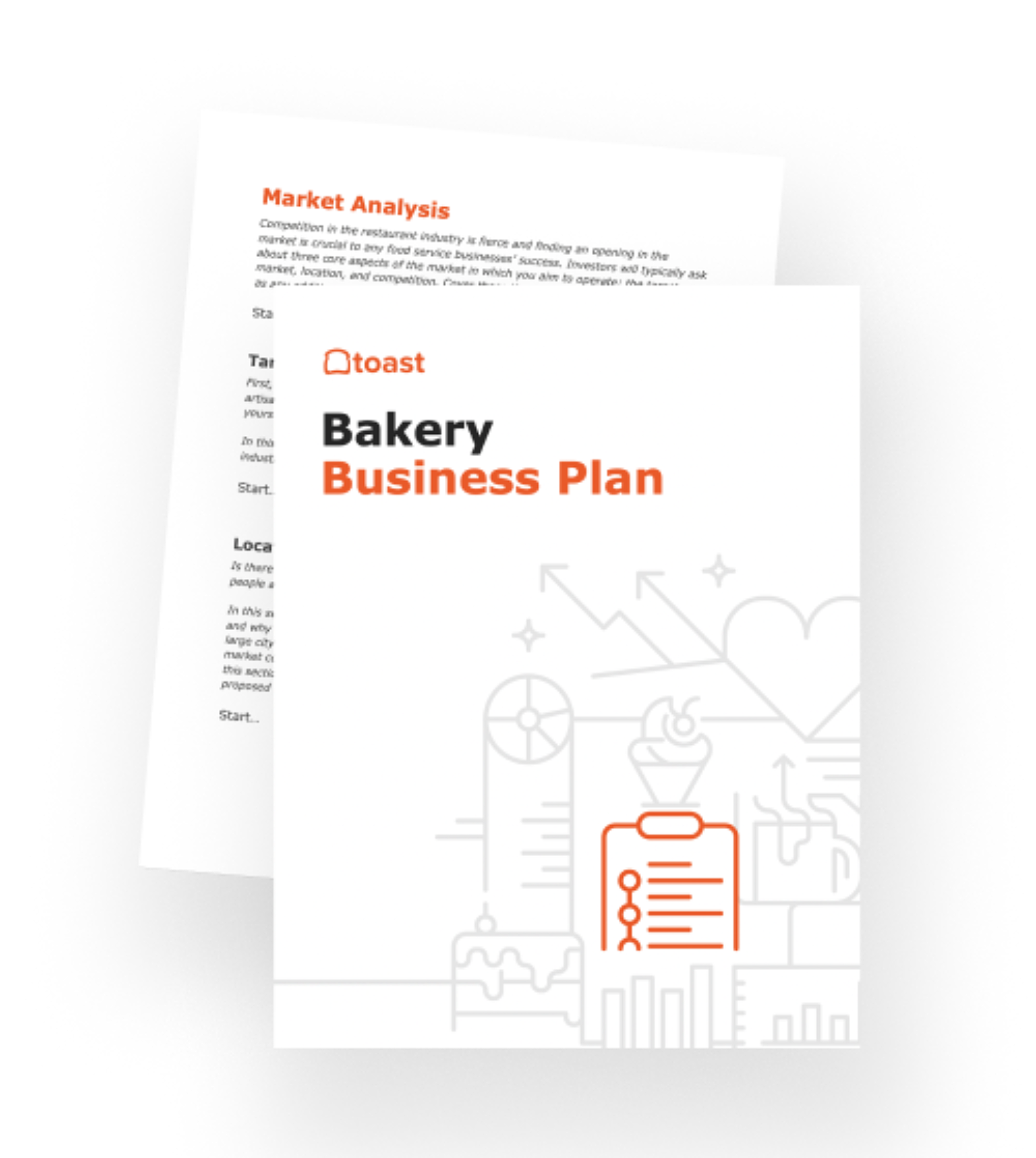 Bakery Business Plan Template
Use this free bakery business plan template to easily create a great business plan that organizes your vision and helps you start, grow, or raise funding for your bakery.
Download
Starting your own catering business? You're in good company. The catering industry has experienced growth every year since 2017. Its market size in the United States is expected to reach $16 billion by the end of 2022 alone. With the endless number of food preferences that exist and the event and wedding industry booming once again, the catering business is the industry for opportunity.
So, you've got your catering business idea. What comes next? You'll, of course, need a catchy business name, a great location, a business plan, and an extensive marketing strategy to get the word out about your services.
However, before you dive headfirst into any of these details, there is a critical aspect of opening a catering business that you don't want to overlook: licensing and permits.
Each license and permit has its own set of requirements and could take different lengths of time to obtain. We know it's a lot of information to process. That's why we've created this guide to cover all catering business licenses and permits you'll need to jump-start your business.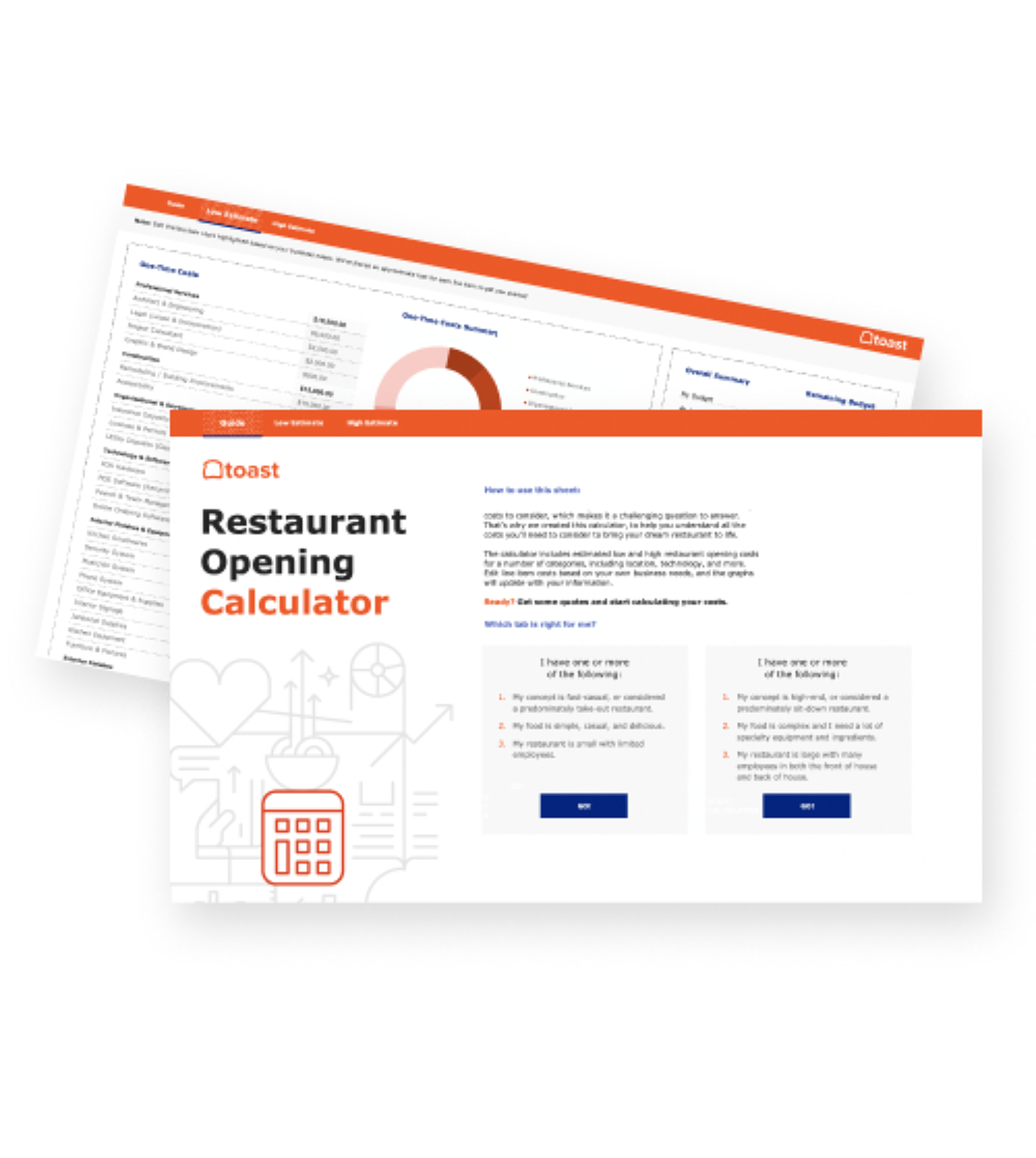 Restaurant Opening Calculator
This calculator lays out some of the fundamental financial costs of opening a restaurant, so you can start planning and bring your dream restaurant to life.
Download
What Do You Need to Open a Catering Business?
General Business License
A general business license is needed to open and operate a business in the United States regardless of the type of business.
A business license is typically required at either the local city or county level. It allows you to engage in business activities in the local area and is part of the process of ensuring that your catering business complies with any existing local zoning ordinances.
How to Get a General Business License
First, double-check requirements with your city and/or county zoning office, as they usually require a unique license to operate in their jurisdiction. Then, follow the application steps laid out according to your state government. You can also search online for, "Your State + business license requirements" to find the steps online.
How Much Does a General Business License Cost?
General business license fees vary by state. However, the average business license can cost anywhere from $50 to a few hundred dollars, plus any renewal fees. Sometimes, a license can cost a percentage of your business's income.
"Doing Business As" License (DBA)
A DBA is a company's operating name that differs from the company's legal name. If you decide to do business using a different name than the legal name on your registration documents, this is "doing business as." Depending on your state, you might need to file DBA registration before you can do business with a name other than your legal name for your catering business.
How to Get a "Doing Business As" License (DBA)
If you have a DBA name picked out, you will likely need to register it at your county clerk's office. They'll be able to help you fill out the proper paperwork and ensure everything is filed correctly. Some states require new catering businesses to register DBAs at the state level, as well.
How Much Does a "Doing Business As" License (DBA) Cost?
DBA registration costs vary by city, county, state, and business structure. Filing fees often range from $10 to $100.
Employer Identification Number (EIN)
An EIN serves as your tax ID number for your catering business. The IRS issues EINs to businesses and it allows you to pay federal taxes, hire new employees, open business bank accounts, and apply for catering licenses and permits.
How to Get an Employer Identification Number (EIN)
Fortunately, you can apply online for your EIN using the IRS EIN Assistant tool.
How Much Does an Employer Identification Number (EIN) Cost?
This is one cost you won't have to worry about for your catering business. It's free to apply for an EIN once you have an existing business.
Home Occupation Permit
It's not uncommon to start your new catering business right out of your own home. It's a great way to save money until you can move operations into a bigger building. If you're planning on running a home-based catering business, you may need a home occupation permit (also known as a home business license), which legally allows you to establish your catering business and engage in business activities from your home.
How to Get a Home Occupation Permit
To determine if you're able to obtain a home occupation permit for your catering business, you'll first want to check if there are any residential zoning restrictions. These will vary depending on your city and county. Sometimes, they can even vary by neighborhood. For example, if your house is part of a Homeowners Association, there may be restrictions on home-based businesses that extend to parking, client visits, or deliveries.
The next step to attaining this permit is to search online for your city and state's Home Occupation Permit application. Fill it out completely, ensuring your home complies with any building, city, and fire codes.
How Much Does a Home Occupation Permit Cost?
A home occupation permit can cost anywhere from $50 to a few hundred dollars depending on what state you live in.
Caterer Permit
As a new caterer, you'll of course need your caterer permit! Depending on your county and state, there may be a specific caterer permit that goes beyond the standard food handler permit or food safety certification.
How to Get a Caterer Permit
A caterer permit is often part of getting a health permit or health inspection. A health inspector will visit your operation to determine that it meets all local and state requirements for catering food preparation.
How Much Does a Caterer Permit Cost?
Much like the other permits on this list, caterer permit costs vary by locality. Oftentimes, obtaining a caterer permit will fall under the state's food, zoning, and liquor codes.
Building Health Permit
Whether you plan to operate your catering business out of a mobile food truck or a commercial-grade kitchen, there's a good chance you'll need a building health permit to show that you comply with sanitation regulations. Some counties only require building health permits for newly constructed buildings while others require them for older buildings as well. It's up to you to research and guarantee you're in compliance with local and state regulations.
How to Get a Building Health Permit
To find out if you need a building health permit, Google "Your State + Building Health Permit" to discover if you'll need this permit and, if so, how to get it.
How Much Does a Building Health Permit Cost?
Depending on your building's age and location, your building health permit could cost anywhere from $50 to $1,000.
Catering Business Insurance
Technically, insurance isn't a permit or a license. However, it is at the same level of importance. Your catering business must have the right protections in place in case an employee gets hurt on the job or if someone damages your property.
We recommend having the following insurance policies for your catering business:
General Liability Insurance: General liability can cover a wide range of accidents that could occur.

Commercial Auto Insurance: If you're transporting large quantities of meals, food, or drinks, you'll likely need a vehicle for your catering business. Many states require commercial auto insurance for business-owned cars or vehicles.

Workers' Compensation: If you plan to have employees, make sure you have a workers' compensation policy. This can help cover any medical expenses incurred due to a workplace injury. It's often required by law for catering businesses to carry.

Commercial Property Insurance: This policy provides coverage for catering equipment, tools, inventory, and the building itself.
Depending on your business insurance provider, some options make your life easier by integrating into your POS systems. For example, NEXT has integration with Toast POS.
Food Handler Permit
A food handler's certification is an essential permit that allows catering companies to protect themselves, their employees, and their customers. Think of this permit as your passport for working legally in the food and beverage industry. It's specific to you and only you. Also, any of your employees that will work with food should have one as well. And, remember - a food handler permit differs from a caterer permit and a restaurant food service license.
How to Get a Food Handler Permit
Typically, your state's department of health will issue food handler permits and, oftentimes, require that permit holders undergo food handler training. Be aware that your state may distinguish between retail food handler permits and wholesale food handler permits.
How Much Does a Food Handler Permit Cost?
Food handler permit costs vary per state and typically cost $100 or more.
Restaurant Food Service License
Your local health department issues restaurant operations licenses. Although your catering business isn't a restaurant, you're still required to obtain this license so you can serve food to customers. Any business that serves food to customers must have some sort of food service license.
It's important to note that your state may distinguish between catering businesses, restaurants, mobile food trucks, and other types of food service establishments. Therefore, make sure you check with your state requirements to apply for the correct license.
How to Get a Restaurant Food Service License
Similar to the food handler permit, your state's department of health is likely responsible for issuing food service licenses. Check out the U.S. Food and Drug Administration's guide to state food service regulations for more specific information about your state's regulations.
How Much Does a Restaurant Food Service License Cost?
Not only can restaurant food service licenses vary in cost depending on your state, the size and classification of the restaurant type can also affect the cost. This means that you might end up paying anywhere between $100 to $1,000 for your food service license.
Caterer's Permit with Alcohol
Do you plan on serving alcoholic beverages along with your catered meals? If so, you'll definitely need a liquor license. Alcoholic beverages do not fall under your restaurant food service license, so even if you've already obtained that you will need a separate license to serve drinks. This is one license you don't want to miss as serving alcohol without a liquor license can lead to heavy fines, penalties, and even closed doors to your catering business.
How to Get a Permit with Alcohol
Your permit with alcohol will depend on - you guessed it - your state's regulatory laws. While there are wide variations in how states handle the sale of liquor by caterers, it's best to get started by contacting your state's Alcohol Beverage Control Board which oversees the regulation of alcohol sales.
How Much Does a Caterer's Permit with Alcohol Cost?
This permit could cost a few hundred dollars or more depending on your state. Regardless of what it costs, make sure you pay for it and are approved to carry it so you don't get into any trouble. Alcohol license and penalties fines can be quite steep.

Licenses and Permit Laws in the United States
Generally speaking, the catering industry falls outside of federal regulations. It is subject specifically to state law. According to the Small Business Administration (SBA), "States tend to regulate a broader range of activities than the federal government." Both the restaurant and catering industries fall under this range of activities.
Not only can catering business licenses and permits change from state to state, but they can also vary by local ordinances in your city or county. Where you're located will play a huge role in what catering business permits and licenses you'll need and the corresponding fees, so be sure to double-check with your local government regulations.
It's critical that you conduct thorough research on your own and discover what exactly is required at the city, county, and state levels. A visit to your state's government website should point you in the right direction of which permits and licenses to obtain.
Regardless of where you live, you will need to keep all of your permits, licenses, and insurance policies current and up-to-date. On renewals, the SBA states, "Keep close track of when you need to renew them — it's often easier to renew than it is to apply for a new one."
Next Steps to Open Your Catering Business
Starting a catering business is a daunting yet thrilling venture to pursue. Your business will be a key part of people's memories when they look back fondly on their big days. Whether it's a wedding, graduation party, or birthday party, people always remember the food!
If you're getting nervous about the cost of starting a catering business from permit and licensing fees alone - take a deep breath. You got this! Just make sure you have a plan for your catering business's numbers and metrics. That way, you're prepared for any planned or unplanned fees that pop up.
As we've stressed numerous times in this guide, the exact catering permits and licenses you'll need to obtain will depend heavily on your location and the specific activities you carry out. Be sure to actively check out your local and state food service regulations, confirming that you are in compliance at all times. The last thing you want for your new business is to get slapped with a fee before you've even had a chance to really get started!
Ready to jump into the world of catering? We think you are. With the right permits and licenses under your belt, along with a bulletproof business plan, you're ready to take on the world, one catered event at a time.
Need help starting your business plan? Download our free restaurant business plan template to set your catering business up for success.
Related Catering Business Resources