DISCLAIMER: This content is provided for informational purposes only and is not intended as legal, accounting, tax, HR, or other professional advice. You are responsible for your own compliance with laws and regulations. You should contact your attorney or other relevant advisor for advice specific to your circumstances.
Thinking of opening your own catering business? Now is a great time to do it. There are over 30,005 Caterers businesses as of 2022 in the United States, with the demand for catering only growing larger.
Whether you're opening up a small catering service in your hometown or building a massive company with clients nationwide, your catering success comes down to having a great concept and staying true to your vision. When writing your business plan, you should already have a clear idea of your own business theme. Download our free business plan template here for more business model tips.
Struggling to find your catering vision? Have no fear - this list of inspirational catering restaurant ideas will help you create the catering business of your dreams.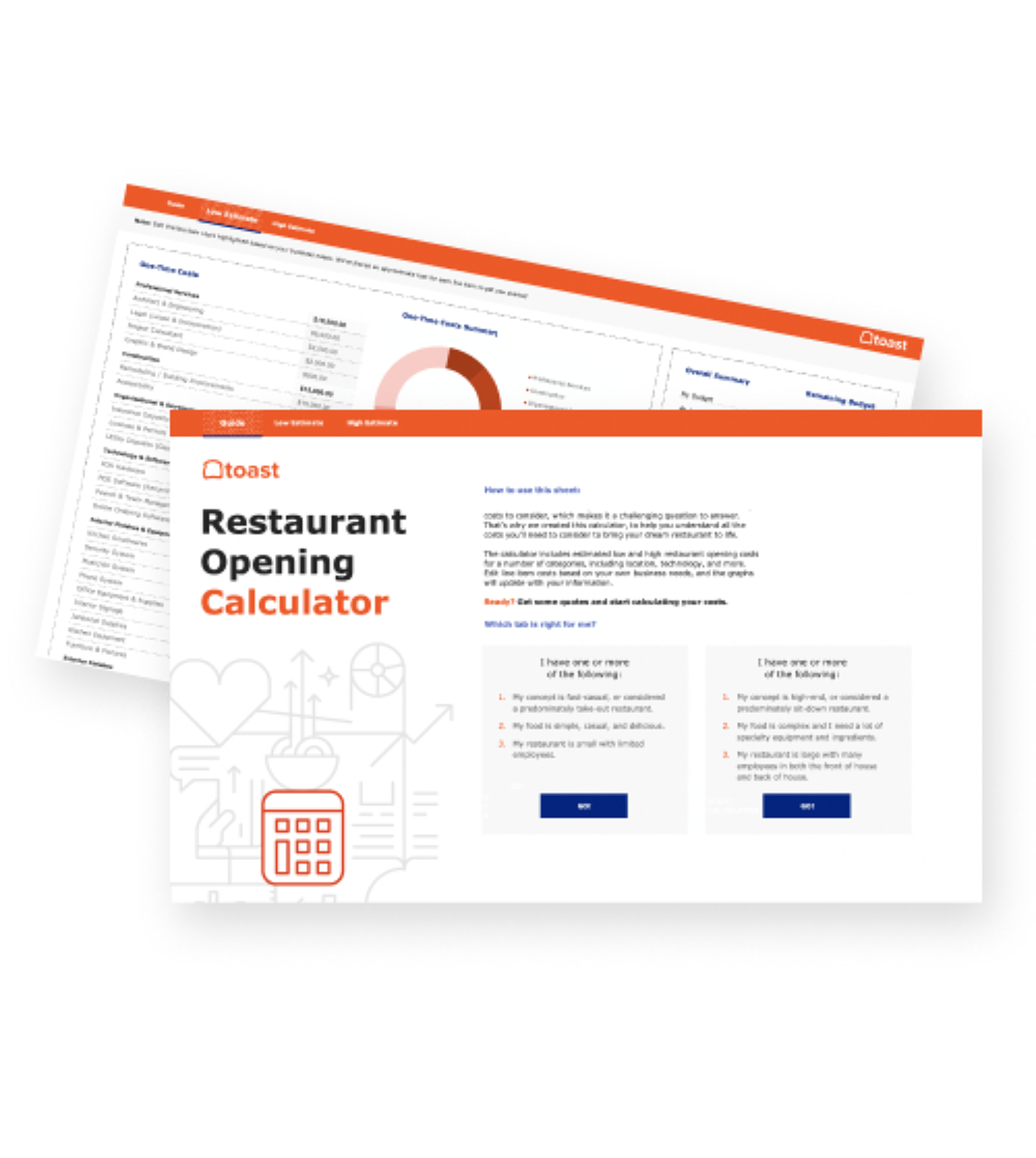 Restaurant Opening Calculator
This calculator lays out some of the fundamental financial costs of opening a restaurant, so you can start planning and bring your dream restaurant to life.
Download
Real-Life Inspiration for Catering Business Owners
Before opening your catering startup, you need to determine your business theme. Sometimes, it isn't easy to find inspiration for your business. With numerous catering companies out there, there's nothing wrong with researching successful catering businesses for a little inspiration.
Let's start with things that have inspired budding catering business owners and other entrepreneurs out there to start their businesses. Here are a few:
Creating opportunities for staffing in the community

Filling a hole in the market or community

A deep love of food and beverage

Building a legacy for friends and family

Bringing a much-loved theme to life

Representing a type of cuisine that deserves to shine
Once you've identified your catering business theme, you can start to dig into the details. These details will inform your brand message - the words that express what your catering business is about and what it offers to guests.
Here are two excellent examples of brand messages that tell us precisely what each catering business is all about.
"Thanks to our focus on global cuisines we are able to cater to almost all of our clients' menu wishes. Chances are, if you can dream it, we can make it happen. At On Safari we are here to help you channel your personality into your menu so that the food at your wedding is authentically delicious, and authentically you." - Teresa Carew, On Safari Catering
"My mission was simple, really. I wanted to offer a superior product and great service, but I also wanted to give people an experience. And I think the way you accomplish that is with great people who work hard, who care about the food and want to deliver a memorable product and service." - Mark Andersen, All Occasions Catering
15 Catering Business Ideas and Concepts
No matter what your theme is, the more unique your catering business is, the better. These 15 one-of-a-kind catering business ideas are guaranteed to inspire you and grow your client list.
Have customized menu options
People look to caterers to serve their dream menu for their events and get-togethers. Be creative and innovative with your menu. South Fork Catering Co. and their DIY s'mores is a perfect example of a customized menu item.
Offer classes
To show off your skills and build community support, host cooking classes. Arcadia Farms offers lunch and learn cooking classes, making their signature dishes - from start to finish - using local and seasonal ingredients.
Give back to the community
Your catering business should connect with your community. What better way than by avidly supporting a local organization? Look for local charities or organizations that support a cause that speaks to you, and see if they are interested in working with you. You can use something like Toast's Round Up feature to raise funds or offer a certain percentage of sales to a rotating group of charity organizations.
Start a loyalty club
A loyalty program is a perfect way to build repeat guests for your new business. Flour Bakery offers breakfast and lunch catering options with a unique loyalty program bringing customers back again and again.
Expand to food trucks
Food truck businesses and event catering are a match made in heaven. People adore having food trucks at their events. It adds such a unique touch. If you're already considering expanding, think about opening a local food truck to cater to local events. Oakwood Fire Pizza brings its food truck right to customers, offering a fun twist on traditional food service.
Have competitive wages
Making sure you compensate your employees competitively is important. By researching wages in your area, you can offer a respectable full-time salary or hourly rate. Also, paying your staff a better wage is a hiring selling point and appeals to guests. It shows that you understand the cost of living and do your best to support your team.
Partner with a local photographer
If you cater large events, your clients might be looking to hire a photographer. Look into partnering with a local photographer to do special events together. This is a great way to foster a stronger relationship with your community. It also provides excellent cross-promotional opportunities, as you will both gain exposure to each other's customer base through avenues like social media.
Offer takeout alcohol
If it's allowed in your state, think about adding alcohol to your catering menu. You can also pair them up with your food options. There are plenty of options! You can create a food and wine pairing menu or rotate appetizers and pair them up with new drink offerings. Consider partnering with small businesses when choosing your alcohol vendors to help support the community.
Host tasting events
Who can say no to free appetizers? Hosting complimentary food tastings is a superb idea. This will boost exposure for your catering company and give potential customers a taste of your food. You can do this at your headquarters or pop-up style, at a local event like a farmer's market. This is also a great way to get feedback on your menu items.
Partner with a local alcohol company
If you don't offer alcohol yourself, consider partnering with a local alcohol company to provide the drinks for the events you cater. This partnership provides more opportunities to promote your business to a whole new customer base and support your community while you do it.
Create a special holiday menu
Holidays are extremely important for catering companies. To stand out, create special menus for each upcoming holiday. Founding Farmers offers a special Mother's Day catering brunch, for example, with multiple options to choose from. Consider creating holiday menu options for a variety of events, from corporate events to family gatherings.
Have a dish naming contest
Adding a new dish to your catering lineup? Think about hosting a naming contest before release, offering a special perk (like a catering discount) to the person whose name you choose. You can do this easily through email.
Cater for local organizations
Donating free catering to a local charity or organization is an amazing way to show community support. There are plenty of ways you can do this. You can pick a charity to consistently support every year or rotate through a few local ones. Also, there are local companies that host charity auctions. You can auction off a private dinner catered exclusively by your company's own food.
Work with local farms
Think about sourcing organic food and ingredients from local farms in your area. This supports local farmers and reduces your company's carbon footprint. Farm to Table Catering in Grass Valley, CA, specializes in full-service, farm-to-table meals. Their sustainable menu is local, fresh, and seasonal.
Add a food delivery option
Delivery service is an important aspect of a catering business for smaller business opportunities. For example, a party that only requires smaller portions of food might want a delivery quote instead of full-service. Event planners have enough to worry about, make it easier on your target customers with delivery options.
Streamline operations with technology
Technology makes experiences easier and more efficient for everyone. Consider adding ordering through online business systems and other convenient touchpoints to your catering business. Remember - the little things are what will transform your team and your customer experience.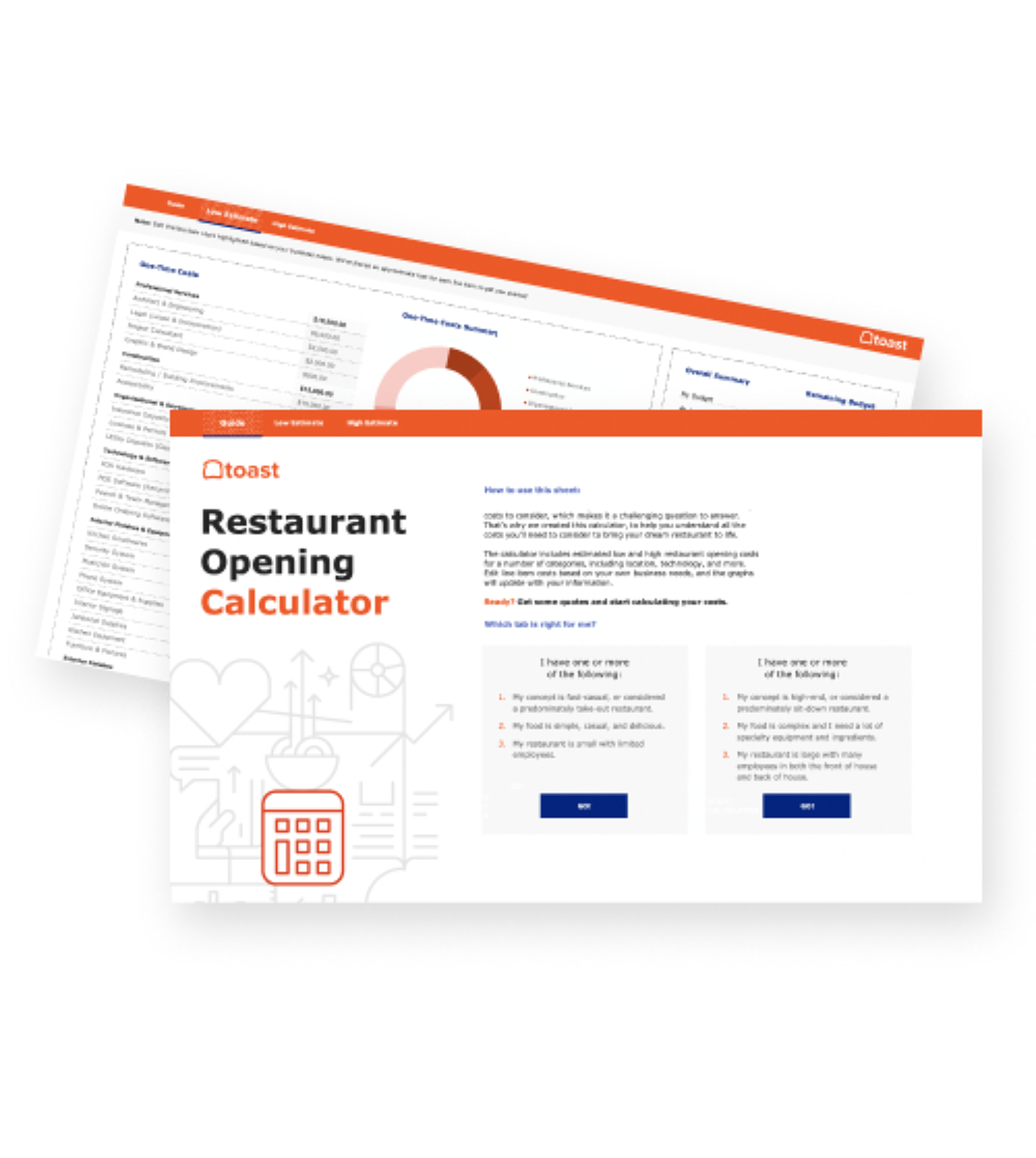 Restaurant Opening Calculator
This calculator lays out some of the fundamental financial costs of opening a restaurant, so you can start planning and bring your dream restaurant to life.
Download
Feel Inspired?
Your catering dreams have all the potential. As long as you have the passion, hard work, and this catering ideas guide in your pocket, you can make your catering service a profitable business.
Related Catering Business Resources