Nowadays, it seems like everyone wants to open a restaurant. It's fun to daydream about what you'd put on your menu, how you'd decorate the space, what kind of boss you'd be, and how you'd assemble your dream team.
But one big question that people love to ignore when daydreaming is, "How will I fund my restaurant?"
When it comes to funding a restaurant, there are many, many different ways to go about procuring capital. In a recent episode of The Garnish, we spoke with Joanne Chang — whose bakery, Flour, has expanded to eight locations across Boston – about how she gained funding for her now very successful restaurants.
We also spoke with Emiliana Puyana, a Program Manager at La Cocina, a culinary business incubator that helps women and immigrants start businesses through mentorship, training, connections to funding, and subsidized use of a commercial kitchen. She told us about alternative paths to funding that are available to just about anyone.
Below are the highlights from those conversations. Quotes are edited for clarity.
Funding the First Location
Joanne Chang funded the first Flour bakery with help from her family and her savings. "I was eager to open my own bakery. I was starting to look at bank loans and trying to find investment, and I'd written a business plan. My parents said, 'Why don't you take your business plan and share it with your uncles and see if they are interested in investing?'"
They wanted to help her achieve her goal, so they contributed some money, as did her parents. Chang was also able to bring some money to the table. "I'd worked as a management consultant directly out of college, and so I liquidated all of the mutual funds that I bought when I first graduated and invested money as well. So we really scraped together a little bit of money here and there from some relatives and my parents and myself, and opened up on a shoestring budget."
Joanne Chang and Emiliana Puyana on Funding a Restaurant
Expansion and Funding Location #2
Chang had no interest in growth when she opened the first Flour bakery.
Chang felt the push to expand when she realized her staff didn't have much room to grow professionally. She wanted to keep them in the company and offer more management roles for existing staff to grow into — including a pastry chef role — so she started looking into opening the second location. "We just had so many people that wanted to stay, and I wanted to keep them within the company. So opening a second location seemed to be the best way. We were really lucky."
After six years of running a very successful bakery, Chang had the cash flow and credibility to take out a loan. "We ended up taking out a bank loan, and then also investing some funds from cash flow from the first location," said Chang. "At that point it was six and a half years in. So we had decent cash flow and we just decided to divert that cash into helping pay for the second one. And then we paid for about half with the bank loan as well."
What Should New Restaurateurs Know About Money and Expansion
Chang has learned a few key lessons over the years, especially about finances and expansion.
She says financial and business learning is crucial for anyone embarking on a new venture in the restaurant industry. "I think anybody who's opening a restaurant should take an accounting course. I really do," she said. She elaborated:
"We try to teach our managers the basics of the P & L, and the basics of COGS, and labor costs and cash flow, and I can tell that some sort of get it, and I can tell others are just kind of reading the numbers that we've told them to read. And I really think if you're going to operate a business, you need to understand, just as well as you understand what happens when you mix sugar, flour, water and butter together to make a pâte brisée, you need to understand what happens when you have expenses and bills and payroll and taxes and credit card payments and all of the different ways in which people get paid and have to pay out to vendors."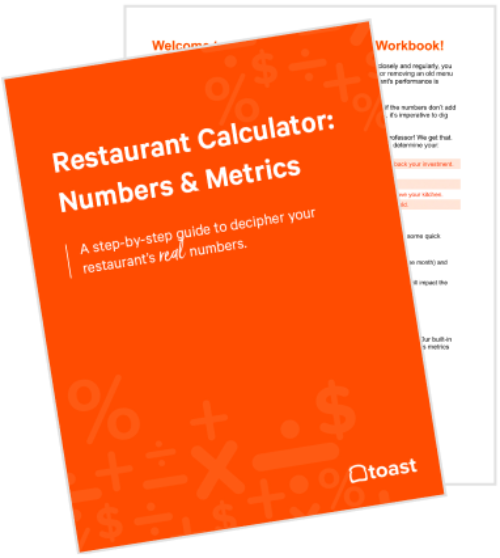 The Restaurant Numbers & Metrics Calculator
Calculate the key restaurant metrics needed to understand the health of your business.
Download
She said while many people do successfully outsource the financial side of running a restaurant, you have more control if you understand how everything works. "I just think for the health of your business, to know and understand fully what's happening to every dollar coming in and every dollar going out, it's really invaluable," she said.
Chang also knows that her team is her greatest asset. "The amount of work that it takes to both find great staff and then keep great staff, the amount of work that it takes to train everybody so they're ready to put forth the vision you've created — it's an extremely HR-dependent business. I think a lot of people that go into opening restaurants are all about the food, which I am as well, but you learn very quickly that it's all about the people."
How La Cocina Helps Prospective Restaurateurs Make Their Dreams Reality
In San Francisco, food business incubator La Cocina connects women and immigrants to resources that might be out of reach otherwise, including hands-on mentorship, subsidized access to a commercial kitchen, technical assistance and training, and connection to micro-lenders and other forms of funding.
Emiliana Puyana is a Program Manager there, and she helps food entrepreneurs who don't have access to substantial money from their personal or professional network navigate the intricacies of starting their own business. Most of the businesses that come up through La Cocina start as small businesses, like farmers market stands or catering companies, and some eventually turn into restaurants.
Puyana explained to The Garnish how this process usually goes.
First, La Cocina supports the entrepreneurs in growing their concept and creating several revenue streams. "Once we've achieved that, then we begin to search for those exit opportunities, that ultimate restaurant location. That process, we hope, will take no more than three years, but often it can take between three and five. And during that time frame, our entrepreneurs have really built a robust catering business or maybe they're regular participants at farmer's markets around the city. And so they basically build these diversified revenue streams that allow for them to present to a micro-lender as a more sure thing. Even though in the restaurant business, that's an incredibly hard thing – I mean, it's just a risky business."
Puyana said that the people who come to La Cocina for support typically have very little luck with bank loans. "Traditional lending institutions aren't going to take a second look at a small business owner who is entering into the restaurant industry and having a business that has $300,000 in sales a year. So what we're left with is a host of different alternatives to consider." Puyana explained that La Cocina is able to connect entrepreneurs to these alternatives, such as:
Kiva, a crowdsourcing microlender: "The idea there is that as an entrepreneur, you don't need a credit history. You just need people from your own community to vouch for you... I get 20 of my closest friends or family members to lend me $20 or $25 each, which basically gives Kiva the reassurance that if people within my own circle are willing to lend to me, they basically speak to my credibility as a buyer. And then I get to go live on their site and I get to crowdsource the rest of the money that I'm trying to borrow, and then I get this money, whether it's $1,500 or $10,000, and it's interest free and I get a predetermined amount of time to pay that money back.
Adelante: "[A] fund in conjunction with The Mission Economic Development Agency... You can get up to $100,000 loans on them, interest rates are, depending on your credit history, between 2 to 5% — essentially higher than a traditional lending institution, but it gives you access to $100,000 that you otherwise wouldn't have access to. They're not predatory lenders. They don't require such an extensive credit history and so on and so forth." Puyana also mentioned Opportunity Fund, a similar organization.
Puyana noted that for many reasons it can be easy for some people to access capital, but not for others. "It's so incredibly frustrating. When we look at most cities around the US and why they become tourist destinations and why people love them, it's more often than not because of the folks that make up the fabric of that city, the restaurants that adorn every street corner. And I think so often people have no idea how truly difficult it is, as an immigrant, as a person of color, to even make it, even into a little corner restaurant that appears to not be that pretty — that is a feat unto itself. It's a system that is rigged. It's a system in which it's so incredibly difficult to compete because the playing field is, is never equal, never even, and every time that you think you see the goalposts, then it gets shifted further away from them."
The process of cobbling together money from many different sources is exhausting — but it's worth it for these entrepreneurs. Puyana also noted that she's constantly impressed with the money-savviness and business smarts of the entrepreneurs at La Cocina.
"I mean, I don't even know why I'm surprised anymore — the entrepreneurs that I have the pleasure of working with at La Cocina are some of the best folks with money that I've ever been around," said Puyana. "You have people like Isabel Pazos, who's a single breadwinner for her family, has really minimal English skills, but has been operating a business in San Francisco now for nine years. After being in business for seven years as a caterer and at farmer's market stands, it comes time to open her restaurant. And she's like, 'Well, I've saved $70,000. I just have $70,000 sitting in the bank from running this business wisely.'"
For more on how Flour started out and scaled, and about the support that La Cocina gives to aspiring restaurateurs, listen to the full episode of The Garnish, and don't forget to sign up for our listener newsletter so you never miss an episode.