If you have ever worked as a restaurant manager, then you've likely grown numb to the barrage of daily emergencies and suggestions you receive from customers and both sides of the house. Somewhere in the back office there is a list of improvements, renovations, and general ideas that you've never been able to complete. And the list keeps growing!
Turning these ideas into reality is not only time-consuming, but also expensive. We live in a world where restaurant margins span anywhere from 0-15%, with the most common average falling between 3-5%. These margins barely give owners enough room to profit, let alone invest in improvements.
While most of the projects on your restaurant's list are both beneficial and necessary, the costs will always force you to decide which ones you can live without. Here are some examples of the costs of restaurant equipment and renovations:
With the high end of average profit margins landing around 5%, it's easy to see how a patio buildout for your restaurant could fall off the list. If a restaurant makes $500,000 a year in post-tax revenue, a 5% profit margin leaves a restaurant owner with $25,000 to manage any kind of emergency situation, broken equipment, renovation, expansion, and profit payout.
To fund these dreams, restaurateurs look to banks, online lenders, friends, and even personal credit cards.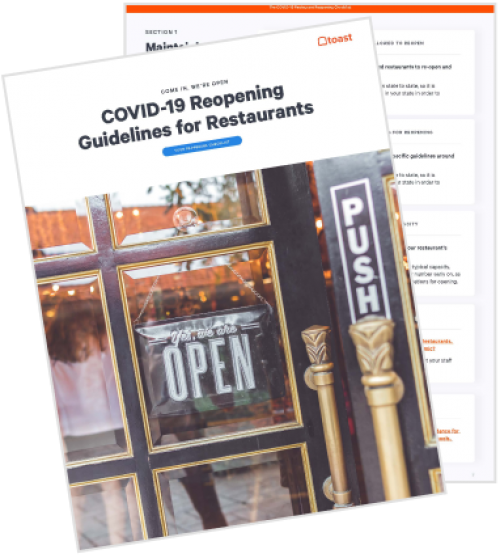 Restaurant Reopening Checklist
Learn how to approach reopening your restaurant during COVID-19 with this 78-item checklist.
Download
Small Business Loans for Restaurants: 5 Ways to Procure Capital
After the financial crisis in 2008, new banking regulations made it very difficult for consumers to take out a loan on behalf of their small business. The lack of supply to meet this demand led to the creation of an entirely new financial technology space called "Online Lending."
This space was pioneered by companies like Lending Club (2006), OnDeck (2006), and Kabbage (2008). These online lenders offer a number of credit options to small businesses, but they are often expensive and take time to be approved.
In 2010, payment processors and payment facilitators innovated this space further by accessing their detailed merchant processing history to offer instant loan approvals to their customers. Payment processors and payment facilitators use their merchant information to evaluate the risk of lending money, because they can evaluate the likelihood that it will be paid back given your restaurant's sales history.
These new-age, technology-based lending platforms provide small businesses with a wide variety of options to access funding outside of traditional banking. An important note is that while the mechanism (bank interview vs. online application) has changed, the financial products have not. There is a core set of products available to small & medium businesses from a broad set of partners. It is up to you to decide which product and partner you want to work with. These products and partners range in speed to fund, cost, flexibility, and reputation.
Here is an overview of the types of products that are available to your restaurant.
1. Small Business Association (SBA) Loan
The SBA has a federal lending program designed to help entrepreneurs and small businesses either grow a new business or recover from some kind of disaster. Restaurant SBA loans are in very high demand, and while the approval rate for restaurants is growing, the 2017 Small Business Credit Survey reported that 46% of SBA Loans were not approved.
2. Term Loan
The term loan is a common loan that allows a customer to repay their debt through a series of fixed payments, lasting anywhere from 1 to 10 years, depending on the term of the loan. While the term is fixed, the interest rate typically floats with the market rate, which can result in an increase in payment that a customer must then absorb. This type of loan typically includes a personal guaranty, meaning it could negatively impact your credit score.
3. Merchant Cash Advance (MCA)
Companies with confidence in the future of your business may offer to advance you money by purchasing your business's future revenue at discounted price. For example, an MCA company could purchase $12,000 worth of future credit card sales at a price of $10,000. This means that you get $10,000 today, and the MCA company gets your future $12,000. These products do not require a personal guaranty so they do not affect your credit score, or require collateral. However, there are a number of predatory firms that will use this product to take advantage, so choose your partner wisely!
4. Personal Credit Card
When you find your business in an emergency, you can always use your personal credit card to take care of everything. However, you will be personally liable for paying off the balance and its associated interest, which can be significant given the notoriously high interest rates charged by credit card companies. If your restaurant goes out of business, you are still responsible. If your restaurant does not perform as expected, your future credit needs will always be limited.
5. Equity
Selling equity in your business is never an easy thing to do. There is one more voice at the table, one more personality to manage, and one more person eating a share of your 5% profit margin. It may be a better option than taking debt which must be paid back, but the long-term effect of fixing a short-term financing need with a life-long business partner could be very impactful.
Restaurant Lenders: 4 Institutions That Offer Capital
The list of institutions that claim to offer these products can seem endless. This decision to get a business loan for your restaurant can be very difficult, but if you do your homework and work with great partners, the process can become much less daunting. Here is a brief overview of the types of financial institutions that can offer the products listed above:
1. Commercial Banks
Commercial banks are for-profit institutions that were created to provide consumers with a safe place to store money via a checking or savings account. These institutions have grown over the last 100+ years to offer a number of financial products & services to customers worth anywhere from $100,000 to $1 trillion dollars. This spread of customer wealth has led to a focus by banks on the largest dollar amounts (mortgages, wealth management, etc.) because they are able to earn more revenue for the same amount of work that a smaller client would require. The size of these institutions, and their global client base, mean that every transaction has more regulation and typically takes much longer for approval. According to the most recent Small Business Credit Survey, application times alone can run anywhere from 30-90 days for approval.
2. Credit Unions
Credit unions are not-for-profit financial cooperatives that are typically small and local. They are run by member-owners on a one-member-one vote system. Under this structure, members agree on all of the cooperative's decisions together. By law, credit union membership is restricted to certain groups of affiliated people based on, for example, where they live, work, worship, or attend school. If you are able to get a membership with a credit union, you generally find lower fees and cheaper financial products, but the selection of available products (term loans, SBA loans, etc.) is also much more limited.
3. Online Lenders
Specialized lenders that generally partner with Commercial Banks to create financial products, but use their own bank accounts to actually loan money out to customers. This setup allows Online Lenders to approve and distribute funding very quickly, but because they are lending against their own bank account the level of risk will generally result in higher fees and/or interest rates.
4. Point-of-Sale and Payment Processors
Point-of-sale and payment processors are funding partners that are able to offer specialized products in the same way as online lenders, but with access to a unique data set that no other institution is able to use. The unique insight into payment history, customer retention, and more means that the terms they offer (loan amount, fees, interest rates, etc.) are tailored to that customer's specific needs and risk profile, as opposed to online lenders who offer terms based on general risk categories.
Funding Your Next Restaurant Venture
As they say, it takes money to make money. Luckily, there are many options available to solve this problem… but it's on you to choose wisely. We recommend that you obtain loans from businesses you know and trust, that know your business inside and out, and that only succeeds if your business succeeds.