According to a study by Cornell University, the restaurant failure rate is about 26.16%.
In the face of the high costs of opening a new restaurant, which, according to RestaurantOwner.com averages somewhere in the realm of $495K, this is a pretty big risk to take. The chance of failure can be daunting, but with proper planning and execution, the odds will be in your restaurant's favor.
Let's assume you've done your market research, and armed with this information, have developed the perfect concept for an ideal location. You're getting the word out via social media, and the community is getting excited! Your first week of business will likely boom, according to Peter Christie, restaurateur and 26-year industry veteran, because everyone is looking forward to trying your new concept. How do you ride the wave of your first week and continue to operate in a way that generates profit and avoids bankruptcy once the initial buzz has settled?
Read on for three ways to prevent your restaurant from going out of business.
1. Establish systems and maintain controls.
Spend wisely and increase efficiency. A quick Google search of "restaurant cost controls" will result in article after article about how important it is for restaurant owners and managers to understand food costs and menu engineering. You'll have to know the details of every single dish being served at your restaurant, down to the raw ingredients.
Understand which items are most profitable, or conversely, most expensive to make. Maintain your inventory and keep a sharp eye on product; overportioning the beef in your burgers by just a fraction of an ounce can result in the unnecessary spending of thousands of dollars annually. Now multiply this across all menu items, and these precious fractions of an ounce have a much bigger impact when translated to a dollar amount.
Also, your staff needs to understand how to record items sent back to the kitchen and why. Was meat the wrong temperature? Did the server make a mistake? You need to know these reasons to make the necessary changes in the kitchen or FOH to prevent food waste and minimize loss.
To maintain control over your costs, make sure staff is properly trained to record any waste during service. You should also implement an inventory management system right from the start, take inventory regularly, and make sure nothing in your kitchen leaves unnoticed. With the right system, you'll also understand when it's time to remove items from your menu, which items should remain, and which items you should push your servers to sell more frequently, to generate the largest profit possible.
2. Create your culture, manage your staff.
According to the National Restaurant Association, there will be 100,000 more restaurants in the U.S. by the end of this year than there were in 2005.
It's more important than ever, especially for restaurants in urban and suburban areas, to remain competitive in this growing market.

While some folks return because they are creatures of habit, the quality, culture, and concept of the restaurant are reasons why the rest of us return to our mainstays. Together, these factors comprise the experience of your restaurant. Make sure that you're providing guests with an experience that is consistent and unique to keep them coming through the door. There is a reason customers return to Dick's Last Resort, a 17 location concept known as a place where the servers insult customers and place them in awkward situations. They know what they'll get here, and are looking for something memorable and out of the ordinary!
So when you create your concept and develop your idea of what your customers' experience should be, the way you train every new staff member should reinforce this experience.
Make sure your restaurant is memorable, that staff is consistent in delivering the service they should be providing, and that everyone - whether in BOH and FOH positions - subscribes to the culture during each shift.
Make sure everyone - whether in BOH or FOH positions - subscribes to the culture during each and every shift.
3. Live and die by the data.
The only way you'll know how to make informed decisions about hiring, cost controls, menu design, and quality of staff is with great data. It's important to understand the alignment between your "gut feeling" and reality. Reporting on everything from gift card sales, to voids, to staff productivity, to order details will give you the numbers you need to support decision-making as your business and clientele evolve over time. Informed decision-making is what could keep your restaurant alive and ensure you're not among that 26.16% of new restaurants that fail.
Again, restaurant ownership and operation is tough, and one out of four of owners will face restaurant failure within the first year. But by keeping a firm grip on your restaurant's finances, staffing and customer experience, and working with reporting to give you a higher-level view of the cost of your operations, you're one step closer to being the success story!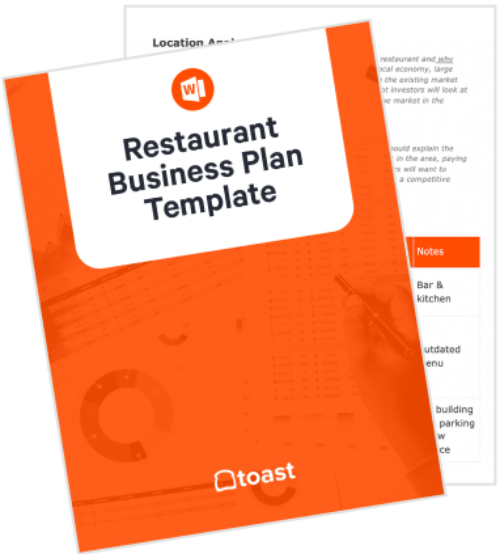 Restaurant Business Plan Template
A restaurant business plan explains in detail how the restaurant will operate once doors are open. Organize your vision and ensure that nothing is overlooked with these free template from Toast.
Download