DISCLAIMER: This content is provided for informational purposes only and is not intended as legal, accounting, tax, HR, or other professional advice. You are responsible for your own compliance with laws and regulations. You should contact your attorney or other relevant advisor for advice specific to your circumstances.
Cost to Open a Cafe
There's no restaurant atmosphere quite as cozy as a cafe. Whether you pop in for a coffee before work, are looking to meet friends in a casual setting, or hunker down in the corner to lose yourself in a good book, cafes are welcoming and inviting establishments for all.
Despite challenges faced during the COVID-19 pandemic, the cafe industry has continued to flourish over recent years, with over 37,000 coffeehouses in the United States as of 2021.
With steady growth in the industry, it's a great time for aspiring cafe owners to begin forming their cafe business plans and ordering their milk frothers. Sound like you? We're breaking down how much it costs to open a restaurant, and sharing business planning tips for new restaurant owners.
Whether you're a foodie who's always dreamed of owning your own restaurant or an industry pro ready to take the leap with a new concept, Toast is here to help.
Average Restaurant Startup Costs
Depending on the exact location of your cafe (down to the state, city, and neighborhood), as well as how much renovation needs to be done and utility fees, the startup costs to open a restaurant quickly add up. The average cost to open a restaurant tends to range from $175,000 to over $700,000
Average Cost of Opening a Cafe
The cost of opening your cafe will depend heavily on the lease you secure for your location. And location is everything.
To determine a reasonable price to pay for your lease, calculate your projected revenue. Total occupancy costs for a profitable business should be 6-10% of gross sales. Take your projected revenue and multiply it by 6% and 10% to determine the lease price range you can afford.
The lowest end of the range of costs to open a restaurant is $175,000, and cafes can be much more cost-effective to open than typical restaurants. With less inventory, less equipment, less staff, and less real estate, the cost to open a cafe can be significantly lower than the cost to open a general restaurant.
According to the successful coffee shop chain Crimson Cup, the range of costs can be:
$80,000 to $300,000 for a coffee shop (or cafe) with seating

$80,000 to $200,000 for a drive-through only coffee shop (or cafe)

$80,000 to $300,000 for a coffee shop (or cafe) with both seating and a drive-thru

$60,000 to $105,000 for a coffee stand or kiosk
Cafe Opening Cost by Square Foot
As real estate trends continue to fluctuate, cafe opening costs will follow suit. During your real estate search, make sure that you are regularly consulting the most up to date real estate costs.
There's one main decision to make when it comes to determining opening costs by square foot: will you be purchasing an existing property or constructing a new one from scratch? At an average of $180 per square foot to buy commercial property, and around $159 per square foot to lease, it's less expensive compared to $300-400 per square foot for building a new property.
To get a clearer idea of how all your local costs will add up, use the Restaurant Opening Calculator to estimate what it could cost you to open a cafe.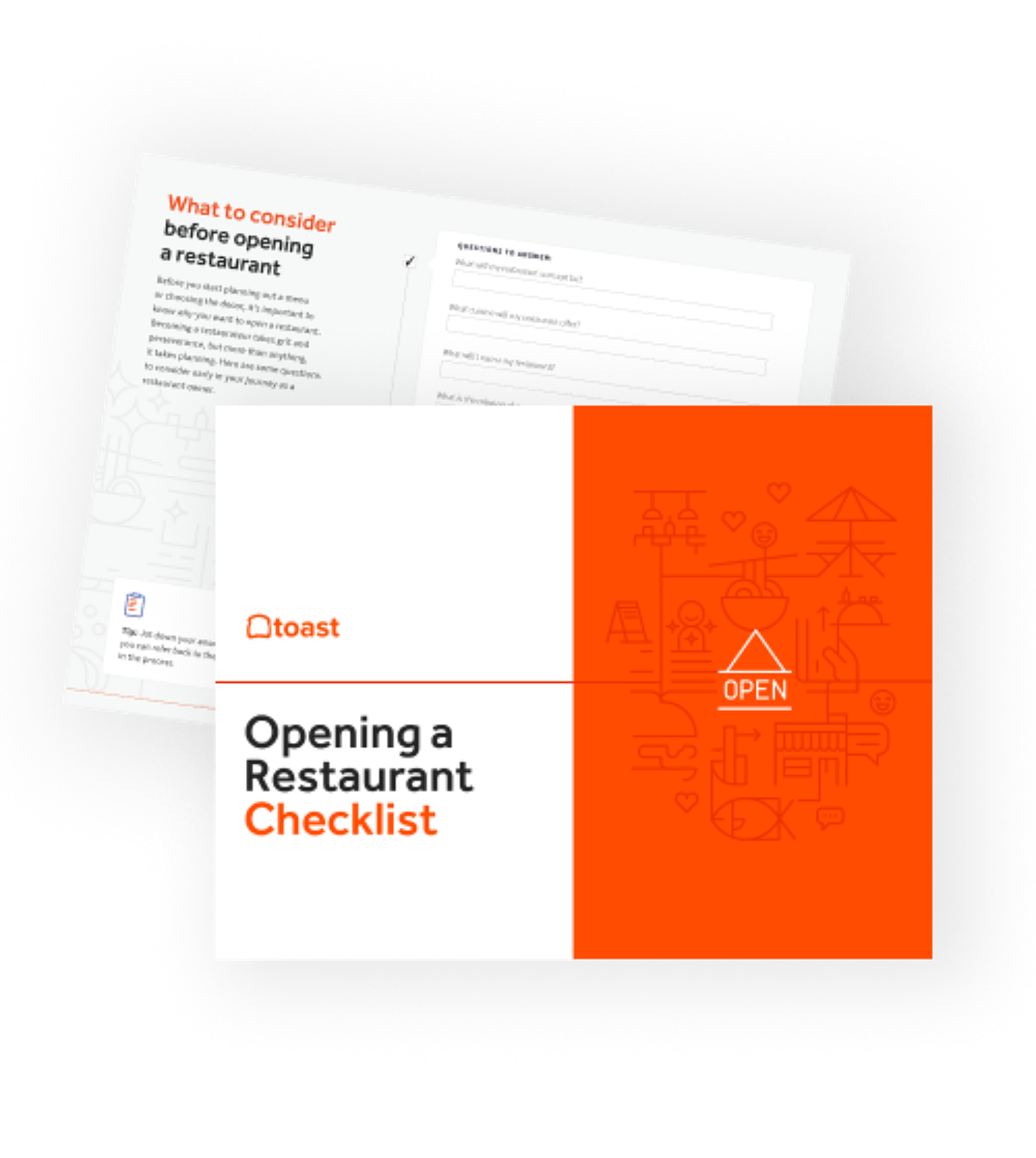 Opening a Restaurant Checklist
So many things go into opening a restaurant. Use this free PDF checklist to set your new restaurant up for success.
Download
Cafe Startup Costs to Expect
Here's a breakdown of estimated startup costs for opening a cafe, from food to staffing and utilities. These are average estimates, so depending on the size of your shop and where you're located, your total opening cost prediction might vary.
To ensure that you're continuously operating within your budget and allocating costs appropriately, map your cafe business plan before proceeding with opening your cafe. And be sure to hit everything on our opening a restaurant checklist.
A Breakdown of Cafe Startup Expenses
Follow this checklist to help plan and manage your budget.
1. Utilities
Cafe utility costs depend on size and location. When taking over an established cafe's existing lease or renting a new space, look into the previous tenant's utility history before signing to ensure you are not taking on any residual property debt, and to get an idea of how much to budget.
According to a NationalGrid study, restaurant utilities cost an average of $3.75 per square foot annually ($2.90 for electricity and $0.90 for natural gas.) For smaller cafes and other quick-service establishments, yearly utility costs can be a little lower. Ask your peers in the cafe industry to get a good idea of what people are paying in your local area.
2. Location
As the modern workforce continues to adapt to flexible work, more and more employees are looking for the perfect cafe to use as a workspace on days when they aren't required to be in the office.
The success of your cafe may come down to how well you have chosen a location. You'll want to find a location with high foot traffic (or drive-through traffic for the suburbs). That usually means proximity to densely populated neighborhoods, proximity to public transit or highways, or near office buildings and office parks.
Of course, costs will vary significantly here, so work with a trusted local commercial real estate agent to ensure you're getting a good deal on a great location.
3. Interior Design
The interior design and layout of your cafe will influence the branding and atmosphere. What types of people are you hoping to attract as customers? Define your cafe's mission and vision, then let that drive the interior design style and seating offerings.
Depending on how many redesign projects you'll need to do to transform your space into the cafe of your dreams, restaurant interior design renovation costs range from $85 - $500 per square foot.
4. Cafe Equipment
It takes a lot of equipment to get your cafe up and running, but remember the good news — most of the equipment you need to purchase to open a cafe will serve as a long-term investment.
Some of the cafe equipment you need and their estimated price ranges (from webstaurantstore.com) are:
An espresso machine: $1,300 to over $20,000

Drip coffee makers: $100 to $900 each

Blenders: $60 to $3000 each

Freezers

Reach-in: $1500 to $36,000

Walk-in: $10,000 to $25,000

Undercounter: $1300 to $7000

Chest freezers:$200 to $2200

Refrigerators:

Reach-in: $1500 to $25,000

Walk-in: $7000 to $21,000

Undercounter ice machine: $1300 to $5600

Full size dishwasher: $3000 to $26,000, or an undercounter dishwasher: $2500 to $8500
In many cases, the median price between the range can get you great quality for good value, but do lots of comparison shopping and find out what your peers use before you make huge purchases. Consider, too, the maintenance required of each piece of equipment, and if a bigger investment up front could save you repair costs down the line.
---
Read this next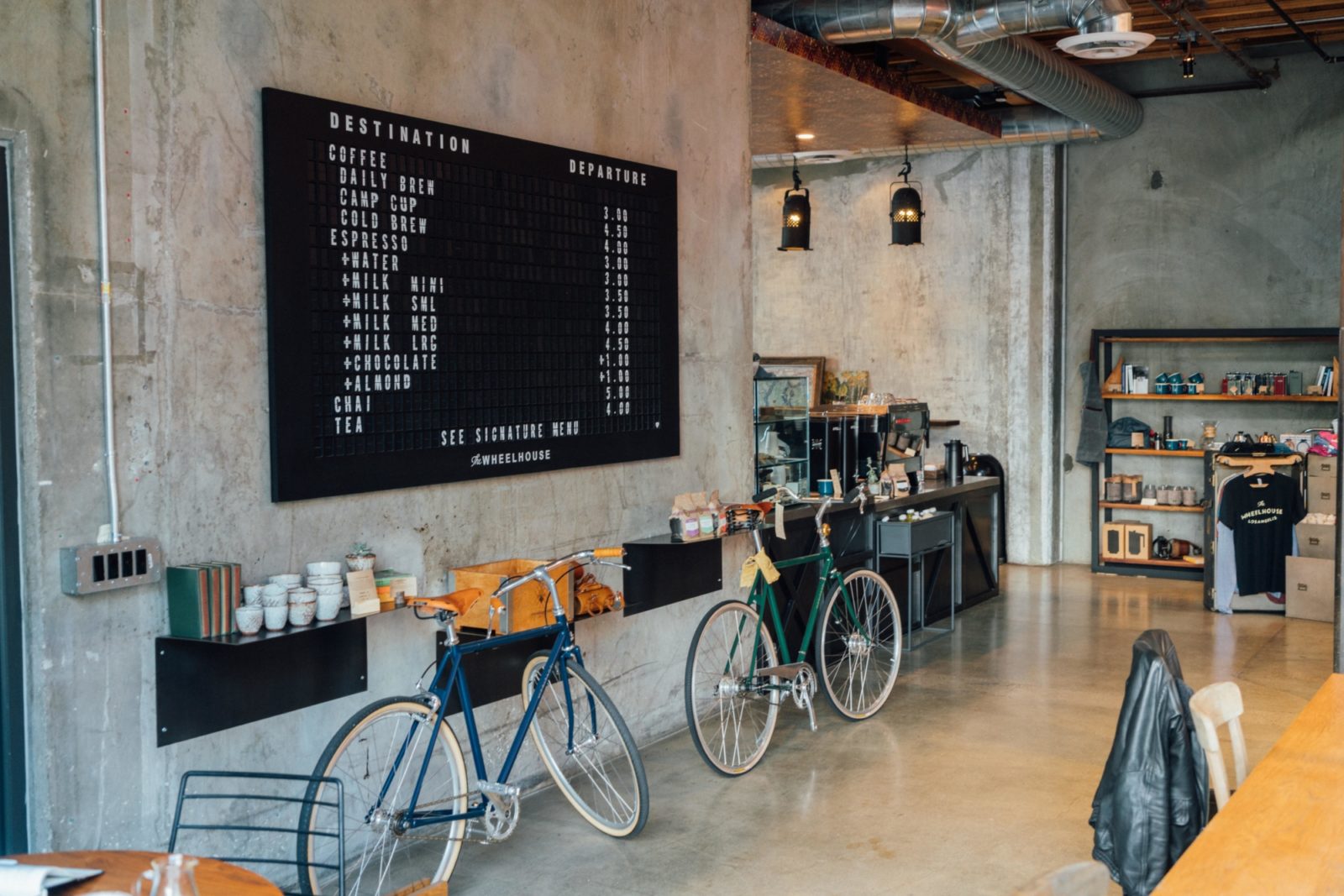 Essential Cafe Equipment List
Start your cafe off in style with this ultimate equipment guide for your next coffee bar and kitchen.
5. Pre-Opening Expenses
Before proceeding any further, take stock of what you still need to accomplish before opening day. All of those tasks — onboarding and training staff members, creating your marketing strategy, obtaining the necessary license and permits, paying utilities that are needed before opening — are considered pre-opening expenses.
Depending on the size and form of cafe you are opening, pre-opening restaurant expenses can range anywhere from $20,000 to $120,000.
6. Marketing, Branding, and PR
The marketing strategy you create for your cafe will primarily depend on your cafe's current relationship with the community. For example, building a brand spanking new cafe will require a more dedicated marketing effort to draw a crowd than if you were taking over the lease of a cafe with existing name recognition.
As a general rule, your cafe marketing budget should be between 3% and 6% of your sales and may include:
Developing a clear brand identity

Creating branded merchandise

Running social media marketing campaigns

Paid digital ads

Creating a website

Email marketing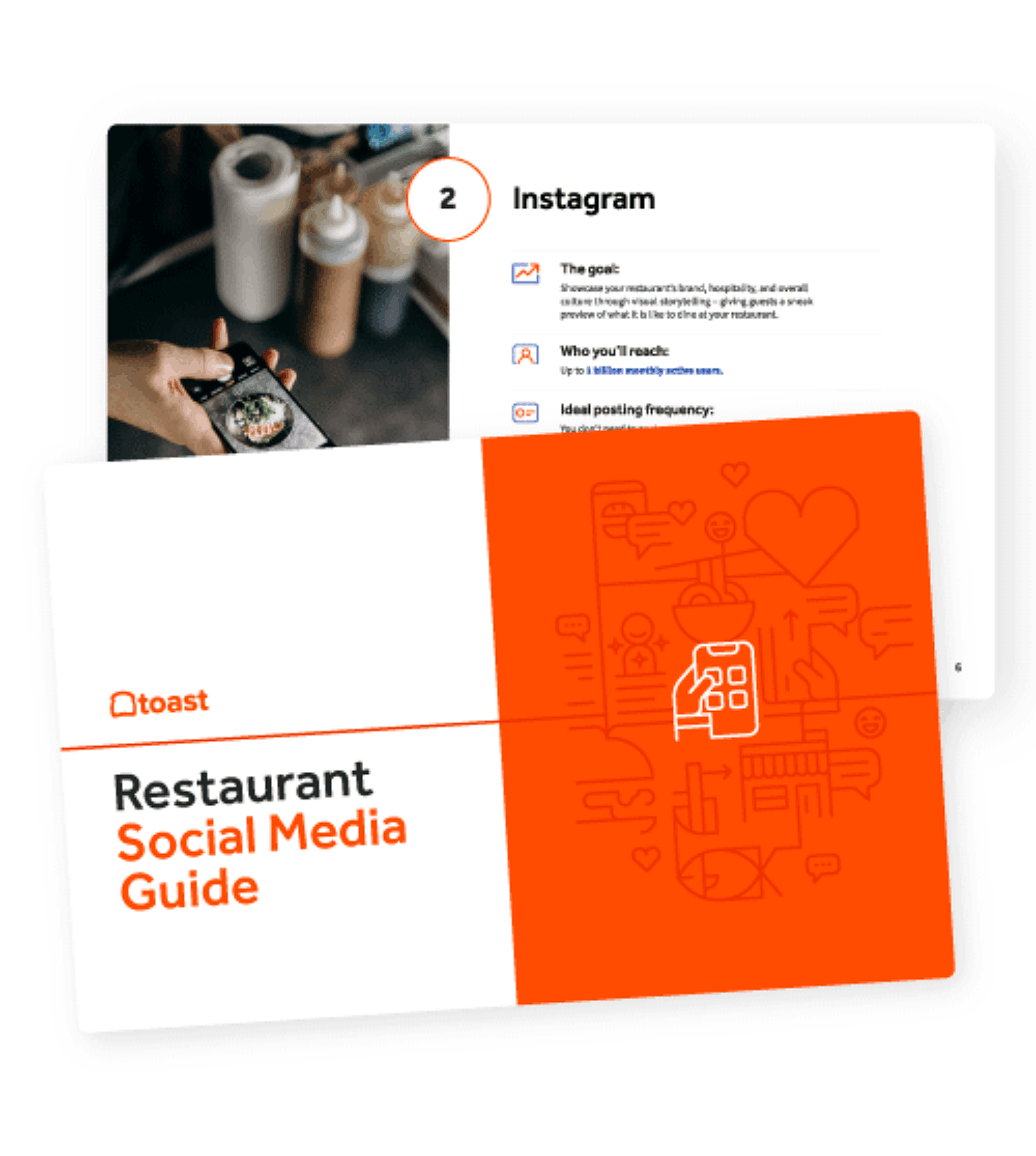 Guide to Restaurant Social Media Marketing
Learn how to optimize your social media presence to showcase your brand, tell your story, attract new customers, and engage with your audience.
Download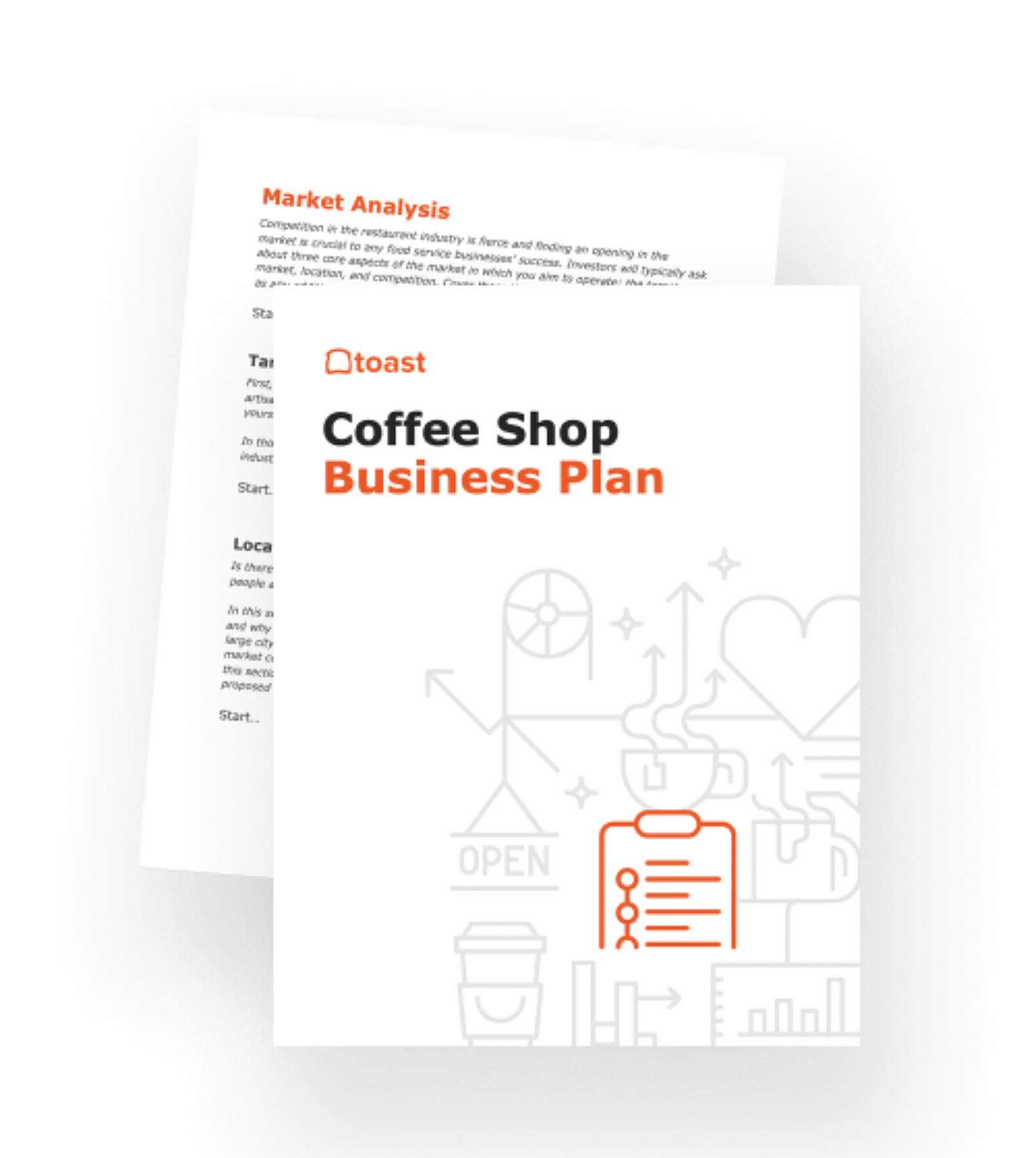 Coffee Shop Business Plan Template
Use this free coffee shop business plan template to easily create a great business plan that organizes your vision and helps you start, grow, or raise funding for your coffee shop.
Download
7. Restaurant Startup Capital and Loans
The restaurant startup capital needed to open a cafe includes:
Opening costs

At least six months of operating costs

Emergency funds
To learn more about the financing options available to burgeoning restaurateurs, here's The Complete Guide to Restaurant Financing and Loans.
---
Read this next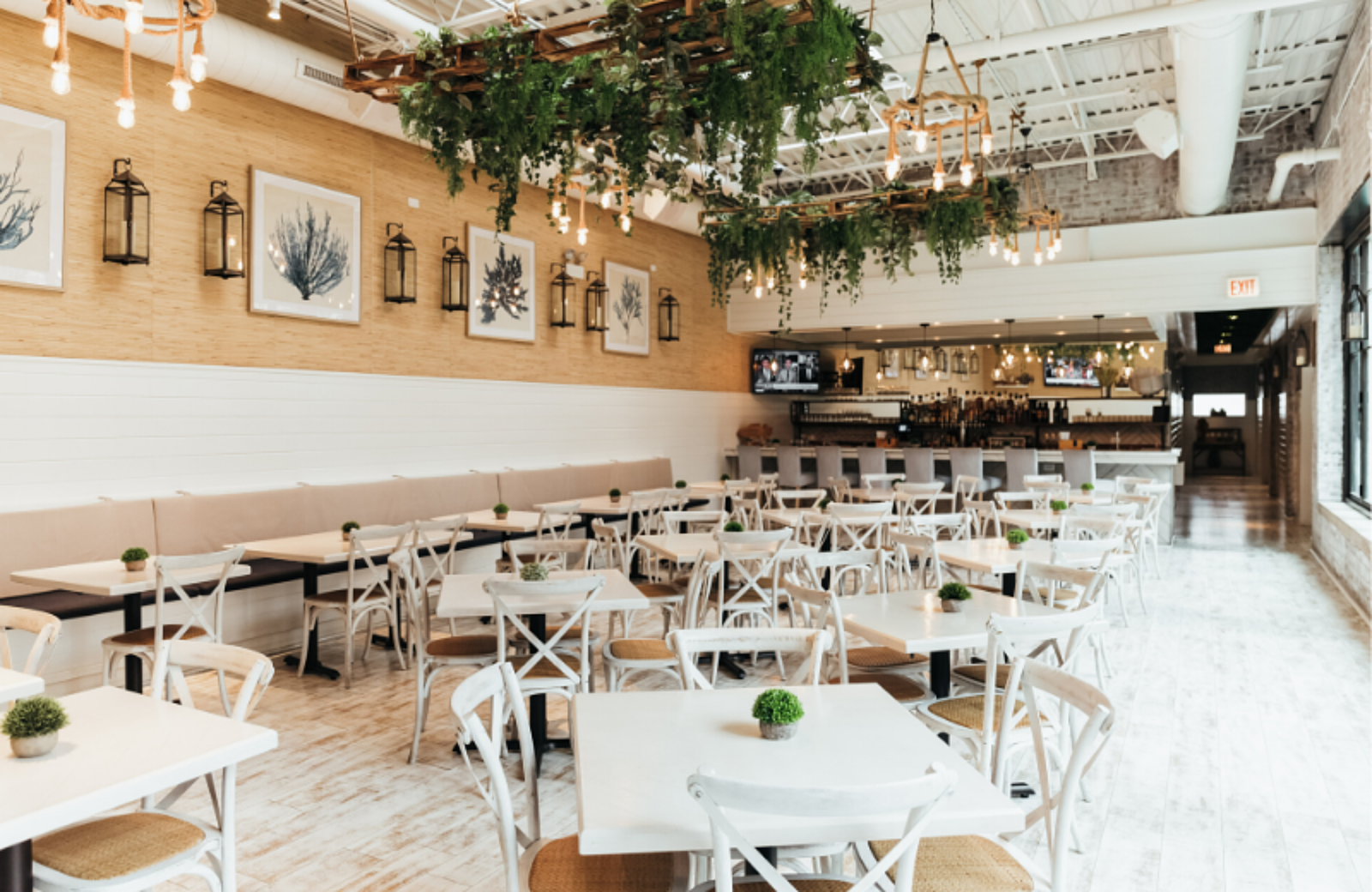 The Complete Guide to Restaurant Financing and Loans
Whether you're opening a new restaurant, expanding your concept, or renovating within your existing four-walls, you're going to need capital to make it all happen.
8. Exterior Design
Cafe exterior design serves a dual purpose: to draw customers in from off the street, and to provide them with outside seating options that are just as comfortable as your indoor seating options.
If your cafe location comes with outdoor space, allocate $1,000 to $40,000 for your exterior design needs, including:
Patio furniture

Signage and decor

Weather-proof lighting

Landscaping
9. Organizational and Development Costs
Opening a cafe will require you to navigate a collection of development costs, such as obtaining all of the necessary restaurant licenses and permits. Depending on the exact services your cafe provides, the licenses and permits you may need include:
A business license: $25 to $7,000

Employee identification number (EIN): free!

Certification of Occupancy: $100

Food service license: $100 to $1,000

Resale permit: up to $50
Working with a professional here can help you avoid any bureaucratic bumps in the road. Speaking of which:
10. Professional Services
Managing all of those licenses and permits can quickly get out of hand. Luckily, there are experts available to help you navigate the pre-opening and opening of your cafe such as accountants, lawyers, marketing professionals, and more.
Professional service costs range drastically depending on your specific needs and connections (friends and family still count as professional services). On average, restaurants spend up to $50,000 in professional services during opening.
11. Technology and Point of Sale
With each passing day the restaurant industry takes another big step toward the future, thanks to the continuous evolution of restaurant technology. Implementing the latest tech in your cafe allows you to provide your customers with the best and most modern service possible, starting with your POS system. Choose a POS system that can help you offer online ordering (guests love to order ahead these days!), plus an easy to learn simple interface to unite the front and back of house, and systems that integrate with other restaurant tools.
Toast's Cafe and Bakery POS System allows cafe owners to provide their customers with a seamless transaction experience.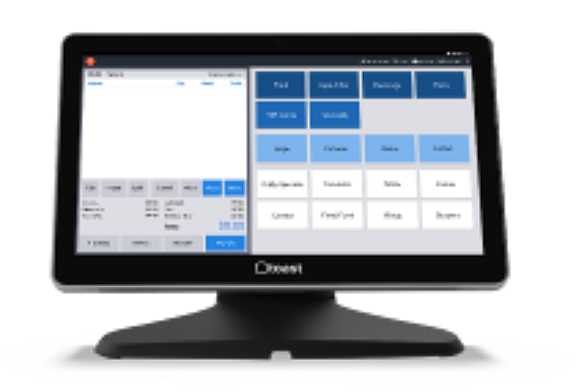 Learn how a better point of sale system can help you run your restaurant.
Read now
12. Food Cost
There are two ways to budget cafe food costs: monthly or by percentage of revenue. Assuming that you are operating with a fully stocked inventory and supply chain disruptions haven't thrown too big of a wrench in your plans, average monthly food costs range from $5,000 to $25,000 and a profitable food cost ratio is 28% to 35% of revenue.
The good news is that cafes tend to have much smaller menus, so inventory costs can be lower than traditional restaurants. But don't forget to factor in the cost of the best coffee beans you can get your hands on!
13. Staffing and Management
A few months before your grand opening, assemble a team of superstars that'll make your cafe shine. Once it does, payroll will be added to your startup costs alongside the cost of recruiting, hiring, and training employees. While you're busy shaping up your internal team, you may want to consider outsourcing other roles like marketing, design, or bookkeeping to third-party agencies and service providers.
Overall, expect to spend 30% of total revenue on restaurant labor costs.
You can use a restaurant industry specific hiring platform like Culinary Agents to narrow your search down to experienced professionals.
You Say Coffee Shop, I Say Cafe
Still got coffee dreams percolating? Create a comprehensive cafe business plan, explore the right cafe equipment and thestick to your startup budget, and you'll be serving up your first cup in no time.
Related Cafe Related Resources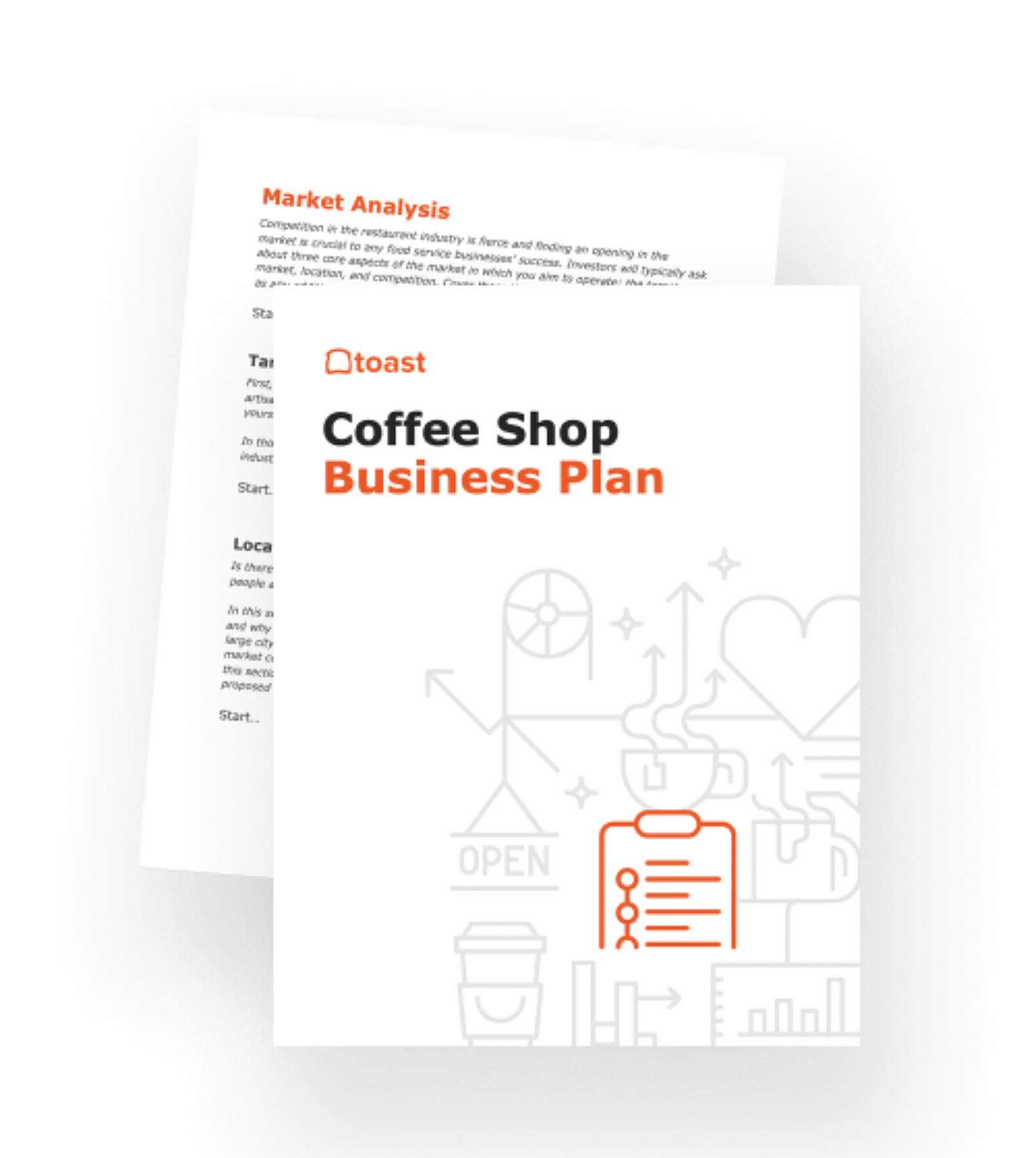 Coffee Shop Business Plan Template
Use this free coffee shop business plan template to easily create a great business plan that organizes your vision and helps you start, grow, or raise funding for your coffee shop.
Download