DISCLAIMER: This content is provided for informational purposes only and is not intended as legal, accounting, tax, HR, or other professional advice. You are responsible for your own compliance with laws and regulations. You should contact your attorney or other relevant advisor for advice specific to your circumstances.
Managing your online reputation can mean the difference between a full dining room on a Saturday night and closing your doors – especially when a one-star change in rating can affect revenue by five to nine percent. 85% of consumers trust an online review as much as one from a friend or family member.
That's why it's essential to know how to respond to negative reviews for your restaurant.
So, what happens when you get a dreaded one-star review? First thing's first: Don't panic.
Real Restaurants Respond to Negative Reviews
Getting a disgruntled guest to give your restaurant a second chance is truly an art. It takes time, patience, a thick skin, and the ability to keep your eye on the bigger picture in the face of criticism.
Statistically speaking, it's pretty unlikely you'll be able to interact with every single unhappy guest before they leave your restaurant. Unhappiness can take on many forms – from receiving the wrong order to receiving a cold order – but regardless of the specific mistake your restaurant made, what's important is that you respond, and sincerely.
ReviewTrackers found that 44.6% of consumers are more likely to visit a business if the owner responds to negative online reviews.
Besides trial and error, learning by example is one of the most effective ways to pick up a new skill; that's why we've compiled a list of stellar examples from real restaurants who have successfully won back business from guests who left a negative review online.
1. Thank Your Guests For Their Feedback
Example: Jakers Bar and Grille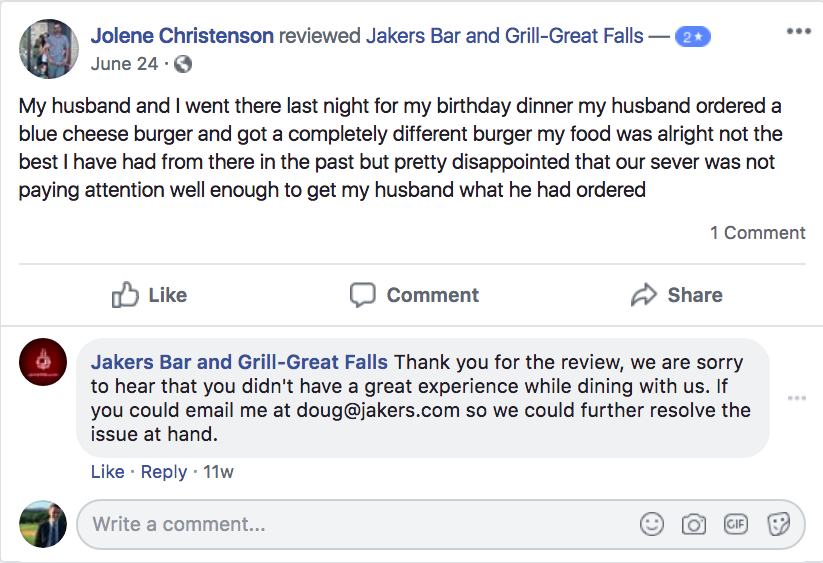 What they did well:
Doug from Jakers Bar and Grill responded quickly, thanked the customer for their patronage and for their willingness to give feedback, and apologized for their poor experience. He then extended his personal email address to continue the conversation offline (away from the eyes of potential customers).
These three ingredients:
A 'Thank You',
An Apology,
And an invitation to continue conversation,
together create the perfect recipe for winning back the customer after a poor dining experience and negative online review.
Guide to the Restaurant Guest
Learn how to navigate changing guest expectations during and after the COVID-19 health crisis.
Get free download
2. Ask the Guest to Give You a Second Chance
Example: Boloco
Will you consider reviewing again and having the Jimmy Carter shake the way it's supposed to be made? This sounds like a epic fail on all of our parts. But also sounds like we just don't cut it for you :(

— boloco (@boloco) September 6, 2018
What they did well:
Boloco, a Boston-based burrito chain, has made national news for their social media guest feedback strategy.
They view negative reviews as "a tool to constantly improve," and embrace the opportunity to interact with their guests even long after they've left the store.
In the above Twitter exchange, Boloco asked the guest outright to give them a second chance, rather than just hoping a second chance might come about.
As they say, ask and you shall receive: this response demonstrated Boloco's commitment to creating a quality dining experience for every guest and it worked – Julie was willing to give their shake another try.
Absolutely! But I really just want a peanut butter one :)

— Julie Parent (@jewree) September 13, 2018
3. Give Them A Call
Example: The new guest feedback feature available on Toast Go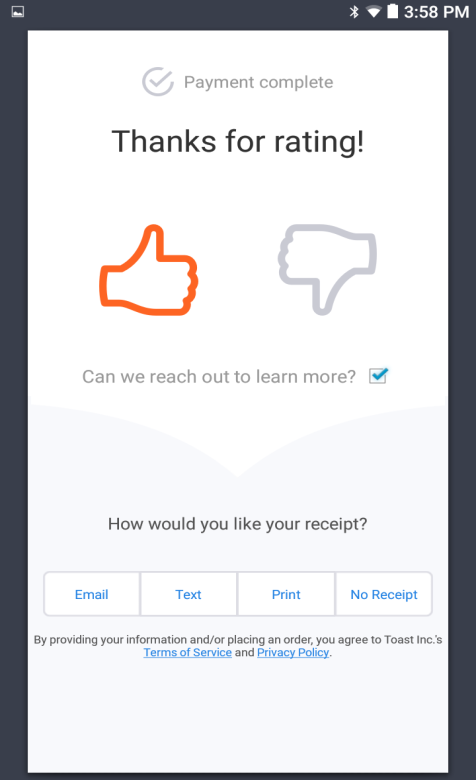 What they did well:
Did you know 65% of bad online reviews are posted within 24 hours of a poor dining experience taking place? Now available on Toast Go™, restaurant owners, operators, and managers will have instant access to guest feedback – good, bad, or otherwise – as well as the opportunity to connect with guests about their experience.
At the end of the payment process, guests are asked to rate their dining experience with either a thumbs up or thumbs down; they are then asked if the restaurant can reach out to them in order to learn more about what did or did not go well.
After the rating has been logged, restaurant management will receive an SMS (text) notification alerting them of the feedback; if the guest agreed to be contacted, restaurant management will receive the guest's contact information in order to reach out.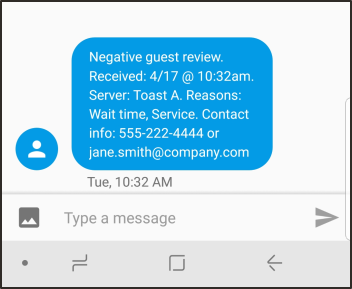 This new feature allows restaurant management the opportunity to instantly remedy poor dining experiences and improve their customer retention rate. In today's hyper competitive restaurant landscape, Toast Go's new guest feedback feature could spell the difference between thriving or failing.
Click here to speak to a representative from Toast to learn more.
4. Apologize & Ask to Continue the Conversation Offline
Example: Hard Rock Cafe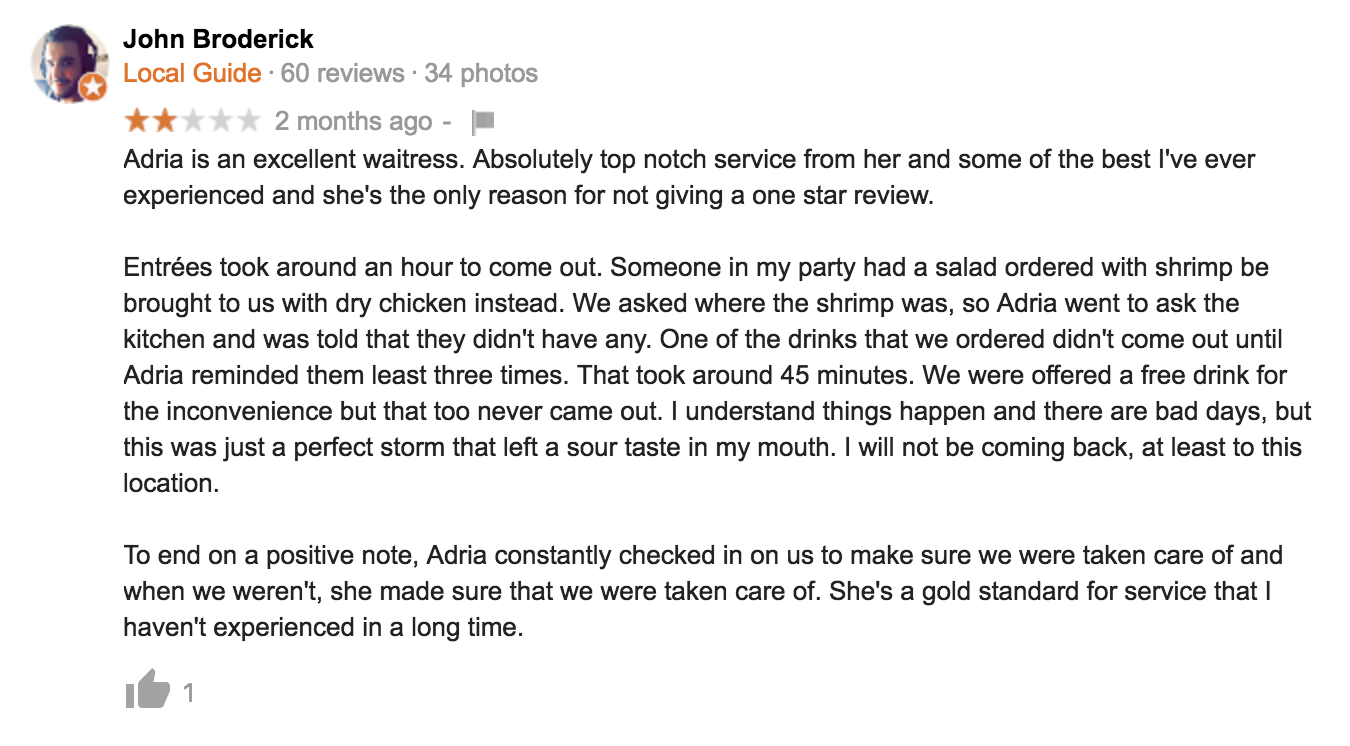 What they did well:
The Hard Rock Cafe combined both approaches from example #1 –thank you, apologize, invite to continue conversation – and example #2 – asking outright for a second chance – to find customer engagement success. Although it's important to empathize with the guest and apologize for their bad experience, the conversation should focus around how to overcome the incident and create a positive experience in the future.
They also took the opportunity to echo the customer's praise of their server; this simple act shows the public that The Hard Rock Cafe values the contributions their staff makes toward enhancing their guest experience.
Here, not only is The Hard Rock Cafe doing a great job at customer engagement, but they're also contributing to their staff retention strategy.
If I were a server looking for a new gig, this is the sort of camaraderie and culture I'd be looking for.
5. Incentivize With A Meal On the House
Example: Chop Shop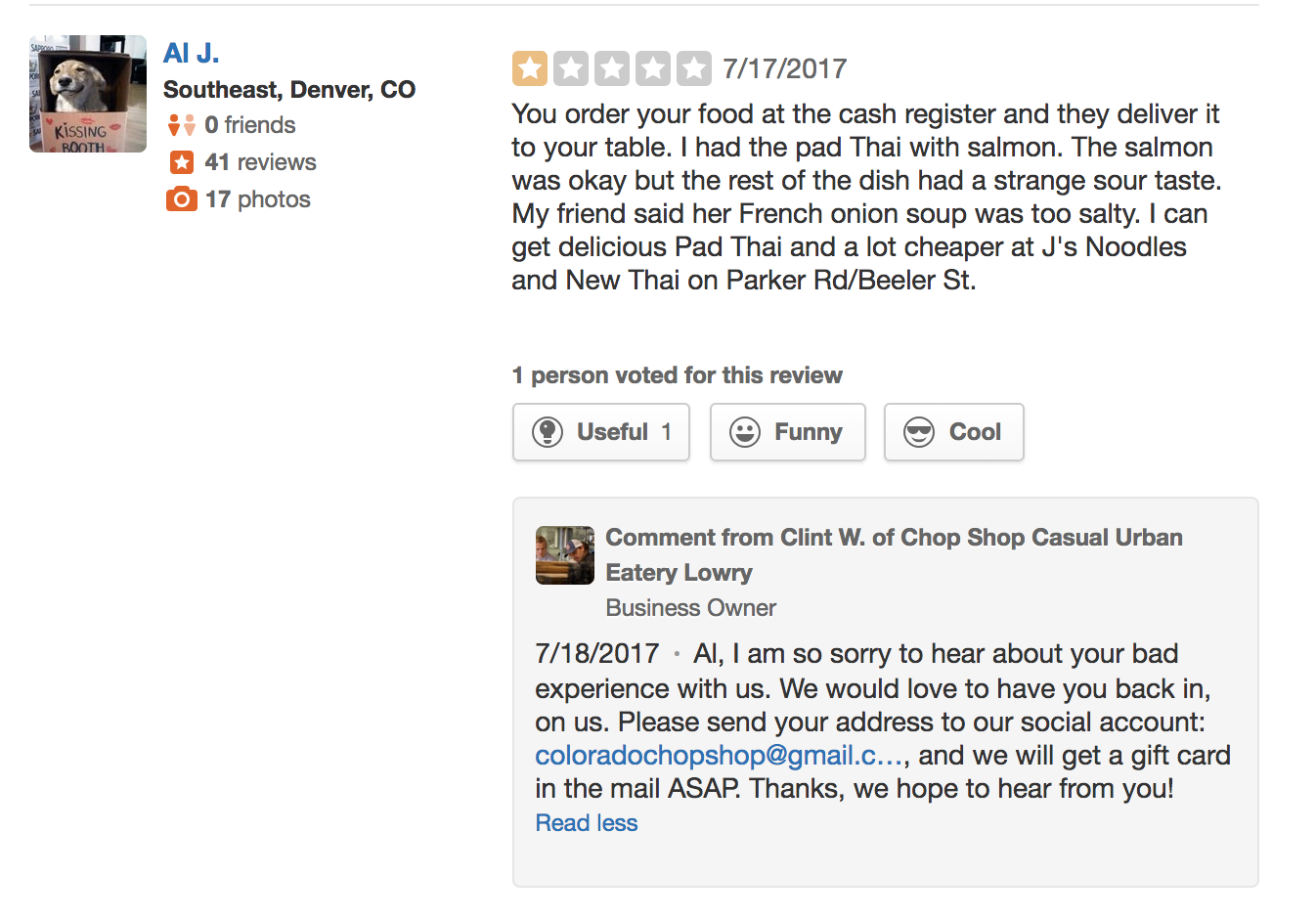 What they did well:
Chop Shop does an excellent job here of leveraging incentivization to win the customer over, along with apologizing sincerely – and promptly – for their poor experience.
Their language choice in this reply is also important: "we would love to have you back in" showcases Chop Shop's hospitality perfectly, while "we will get a gift card in the mail ASAP" reiterates that they would like to remedy the situation as quickly as possible.
Responding to Negative Restaurant Reviews
Although maintaining an online impression can be frustrating and time-consuming, it's one of the least expensive ways to raise your bottom line and keep your customers coming back in the door.
Related Restaurant Operation Resources