DISCLAIMER: This content is provided for informational purposes only and is not intended as legal, accounting, tax, HR, or other professional advice. You are responsible for your own compliance with laws and regulations. You should contact your attorney or other relevant advisor for advice specific to your circumstances.
These days, your restaurant's web presence is your most powerful tool for attracting and retaining customers.
Developing your online marketing playbook is a great way to fortify your online branding and boost the effectiveness and reach of your marketing plan. To help you get started, we've compiled this handy list of ideas. Together, these ideas will help you elevate your restaurant's online marketing presence — and make it easier to delegate marketing tasks when the time comes.
Whether you're a digital native or a tech newbie, dig in for actionable restaurant marketing ideas that can help your business stand out.
Restaurant Marketing Plan
Create a marketing plan that'll drive repeat business with this customizable marketing playbook template and interactive calendar.
Get free download
Level 1: Newbie Restaurant Marketer
Creating an online marketing presence doesn't require advanced marketing skills. There are simple steps you can take today to help strengthen your marketing efforts and increase your digital footprint.
Outsource Website Development
Nothing is more fundamental than a restaurant website.
If you don't feel confident building a site on your own, outsourcing the project to an agency or freelancer is always an option. Services like Fiverr and Upwork also offer inexpensive freelance web design services to help you build a beautiful website. Click here to learn more about the most important elements of every restaurant website, and download the restaurant website checklist below.
Restaurant Website Checklist
This template will help you update and optimize your website, so guests can easily find and order from you.
Get free download
Complete Your Google My Business Profile
Google is often the first place a potential customer will come across your website. Be sure your listing is up-to-date and accurately lists your hours, locations, and online ordering information.
With a complete profile, a sidebar featuring your restaurant's location, category, hours, contact information, menu, reviews, popular times, and images will appear on the search results for your restaurant as part of the Google Knowledge Bar.
For example, check out what happens when you search for Boston restaurant Mei Mei.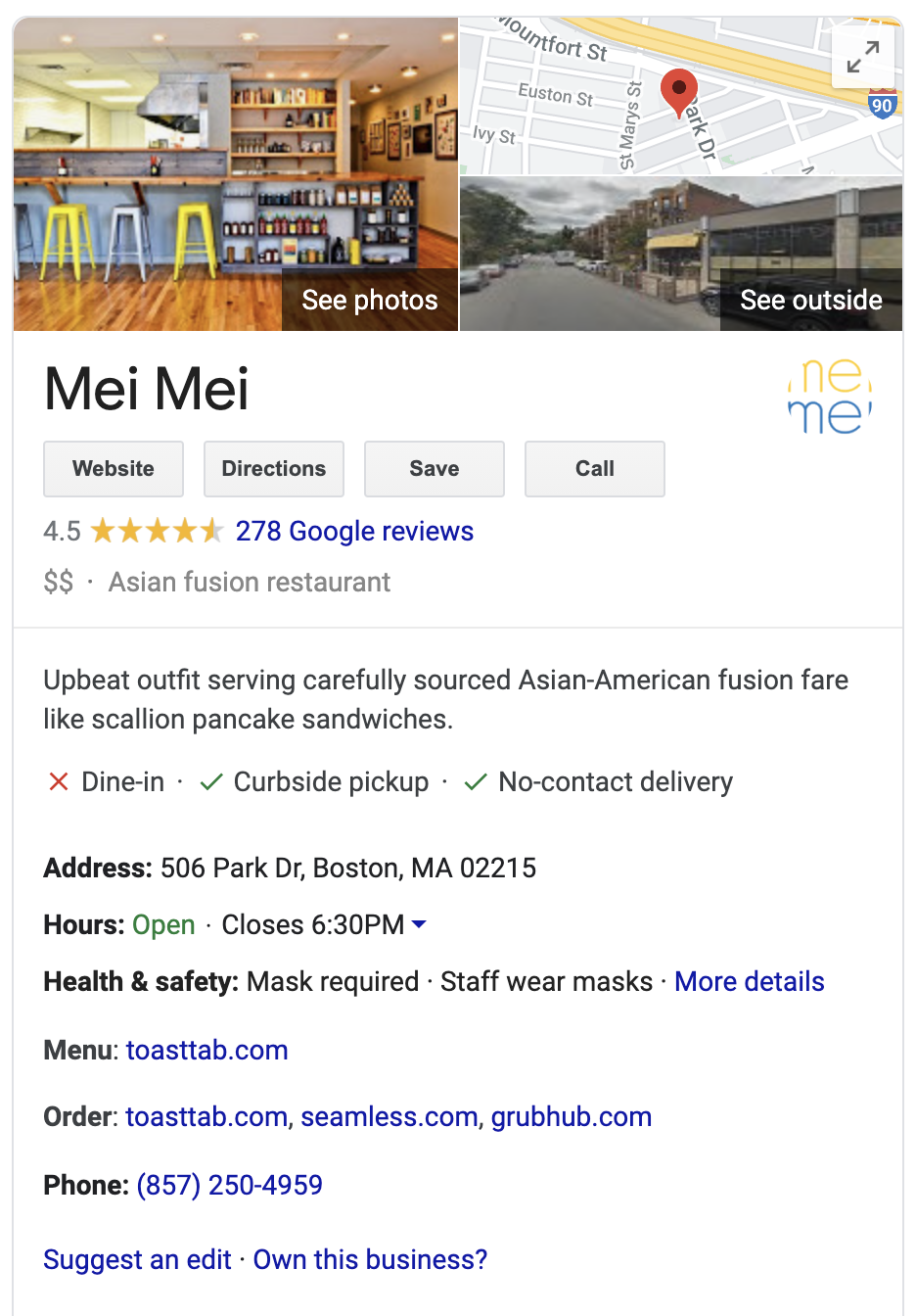 Level 2: Beginner Restaurant Marketer
If you have some website and social media skills but don't know where to start, this is the section for you.
Create Restaurant Social Media Accounts
Your customers are on social media, so your restaurant needs to be too. You want to connect and keep in touch with guests, and social media is a direct way to do this at scale.
Across all channels, keep your social media pages true to your mission, brand, and culture. Your social media strategy overall should be cohesive across all platforms, but should also be tweaked to fit each one specifically.
Keep your Instagram visual with beautiful photos or behind-the-scenes shots and live videos. Use Facebook to share updates and create and promote events. And consider TikTok as a way to keep up with internet trends and connect with a younger audience.
Facebook still reigns supreme as the top social site. Whether through their research, recommendations from friends, or through Facebook advertising, guests will find your page and continue to use Facebook to discover new restaurants. This means it's worth updating your Facebook business page with any relevant information and remaining active by regularly sharing photos and updates.
To read more about restaurant social media strategy, check out this post.
Claim Your Yelp Business Listing
Yelp is another platform many guests use to discover new restaurants.
If you want to use Yelp to grow your customer base, make sure your profile is filled out in a way that will entice users to come to your restaurant. Having quality pictures, your full menu, and a link to your website all add legitimacy to your restaurant. Party Fowl has an expertly-managed Yelp page that helps them reach new customers.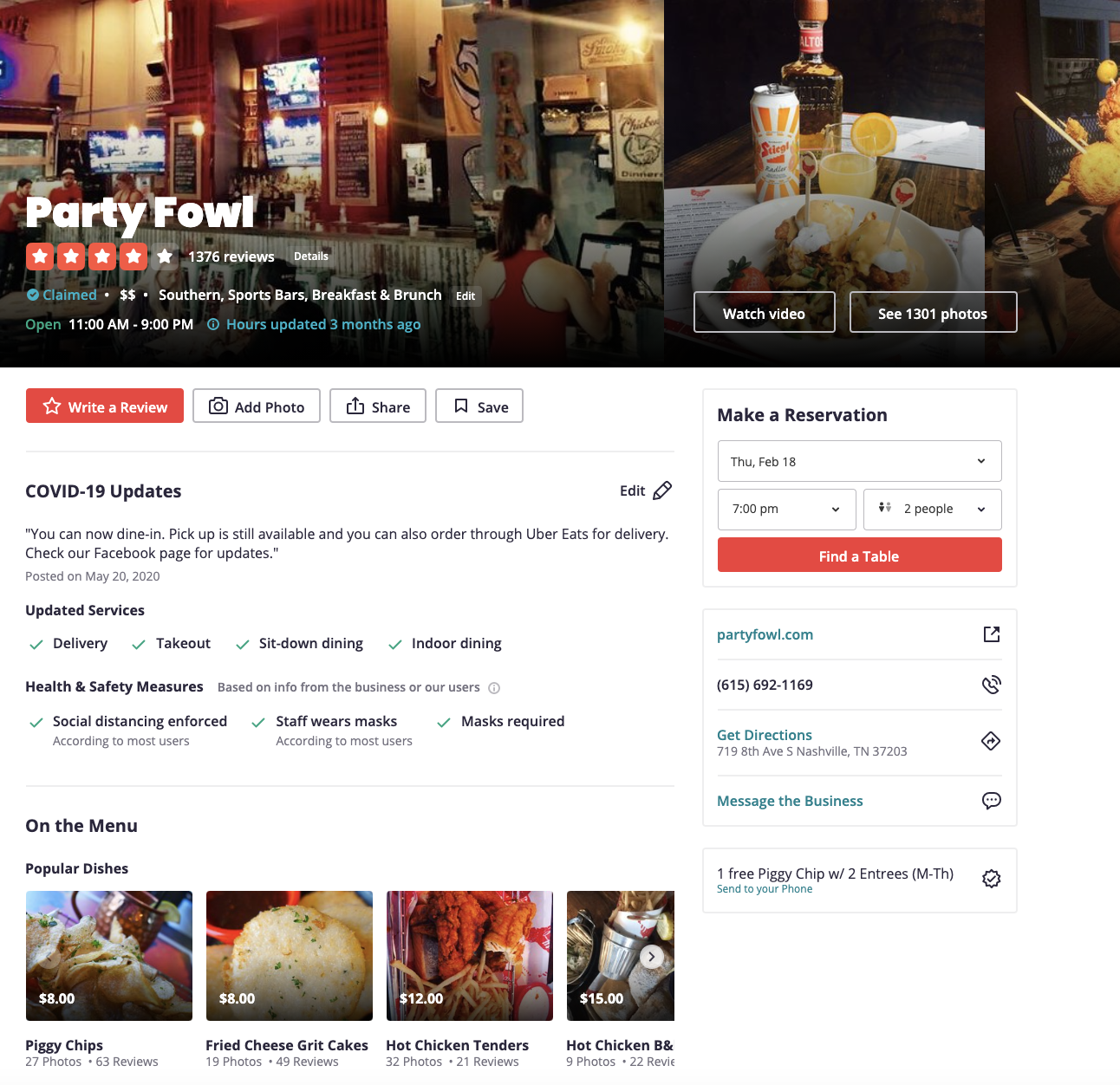 Level 3: Intermediate Restaurant Marketer
Have an above-average digital skillset, but aren't exactly a professional web developer? Find out how you can take your restaurant's online marketing strategy to the next level.
Build a Website from a Template and Customize it
To reiterate: having a website is a key piece to a restaurant's online marketing puzzle.
Building a website yourself is not hard, especially with websites like Squarespace and Wix. These website platforms are intuitive and templatized -- making it easy to customize your website to fit your unique brand.
Interact with Customers Online
One of the largest benefits of social media is interacting with your customer base outside of the restaurant itself. You can hold contests, promote events, crowdsource guest opinions and ideas, and respond to any inquiries and comments.
Most importantly: you can use social media to respond to reviews and other feedback. This lets satisfied customers know that you value their business and it can be used as a means of resolving issues with unsatisfied guests. See how B.Good used Twitter to resolve a customer complaint.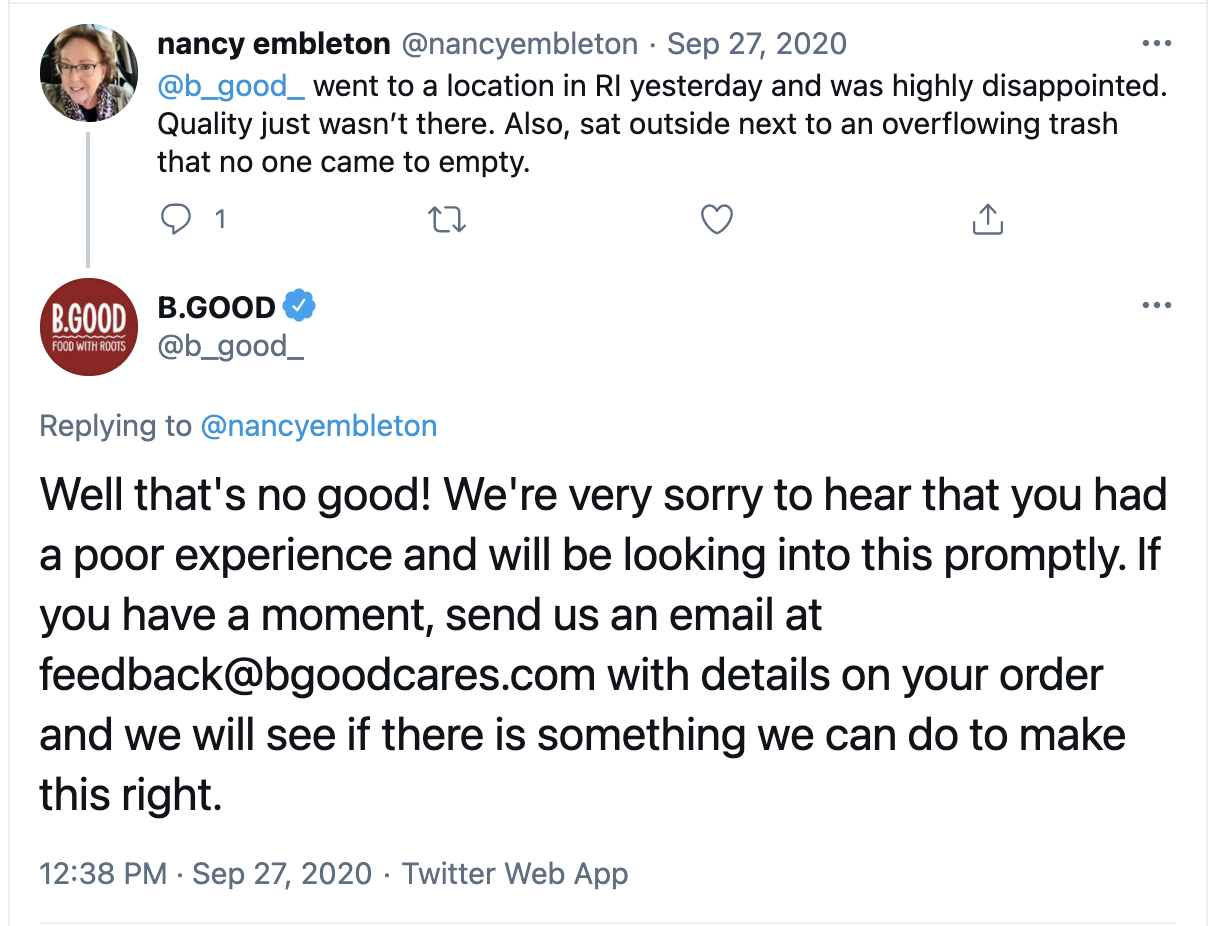 Grow Your Email List
Whether you are contacting members of your restaurant loyalty program or completely new customers, restaurant email marketing is an efficient way to encourage repeat visits. With Toast Marketing, you can automate email campaigns to send out news, promotions, menu updates, or whatever you think will drive traffic to your restaurant.
Email marketing is also a great way to drive customers to your online ordering platform.
Logan Hostettler at The 1894 Lodge centered one of their most successful email campaigns around online ordering – showing guests through a screen-shared video how exactly they might submit, pay, and pick up their order from The 1894 Lodge.
That email alone brought in $2,300 just in that first week.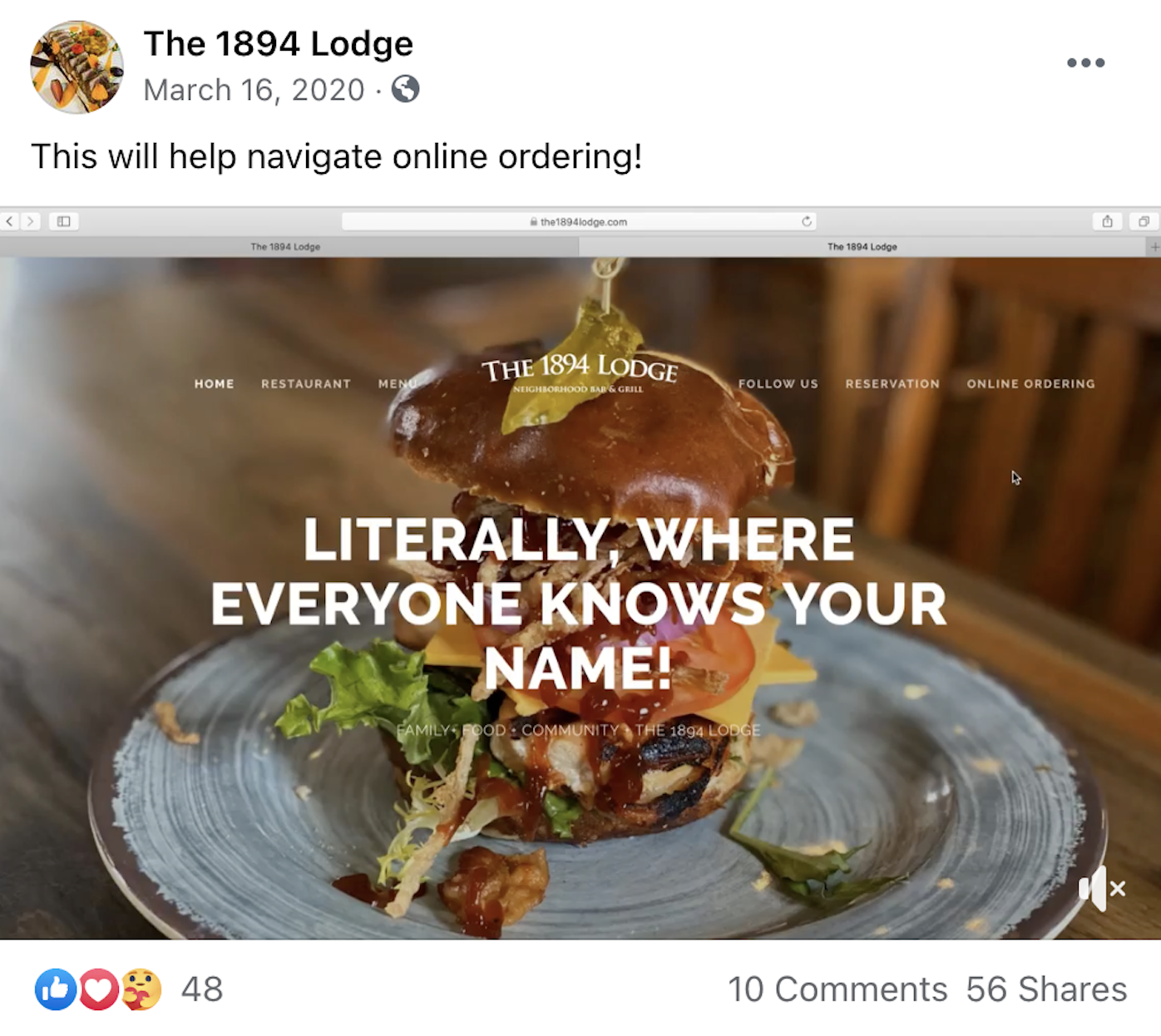 Engage Influencers and Bloggers
Once you have a committed social following, try approaching local foodie Instagrammers and bloggers to see if they would like to collaborate. A shared piece of content can be posted on your social accounts and the influencer's, and you both benefit from exposure to each other's following.
Working with local micro-influencers, who have under 10,000 followers, can be an affordable but very effective place to start.
Create Video Content
If you're looking to put a little bit more time into your social channels, try out creating video content for your Instagram Reels and TikTok.
TikTok is one of the fastest-growing social media platforms of all time – and is a great place to test out new content and engage with a younger audience. Plus, there's easy video editing software directly integrated into the app.
With the rise in popularity of TikTok and Instagram, there is no need to spend a large sum of money as your restaurant starts to explore video. These apps are free and provide huge potential to reach thousands of new customers – so try them out, and don't worry too much about expensive cameras or perfect scripts.
Viewers want to see authenticity, delicious food, and personality above all, so have fun with it!
Level 4: Advanced Restaurant Marketer
If you're a master of all things digital, apply your skills to your restaurant's marketing strategy.
Dabble in Paid Social Advertising
Once your Facebook Business Page is set up, you will be able to use Facebook's built-in advertising platform. The Facebook Ad Manager allows you to define a custom audience that will be a good fit for your restaurant, create new ads, and analyze performance. Twitter and Google have similar features.
For more on making the most of Facebook ads for your restaurant, click here.
Advertise on Restaurant-Specific Sites
With sites like Yelp and OpenTable, you can showcase your restaurant on relevant platforms. Placing ads on these sites ensures that you are reaching an audience that is already looking for a place to eat.
Build a Custom Website
If you choose to go this route, ensure that your restaurant website is optimized for mobile use because 42% of restaurant website visitors are on their mobile phones. Have a few customers test your site to make sure that anyone can easily navigate; a website not optimized for mobile will drive customers away.
Use Search Engine Marketing
Search Engine Marketing (SEM) is the practice of bidding on specific keywords that you want your website to appear as a top result for. As a restaurant, you might use SEM to make sure that you rank highly for your restaurant type or menu items in your area and direct customers to your online ordering system.
For example, several major pizza restaurants bid on the term pizza through Google, so when I searched "pizza," this is what came up.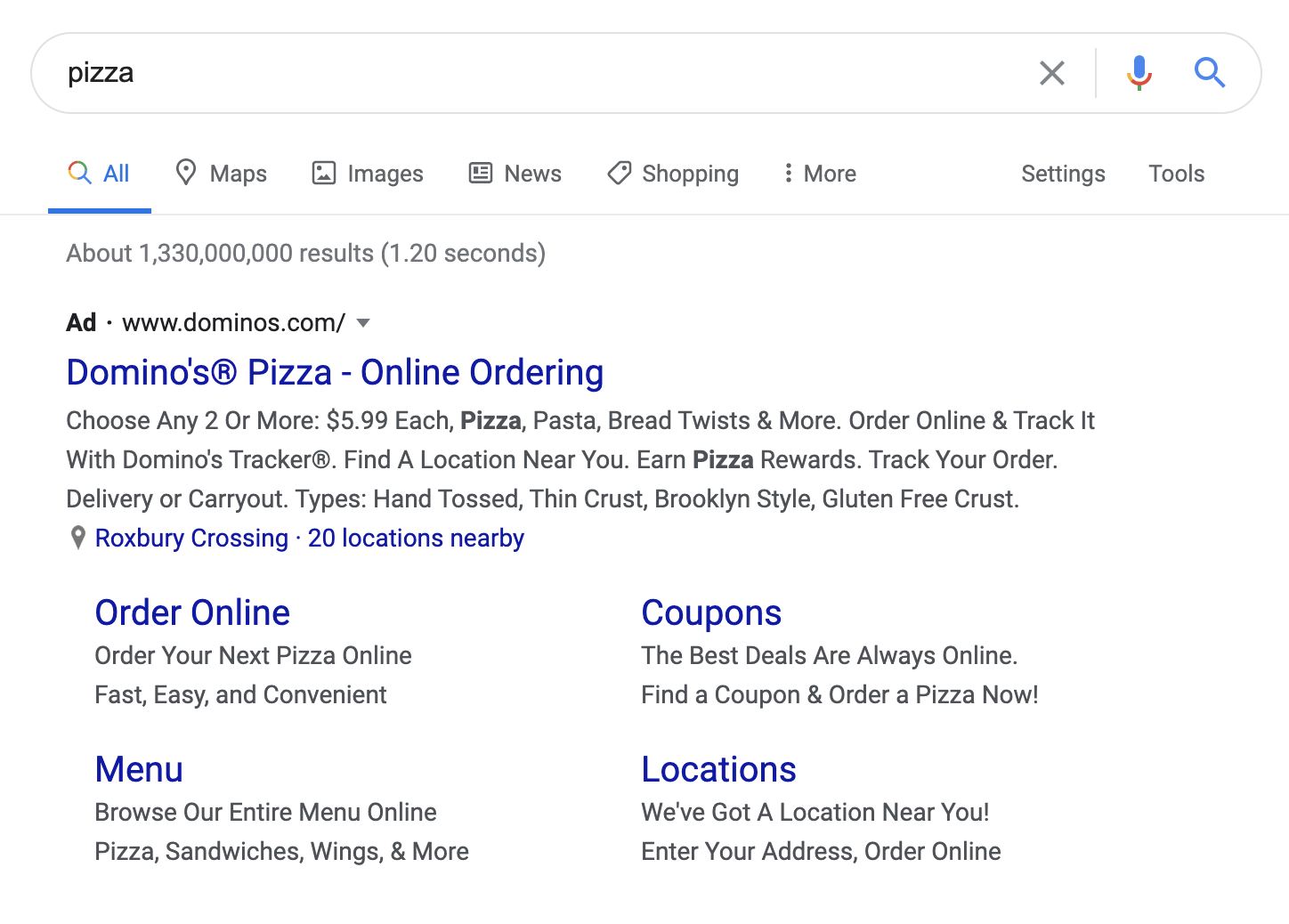 Be careful: SEM can become expensive, so you need to keep an eye on your budget.
Restaurant Marketing Ideas for the Online Age
Now more than ever, having an online presence is an increasingly essential marketing tactic. Follow these steps to become an online marketing master and make your business stand out from the competition.
Related Restaurant Marketing Resources