The next time you're thinking about how to increase traffic to your restaurant and get more butts in seats, remember: Cat cafes are a thing. Why do we bring this up? Well, when it comes to great restaurant marketing ideas and trends, even the most far-fetched ideas can have a substantial, positive impact on your bottom line. As the saying goes: There's a lid for every pot. With the right restaurant marketing ideas, your spot could be the lid to your target customer's pot.
But which restaurant marketing ideas and trends should you draw inspiration from, thereby winning your business more business?
In this post, we cover some restaurant marketing ideas and trends worth considering, as well as three strategies to use when analyzing whether it's worth your while to incorporate a trend when you're on the hunt for new restaurant menu ideas or restaurant promotions for your marketing plan.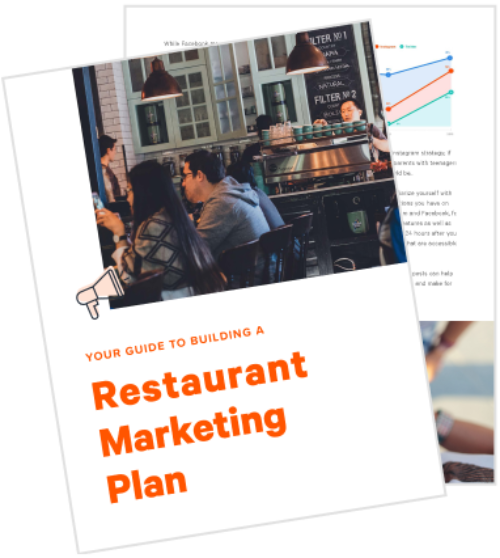 Restaurant Marketing Plan
Create a marketing plan that'll entice and engage the customers you want with this customizable marketing plan template and interactive calendar from Toast.
Download
Make Big Bucks off of the Latest Restaurant Marketing Ideas and Trends
1. Don't be Afraid to Disrupt
You know the classic TV restaurant ad: The whole family gathered around a table overloaded with curiously uneaten appetizers and entrees, evidently too engaged in gleeful familial connection to eat their food, when the waitress approaches with a smile to confirm that everything is a-okay. There's some happy music playing and the ad ends with some kind of memorable slogan.
That was then. The era of Norman Rockwell-esque imagery in ads has been replaced by memes, gifs, and witty plays on 21st-century slang like Cardi B's infamous "okuuuurrrrr". Consumers are constantly inundated with microdoses of entertainment, like the aforementioned memes and gifs, and to grab peoples' attention your message has to be worth that attention.
Getting a little weird with your messaging and contextualizing it as entertainment can help you make a splash. Creative risks yield significant rewards. Have you seen a Skittles ad lately?
Take IHOP for example. Did you know that The International House of Pancakes, a world-renowned fast-casual breakfast establishment, also serves lunch and dinner? Most people didn't. Late last year, IHOP leadership identified that their lunch and dinner menus weren't selling and decided to take a dual-pronged approach to boosting sales. First, they improved their lunch and dinner menu offerings, then created a restaurant marketing campaign to spread the word. IHOP got to work developing the "ultimate steakburger", which quickly became a hit with their regular customers, and set their sights on getting the rest of the world to stop by and try it out at lunch or dinner.
The restaurant marketing campaign they decided on teased a name change for the 60 year-old brand, where they flipped the "P" to a "b" and "officially" reinvented themselves as IHOb — The International House of Burgers.
The IHOb campaign was certainly disruptive, inspiring more than 1.2 million tweets that, frankly, were mostly throwing shade at the brand and wondering aloud what IHOP could possibly be thinking. But the campaign motivated people to try the burgers. Burger sales at IHOP quadrupled in the first three weeks after the announcement and continued to remain stable through the rest of the year.
"The IHOb campaign greatly exceeded all of our expectations," Chief Marketing Officer Brad Haley told AdWeek. "The creative strategy behind it was to convince the public that we take our burgers as seriously as we take our pancakes so, to convey that, we had to make a big statement in a disruptive way. And it worked."
By leveraging their brand recognition in the breakfast space, IHOP bet that they could make a great burger and dared the world to tell them they couldn't. While the brand was roasted on social media, IHOP got the last laugh when all those people couldn't resist coming in to try the goods. In the age of social media, being able to poke fun at yourself can be an extremely effective marketing tactic.
2. Mix Up Your Menu
A restaurant's greatest asset is its menu. As we saw with the above IHOP example, a menu change combined with a huge marketing push had them trending on Twitter for weeks.
If you're on the hunt for restaurant menu ideas, researching and incorporating culinary trends on your menu will make your restaurant the go-to destination for what's hot right now. It shows that your restaurant is paying attention to what eaters want while keeping the menu interesting for those regular customers.
That being said: You may have the urge to try and make "fetch" happen by adding new menu items inspired by the latest culinary trends, but, as Gretchen Weiners learned, you can't force a trend to take with your audience or customer base unless it appeals to their interests, preferences, or sense of humor.
There are plenty of culinary trends to keep your menu fresh and new without you needing to try to start something completely out of the blue. So, what restaurant menu ideas can transform your menu into a marketing tool? Here are a few culinary trends worth considering:
Alternative milks have grown in popularity in response to lactose-intolerant customers and dairy-free lifestyles. Supermarkets expect double-digit growth in alternative milks like almond, hazelnut, and cashew milk through at least 2022 and if consumers are buying plant-based alternatives for their own homes, you can bet they want to see them on the menu at their favorite restaurants too.



CBD in beverages is the top drink trend in 2019 according to a menu trend survey conducted by The National Restaurant Association. The plant-based relaxant is also being frequently used in desserts and snacks, with an enormous industry sprouting up practically overnight to accommodate demand.



Menu items that include ingredients with hidden medical benefits, like kombucha, turmeric, or ginger. The trend toward promoting healthy options in restaurants has since evolved into consumer demand for menu options that come with added health benefits, like an energy boost or improved gut health. Power berries like acai and superfoods like flaxseed and spirulina are healthy and tasty.



Healthier kids menu items that are low in sugar, processed ingredients, and preservatives. In 2016, 80% of millennials became parents, and considering this generation values sustainable food systems, local sourcing, and organic produce, it should come as no surprise they'll demand the same for their kids' dining options. Even fast food juggernaut McDonald's has added apple slices to Happy Meals, removed antibiotics, artificial ingredients, soda, and other sugary drinks from their kids menu offerings.



Menu items that look great in videos or boomerangs like Yard House's Magic Margarita which contains butterfly pea flower. When added to acidic liquids – like cocktails – butterfly pea powder changes color and provides guests with a very video-friendly moment to broadcast to their social networks.
And, one trend to stay away from: activated charcoal. Turns out, when ingested, charcoal contributes to the malabsorption of medicine. Cindy's in Chicago, IL has a cocktail named 'The Reanimator' that includes charcoal on it's ingredients list, which has earned the nickname 'the baby-maker'.
3. Restaurant Promotions for Your Customers
Besides testing outside-the-box restaurant marketing ideas and leaning on culinary trends to inspire new restaurant menu ideas, one of the most effective ways to increase foot traffic to your restaurant is by simply getting to know your target customer.
For example, restaurant guests today care a lot about sustainability and want to dine at places whose values mirror their own, says Jeff Clark of the National Restaurant Association. Things like incorporating (and promoting) sustainable practices into your business by offering paper straws, recycling bins, and using eco-friendly packaging could win you repeat business.
When you know your guests and keep them happy, you can trust them to give more positive feedback. When 78% of guests in the hotel and restaurant industry will check out online reviews before making a reservation or visiting a business, it's crucial to connect with your current guests to help attract future ones as well. Developing an efficient, productive guest feedback system can help you make the best of both worlds.
Inviting your guests to provide feedback by distributing comment cards, engaging with them on social media, or incentivizing them with a free appetizer or discount at their next visit if they leave a review online are all great ways to collect guest feedback and build stronger, conversational relationships with your guests.
Guest feedback may help you discover a food trend you've been missing or inspire a targeted marketing campaign based around their most positive experiences. It's far more expensive to gain a new customer than to retain a current one and, for restaurants, active feedback and engagement with customers is the best way to ensure they keep coming back.
While comment cards and social media are effective, modern solutions restaurant POS systems like Toast are invaluable to optimizing operations and maintaining guest satisfaction. Tools like Toast's Guest Feedback allow you to ask for feedback from customers at checkout and gather contact information like an email address to follow up on their experience later.
Besides feedback, restaurant point of sale systems can measure how popular certain dishes are, how long customers generally stay in your establishment, and generate valuable data and metrics that can lead to actionable insights. They're simple, non-invasive ways to understand exactly what your customers are and aren't enjoying. The more you know, the better you can target your marketing efforts, curate your menu, and improve your operations to ensure your happiest customers remain your most loyal customers.
Conclusion
The cat cafe happened. Remember that. The restaurant industry is rapidly changing and marketing ideas and trends are changing right along with it. When considering whether a trend could be a suitable restaurant marketing idea for your business, do your research – not all trends will make sense for your guests – and don't be afraid to take a risk.