Simple budget guidance to maximize profits on razor thin margins
Make sure your projections are accurate and eliminate overspending across your business.
---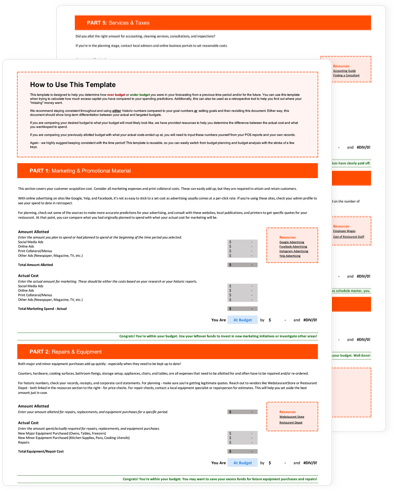 What's inside?
Sections broken up to analyze marketing, tech, equipment, professional services, and more.
An overall budget performance analysis to see where actual spend differs from projections.
An easy-to-use, "plug-and-chug" way to see how much you are over or under budget.


Why Analyze My Restaurant Budget?
Restaurants are feeling optimistic - and the numbers are backing up this outlook. Still, there are countless expenses to running a restaurant that can change with little notice.
Restaurant owners and managers should periodically look back on their allotted spend compared to their actual spend in such areas as marketing, services, and technology.
Additionally, new restaurateurs can use this tool to set a benchmark budget, research more accurate costs, and compare predicted spend to what actual spend will be.