Back-of-house staff are the invisible heroes of any great restaurant. They work in close quarters and under high temperatures, slingin' knives, preppin' onions, battling constant risk of injury and pressure from the chit printer. Members of a tight back-of-house staff work like ninjas through the ups and downs of a long shift.
Kitchen staff are notorious for being the toughest roles to hire and retain. If you have vacancies on your back-of-house team, don't hire just anyone who walks into the restaurant, even if you're feeling understaffed and over-stretched. Why? Turnover is expensive — it can cost almost $6,000 to replace a restaurant employee, says a study from Cornell's School of Hotel Administration, and if a hire doesn't feel like a great fit from the beginning, there's a good chance they'll be out the back door before you know it. Then you're back at square one.
If you hire the right person from the start, onboard them with care, and train them consistently, you'll build a back-of-house team that sticks around.
Knowing Which Back-of-House Jobs to Hire
Often, your food is what convinces customers to venture through your doors in the first place, so if your back-of-house staff knock it out of the park, you're likely to earn yourself a returning customer.
Customers in the retail and restaurant industries tend to eat around (only 3-4% of guests are deeply devoted to a particular brand), so you need to do everything in your power to make your restaurant their first — and favorite — choice. Hire the best people you can find to help you get there.
Two must-have skills for all back-of-house staff are time management and stress management. There isn't a single job in the BOH that doesn't hinge on these abilities.
Here are the most common back-of-house jobs you'll need for your dream team. Who you hire and for which responsibilities will depend on the size of your kitchen, budget, menu, and dining room. No matter the job title, to thrive and survive as any kind of cook they'll need to manage an influx of orders, effectively communicate with fellow kitchen staff, and prepare food to perfection, even during the rush.
Executive chef
The executive chef (or just "chef") is in charge of everything that goes on in the back of the house. Sometimes they expedite orders, and some spend more time cooking than others. The chef gets to be creative, thinking up specials and putting together the menu and the recipe bible, but they also need strong business skills: calculating food costs and managing vendor relationships are big parts of running the kitchen.
Chefs need to be strong leaders. During the chaos of service, they're the ones steering the ship. If a piece of equipment breaks or something goes wrong on the team, it's the executive chef and the sous that often need to step in and problem-solve at lightning speed.
Sous chef
The sous chef is the second-in-command. They're in charge when the chef isn't there, and they're usually found taking inventory, cooking the bulk of the dishes — fileting, sauteing, and owning the majority of the burners — and putting out fires (both figuratively and literally) all over the kitchen. Sous chefs often put in the longest hours of anyone in the kitchen.
Line cooks
Line cooks are the ones who turn prepped ingredients into components of delicious dishes. They're in charge of certain aspects of cooking as well as making sure meal orders are properly timed out so all courses are brought to the customer in the right order. They should be master multitaskers. Depending on the size of your kitchen, you may have line cooks dedicated to a specific part of the line, like the grill, pasta station, fryer, or the cold station. Usually, line cooks have to do some prep before their shift and must keep their station clean throughout service.
Prep cooks
Prep cooks are usually the first ones to arrive in the morning. They're responsible for ensuring the individual ingredients — like vegetables and fruits, doughs, meats, sauces, and more — are prepped and the kitchen is stocked for a busy day ahead. They're often dicing 10 pounds of onions at a time, and without them the kitchen would have nothing to cook.
Specialty chefs
Like the name suggests, specialty chefs have experience and training either in a particular culinary style or item, like pastry or charcuterie. These chefs will typically own their own stations and, depending on the size of service, might lend a hand in other areas or show up purely to knock out 285 creme brûlées.
Dishwashers
Loading, unloading, and cleaning dishes isn't glamorous work, but it's the most important role on your kitchen staff. An eye for detail is key to success in this role: spotting a rogue piece of food on a piece of cutlery before it makes its way to the customer will maintain your restaurant's reputation. Equally important is how they work under pressure. If they're able to remain calm and composed in the face of a growing pile of dishes and sometimes flaring tempers, you've made the right choice. They must also be reliable. Shifts where a dishwasher no-shows are the worst kind of shifts — without clean plates, everything comes grinding to a halt.
---
Read this next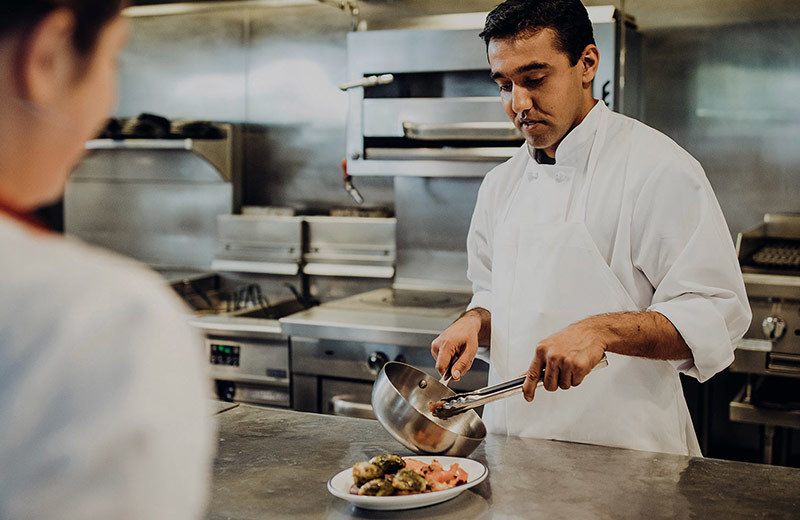 How to Hire a Restaurant Chef
Finding the right chef for your restaurant — whether you're opening a new concept or filling a vacant seat — is easier said than done.