The task of restaurant server training often falls on managers and tenured employees, and when it isn't done right, things can quickly become chaotic in the dining room.
According to Toast research, when it comes to training new hires, the majority of restaurants (68%) share an employee handbook, but only 19% use online training and only 36% have a formal 30-day check-in.
Hastily training a new restaurant employee is an all-too-common move in a busy restaurant. Training usually consists of a quick conversation about the restaurant's common issues and challenges with a classic, "Just make sure you never do this." Then the server is sent off to shadow someone else or are given a few tables of their own.
This into-the-fire approach can work for experienced servers who just need to learn the nuances of your restaurant business, but they need so much more than that.
How to Train Servers
Servers are front and center when it comes to how guests evaluate a restaurant. Your servers need to represent the restaurant and do their jobs well, which can only happen when they've been trained well to start with.
With great server training, you can reduce staff turnover and make your employees happier, which will, in turn, help your restaurant exceed your guests' expectations. Training current employees to effectively train your new hires also lightens the workload for you and increases accountability within the team.
In this guide, we'll look at how to implement great server training from an employees' first day all the way through to the end of their time on your staff.
Want to create a server training manual as you go? Oh, we already made one for you. Use this training manual template to create your server training guide.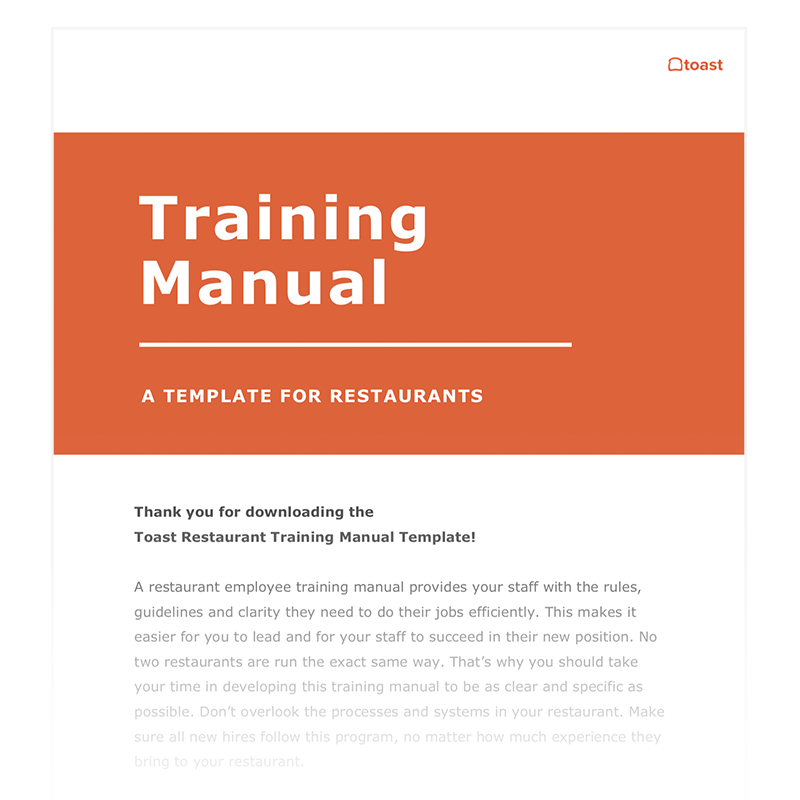 Training Manual Template
Use this restaurant training manual template, a customizable Word Doc, to provide your staff with the rules, guidelines, and clarity they need to do their jobs efficiently.
Download