DISCLAIMER: This content is provided for informational purposes only and is not intended as legal, accounting, tax, HR, or other professional advice. You are responsible for your own compliance with laws and regulations. You should contact your attorney or other relevant advisor for advice specific to your circumstances.
What Do You Need to Start a Small Restaurant Business? (Checklist)
In 2021, nearly 20,000 new restaurants opened in the United States — all various sizes and specialities.
For those interested in becoming restaurateurs, or industry lifers looking for a new opportunity, this revitalization of the industry is a sign to begin breaking ground on new establishments. Small restaurants provide an opportunity to showcase the nuances of your culture's cuisine, to try out experimental menus, to create intimate dining experiences, or to try out a lean business model that relies on delivery.
Some of the most famous restaurants in the world occupy only a tiny amount of square footage and have less than 10 seats, like the Michelin-starred Tsuta in Tokyo.
For chefs or restaurateurs with big ideas for small spaces, here are the steps and resources for opening a restaurant anywhere.
1. Choose a Small Restaurant Format
When you picture your small restaurant, what does it look like? Is it a counter-service cafe for breakfast and lunch with a small bar seating area? Is your restaurant a more intimate affair, a reservation-only establishment whose limited seating only adds to the allure? Maybe your small restaurant is take-out only, offering a few seating options as customers wait for their meals to finish being prepared.
Small restaurant formats to choose from are:
Casual dining

Family style
What are small restaurants also called?
Depending on the format you choose for your small restaurant, it may be classified under a different name. This can also be influenced by cuisine. Popular variations on the classic small restaurant include:
2. Write your Small Restaurant Business Plan
In order to set your small restaurant up for sustainable success in the long term, start by crafting a comprehensive business plan that outlines your strategy for opening and operating your restaurant. The more detailed a business plan you write for yourself, the more prepared you'll be for whatever comes along.
A small restaurant business plan that leads to a profitable company includes:
The name of your small restaurant (you can search the U.S. Patent and Trademark Office to check if your desired name has already been taken.)

An outline of your sales, marketing, and advertising strategy.

A projected timeline of your financial growth over the first five years of business.

An executive summary that outlines your reason for opening the restaurant, including your history as a business owner and plan to drive revenue.

A market analysis that induces the industry as a whole as well as any local competitors.
To begin drafting your business strategy for your small restaurant, use our customizable Restaurant Business Plan Template.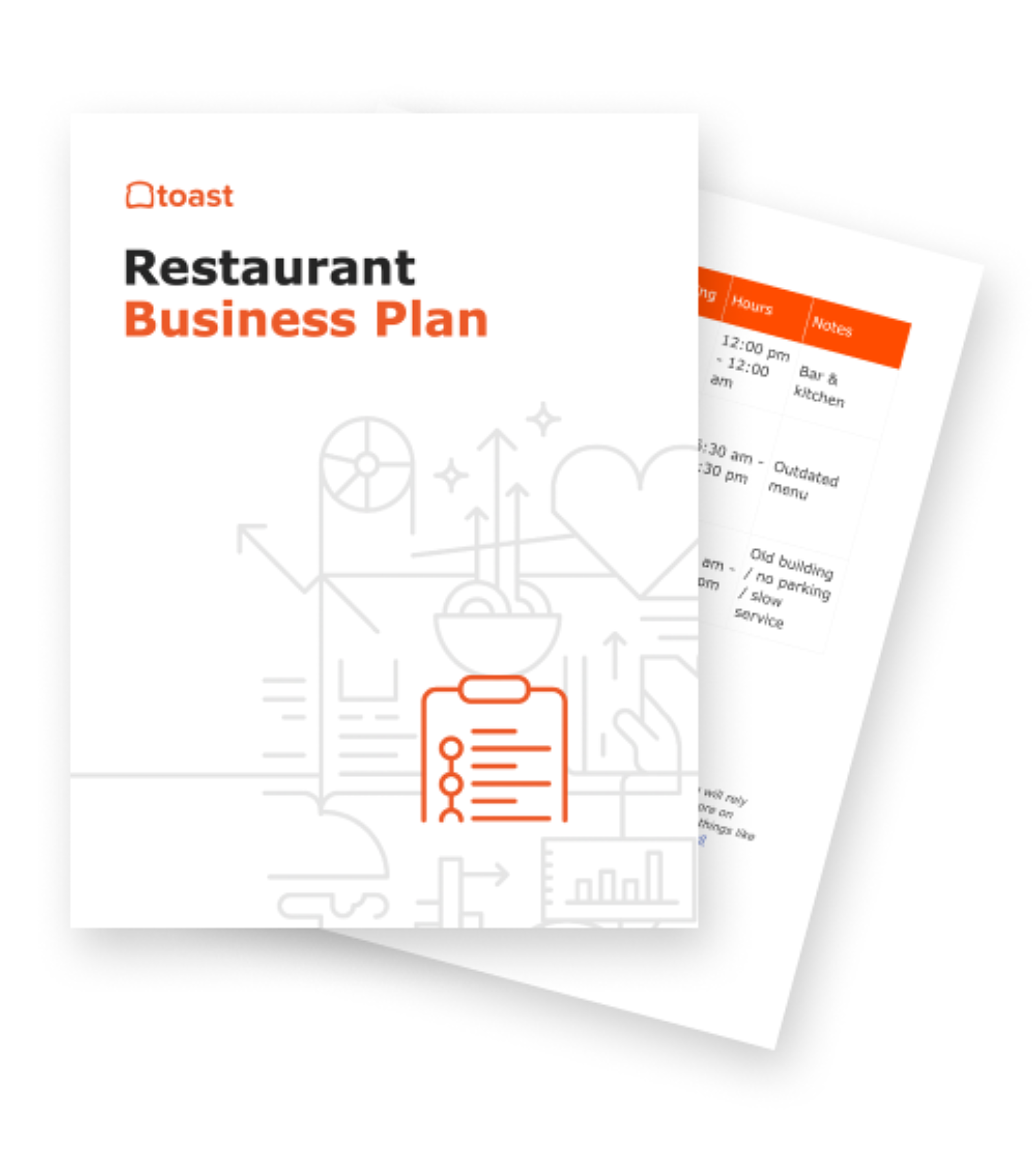 Restaurant Business Plan Template
No matter where you're at in your restaurant ownership journey, a business plan will be your north star. Organize your vision and ensure that nothing is overlooked with this free template.
Download
3. Find the Right Location for your Small Restaurant
Gather an understanding for who your target customers are, where they spend time, and which restaurants are the most popular in your area. Think about the community and keep them in mind through every step of the process, from idea to grand opening — that's how many small businesses become neighborhood favorites.
It's not enough to set up shop in a beautiful building if it isn't also centrally located to where your future customers spend their time. In order to do so, start by crafting thorough buyer personas for your prospective customers. To get you started, here is How to Entice Your Restaurant's Target Customer.
Real estate agents can be a helpful resource for restaurateurs interested in setting up new businesses in areas that are new to them or competitive.
4. Procure Food Sales Licenses and Business Permits
Start researching the documentation you will need to open and operate your restaurant by searching for new business requirements or new restaurant requirements in your state. Some counties even have their own paperwork requirements for new restaurants. To ensure you aren't missing any application requirements or deadlines, start this process as soon as you can.
The permits and licenses necessary for opening a small restaurant include, but are not limited to:
Zoning permits

Passing a health and safety inspection

Food handler's license

Sales license

Liquor license
States or counties may have their own requirements, too, along with specialty restaurant formats. For example — if you want to have a food truck along with your small establishment, they have their own paperwork and permit considerations. Work with a professional to make sure you've got this step right.
5. Gather Restaurant Tax Information Including Business Name and EIN
To keep the paperwork ball rolling, begin collecting all of the restaurant tax, DBA, and EIN information that you'll need to open and operate your small restaurant. Be on the lookout for state and county-specific requirements during this step as well.
Regardless of if you are utilizing an in-house team or a third-party tax professional, start by:
Familiarizing yourself with all of the restaurant tax requirements that apply to your small restaurant.

Choosing a business structure.

Filing for your DBA (also known as the trade name of your restaurant).

Applying for your EIN (employee identification number) that allows you to hire employees and file payroll tax returns.
This is another step where working with a professional can prevent major headaches.
6. Design your Marketing Strategy for your Small Restaurant
Before you can introduce your restaurant to the public you first need to design your branding like the logo and color scheme. Ask yourself questions like:
What is unique about your restaurant?

What does the ambiance of your restaurant offer customers?

Will you offer specials or seasonal promotions?

How will you communicate with your customers?

Which advertising methods will you use to reach your target audience?

How does your cuisine affect brand and design?
Questions like these will guide you in designing a strong, recognizable brand for your restaurant. Once a brand has been established, social media marketing is a low cost way to spread the word about your new business. And once you've been up and running and you can build up your customer list, email marketing is incredibly effective and a great way to turn first-time guests into regulars.
To get started, here is a comprehensive Restaurant Marketing Plan that will have customers lining the blocks around your restaurant on opening day.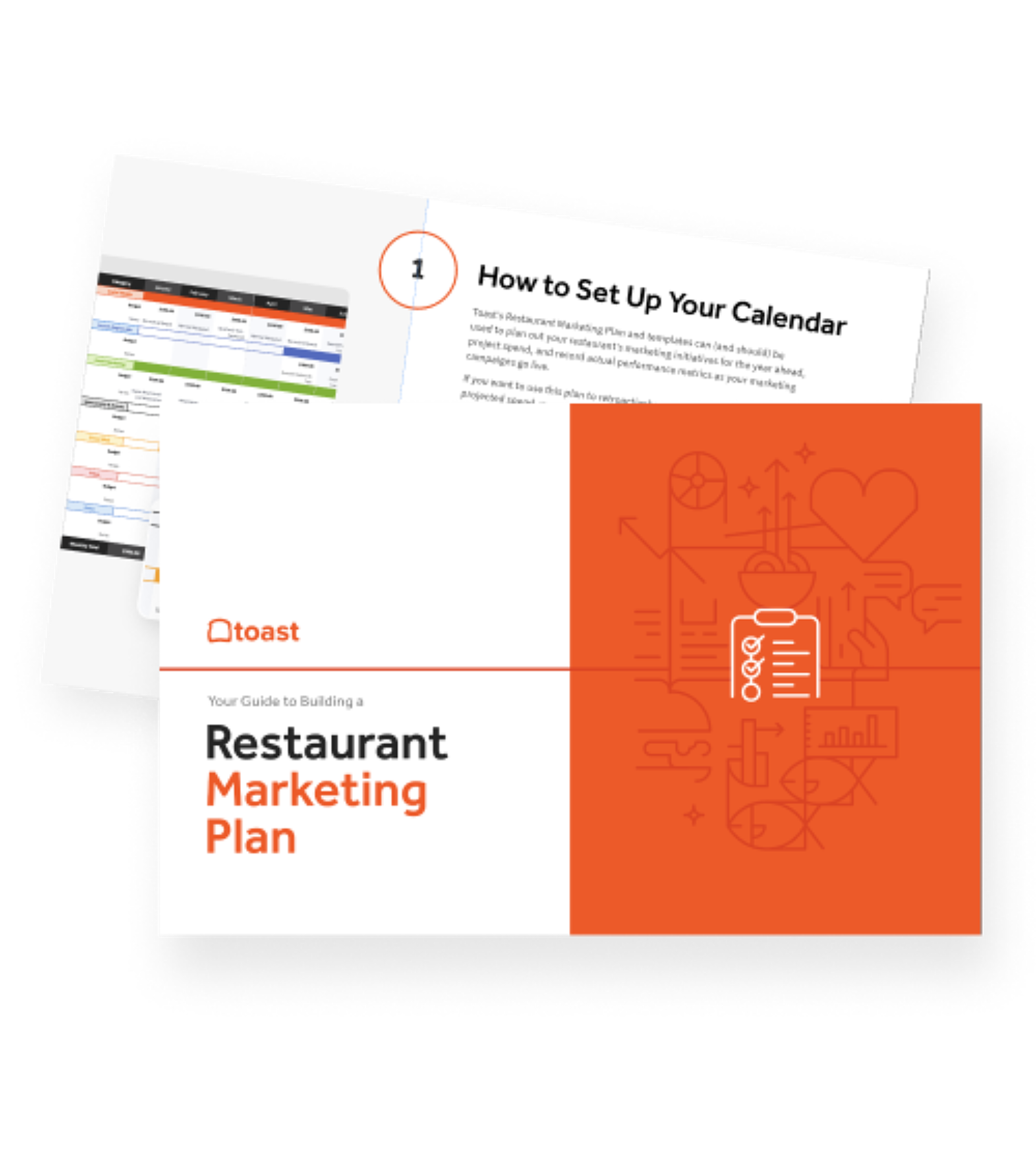 Restaurant Marketing Plan
Create a marketing plan that'll drive repeat business with this customizable marketing playbook template and interactive calendar.
Download
7. Map Out your Restaurant Finances and Operating Expenses
Managing your restaurant finances requires you to gain an understanding of your startup costs and all potential operating expenses, leaving room for unexpected costs. When you first set up your restaurant operations, you can implement systems that help accurately forecast future sales using real-time data from food sales down to the menu item.
How much does it cost to open a small restaurant?
Total restaurant startup costs range from $95,000 for smaller restaurants to over $2 million. As a rule, you can expect to pay roughly $178 per square foot of your location. Startup costs can vary based on purchasing new or used equipment or renting, the cost of food and supplies, and whether or not you'll have counter service or servers.
Restaurant Finances + Operating Expenses
In addition to preparing for restaurant startup costs like equipment repairs and potential barriers like supply chain shortages, typical small restaurant operating expenses include:
Labor costs

Food

Utilities

Equipment

Appliances

Packaging

Software and other in-house technology

Marketing and advertising

Licenses and permits

Rent
Restaurant Sales Forecasting
Once you're open for business you can forecast sales by analyzing your month over month growth rate. Until then, forecasting sales means subtracting expenses from projected revenue.
To manage business expenses and vendor and employee payments, use a separate business bank account instead of a personal account.
8. Gather all of your Funding and Loans
Good news, there are many options that allow for accessible restaurant funding. Government grants and small business loans exist to aid restaurateurs just like yourself during the process of opening a new restaurant, making it possible to open a new shop without having hundreds of thousands of dollars in your own bank account.
Some small restaurant funding options include:
SBA Microloans for small-businesses

Opening a business line of credit

Startup business grants

Equipment financing for individual appliances

Alternative lenders

Crowdfunding
To learn more ways you can fund your restaurant, read The Complete Guide to Restaurant Financing and Loans.
---
Read this next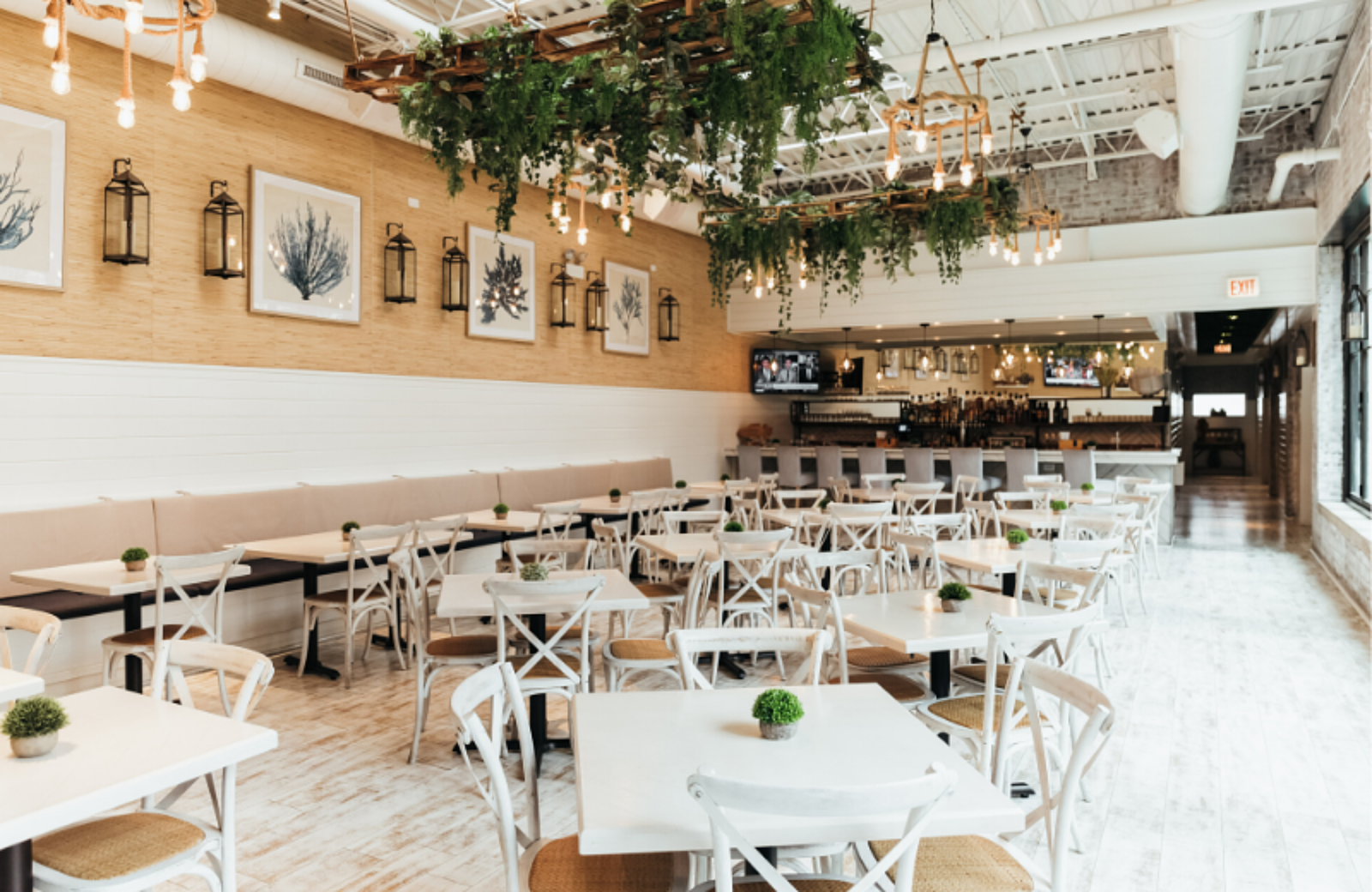 The Complete Guide to Restaurant Financing and Loans
Whether you're opening a new restaurant, expanding your concept, or renovating within your existing four-walls, you're going to need capital to make it all happen.
9. Create your Small Restaurant Menu
Once your marketing efforts do the heavy lifting of drawing customers into your restaurant, it will be your menu (and your staff's stellar service) that keeps them coming back week after week. When designing your menu, be sure it speaks to restaurant format and overall target audience.
The contents of your restaurant menu, on the other hand, will depend on things like your theme, branding, and your specialized offerings. For example, although they are both often small restaurants, a diner menu and a fine dining menu will offer different items, amounts of menu items, and prices.
To create your small restaurant menu, begin by revisiting your purpose for opening the establishment. Was it to spread awareness for an underrepresented regional cuisine? Will you only be using locally sourced, vegan, or other specialty ingredients? Whatever your purpose may be, infuse that same passion into the menu itself.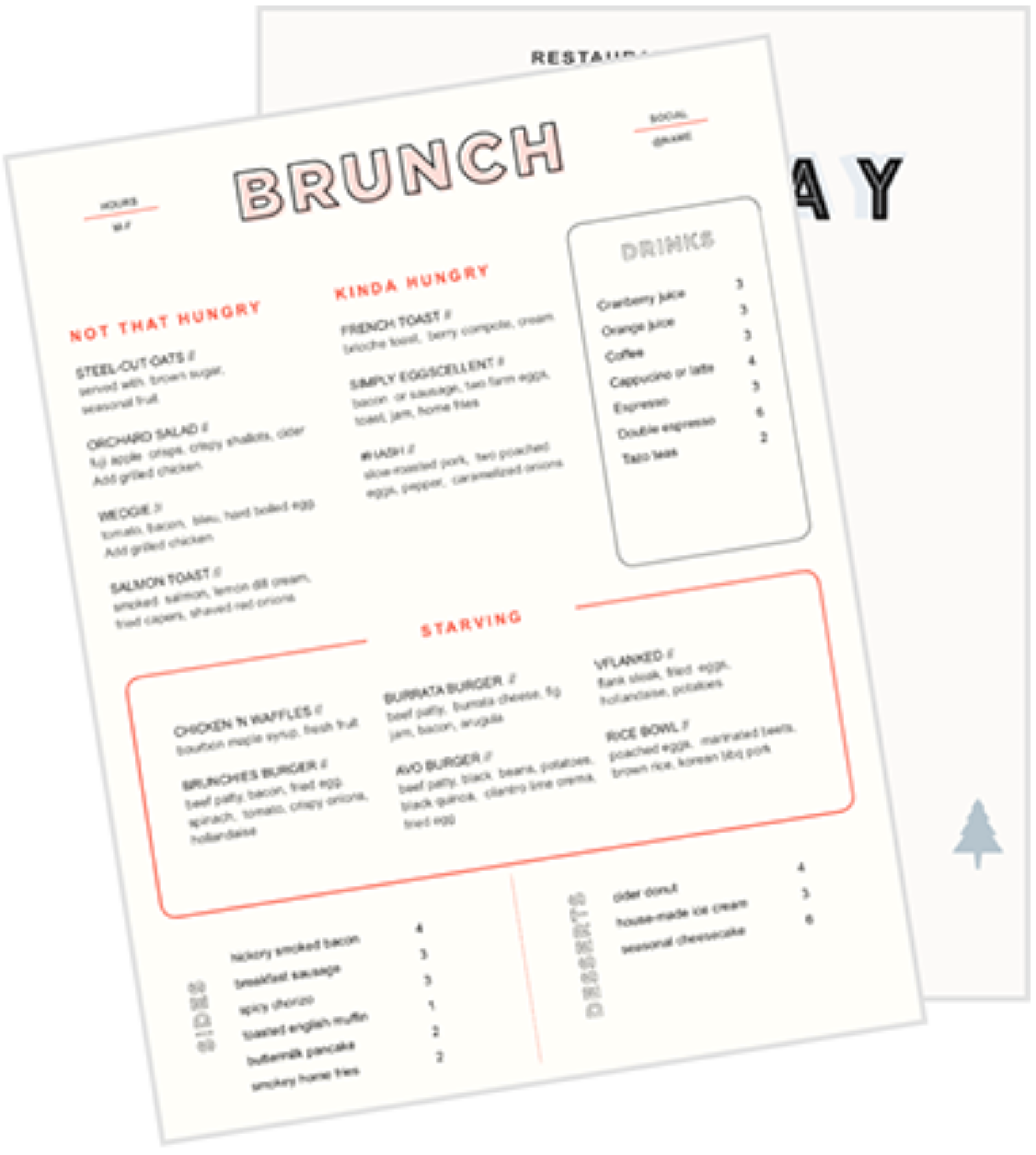 Restaurant Menu Templates
Use these menu templates as a starting point for your menu design or to give your menus a refresh.
Download
10. Purchase and Track Your Restaurant Inventory
Once you've finalized your menu, start cataloging all of the inventory you need to create your menu items. Include any and all ingredients, products, equipment, and supplies you'll need to open your restaurant.
Then, when you have an understanding of the inventory you need, start shopping for vendors. Compile yourself a list of promising wholesalers, smaller local vendors, and any niche retailers that have the supplies you're looking for.
Finally, centralize the inventory process by utilizing a restaurant inventory management software. The more automation and integrated systems, the less manual spreadsheet management and room for error in inventory tracking.
11. Buy a Small Restaurant Point of Sale System
When shopping around for your small restaurant POS system be on the lookout for a platform that is not only easy to use, but optimizes your entire payment process and establishes open communication between your front and back of house staff.
The best POS systems for small restaurants:
Reduce wait times by connecting the kitchen directly to the front of house.

Are portable, allowing for full mobility and the option to accept payment directly from the device (like Toast Go 2™).

Have a simple interface for quicker employee training times.
For more information, here's everything you need to know about Toast's Restaurant POS System.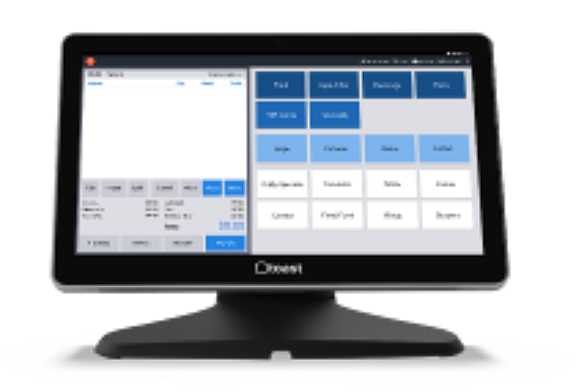 Learn how a better point of sale system can help you run your restaurant.
Read now
12. Craft the Layout, Atmosphere, and Design of your Small Restaurant
Think of choosing your small restaurant floor plan design like you are choosing the atmosphere of the dining experience for all future customers. To determine the best format for your establishment, map out the ideal customer experience.
For example, as a small restaurant with limited space, do you want the customer experience to skew more communal or intimate? A communal atmosphere can be achieved by formatting your restaurant with family style seating or oversized tables made for multiple parties to occupy at once. To design an intimate dining experience, two-tops and spaced out tables are more ideal.
13. Hire your Small Restaurant Team and Management
Depending on the exact size of your restaurant, you may need to hire:
Chefs

Sous chefs

Servers

Food runners

A host

A manager and assistant managers

A dishwasher
Ready to Start Restauranting?
To make sure you haven't missed any steps in the process of opening your small restaurant, write your business plan using the Restaurant Business Plan template.
Related Small Restaurant Resources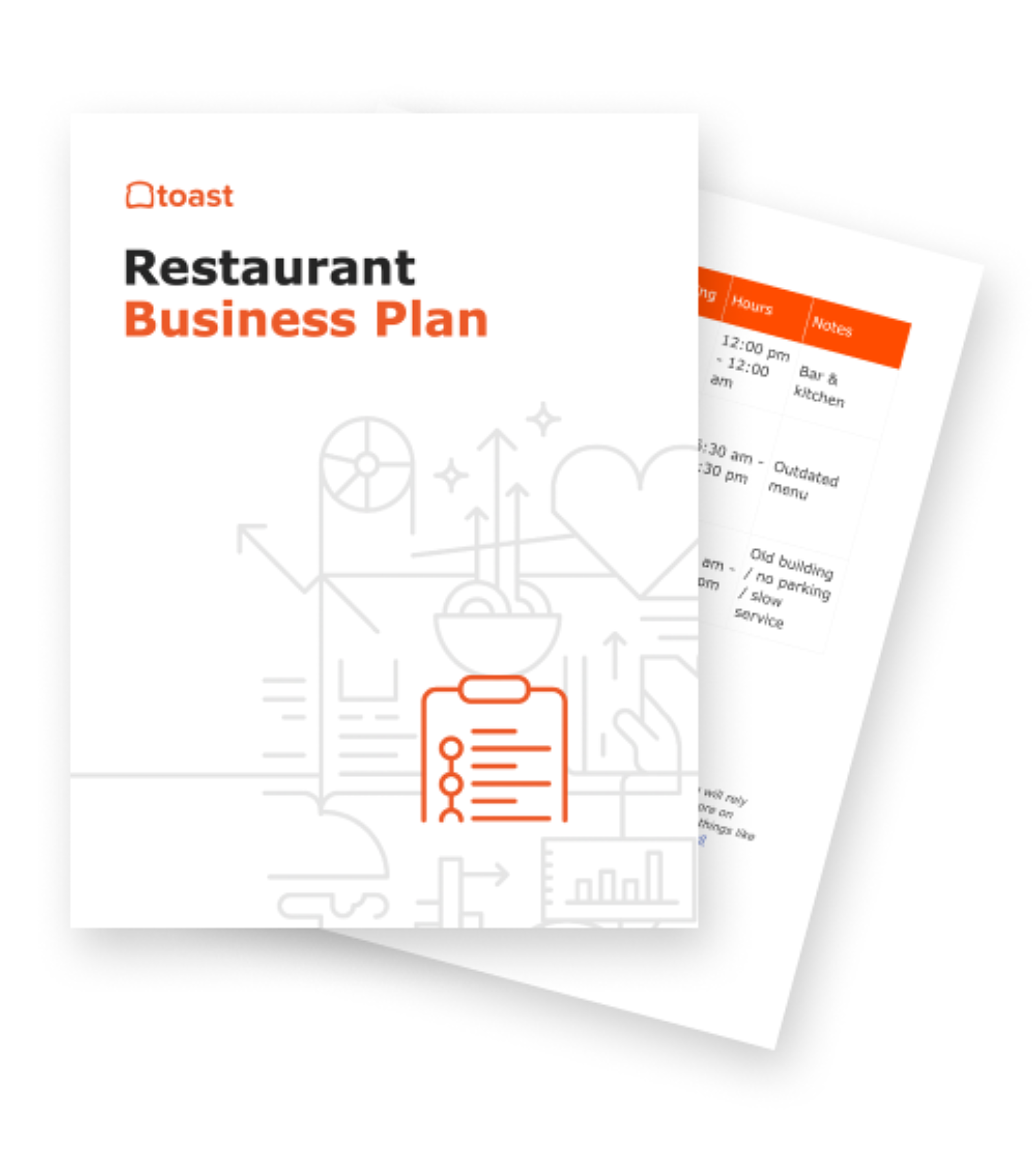 Restaurant Business Plan Template
No matter where you're at in your restaurant ownership journey, a business plan will be your north star. Organize your vision and ensure that nothing is overlooked with this free template.
Download