DISCLAIMER: This content is provided for informational purposes only and is not intended as legal, accounting, tax, HR, or other professional advice. You are responsible for your own compliance with laws and regulations. You should contact your attorney or other relevant advisor for advice specific to your circumstances.
Thinking of starting your own small restaurant? Now's the time to do it. After a tough hit from COVID-19, restaurants are rebounding, and the foodservice industry is expected to reach $898B in sales in 2022.
Whether you're offering a highly-specialized menu or providing a cost-effective food option for your neighborhood, pinning down the concepts and themes you'd like to move forward with is key.
Here's a list of restaurant ideas to get your gears turning.
Restaurant Floor Plan Templates
Use these restaurant floor plan templates to get inspired as you map, or reimagine, the layout and space setup for your restaurant.
Download
Real Inspiration for Small Restaurant Owners
Ideas can be pulled from anywhere… although it certainly doesn't hurt to research restaurant and food trends. Here are some other things that commonly inspire budding restaurateurs.
Creating opportunities for employment in the community
Filling a hole in the market or community
A deep love of food
Building a legacy for friends and family
Bringing a much-loved theme to life
Identifying a really great food pun that deserves to shine
Creating a partnership between food identities or cultures
It's important to nail down the overall identity and concept you have in mind. Here are a few reasons why some owners opened their restaurants.
"I believe in the artistry of food. A restaurant should be about people eating together, and having a good conversation. Life is at its best when you are eating, drinking and spending time with people you love." - Dustin Ronspies, Art of the Table
"My husband and I were in Barcelona, and we stopped by this wonderful little wine restaurant serving all cold food. They had everything smoked, tinned — nothing was heated. The best bread you've ever had. The best cheese you've ever had. It was truly an extraordinary dining experience and so limited. It just changed the way I looked at what the possibilities of a concept could be." - Kathy Sidell, Saltie Girl
Restaurant Opening Calculator
This calculator lays out some of the fundamental financial costs of opening a restaurant, so you can start planning and bring your dream restaurant to life.
Download
20 Small Restaurant Ideas and Concepts
No matter what your "thing" is, the more unique and innovative the better. Here are 30 one-of-a-kind small restaurant ideas guaranteed to entice customers.
Try a pop-up restaurant
Pop-up restaurants are a great way to try out a concept without fully committing. Eventide Oyster Co. in Portland ran a pop-up to test out the Boston market, before opening their doors near Fenway Park.
Join a food hall
If you're looking for another way to open without investing in a brick-and-mortar location, consider joining a food hall. These markets are made up of multiple small restaurants. Time Out Market is always hosting new restaurants, and opportunities for local eateries regularly arise.
Incorporate your travels
Saltie girl in Boston, MA, took inspiration from a small restaurant in Barcelona when creating their unique menu, including many dishes made with tinned fish.
Pick a unique theme
The Airplane Restaurant in Colorado Springs, CO is built inside a Boeing airplane and seats 42 people.
Give a nod to history
The Ordinary in Charleston, SC opened their doors in an old bank, and still has a lot of the original features of the business.
Have a rotating menu
Regularly adding new menu items can entice customers to come back again and again. Alinea in Chicago, IL is always changing out their menu, and also offers several multi-course tasting and sensory menus.
Add an activity
Especially if you're a more casual restaurant, think about adding in activities or games – like A4cade in Cambridge, MA.
Give back to the community
Community engagement is key. Big Ed's no-cost annual Thanksgiving meal is a collaborative effort with meat suppliers, made possible each year through financial donations from the community.
Have periodic chef takeovers
City Grit in New York has introduced over two hundred up-and-coming chefs to the NYC dining community, through their guest chef dinners.
Consider bottomless food or drinks
Burro Bar in Boston, MA has bottomless brunch on Saturdays and Sundays, offering unlimited small plates for 90 minutes per table.
Work with local farmers
What better way to get involved with the community than to partner with local farmers? Each summer, Gather in Chicago, IL hosts a "farmer's series," where the culinary team features a different local farm each month, and prepares dishes made with seasonal ingredients.
Create a tasting menu
Tasting menus are a fun way to switch up the dining experience, and they allow your chef to be a bit more creative as well. Providence in Los Angeles has a seafood-centered tasting menu, created by their award-winning chef.
Serve family-style
Family-style is when restaurants serve food on large platters, instead of individual plates. Each table orders and eats as a group, as you would in your own house. Monell's in Nashville, TN serves their southern food family-style, and is also all-you-can-eat.
Make the experience interactive
The Melting Pot has guests cook their own meat and seafood at the table, and also makes cheese and chocolate fondue tableside.
Get your diners into the kitchen
Gather in Chicago, IL also offers a "kitchen counter" experience, where guests can get an up-close-and-personal view of the kitchen while they dine.
Get rid of tipping
Think about switching to a gratuity-free employment model. Staff are paid a higher hourly wage but don't accept tips. Juliet in Somerville, MA is really thriving with a no-tip, profit-sharing model.
Partner with a local brewery
Have a popular beer menu? Consider having a local brewery make a signature beer just for you.
Build a community space
Add a communal table to your restaurant that encourages strangers to chat and get to know one another. You can even layout conversation cards to get things flowing.
Add a speaker series
If you want to further drive community engagement, consider bringing in speakers. Busboys and Poets in Washington, D.C. hosts speakers, poetry readings, and open mic nights that bring the community together.
Streamline operations with technology
Technology makes the dining experience easier and more efficient for everyone. Consider adding handhelds, QR code ordering, and more to your restaurant. Learn more here about how technology can benefit your restaurant.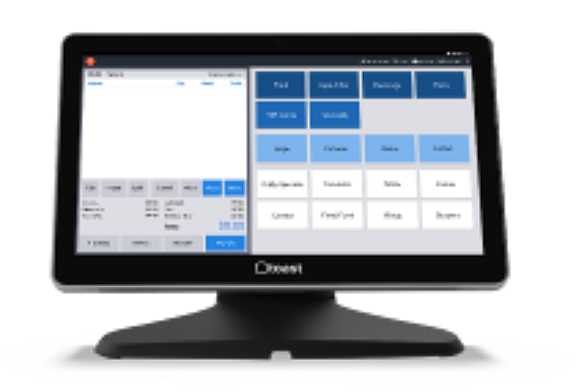 Learn how a better point of sale system can help you run your restaurant.
Read now
What inspires you?
People come up with unique restaurant ideas and concepts every day. What are some of yours? How will you bring them to life? Follow your inspiration, and with hard work and grit, you can turn your ideas into reality.
Related Small Restaurant Resources