DISCLAIMER: This content is provided for informational purposes only and is not intended as legal, accounting, tax, HR, or other professional advice. You are responsible for your own compliance with laws and regulations. You should contact your attorney or other relevant advisor for advice specific to your circumstances.
Cost to Open a Small Restaurant
Some of the world's most successful restaurants occupy the smallest amount of square footage, and only have a few tables or seats. Small restaurants offer an intimate atmosphere, the opportunity to design creative or experimental menus, and a start for restaurateurs with lean budgets.
The documentary Jiro Dreams of Sushi follows one of the most renowned sushi chefs in the world, Jiro Ono. His restaurant, Sukiyabashi Jiro, is a Michelin star establishment in Tokyo that only has 10 seats, which allows the head chef to focus on the craft and offer only the highest quality fish and ingredients.
Interested in learning the costs of opening a small restaurant? In this guide, we will review the small restaurant startup costs to prepare for, along with strategies and resources to get you to opening day — whether you want to open a tiny sandwich shop or a reservations-only fine dining experience.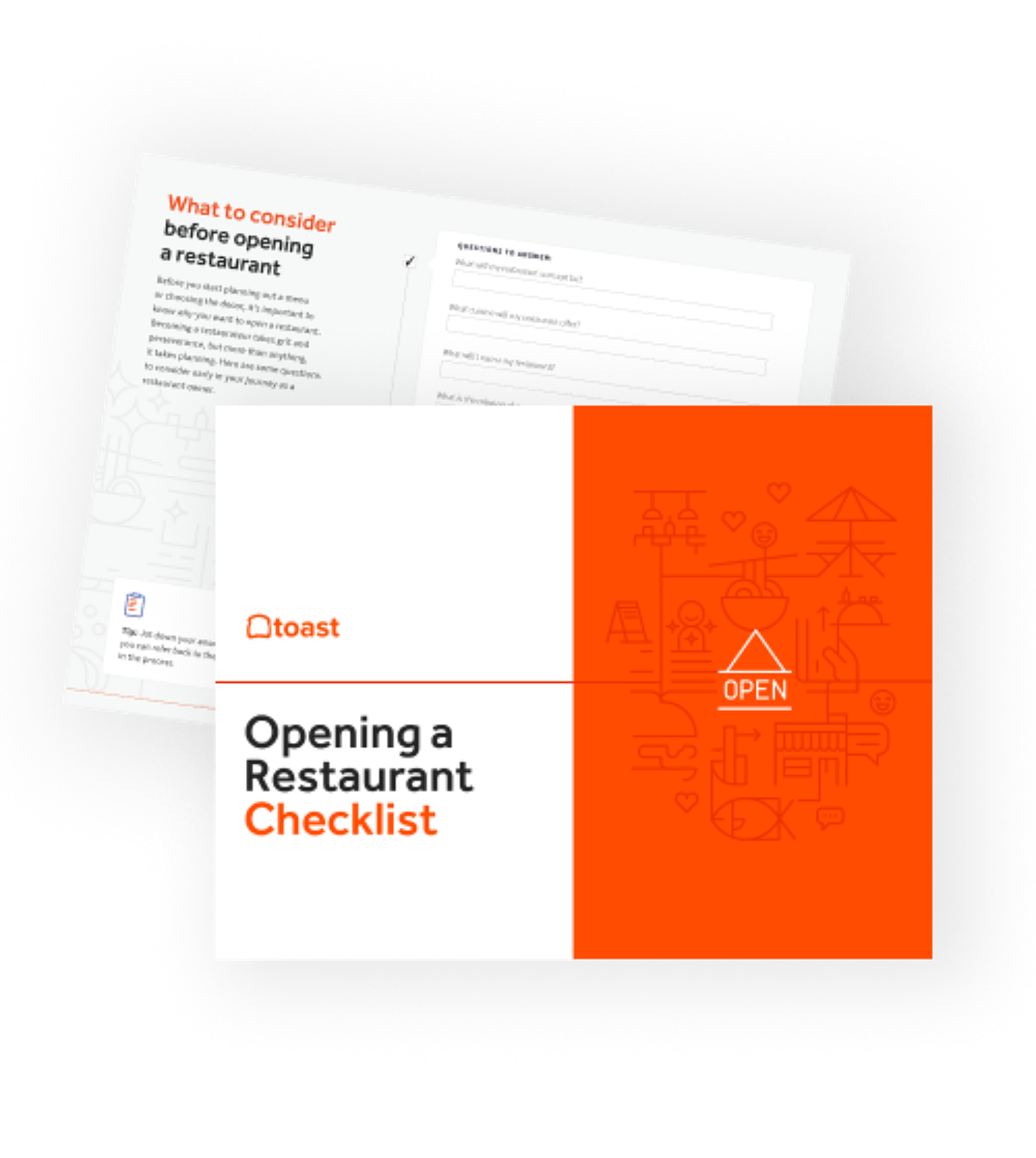 Opening a Restaurant Checklist
So many things go into opening a restaurant. Use this free PDF checklist to set your new restaurant up for success.
Download
Average Restaurant Startup Costs
When looking at the average startup costs for a restaurant in 2021, there are a number of factors that can affect the overall cost. Depending on your location, equipment, furniture, and rent, the average startup cost to open a restaurant can range from as little as $175,000 to well over $700,000.
Restaurant Startup Costs for a Small Restaurant
Let's look at what the average small restaurant costs might run in comparison to an average restaurant that sits in the middle ground of size at just over 4,000 square feet.
For an average restaurant, the middle of the road for total startup costs comes in around $375,500, but smaller restaurants will fall at the lower end since they require less square footage. These numbers can vary widely depending on a restaurant's location, if the location is bought or leased, and what kind of work is being put into the restaurant such as renovations.
One time expenses are also factored into restaurant business startup costs like equipment, processing fees, and things like POS systems and furniture (more details on those specific costs coming up).
With a broad range in the average opening cost for a small restaurant, keep in mind that your budget can go much farther if you choose to rent versus own, or if you can secure restaurant startup funding.
Restaurant Opening Cost by Square Foot
The cost of opening a restaurant by square footage, when all expenses are added up, can average between $100 and $800 per square foot. These costs will vary depending on size, design, location, equipment, and whether or not a location already exists or is newly built. The median cost here is $450.
A small diner or a smaller, high end establishment can function effectively with anywhere from 1,000 to 2,000 square feet of restaurant space. The square footage includes everything from kitchen space to dining and bar space. The cost by square foot will be further affected by whether or not you are building from scratch or working with an already existing space.
For example, you could purchase a 1,000 square foot restaurant that already has things like furniture, equipment, and fixtures inside for $10,000 with an additional $30,000 to put into it. Alternatively, if you build a 1,000 square foot restaurant from the ground up, your cost could be even higher.
When looking to calculate the total cost per square foot, use a tool like our customizable restaurant opening calculator to determine your expected costs that fit your restaurant size and project needs.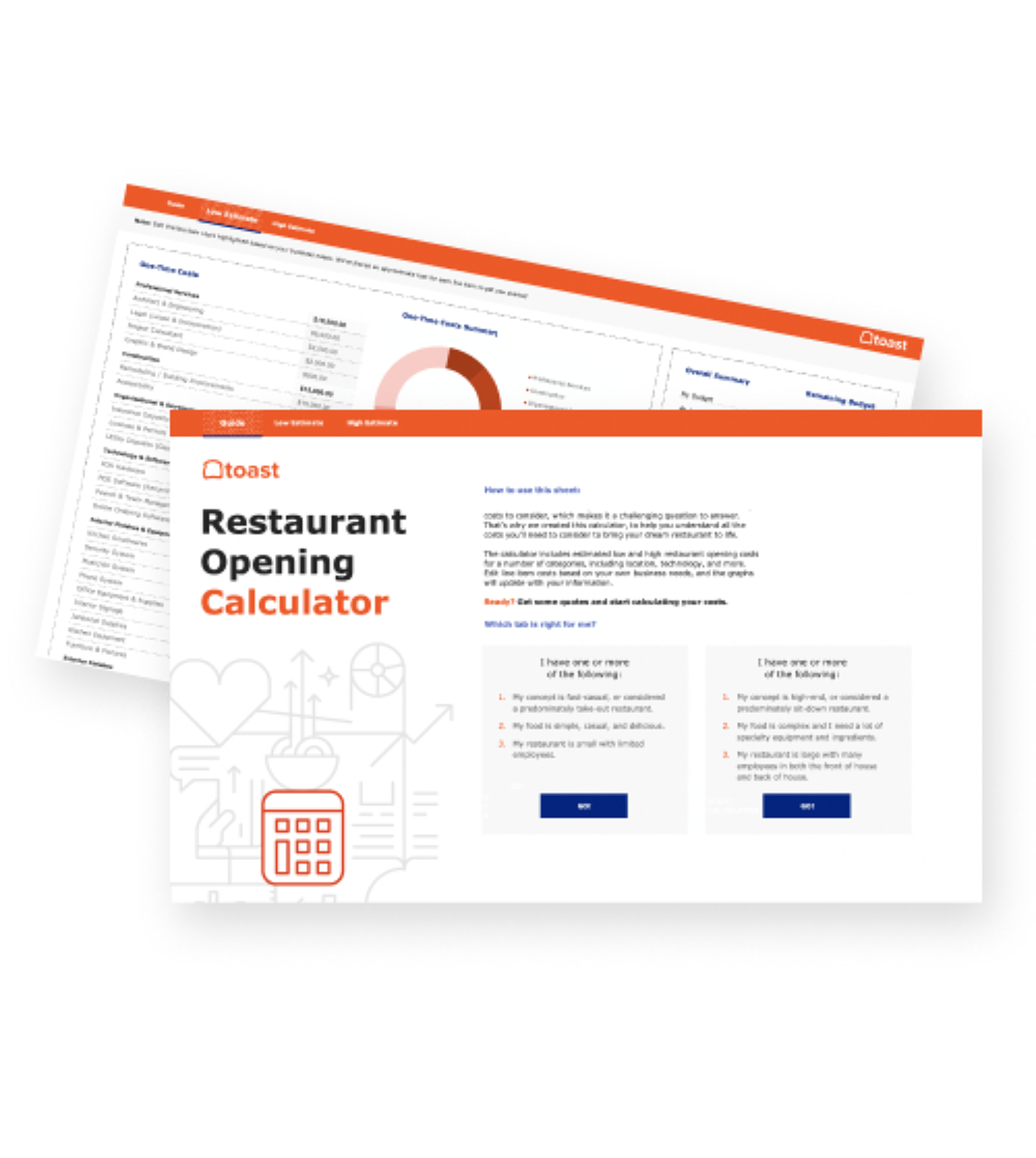 Restaurant Opening Calculator
This calculator lays out some of the fundamental financial costs of opening a restaurant, so you can start planning and bring your dream restaurant to life.
Download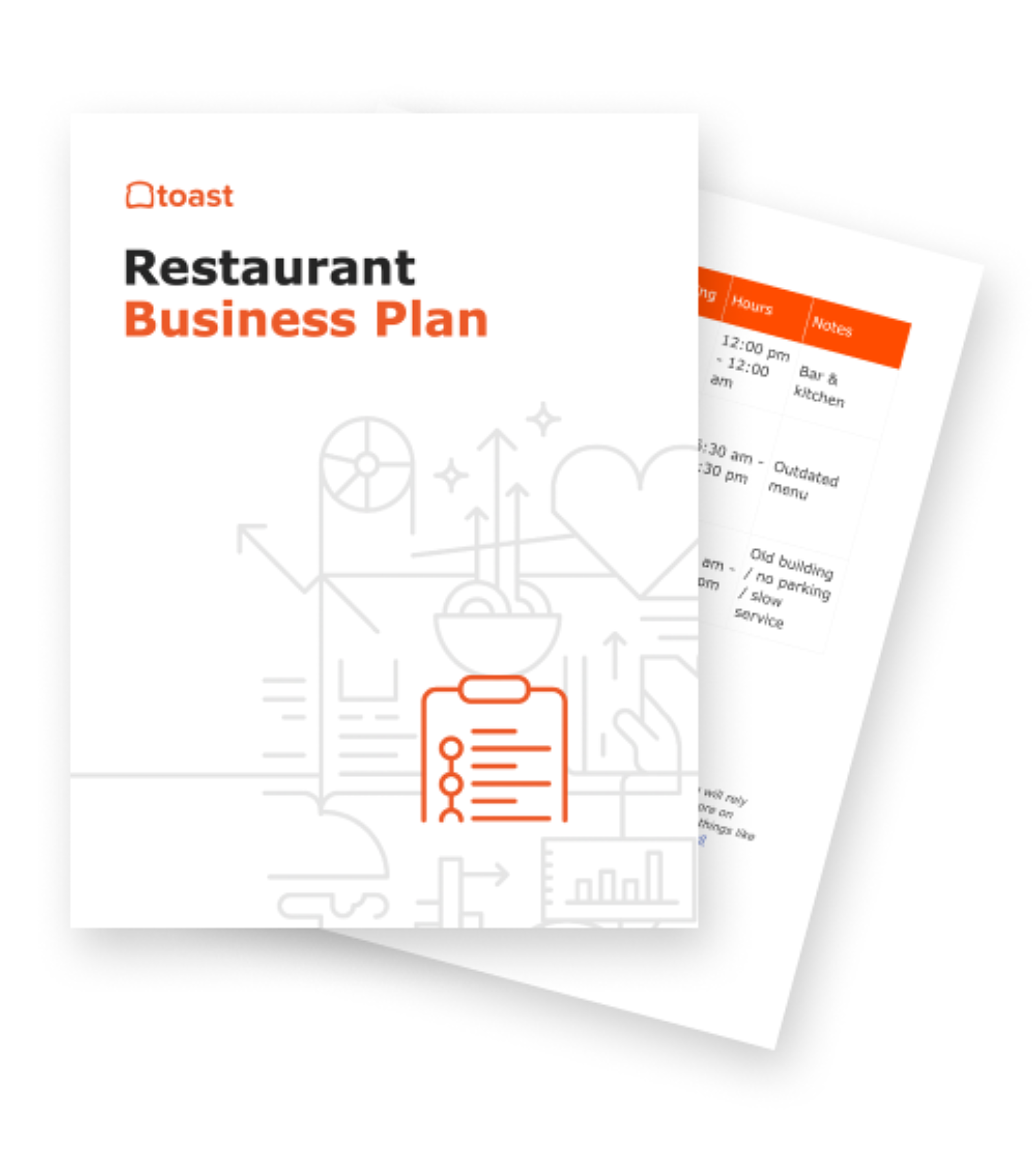 Restaurant Business Plan Template
No matter where you're at in your restaurant ownership journey, a business plan will be your north star. Organize your vision and ensure that nothing is overlooked with this free template.
Download
Small Restaurant Startup Costs To Expect
Use this small restaurant startup cost checklist to get started on your budget and map out your restaurant business plan.
1. Utilities
Even though the services of your restaurant won't be completely functional before it's open, you'll still need your utilities like gas, electricity, and water to all be working. Utilities can often make up 3-5% of your overall restaurant operating costs, making them a sizable startup cost. But for restaurateurs that want to open up a small restaurant, there is good news.
For restaurants that are between 4,000-4,500 square feet, utility costs can be as little as $1,000-$1,200 a month.
Price Range: $1,000-$1,200 minimum
2. Location
A key decision you'll make when it comes to opening your restaurant is the location.
As you go over your restaurant startup budget, location will have a long-term impact. A prime location that sees plenty of people (i.e. potential guests) can be a valuable investment and require less reliance on marketing and PR.
Depending on your restaurant needs and your budget, you'll have a few different options to mull over in terms of location:
Take an existing structure and convert it into a restaurant.

Purchase an operating restaurant to open your restaurant in.

Build an entirely new building by investing in custom construction.
Starting with an existing restaurant will be less expensive, and constructing a new build will be the most costly. But — designing a new building also offers more customization and the opportunity to create a unique space.
3. Kitchen Equipment and Restaurant Furniture
You can't have a restaurant without the necessary kitchen equipment and interior pieces to tie the whole space together. Kitchen equipment and appliances are needed to both provide the food and to bring your vision for your restaurant together in a cohesive way.
Other additions like lights, signage, a music system, and window treatments will need to be considered, too.
When it comes to restaurant kitchen equipment and interior design cost, you can easily slide into big spending. But that's where thoughtful budget planning comes in. The biggest determining detail of your price range here is the kitchen equipment and furniture.
Price Range: $20,000-$400,000
---
Read this next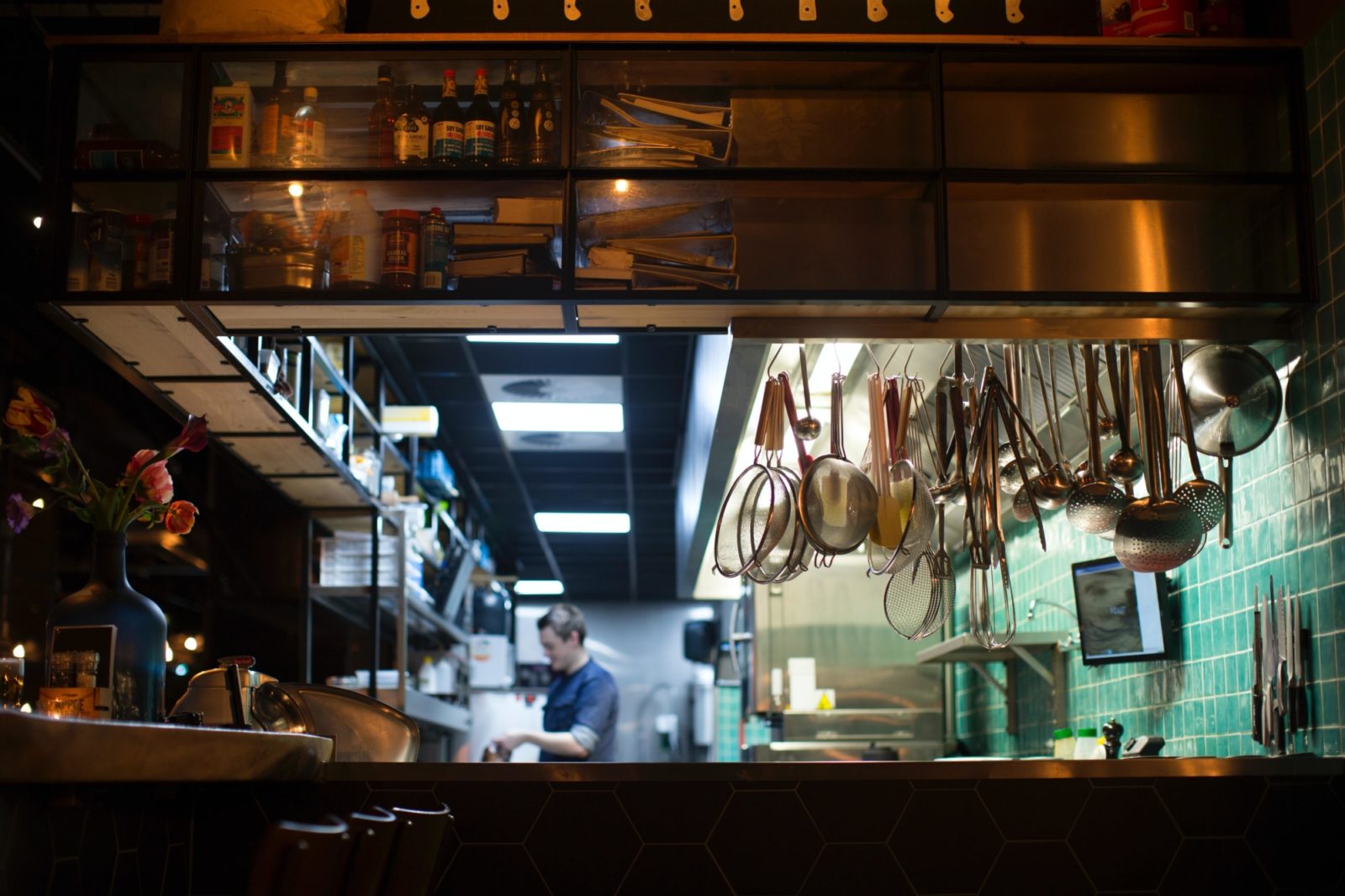 Essential Restaurant Kitchen Equipment: The Ultimate Checklist
Do you have the essential restaurant kitchen equipment and supplies you need? Check off this list to make sure your restaurant kitchen is all set.
4. Pre-Operating Expenses
Your restaurant's grand opening should be able to go off without a hitch. That's why investing in pre-operating expenses like a training program will get your staff up to par before opening.
You'll also need to make sure that your inventory is well stocked. Your freezer and back of house will be key in getting you through the initial opening period. Your inventory will not be limited to just food, though. It will also include plates, cups, drinks, napkins, and other related items that you'll need to create a standout dining experience. The price range here can vary depending on the capacity you have for guests and other factors.
Price Range: $20,000-$120,000
5. Marketing and PR
Your marketing and PR needs will depend on the kind of restaurant that you open. Small restaurants can range from high end experiences all the way to franchised locations. Franchised locations may already have marketing handled but for a brand new restaurant, you might be looking at incorporating heavy marketing and PR outreach.
You can consider working with a marketing agency to help with outreach or start off early with your own social media. Marketing efforts for restaurants include email, social media marketing, a website, merchandise, and branding.
Price Range: 3-6% of sales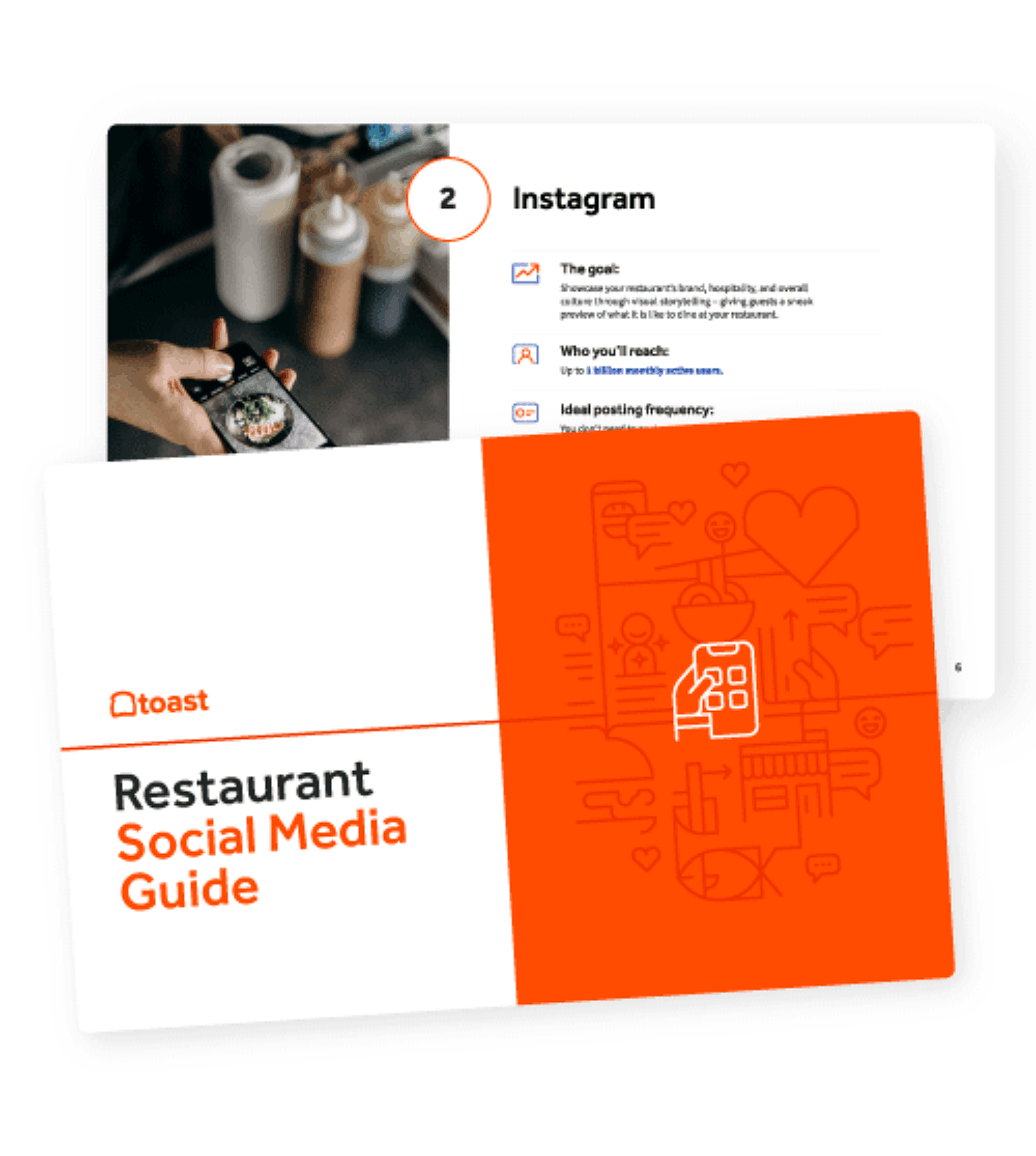 Guide to Restaurant Social Media Marketing
Learn how to optimize your social media presence to showcase your brand, tell your story, attract new customers, and engage with your audience.
Download
6. Restaurant Capital and Business Loans
There is no guarantee that your restaurant will immediately take off once you're open, even with restaurant sales seeing a rebound in 2021. Seeing success often takes time and patience. Your customer base may take a while to start growing, meaning that you should plan for gradual sales growth in the opening phase.
New business owners can apply for capital funding for their restaurant that can take them through at least the first six months of operation. This will act as a cushion for unpredictable business.
Price Range: $20,000-$250,000 (or six months of operating costs)
---
Read this next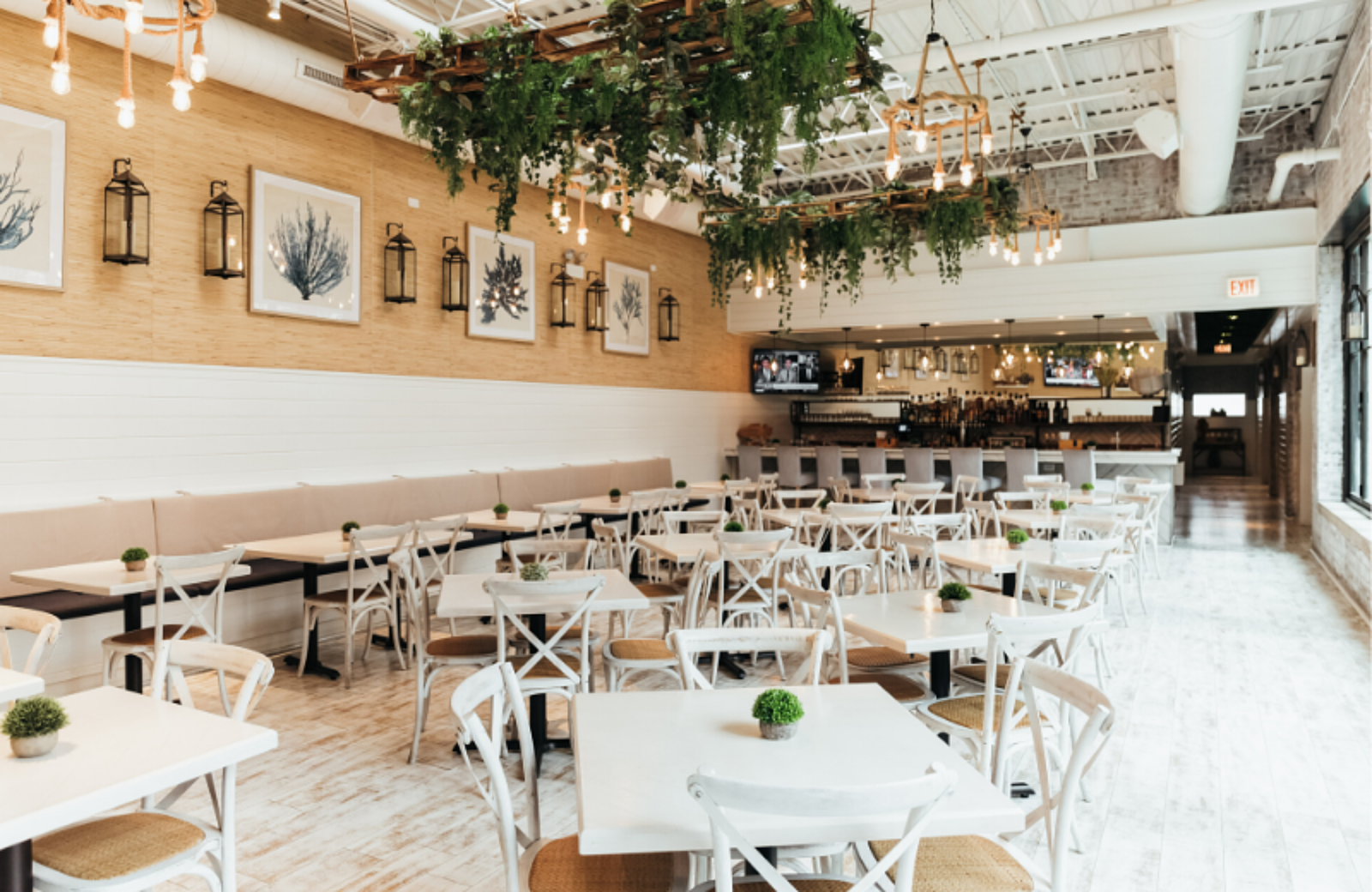 The Complete Guide to Restaurant Financing and Loans
Whether you're opening a new restaurant, expanding your concept, or renovating within your existing four-walls, you're going to need capital to make it all happen.
7. Restaurant Exterior Design
A small restaurant should have an outside that matches the inside. The look of the exterior of the building can be a worthwhile investment through lighting, landscaping, and even outdoor dining space if you have it.
Even if you're unable to do a ton of work on the exterior, signage lets customers know that you're open and can be an effective way to extend your brand to the outside and serves as a marketing and promotional strategy.
Price Range: $1,000-$40,000
8. Organizational and Development Costs
Small details can sometimes get lost in the large picture of looking at your small restaurant startup costs. But you'll need to make sure that your restaurant licenses and permits are all squared away along with other details like utility and insurance deposits, food service licenses, and a liquor license.
These are all important to the organization and development of your restaurant. And while they might take up both time and money, you'll want to ensure that they're handled or risk fines and delays to restaurant opening.
Price Range: $2,500-$200,000
9. Professional Services
On the same token as organizational and development costs, experienced industry professionals can help to ensure that all your Ts are crossed and Is are dotted, and that your books are squeaky clean for audit season.
Professionals who serve the restaurant industry include lawyers, consultants, architects, designers, accountants, bookkeepers, marketing agencies, and PR firms.

Consultants or agencies typically offer their services hourly and range by years of experience or skill level. Sage estimates that restaurants may need up to $50K in professional service fees when opening a new business.
10. Food Cost
What's a restaurant without the food? Ahead of your opening, make sure that you are well-stocked with food and supply inventory. This helps prevent a shortage during your opening and it helps your staff to maintain efficient service. Food cost heavily depends on what kind of dishes and drinks you're offering to guests. You can expect food cost to differ month to month.
Price Range: $5,000-$25,000
10. Restaurant Staff
Staff play an important role in the operation of your restaurant. Depending on the amount of staff you need to operate and the concept of your restaurant, your labor costs can differ significantly, but staffing costs will usually be around 30% of your overall gross revenue.
You can calculate your restaurant labor cost as part of your overall business plan to give yourself a better understanding of the details like employee wages, health care, and payroll taxes.
Price Range: 20-30% of restaurant gross revenue
11. Technology
Restaurant technology has the power to help your business soar. When staff is able to easily communicate between front and back of house, and customers have the option to order online and collect loyalty points, your restaurant will stand out among its competitors.
Explore restaurant technology options like the Toast POS system — handheld devices like Toast Go 2 can make day-to-day restaurant operations more efficient and help bring in more sales by turning tables faster.
Restaurant POS Comparison Tool
A free, customizable Restaurant POS Comparison Tool to research and compare point of sale systems in one Excel spreadsheet or editable PDF.
Download
Open a Small Restaurant with Big Flavors
Before you make the final decision to open a small restaurant, calculate just how much capital you have to spend and where you feel most comfortable using that budget in each area of your restaurant.
You may end up spending more or less than this initial budget, but having a budget and business plan in place helps give you a strong foundation and can help guide each decision in the opening process.
Looking to create or refine your small restaurant startup budget? Use the Restaurant Opening Calculator to get started.
Related Small Restaurant Resources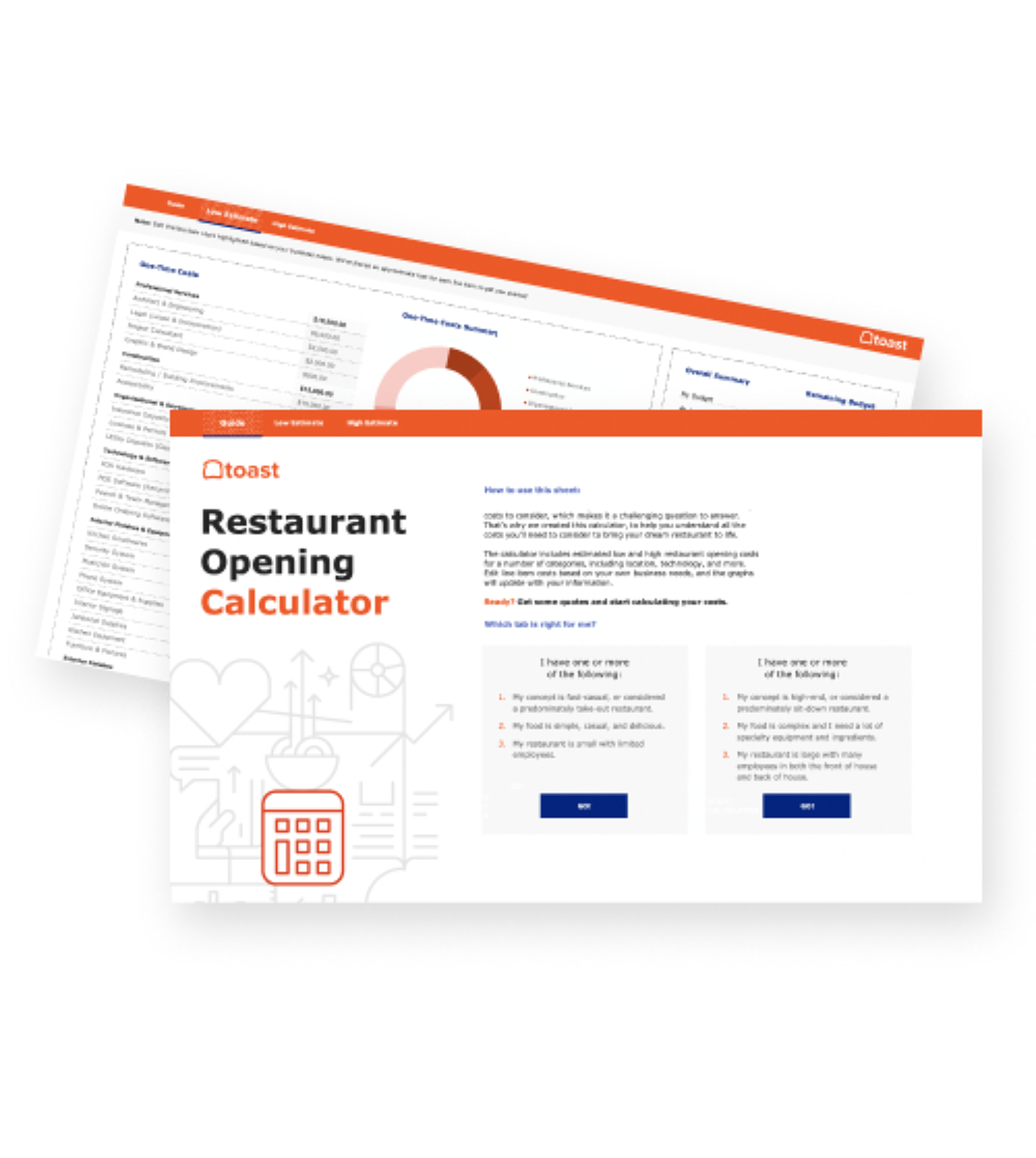 Restaurant Opening Calculator
This calculator lays out some of the fundamental financial costs of opening a restaurant, so you can start planning and bring your dream restaurant to life.
Download