DISCLAIMER: This content is provided for informational purposes only and is not intended as legal, accounting, tax, HR, or other professional advice. You are responsible for your own compliance with laws and regulations. You should contact your attorney or other relevant advisor for advice specific to your circumstances.
"Bars don't open, they launch."
You can't watch an episode of Bar Rescue without hearing the host give that piece of advice. While TV shows like Bar Rescue are problematic in their depictions of reality and appropriate behavior, I happen to believe this phrase holds as much truth with restaurants as it does bars and nightclubs.
This means that you need to make a plan to really throw your new restaurant's doors open — not just gingerly open them and hope people show up.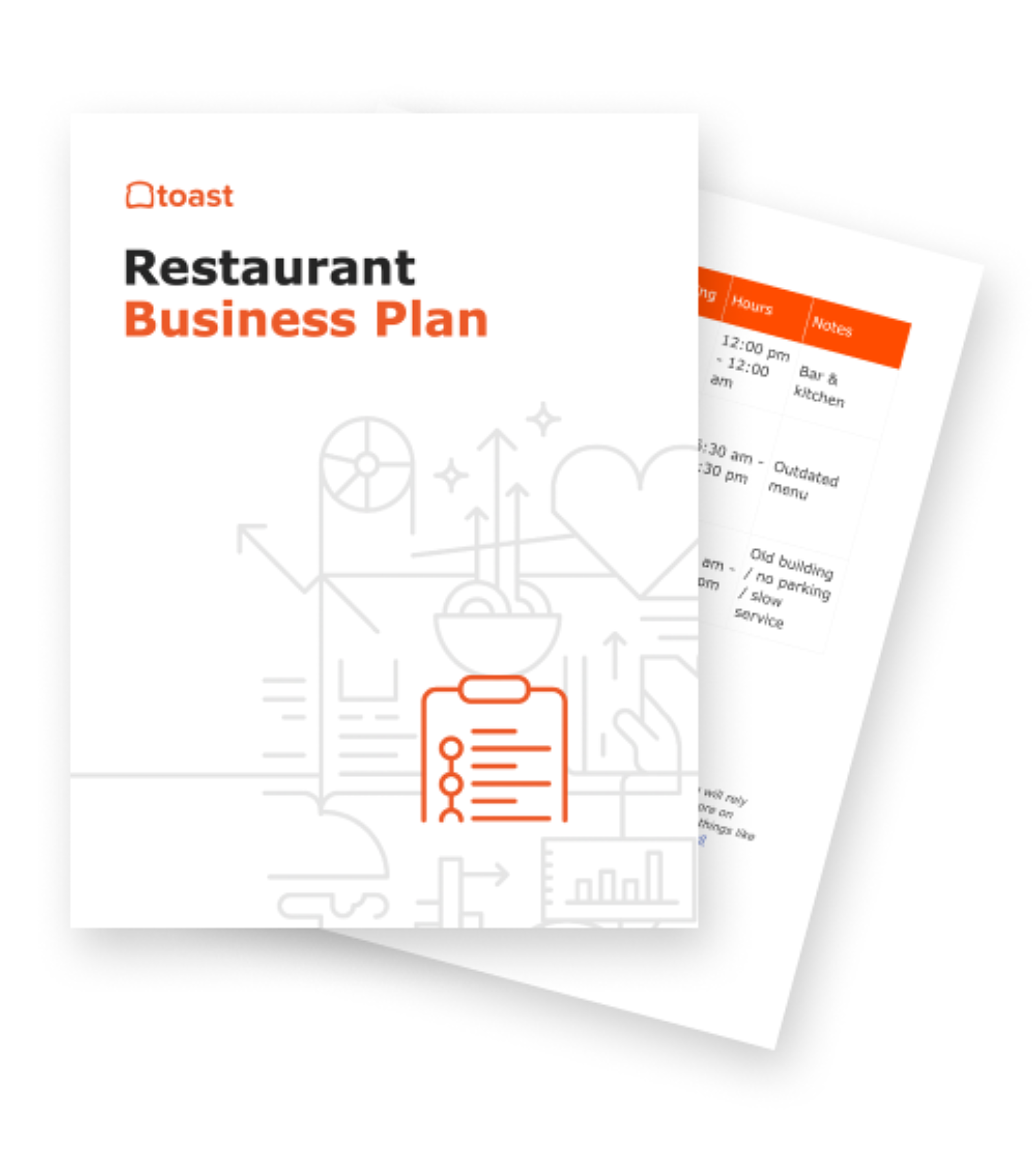 Restaurant Business Plan Template
No matter where you're at in your restaurant ownership journey, a business plan will be your north star. Organize your vision and ensure that nothing is overlooked with this free template.
Download
It's understandable that amid the chaos of opening a restaurant, you don't exactly feel like taking on another project and planning yet another Big Thing — but if your opening is to be grand, you've got no choice but to plan way ahead.
Grand openings are about more than just one great event — they involve getting your future community excited about your arrival, and spreading the word far and wide in as many ways as you can.
Paul Motenko, the former co-CEO of B.J.'s Brewhouse, grew the company from a couple of units to a nearly billion-dollar brand with restaurants all over the world. He told me in an interview that they would send team members into a new community and hire their executive staff months before their opening.
They would also develop relationships with local charities, businesses, and the community at large, creating excitement around the opening well ahead of the doors opening for business.
The ideas below require some work, because most successful restaurants work to fit the needs of their unique customer base — your grand opening won't be successful if all you do is mail some invitations and put a neon "OPEN" sign in your front window.
Here's an example. In the old days, when Chipotle would open up new locations, they would hire college-age kids to attend community events like outdoor concerts, soccer games, and markets.
They would randomly throw t-shirts, wrapped like burritos, into the crowd. The best part is that the inside the t-shirt burrito was a coupon to get a free (real) burrito when the new store opened.
This kind of community outreach and restaurant marketing is what makes for a spectacular restaurant grand opening, and a spectacular grand opening can make for a great first year.
7 Restaurant Grand Opening Ideas That Work
There are many ways to throw a grand opening, but one of the best ways to go about it is to throw several events over the course of a few weeks leading up to your big party.
Here's a proposed timeline for the events.
1. Ask Your Friends and Family to Come By First
In the early days of your restaurant, your mission is to test out your restaurant POS systems, recipes, operations, and staff. Before you open up, you've got to find the weaknesses and fix them — and you can do this with three rounds of family and friends dinners.
The first time you actually run a service should be for your closest friends and family — a small amount of those closest to you that will not share any of your hiccups online. These visits are totally free, just one seating, with a limited menu, and there is a verbal agreement from each guest: They understand they are test subjects and are there to help your restaurant get better.
The second friends and family dinner is still free, with the same agreement, but you'll serve the full menu in one seating.
The third friends and family dinner is usually for friends and family of the employees, so you can charge for beverages to try and make some money back, and stagger the seatings to mimic an actual service.
Depending on your complexity and size, you can do these three rounds over three days.
2. Show Vendor Appreciation
Most owners seem to forget that the people who helped you build your restaurant also live in your community and could become your best customers.
First, to state the obvious: Treat them well while you're building or remodeling, and then throw them a party where they can bring their families and show off the work they did. In all my endeavors, my vendors and builders were always my first core group of customers. We supported them and they want to support us.
Personally, I can't believe how few restaurants actually do this.
3. Support a Charitable Event
The third step of your opening celebration plan is to host a few parties or fundraising events for local charities. Most organizations have huge lists of locals who are supportive through donations, and you can leverage that list by offering your restaurant as a venue for a fundraising event.
You should do this because you actually want to help a charity, not just for the publicity, but if you do it right, the publicity and word of mouth marketing will also pay off in spades.
4. Host an Influencer Event
The fourth leg of your opening celebration is an event for influencers. At this point, you've still not opened up to the public, but you're getting close.
This is your last chance to build up demand in your community and get potential customers excited. Reach out to every single reporter, blogger, local celebrity, social media bigshot, and public speaker you can find in your community. Throw them a party and show them a good time. Don't expect anything in return — don't even ask for it — but if you deliver a great experience, they will show their support.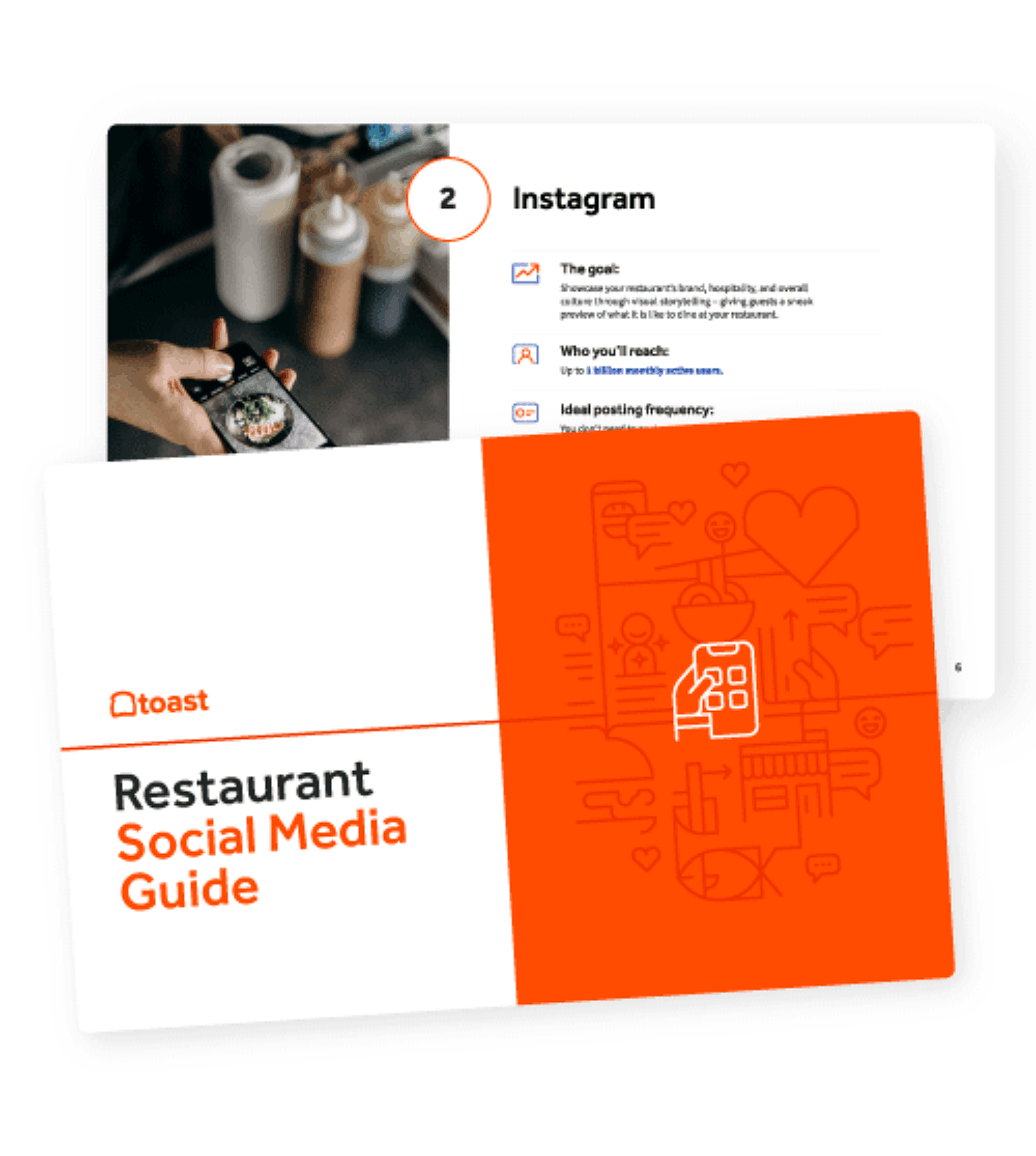 Guide to Restaurant Social Media Marketing
Learn how to optimize your social media presence to showcase your brand, tell your story, attract new customers, and engage with your audience.
Download
They'll want to share photos and videos from the party, which is easy publicity for you and a great way to drum up excitement.
Leading up to the big day or weekend — your public grand opening event — pass out invitations to people in your community, and mail out invitations to homes within a reasonable radius of your restaurant. Include a coupon for a special deal redeemable within the first few days (or weeks) of opening.
Make sure it's a type of promotion that requires a purchase — "Buy one get one free" or "free X with purchase of Y" or "X% off all bills over a certain dollar amount". You need to start generating revenue, so don't make a completely free offer. Also, these kinds of offers usually lead to someone bringing a friend or family member, so it's another person for you to impress.
6. Host the Actual Grand Opening Party (or Weekend)
It's finally time, the day has arrived, it's your restaurant's grand opening!
If by this point you have done everything correctly, you should not be worried about whether or not people will show up: You should be worried about how you're going to handle the crowds. Make sure you have all hands on deck for this event.
There should be signs, balloons, banners, and — hopefully — a buzz around town for the event by now. Personally reach out to everybody you know and invite them to come. Depending on the type of restaurant, live music and activities can help draw even more crowds.
7. Offer a Bounce Back
From the beginning of your series of events, it's a good idea to hand out "Bounce Back" offers to everyone involved — vendors, friends and family, influencers, charity attendees, opening day attendees, everybody.
Bounce back offers usually take the form of another coupon that is valid after your opening time frame ends, and extends an extra couple of weeks.
The goal is to get these guests back in as soon as possible. It takes multiple visits for a person to get attached to your restaurant, its amazing food, and outstanding service, so the faster you can get them back, the faster you can turn guests into regulars.
This is also extremely helpful because you'll get to show your first guests how much you've improved thanks to their feedback.
Come In, We're OFFICIALLY Open
The restaurant grand opening is essential for generating early buzz about your restaurant that will keep people talking — and coming back — throughout the first month, year, and beyond. Take it seriously, weigh out your acquisition cost compared to customer lifetime value, and most importantly, get planning.
Related Restaurant Opening Resources