DISCLAIMER: This content is provided for informational purposes only and is not intended as legal, accounting, tax, HR, or other professional advice. You are responsible for your own compliance with laws and regulations. You should contact your attorney or other relevant advisor for advice specific to your circumstances.
What Do You Need to Start a Smoothie Shop Business? (Checklist)
Although blended fruit drinks have been around for nearly a century now, smoothies as we know them didn't take off running until the early 2000s, after a near-unanimous emphasis on personal wellness in the United States began to emerge. And while they initially gained popularity as a nutritious meal supplement, the smoothie shop has evolved over the years into the comprehensive healthy living establishments that we know them as today.
There are more than 5,000 juice and smoothie shops operating in the United States as of 2021, and the industry is growing with new stores opening by the month. Smoothies have evolved to include vegan options, protein-packed pre or post-workout drinks, pre-packaged juices and smoothies to-go, and other unique flavors, styles, and themes.
Jamba Juice is known as one of the most popular smoothie chains, and has helped to bring the love of fresh blended fruit drinks outside of its original home in San Luis Obispo, CA. From a small fruit stand in California to an international smoothie restaurant chain, the growth of Jamba Juice to almost 1,000 locations around the world shows the popularity and staying power of the drink.
If you have always dreamed of turning your hobby as an expert smoothie maker into a business and opening a smoothie food truck or store, here are the steps to get started.
To help make sure you don't miss anything in the process of opening a restaurant, follow this step-by-step guide.
1. Choose a Smoothie Shop Format
The format of your smoothie shop will dictate all future decisions you make regarding the establishment, so choose wisely. To decide on the best format for your vision, consider the ideal atmosphere of your smoothie shop.
For example, if you want to create a smoothie shop that serves as a community space, then a dine-in format that offers seating for customers works well. On the other hand, if your smoothie shop vision is to design a place that is another stop on the daily schedule of your busy patrons, then a counter or window only smoothie shop can help you serve more people, faster — and with lower location costs.
Smoothie shop formats to choose from include:
Dine-in: this format offers customer seating, but all customers order and pay at the counter.

Counter only: no seating available, customers order and pay at the counter.

Window only: no seating available, customers order and pay at a single or collection of windows.

Food truck: smoothie food trucks offer the ability to connect with a larger customer base.
2. Write your Smoothie Shop Business Plan
A restaurant business plan is a comprehensive document that outlines your strategy for opening and running your smoothie shop. While writing your business plan, take your time crafting a strategy for your first years of business that's goal-oriented and outlines actionable steps that can help lead to success and avoid rookie mistakes.
A thorough business plan includes:
Your smoothie shop name (start by running a search through the U.S. Patent and Trademark Office to check if your name has already been taken).

Your marketing and sales strategy, as well as a timeline of your projected financial growth all over the first five years of business.

An executive summary that outlines your reason for opening the smoothie shop, your history as a business owner, and your strategy for success.

A market analysis of the industry and your local competitors.
To begin drafting your smoothie shop strategy, use our customizable Restaurant Business Plan Template.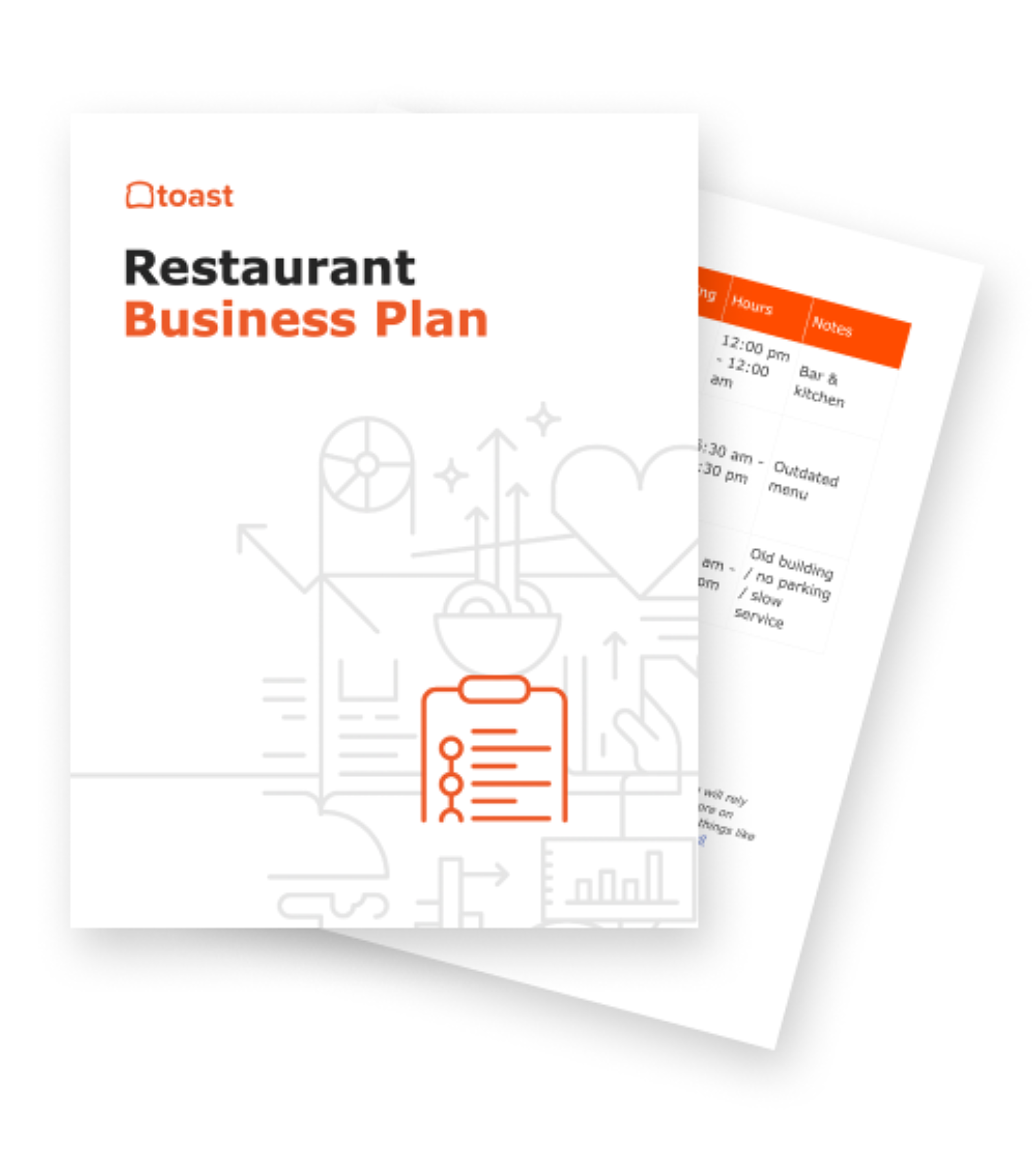 Restaurant Business Plan Template
No matter where you're at in your restaurant ownership journey, a business plan will be your north star. Organize your vision and ensure that nothing is overlooked with this free template.
Download
3. Find the Right Location for your Smoothie Shop
Whether you are heading out on the location hunt on your own or getting help from a commercial real estate agent, the first step toward finding the right spot for your smoothie shop is to determine where your target customer spends their time. It won't be enough to operate out of a solid, functioning building. You'll also need to choose a location centrally located to your prospective customers in order to effectively reach them once you're open for business.
To start writing comprehensive buyer personas for your target customers, check out How to Entice Your Restaurant's Target Customer.
4. Secure Restaurant Business Permits and Food Selling Licenses
The process of gathering all of the necessary paperwork to open a smoothie shop can be time consuming and requires organization and paying attention to deadlines.
Additionally, some states and counties have their own paperwork requirements for new restaurants. Before submitting any documents, research all of the paperwork you will need for the entire process of opening your smoothie shop, and consult a professional if you need help.
The required licenses and permits include, but are not limited to:
Sales license

Zoning permits

Passing a health and safety inspection

Food handler's license
5. Set Up Restaurant Tax Information Including DBA and EIN for your Smoothie Shop
Keeping the paperwork train chugging along, you'll also want to begin the process of collecting all the necessary tax, DBA, and EIN information needed to operate a smoothie shop through your in-house or a third-party tax professional. Heads up, these too may come with different specifications depending on the location of your shop.
To get started with restaurant tax needs:
Familiarize yourself with all relevant restaurant tax requirements for your shop.

Choose a business structure and establish your restaurant as a business.

File for your DBA (aka your smoothie shop trade name).

Apply for your EIN (employee identification number) if you plan to hire employees at any time.
Again, working with a professional on this step can help prevent future headaches.
6. Craft your Smoothie Shop Marketing and Advertising Strategy
To establish a presence in the community and spread awareness for your smoothie shop before opening day, start with branding.
Then, create a restaurant marketing strategy geared towards your target customers, considering their lifestyle, dining preferences, and market research on your area and population.
To design your smoothie shop's marketing strategy, ask yourself questions such as:
What does the experience of your smoothie shop offer customers?

How will you communicate with customers outside of the shop?

What is special about your smoothie shop? Do you use any signature ingredients?

Will you run promotions? If so, using which advertising method?
To get started on this step, here is a thorough Restaurant Marketing Plan that will help your smoothie shop reach new customers in a cost effective, achievable way.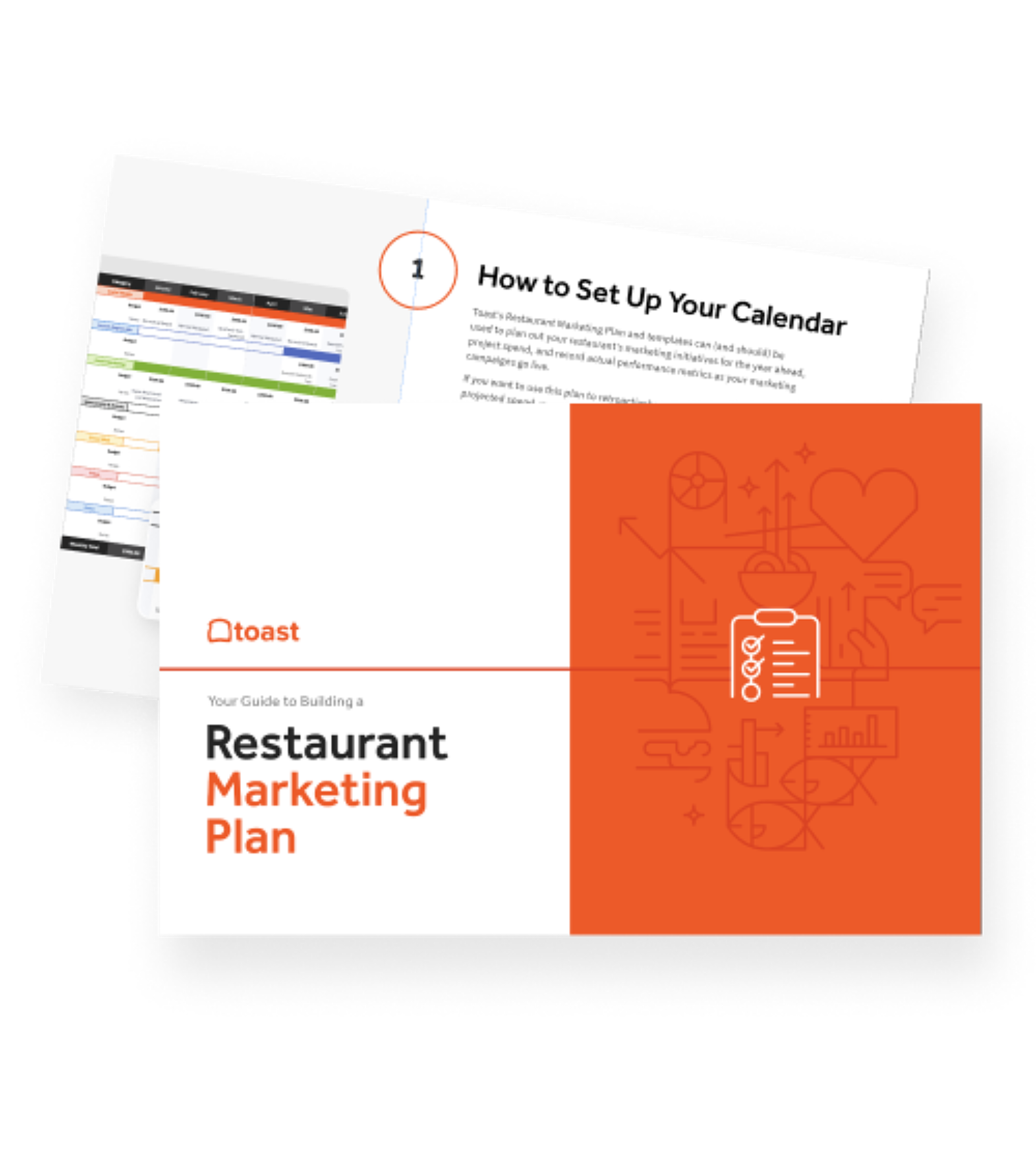 Restaurant Marketing Plan
Create a marketing plan that'll drive repeat business with this customizable marketing playbook template and interactive calendar.
Download
7. Determine your Smoothie Shop Finances, Operating Expenses, and Sales Forecasts
Managing restaurant finances is no small task. In addition to having a handle on startup costs, map out operating expenses ahead of opening your doors to the public. Then, begin tracking expenses, supply costs, and ongoing labor costs to accurately forecast sales.
How much does it cost to open a smoothie shop?
Startup costs for opening a smoothie shop are estimated to be anywhere from $20,000 to $400,000 depending on factors such as location, size of your establishment, and even the menu items and ingredients you use.
Restaurant Finances + Operating Expenses
In addition to startup costs and preparing for potential supply chain shortages, standard smoothie shop operating expenses include:
Labor

Food

Packaging

Utilities

Equipment

Appliances

Licenses and permits

Software and other in-house technology

Marketing and advertising
Restaurant Sales Forecasting
To accurately forecast sales before opening day, subtract expenses from projected revenue. Once you are open, for even more accurate sales forecasting, analyze your month over month growth rate. Use a POS that captures data on profit per item, expenses, and other restaurant operations analytics.
If you haven't yet, now is the time to open your business bank account and business credit card. This step is mandatory in some states.
8. Obtain Restaurant Funding or Loans
It's possible to open a smoothie shop without any money using government grants and small business loans, or other restaurant startup capital programs. But restaurant startup costs cover real estate, getting a building or food truck up to code, hiring, inventory, supplies, marketing and promotional materials, and other essential items needed to open a small shop — and all of that adds up quickly. So if you need additional funds, explore your smoothie shop funding options. Some of those are:
SBA Microloans for small businesses

Equipment financing or rental for individual appliances

Startup business grants

Opening a business line of credit
To learn more, check out the full article on restaurant financing below.
---
Read this next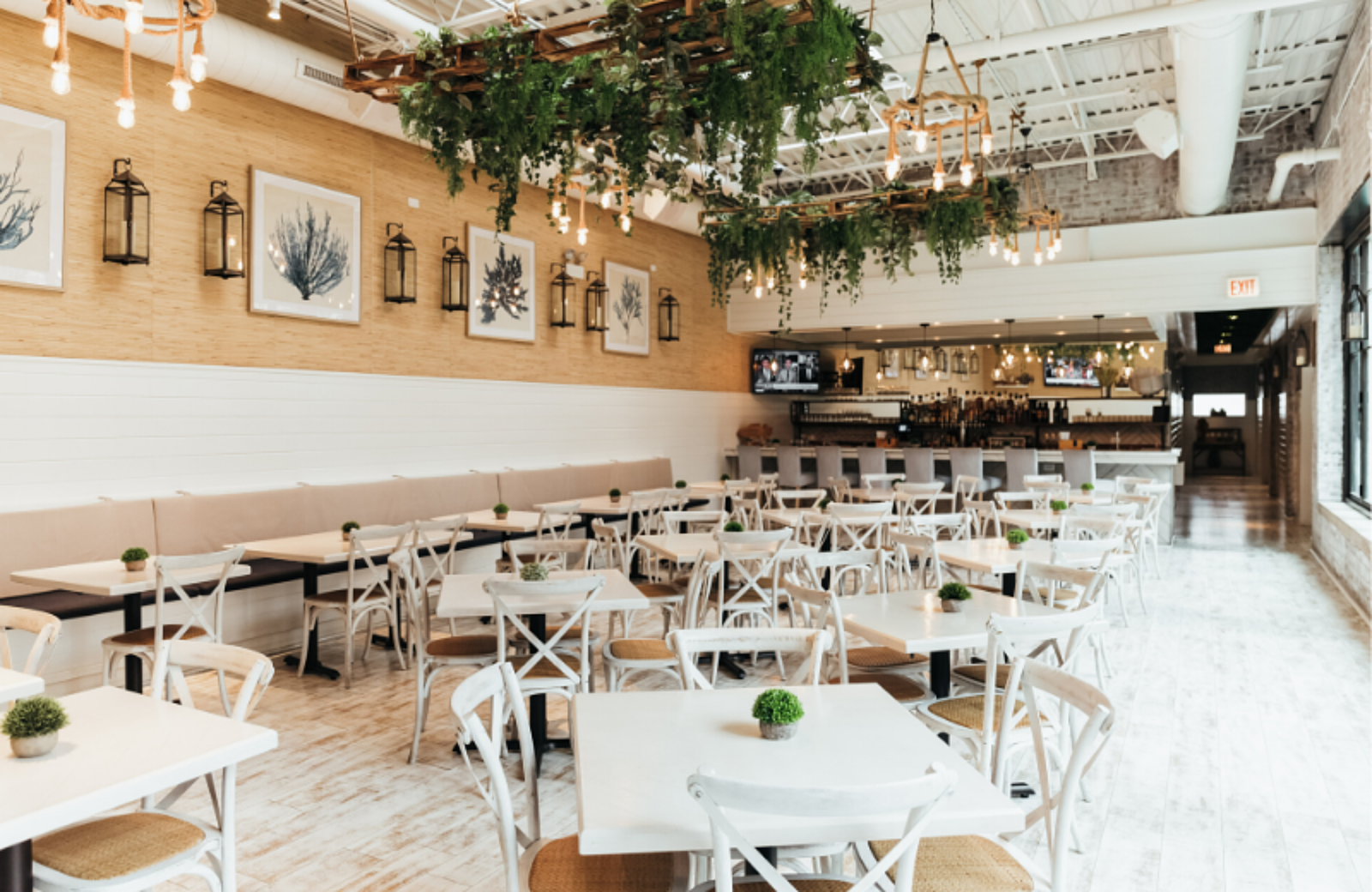 The Complete Guide to Restaurant Financing and Loans
Whether you're opening a new restaurant, expanding your concept, or renovating within your existing four-walls, you're going to need capital to make it all happen.
9. Create your Smoothie Shop Menu
Smoothie shops have the option to make their restaurant menu as standard or specialized as they'd like. In addition to juices and smoothies, some shops offer other healthy options like prepacked on-the-go snacks, protein-rich food, and smoothie bowls.
When designing your menu, revisit your initial purpose for opening the smoothie shop to begin with. Infusing your menu with unique menu items and local details (alongside the standard smoothie shop offerings) will set you apart from the competition.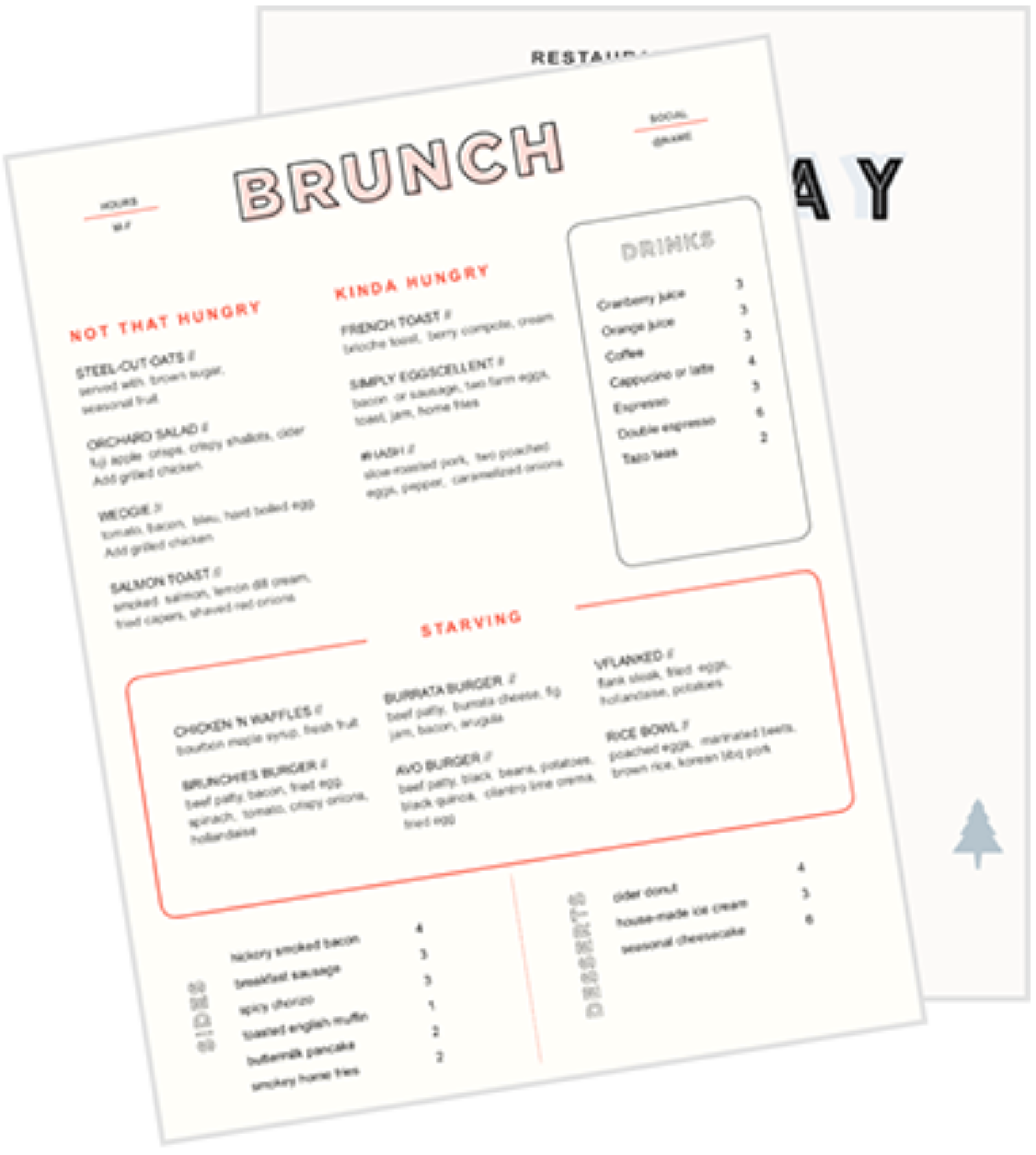 Restaurant Menu Templates
Use these menu templates as a starting point for your menu design or to give your menus a refresh.
Download
10. Purchase and Track Your Restaurant Inventory
Now that you've finalized your menu design you can begin cataloging the inventory you need to turn it into a reality. Include any and all products, supplies, and ingredients you need to create smoothies in various seasons, including backup options if certain ingredients aren't available.
Once you know the inventory you need, start shopping around for vendors. Compile a list for yourself of all suitable wholesalers, niche vendors, and local retailers. When Jamba Juice got started, one of the founder's first partners was buying overripe bananas in bulk from the supermarket to fuel a budding juice bar operation. Savvy business skills and a knack for finding the best inventory can take a new smoothie business far.
Finally, choose the restaurant inventory management software that fits your needs. Setting up these systems from the start means your store or stores will operate efficiently from day one, contributing to a better profit margin and a faster path to hitting business goals.
11. Buy a Smoothie Shop Point of Sale System
The best POS systems for smoothie shops are not only easy to use, but optimize the entire payment process and integrate with other business systems. For restaurants today, technology is a must-have to keep up with customer expectations and staff happiness. Without modern systems, restaurants can run into challenges hiring and maintaining staff, and lose money with the time it takes to use outdated devices.
When choosing your POS system, look for one that:
Allows you to create gift cards and loyalty programs.

Seamlessly integrates with your other on-site and remotely used tech tools, like accounting software, email provider, and AP system.
For more information, here's everything you need to know about Toast's Fully-Integrated Restaurant POS System.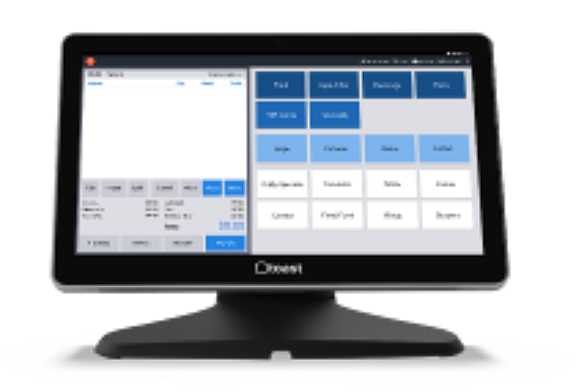 Learn how a better point of sale system can help you run your restaurant.
Read now
12. Craft the Design and Atmosphere of your Smoothie Shop
For the most part, smoothie shops have a recognizable design and atmosphere. There's the familiar whirl of blenders always present in the background, the display case full of healthy and protein-rich snacks, and the oversized menu boards detailing any and all ingredients available to add to your smoothie or any current specials.
When designing your restaurant floor plan, embrace what makes your smoothie shop unique. Do you use specialized ingredients? For every smoothie a customer buys, do you donate the cost of one to charity?
Whatever your purpose might be, by focusing the design of your shop around your business goals, you'll attract your ideal customers and gain loyal patrons who become regulars and help your business grow.
13. Hire your Smoothie Shop Team and Management
Depending on the size of your smoothie shop, number of locations, and hours, you may need to hire:
Juicers

Cashiers

Managers and assistant managers

Shift Leaders
Get Blending
To make sure you haven't skipped any steps, draft your smoothie shop business plan using the Restaurant Business Plan template.
Related Smoothie Shop Resources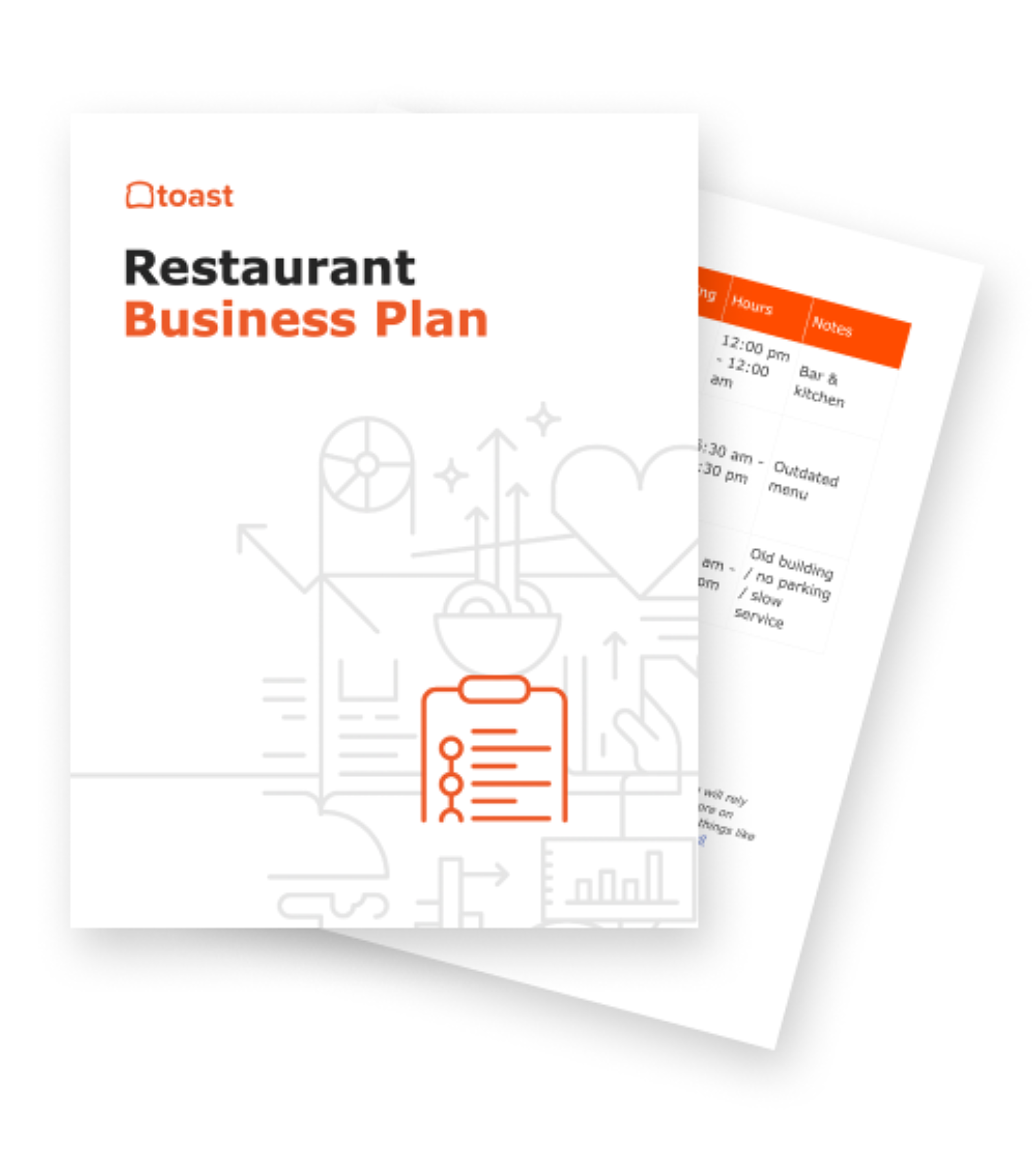 Restaurant Business Plan Template
No matter where you're at in your restaurant ownership journey, a business plan will be your north star. Organize your vision and ensure that nothing is overlooked with this free template.
Download