How Much Does it Cost to Open a Smoothie Shop?
Here's our guide to all of the costs associated with opening a smoothie shop, from equipment to marketing and everything in between.
The smoothie industry is projected to be worth $17 billion by 2025.
Leading the pack is global franchise Smoothie King, with over 1,300 locations in operation. In 2021 alone, Smoothie King opened 109 new stores around the world and experienced a 16.5% sales increase domestically, thanks to their rewards app, online ordering option, and the use of smart handheld POS devices to help keep up with pickup orders.
With the demand for smoothies clearly not slowing down any time soon, more and more eager prospective shop owners are drafting business plans of their own.
Read on for a complete overview of smoothie shop startup costs and a rundown of the pre-opening expenses you'll encounter along the way.
Average Restaurant Startup Costs
The average cost of opening a restaurant is $275,000 when renting and $425,000 for purchased properties. However, depending on factors like location, size, and scope of the operation, the cost can vary by tens or hundreds of thousands of dollars.
Average Cost of Opening a Smoothie Shop
Similarly, the average cost of opening a smoothie shop will vary depending on the precise location, shape, and size of your shop. Assuming you're operating out of a brick and mortar facility and not a food truck, the average cost of opening a smoothie shop is $20,000 - $400,000.
Cost of Opening a Smoothie Franchise
If you decide to go the franchise route, expect franchise fees along with standard restaurant opening costs. With an average of $25,000 - $30,000 in fees, opening a smoothie franchise like Smoothie King costs between $250,000 - $850,000+.
Smoothie Shop Opening Cost by Square Foot
Finding a location that previously operated as a smoothie shop or similar establishment will save you on opening costs. Otherwise, you'll need to get creative to keep costs down.
You may rent or lease a spot. The average cost per square foot to open a small restaurant like a smoothie shop is $100 to $800, with a median cost coming in at $450. Use the lower end of the square footage estimate for smaller locations where you'll be renting or leasing, and the higher end for new construction or more expensive cities, like Boston or San Francisco.
Once you have a handle on startup estimates, use our restaurant opening calculator for a better breakdown of costs. These projected numbers will serve as a jumping off point when creating your restaurant business plan.
To get a clearer idea of how all your local costs will add up, use the Restaurant Opening Calculator to estimate what it could cost you to open a smoothie shop.
Restaurant Opening Calculator
This calculator lays out some of the fundamental financial costs of opening a restaurant, so you can start planning and bring your dream restaurant to life.
Get free download
Smoothie Shop Startup Costs to Expect
When applying for restaurant capital or a small business loan, you'll need to provide a detailed business plan or risk losing out on your investment.
Here are some of the smoothie shop startup costs, operational expenses, and pre-opening expenses that you'll need to prepare for.
Smoothie Shop Startup Expense Checklist
1. Utilities
Typically, standard utility costs include gas, water, and electricity. Expect to start paying for utilities up to three months before opening day, and plan for a monthly increase once you're in operation. Smoothie shop owners spend an average of $1,000-1,200 each month on utilities, and $6,500 in initial utility costs.
2. Location
Finding the perfect location is essential to attracting customers. During your real estate search, try to identify your ideal patron. Where do they live and work? What does their typical daily routine look like?
Once you have a clear understanding of who you plan to attract to your shop, you can pinpoint an ideal location. Just keep in mind that the average cost of leasing a smoothie shop is $150,000.
3. Interior Design
It's natural to need to do some remodeling and renovations before opening day, particularly if you want to use branding as a key aspect of your business.
Life Alive is a popular organic cafe in Cambridge, MA, that offers fresh smoothies with fun names like the Green Day, the Elvis Alive (with bananas and peanut butter, of course), and the Blue Magic. It features a beautiful mural from a local artist to create an inviting atmosphere for guests.
Smoothie shop interior design costs include everything from redoing the flooring to painting the walls, and can run upwards of $100,000 for extensive renovations.
4. Smoothie Shop Equipment
Equipment costs will take up a big portion of your startup budget. Just remember, equipment is an investment that sets your shop up for long-term success. Be sure that it meets a high standard of quality so it lasts for years to come.
Typical smoothie shop equipment includes:
Average smoothie shop equipment costs range from $66,000 to $73,000.
---
Read this next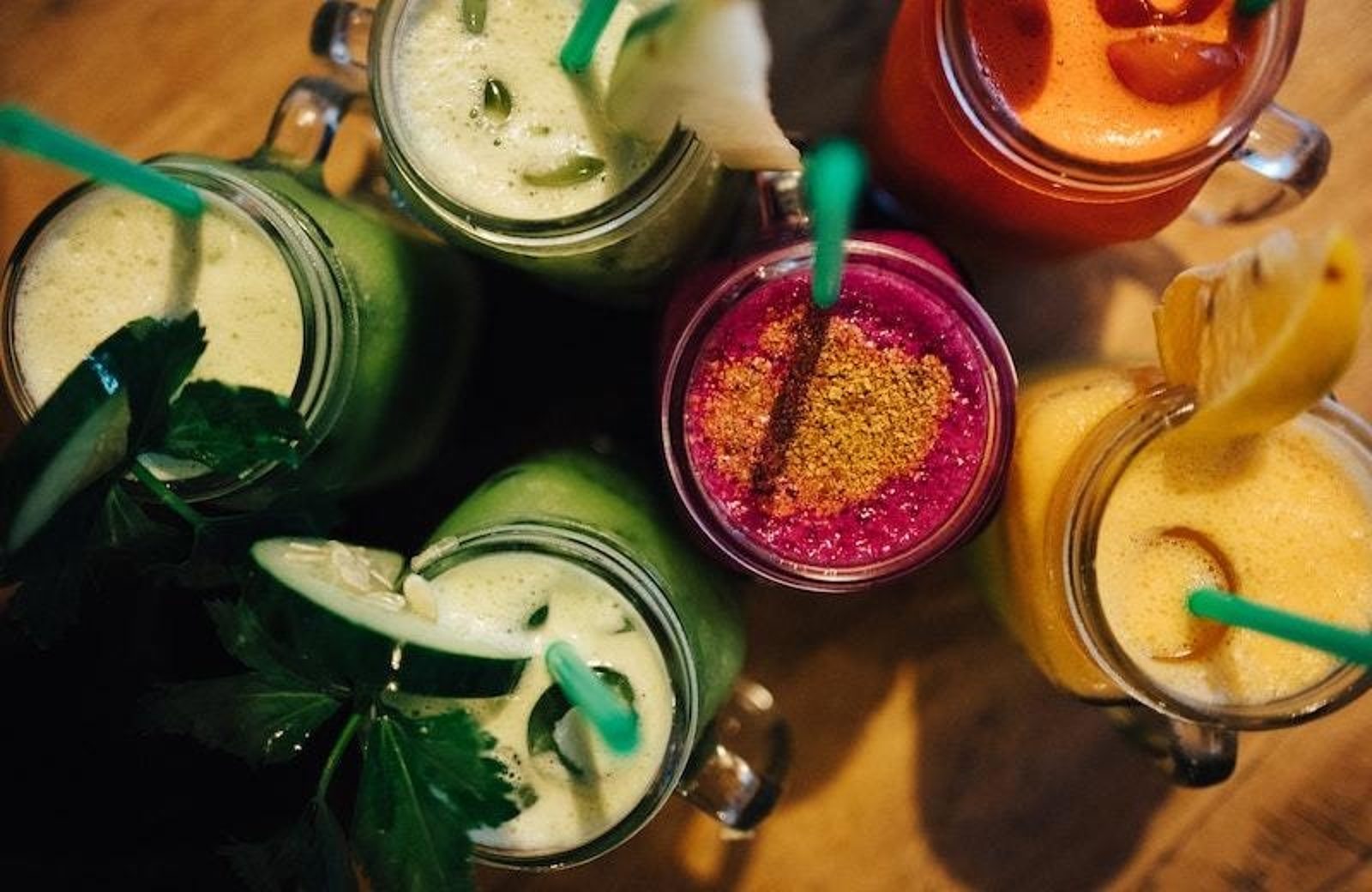 How to Open a Smoothie Shop
Wondering how to open a smoothie shop? Here is everything you need to open a smoothie shop, from your restaurant business plan to layout to menu design.
5. Pre-Opening Expenses
Pre-opening expenses include hiring and onboarding staff members, finishing renovations, and stocking up on initial inventory. On average, you can pay up to $100,000 on smoothie shop pre-opening expenses.
6. Marketing, Branding, and PR
If you decide to open a franchise, you'll have a significantly easier time with marketing and branding. Franchises come with built-in name recognition that draws customers in the moment a new location pops up. Owners of independent smoothie shops need to attract their own customers and establish brand awareness.
Allocate a large portion of your startup costs to your smoothie bar marketing budget, including the costs of:
Creating a website and online image

Digital advertising

Social media marketing

PR services

Branded merchandise

Email marketing
Sometimes, all it takes is one viral smoothie tutorial video taking off online to get over 60,000 eyes on your new shop!
Guide to Restaurant Social Media Marketing
Learn how to optimize your social media presence to showcase your brand, tell your story, attract new customers, and engage with your audience.
Get free download
Restaurant Business Plan Template
No matter where you're at in your restaurant ownership journey, a business plan will be your north star. Organize your vision and ensure that nothing is overlooked with this free template.
Get free download
7. Restaurant Startup Capital and Emergency Funds
In addition to having startup capital worth at least three months of operational costs, it's also always a good idea to have an emergency stash of funds in case of unforeseen incidents. The average startup capital necessary to open a smoothie shop is $60,000.
It's very common for smoothie shop owners to cover these costs by applying for small business loans and commercial loans, as well as by opening up a business line of credit. For more info on how to obtain funding, here's The Complete Guide to Restaurant Financing and Loans (hint: you'll need a thorough business plan with estimated costs — have you been taking notes?).
---
Read this next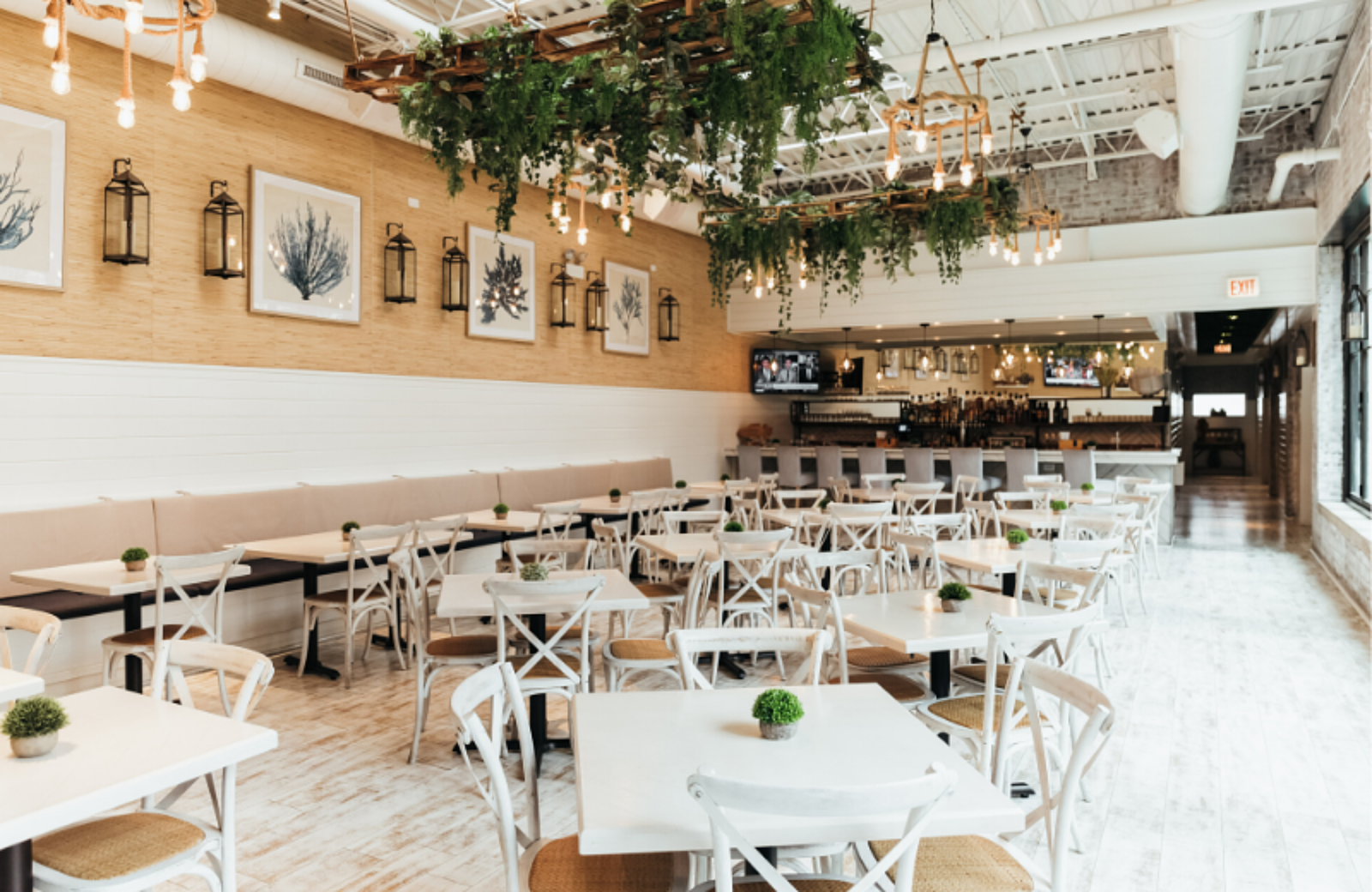 The Complete Guide to Restaurant Financing and Loans
Whether you're opening a new restaurant, expanding your concept, or renovating within your existing four-walls, you're going to need capital to make it all happen.
8. Exterior Design
Your branding will attract customers far and wide. Your smoothies will keep them coming back for more day after day. But it will be exterior design that draws people in from right off the street.
Think of your exterior design as an extension of your marketing strategy. Infuse your signage and decals with your signature personality. If possible, create an outdoor seating space. There's nothing that'll inspire people to buy more than walking by tables of people drinking smoothies on a hot summer day. Try offering free samples to passersby to bring in new faces!
Allocate between $1,000 and $40,000 to cover your restaurant's exterior design needs, from signage to landscaping to seating.
9. Organizational and Development Costs
In order to abide by all state and local regulations, owners must file for multiple restaurant licenses and permits, including:
State and local business license

Employee Identification Number (required before you can begin hiring employees)

Food service license

Certification of occupancy
Additionally, some states require smoothie shop owners to purchase a vendor license, which costs up to $50.
10. Professional Services
It takes a dedicated team to help make all of your smoothie shop dreams come true.
Many new business owners choose to outsource certain responsibilities to professionals, such as:
Builders and contractors

Creatives

Lawyers and accountants

Marketing agencies or a PR firm
The average business owner can pay up to $50,000 in professional service costs during the pre-opening phase of a new restaurant. This depends on the complexity of the business, services offered, and the restaurateur's personal resources.
11. Technology and Point of Sale Devices
Finding the right POS system for your smoothie shop is necessary to ensure you're consistently providing your customers with a seamless experience. Remember how Smoothie King grew so much this year? Modern tech is a must for mobile ordering, and customers who are on-the-go. The ideal smoothie shop POS system is user-friendly, accurate, and secure.
The Toast POS system has everything you need to provide customers with the experience they deserve, including the option to create a rewards app and offer online ordering or delivery.
12. Food Costs
Food costs will reflect your menu. Will you offer heartier dishes like salads or wraps? Or just stick with smoothies? The former will be significantly more expensive than the latter.
Smoothie stores that use fresh ingredients can expect to spend up to 50% of their monthly expenses on food costs.
13. Staffing and Management
The last step of managing your startup budget is to set aside funds for hiring, onboarding, training, and paying staff salaries.
Depending on the scope of your operation, you may need to hire:
Cashiers

Juicers

Baristas

Line chefs

Shift leaders

Managers and assistant managers
On average you can expect to spend 30% of total revenue on restaurant labor costs.
Ready to become your area's next biggest smooth(ie) operator?
Opening a smoothie shop requires a perfect blend of fresh ingredients and dedication. Now that you're armed with the startup cost information you need, you're one step closer to opening day.
Related Smoothie Shop Resources
Restaurant Business Plan Template
No matter where you're at in your restaurant ownership journey, a business plan will be your north star. Organize your vision and ensure that nothing is overlooked with this free template.
Get free download
DISCLAIMER: This content is provided for informational purposes only and is not intended as legal, accounting, tax, HR, or other professional advice. You are responsible for your own compliance with laws and regulations. You should contact your attorney or other relevant advisor for advice specific to your circumstances.