What Do You Need to Start a Donut Shop Business? (Checklist)
Since donuts were invented in 1920, the modern donut as we know it has never gone out of style. And as long as these doughy treats remain an active part of our nation's morning (or afternoon, or nighttime) routine, donut shops will continue to sprout up in our communities. As a $7 billion industry and with over 13,000 active donut shops currently open in the United States, it's clear that the demand is as high as ever before.
If you are considering throwing your apron into the ring, here is a step-by-step checklist to opening a restaurant.
1. Choose a donut shop format
What type of donut shop are you thinking of opening? Are you hoping to start a donut business from home? Operate out of a brick and mortar location? Offer delivery donuts? This decision will dictate the location you choose for your shop and its overall design.
The donut shop formats to choose from include:
Dine-in: Donut shops that offer customers the option to stay and enjoy their treats at tables and chairs are considered dine-in. Seating can either be indoor, outdoor, or both and in this format customers order at the counter.

Counter only: Donut shops that do not offer seating and instead only offer take out are considered counter only. Counter only shops are preferred by those with smaller store locations.

Food truck: Donut shops in the form of food trucks are common in larger cities and are popular for new shops looking to make a unique name for themselves in the face of the competition.

Drive-through only: A common format for coffee shops, drive-through only donut shops are exactly what they sound like — those that don't offer any inside ordering options.
2. Write your donut shop's business plan
Think of your business plan like the blueprint you'll use to set up your donut shop. It's a thorough and detailed document that outlines the ins and outs of your entire operation. It'll also help you pitch your business to potential investors.
A thorough business plan includes:
The name of your donut shop. (Remember to run a quick search through the U.S. Patent and Trademark Office to see if your name has already been taken by a different donut shop.)

An executive summary of your reason for opening the donut shop, your history as a business owner, and your strategy for ensuring success.

An outline of both your marketing and sales strategies leading up to and continuing after opening day.

How you'll fund your donut shop dreams.

An outline and timeline of projected financial growth for the first five years.

A market analysis of your key competitors and the industry at large, in order to determine the climate of the industry you are entering into.
The Toast Restaurant Business Plan Template is a great jumping off point to begin analyzing what you need to get your donut shop up and running.
Restaurant Business Plan Template
No matter where you're at in your restaurant ownership journey, a business plan will be your north star. Organize your vision and ensure that nothing is overlooked with this free template.
Get free download
3. Find the right location for your donut shop
The two methods of finding a location for your donut shop are alone or with the help of a commercial real estate agent. Either way, the goal is to find a restaurant location that will appeal to your target customers, and make it easy (irresistible, even!) for them to come by for a donut.
When seeking out restaurant real estate for your donut shop business location, think about:
Where your ideal customers frequent and spend money

Market conditions and economic projections for potential neighborhoods

Competitors in the area
During your search, keep an eye out for available leases or properties for sale that previously housed donut shops, bakeries, or cafes. When you move into a location that was already home to a similar organization as yours, there is a greater chance of the property coming equipped with some of the equipment you need to operate your shop, like oversized ovens and freezers.
4. Obtain the necessary food sales and business licenses and permits
When it comes to getting your hands on the permits and licenses needed to open a donut shop, it's a good idea to start with state-specific requirements. Each and every state (and some counties) have their own regulations when it comes to opening new businesses, so you'll want to start the process of obtaining them as early as possible.
Start this step by figuring out which restaurant licenses and permits you will need between now and opening day — do some research on your local requirements and make a thorough list. Depending on the form, you may need to complete the filing of one license before you can apply for another permit, and so forth. To make sure no steps or deadlines are missed, outline all of the paperwork you need before filing the first application.
The licenses and permits needed to open a donut shop include, but are not limited to:
Sales license

Zoning permits

Food handler's license

Catering license

Health and safety inspection
5. Collect the necessary restaurant tax, DBA, and EIN information for your donut shop
In addition to abiding by permit and license requirements, many states also have differing employer and tax requirements for restaurants and food sellers. Similarly, it's in your best interest to also start this process early to avoid missing deadlines or incurring fines.
The necessary restaurant tax paperwork can be collected through either a third party or in-house tax professional. Then, if applicable, file for your DBA (Doing Business As) — also known as your donut shop's unique trade name. If you plan to expand your operation to hiring employees at any point in the future, apply for an EIN (employer identification number) that will allow you to file income and payroll tax returns.
No matter if you use an in-house tax specialist or a third party, it's important to have a firm understanding of restaurant tax requirements to help prevent unnecessary fines — and a professional to help you along the way.
Setting Up your Business Structure
As part of your restaurant's tax setup, you'll need to establish your restaurant as a business and choose a business structure. You can choose an LLC, which can protect you from personal liability, or choose another type of tax structure for your donut shop. It's important to do your research and a good ideas to work with a professional on this step.
6. Design your donut shop branding, marketing, promotion, and advertising strategy
Before you can create a restaurant marketing strategy for your donut shop business and business launch, figure out what you're advertising, and who you're selling your products to. Of course, you know that your restaurant business is a donut shop, but what is the unique appeal? What does the atmosphere of your specific shop have to offer customers? Questions like these will help solidify your restaurant branding.
When designing your approach to advertising and marketing, ask yourself questions such as:
What is your restaurant social media marketing plan?

Will influencer marketing play a role in your marketing strategy?

What other forms of online marketing will you use?

Will you use organic marketing practices or pay for advertising?

Where does your target audience spend their time? How can you advertise in these spaces?
You can also use Toast's Restaurant Marketing Plan template get your marketing strategies in a row and planned for the year.
Restaurant Marketing Plan
Create a marketing plan that'll drive repeat business with this customizable marketing playbook template and interactive calendar.
Get free download
7. Determine your donut shop finances, operating expenses, and sales forecasts
Opening a donut shop can be a great source of revenue. The average donut shop makes $120,000-$150,000 every year. Here's how to account for operating expenses and a simple way to project future revenue.
Restaurant Finances + Operating Expenses
Restaurant expenses can include suppliers for food and other equipment and materials, ongoing operations like utilities, software, packaging, and marketing, and labor costs. It can feel challenging to make a profit on top of that. Plan ahead for unexpected restaurant startup costs like restaurant repairs or supply chain shortages and include incidentals in your restaurant budget.
Operating expenses for donut shops can include utilities, equipment, appliances, licenses, permits, technology, and food costs, which can depend on renting or buying equipment, the cost of rent or supplies in a given region, square footage, and other factors.
Restaurant sales forecasting
To create a basic projection for your donut shop sales, consider your projected revenue and subtract expenses. Then, use a monthly estimate to project your growth. Once you're established as a restaurant business, you can use month over month growth rate to project future years of revenue.
When establishing systems to your restaurant finances, create a business bank account to ensure you keep your personal and bakery expenses separate. Depending on which state you are opening your donut shop in, it may be mandatory for you to open a separate business bank account. Either way, this is also when you can open a business credit card. Consult with an accountant through this step and ensure you've done everything right, to the letter.
8. Gather all of your funding and loans
Good news! There are a variety of avenues you can go down to procure funding for your donut shop, including a wide selection of various government loans and grants.
The various means of funding you may obtain for your donut shop include:
A business line of credit

Equipment financing for the kitchen

Startup business grants

SBA Microloans for small-businesses
To learn more, read this post about all the different ways you can get restaurant financing.
---
Read this next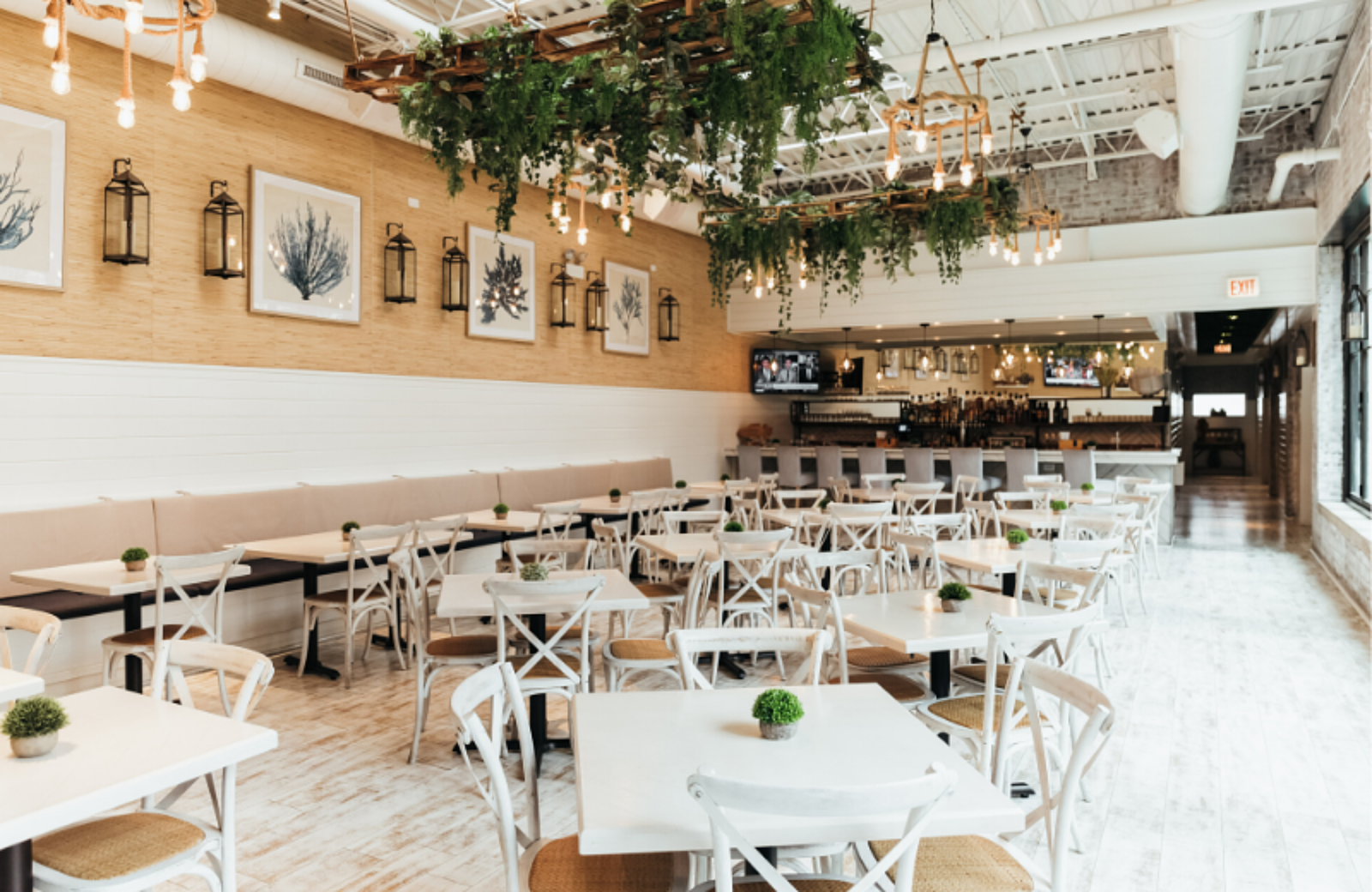 The Complete Guide to Restaurant Financing and Loans
Whether you're opening a new restaurant, expanding your concept, or renovating within your existing four-walls, you're going to need capital to make it all happen.
9. Create Your donut shop menu
For restaurants of any size, the menu is often regarded as the key feature. Once your marketing strategy pulls customers in, it will be your menu that keeps them coming back for more.
So, how does a donut shop — an organization that is already centered around producing a single signature item — craft a unique menu? Start with who you are as a business owner. What was it about donut shops that drove you to open your own? Was there a unique spin on the pastry that you wanted to introduce to a larger audience? Something even more unheard-of than the cronut?
Maybe you will only be using local or vegan ingredients in your donuts. Or maybe every month you release a "limited time only" donut which, when purchased, a portion of the proceeds go to a community charity or fund.
Customers will be looking for what sets your shop apart from the rest; convince them by crafting a menu that is inviting and fresh. Employ a strategic menu design that is effective and drives new business to your shop.
10. Purchase and track your restaurant inventory
After you've determined your donut shop menu — and the ingredients, supplies, and products you'll need to make them — it's time to start purchasing and managing your inventory. First, shop around for where you'll be getting your inventory from. You'll find a selection of wholesale platforms to choose from, as well as local retailers for more niche supplies.
Next, implement a detailed inventory tracking system to capture data on supply pricing and cost of sales. Remember that this is an ongoing process, and using restaurant inventory management software that tracks food costs and sales allows you to analyze profitable items and make more effective recommendations to customers.
A bookkeeping software can help to keep track of restaurant accounting needs and can also highlight areas for cost savings and overall financial improvements.
11. Buy a donut shop point of sale system
Investing in a point of sale (POS) system will help your donut shop grow and save you headaches, manual work, and risks of theft or discrepancies. The best POS systems for small businesses are user friendly and capable of scaling quickly as your donut shop continues to evolve.
Toast's POS system does just that, while providing you with the equipment you need to optimize your payment process and quickly train new employees, and the analytics and reporting that show you what's working and what isn't.
Features of POS systems that help donut shops grow are:
Handheld/portable: If you're operating a pop-up or food truck, a handheld POS lets you accept payment right from the device (like Toast Go™).

Intuitive POS menu: For fast-paced shops, having a simple interface and easy-to-use buttons makes long lines go more quickly.

Kitchen display: A connection between the kitchen and the front of house can reduce customer wait times and speed up breakfast and coffee orders.
For more information, here's everything you need to know about Toast's Cafe and Bakery POS System.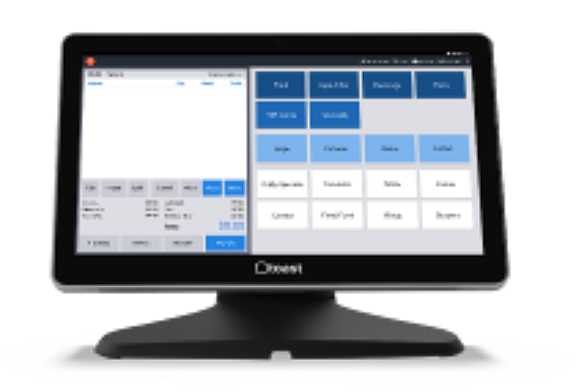 Learn how a better point of sale system can help you run your restaurant.
Read now
12. Craft the design and atmosphere of your donut shop
The goal for restaurant design is to serve your ideal customers and provide the right environment to fit their needs. Consider the layout and style of your restaurant and feature your beautiful donuts on display using a glass case or other display format.
Other restaurant design factors to consider when starting a donut shop include:
Tables and chairs: Will you have a seating area, lounge furniture, a bar for working on a laptop, or community tables?

Window service: Will you offer walk-up or drive-through service?
Kitchen space: Do you have a separate storage area or is it attached to the kitchen? Will your bakery be visible to customers like at Krispy Kreme?
Make your donut shop into a space where customers feel warm and welcome, a comfortable place that offers an inviting atmosphere. The more you personalize your donut shop design, the better your chances are of crafting such a place.
13. Hire your donut shop team and management
To power a successful donut shop operation, you'll need a stellar team. Depending on the specifics of your place — your format, location, and design — you'll need to hire:
Bakers

Cashiers

Pastry chefs

Bakery managers

Shift leaders

Baristas
You can use word of mouth for recommendations, post on industry Facebook groups, or turn to restaurant-specific hiring avenues like Poached, Sirvo, or Culinary Agents.
To solidify your plans for opening a donut shop business, complete your business plan using the Restaurant Business Plan template. With the right donut recipe and passion for the craft, you can become the next Dunkin' Donuts in no time.
Related Donut Shop Resources
Restaurant Business Plan Template
No matter where you're at in your restaurant ownership journey, a business plan will be your north star. Organize your vision and ensure that nothing is overlooked with this free template.
Get free download
DISCLAIMER: This content is provided for informational purposes only and is not intended as legal, accounting, tax, HR, or other professional advice. You are responsible for your own compliance with laws and regulations. You should contact your attorney or other relevant advisor for advice specific to your circumstances.