DISCLAIMER: This content is provided for informational purposes only and is not intended as legal, accounting, tax, HR, or other professional advice. You are responsible for your own compliance with laws and regulations. You should contact your attorney or other relevant advisor for advice specific to your circumstances.
What Do You Need to Start a Bakery Business? (Checklist)
Always dreamed of opening a bakery and becoming the go-to spot for a neighborhood's morning pastry? Right now might just be the time to do it. Over the past five years in the United States, bakeries and cafes have experienced sustained growth due to a shift in consumer preferences. The modern consumer is on the lookout for fast and tasty food options on the go, an inviting place to sit and enjoy a bakery treat while working or meeting a friend, or a place to quickly grab snacks for an event — all services that bakeries provide.
The bakery cafe industry has experienced a growth of 3.6% so far in 2021 alone, resulting in a total projected industry worth of $11.7 billion by year's end.
Let's take a look at the steps standing between you and your new bakery's grand opening.
1. Choose a bakery format
The first step of your bakery opening journey is to determine the design and function of your space. The layout of your bakery and the way it looks and feels will play a large role in how it's received by the community. To make a great first impression, take the time to choose a format that conveys your ideal atmosphere and works for your restaurant start-up budget and factors in local competitors.
Bakery formats to choose from include:
Dine-in bakery: For larger spaces, dine-in bakeries offer tables and seating for customers to spend time working, socializing, and relaxing in the space. Either indoor or outdoor, in a dine-in bakery format customers order at the counter or via table service, but guests almost always seat themselves.

Counter only bakery: Counter only bakeries do not offer seating to customers and instead feature a single counter for ordering and picking up goods. Counter only bakeries take advantage of their format by featuring products inside and along the counter space.

Bakery cafe: Either dine-in or counter only, bakery cafes offer beverages such as coffee, smoothies, and tea in addition to baked goods and treats.

Food trucks + pop up shops: Bakeries are uniquely positioned to serve their pastries and treats on the go. Bakeries can operate out of food trucks, pop-up stands, or on the go, selling their products at farmer's markets or other community events.
2. Write your bakery's business plan
A clear and thorough business plan is the most important step of the process and shouldn't be rushed. Use this planning phase to get to know the intricacies of your bakery and ensure that you know how to operate it inside and out.
Your bakery business plan should include:
The name of your bakery. (It's best practice to search the U.S. Patent and Trademark Office to see if your name has already been taken.)

An executive summary that details the purpose of your bakery and how you plan for the business to succeed.

How you'll secure funding or restaurant start-up capital for your bakery.

An outline of projected financial growth in the first five years of business.

A thorough market analysis of your industry and competitors, both on the local and national level.

An outline of your marketing strategy leading up to and continuing through the grand opening of your shop.

An outline of your sales strategy for once the shop is operating.
To get started writing yours today, use the Bakery Business Plan Template.
Bakery Business Plan Template
Use this free bakery business plan template to easily create a great business plan that organizes your vision and helps you start, grow, or raise funding for your bakery.
Download
How much does it cost to open a bakery?
Restaurant startup costs can vary from almost $100,000 to nearly $2M. Bakeries tend to be less expensive than full service restaurants or fine dining restaurants, and typically fall at the lower end of restaurant opening costs.
3. Find the right location for your bakery
Whether you use a commercial real estate agent to lead the way or you go about the real estate search on your own, take the time to find a location for your shop that is competitively positioned to fill a need in the community or monopolize on foot traffic.
Be on the lookout for recently vacated leases, especially those most recently occupied by another bakery. Best case scenario, you'll be able to find a restaurant space that comes stocked with some or all of the equipment you need to operate your bakery — like large ovens, refrigerators, or freezers and maybe even an existing customer base.
4. Obtain the needed licenses and permits for your bakery
When it comes to obtaining all of the restaurant licenses and permits you need to open and operate a bakery, it can help to start local. Every state and county has their own regulations when it comes to opening new businesses, you'll want to be thorough and start as early as possible collecting information and securing the permits and licenses you need. You don't want to be a week away from your grand opening and realize you've forgotten one, or that a certain license takes months to get approved.
Pro Tip: Start this step by gathering all of the licenses and permits you will need. Most states provide this information readily online, like this guide for Massachusetts restaurant owners to obtain a food service permit, so get googling.

In some cases, you'll need to complete the filing of one permit before you can apply for another license, and so forth. To ensure you don't miss a step or application deadline, outline all of the paperwork you need before filing the first application.
The licenses and permits needed to open a bakery include, but are not limited to:
Food handler's license

Catering license

Health and safety inspection

Sales license

Zoning permits
5. Collect the tax, DBA, and EIN information for your bakery business
In addition to having various restaurant licensing and permit requirements, states also have differing tax and employer requirements that are required for opening a bakery. And similarly, it's also a good idea to start this process early to avoid missing deadlines. Understanding restaurant tax requirements is key to avoiding fees and fines as a new restaurant.

Collect the necessary tax paperwork through either an in-house or third party tax professional. Then, if applicable, file for your DBA (Doing Business As) — also known as your unique trade name.
Finally, if you plan to hire employees at any point, you'll need to apply for an EIN (Employer Identification Number) that will allow you to file income and payroll tax returns.
These are just a few of the important regulatory steps that you'll need to follow, so just like with licenses and permits, get googling and find out exactly what you need to do in your state and county, and consult with a professional.
6. Design your bakery branding, marketing, promotion, and advertising strategy
Remember the marketing strategy you outlined in your business plan? Now is the time to revisit it and dive in deeper.
Developing your marketing strategy begins by defining exactly what it is you are marketing. What is the unique appeal of your bakery? What does your atmosphere or aesthetic have to offer customers? The specific offering of your bakery and its intended audience will drive your branding.
When determining your approach to marketing and advertising, ask yourself questions such as:
Who is your target bakery customer?

What platforms will you use for online marketing?

Will you use organic marketing practices or pay for advertising?

Will influencer marketing play a role in your strategy?

Where does your target audience spend their time? How can you advertise in these spaces?
When you launch your new shop, developing a strong restaurant social media marketing strategy can help to showcase your beautiful bakery items, cakes, cupcakes, and pastries in a visual and shareable format. Social media helps put bakeries on the map and attract new customers.
You can also use Toast's Restaurant Marketing Plan template to build out your plan for how you'll keep the guests coming through your door — and coming back for more.
Restaurant Marketing Plan
Create a marketing plan that'll drive repeat business with this customizable marketing playbook template and interactive calendar.
Download
7. Determine your bakery finances, sales forecasts, and operating expenses
At this stage, it's time to revisit your restaurant business plan and look at your initial financial projections for your bakery so you can plan out day-to-day operating expenses. With a more thorough understanding of your operating and marketing costs, you can more accurately predict the future earnings.
How much does it cost to run a bakery?
When factoring in the costs of running a bakery business, think about equipment, staff, marketing, building, tech, and food. The typical operational costs for running a restaurant include fees such as:
Utilities: $1,000-$1,200/month

Equipment and appliances: $20,000-$400,000

Licenses, permits, deposits: $2,500-$200,000

Technology, including a POS system: Varies

Food costs: $5,000-$25,000

Restaurant labor costs: 30-35% of total revenue
To make sure you keep your personal and bakery expenses separate, open your business bank account. Depending on which state you live in, opening a separate business bank account may be required for tax purposes, so do your research and work with a great accountant. Either way, this step is also where you will get your business credit card. Work with an accountant through this whole process to make sure it's done right.
8. Gather all of your restaurant funding and loans
The good news is, there are many different avenues one can go down to obtain proper funding for their bakery — in large part due to how expensive it can be to start one. Opening a bakery is estimated to cost anywhere between $10,000 and $50,000 depending on factors such as location, size, and menu, but it can cost much more if you're going for a larger, sit-down establishment with other food and drink offerings.
The various means of funding you may utilize to start your bakery include:
A business line of credit

SBA Microloans for small-businesses

Startup business grants

Equipment financing for the bakery kitchen
Once you've got your financing, you can start buying equipment and setting up your space with the basics that you'll need to get started.
To learn more, read this post about all the different ways you can get restaurant financing.
---
Read this next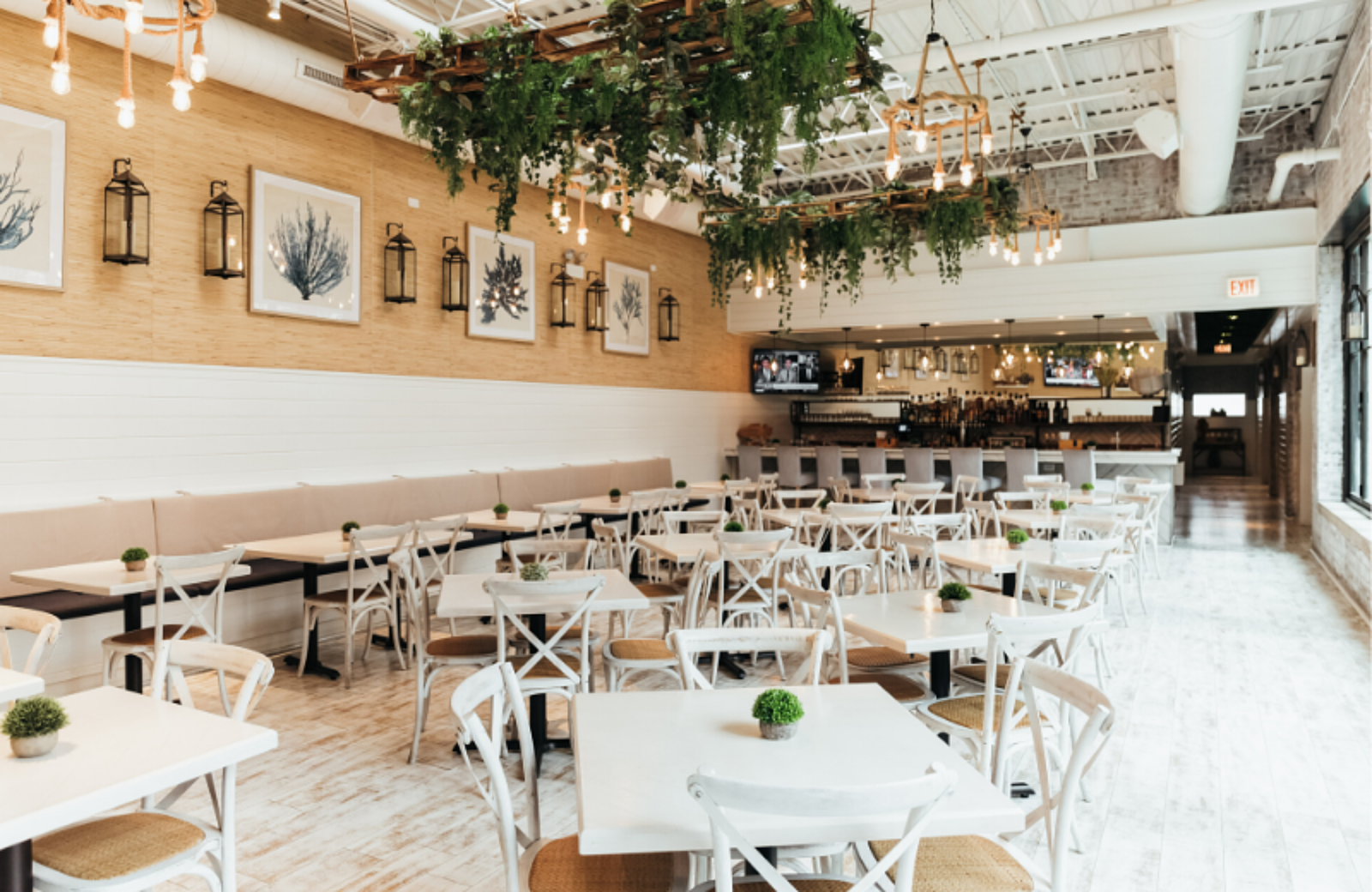 The Complete Guide to Restaurant Financing and Loans
Whether you're opening a new restaurant, expanding your concept, or renovating within your existing four-walls, you're going to need capital to make it all happen.
9. Create your bakery menu
The menu is the crown jewel of your bakery. Your marketing and advertising efforts will bring the customers in, but it will be the items they order off of your menu that keep them coming back for more week after week.
If you've decided to open a bakery, have you considered a specialty? Will you sell a certain type of confection, like wedding cakes, French pastries, Korean desserts, or Brazilian sweets?
Start by simply writing down all of your ideas before organizing them into groups based on ingredients and supplies needed. Take a peek at what your competition offers, and see where you can fill a gap in the market or jump on industry trends. Then, use menu design strategies to craft a bakery menu that will improve sales and draw in new guests.
Your menu should be a collection of signature offerings and bakery staples. You want to be able to offer classic pastries and menu items alongside baked goods that are more unique or specific to your theme.
Restaurant Menu Templates
Use these menu templates as a starting point for your menu design or to give your menus a refresh.
Download
10. Purchase and track your bakery inventory
Now that you have determined your menu items — in addition to the ingredients and products you'll need to make them — you can begin purchasing your inventory. Of course, first you'll need to decide where you'll be purchasing your supplies from.
There are many food industry wholesale platforms that you can use for your inventory. Additionally, depending on your location, you'll be able to find a collection of local retailers from which to obtain your products.
Wherever you decide to get your inventory from, it's always a good idea to take your time reading reviews and chatting with your peers about potential suppliers. Overcoming supplier delays and miscommunications can be a real hassle for bakeries, especially when they are just getting started establishing themselves. To avoid inventory hassles, partner with a supplier who you trust and respect.
Remember to continuously track your inventory shipments using restaurant inventory management software and create a backup plan to account for any delays. At this stage, you can also implement a restaurant accounting system like Quickbooks to track bookkeeping and help identify areas for financial optimization.
11. Invest in a bakery point of sale system
Another important decision you'll have to make regarding the operations of your shop is choosing your point of sale system. The best POS systems for emerging organizations are user-friendly and capable of scaling alongside a fast growing bakery — and they make the payment process seamless for guests and for staff.
Toast's POS system does just that, while providing you with the reporting and analytics that will help you keep track of your business's performance and health.
Restaurant POS software benefits bakeries with features like:
Simple interface: For quick order turnaround, large buttons and an easy user interface can speed up bakery lines.

Handheld devices: On-the-go bakery operations need handheld POS devices to take customer payments and sell products from anywhere.
For more information, here's everything you need to know about Toast's Cafe and Bakery POS System.
Cafe and Bakery POS Comparison Tool
A free, customizable Cafe and Bakery POS Comparison Tool to research and compare point of sale systems in one Excel spreadsheet or editable PDF.
Download
12. Craft the design and atmosphere of your bakery
With a thorough restaurant business plan and vision, you'll now need to design a restaurant floor plan and layout that will align with your bakery business goals. As an owner, your passion for the craft and your story will influence the design and atmosphere of your bakery.
The goal is to make your bakery into a place where customers can feel comfortable and welcome, a warm space that offers tasty delights and an inviting atmosphere.
What should your bakery floor plan include?
When designing your restaurant layout, keep these elements in mind:
The kitchen

Baking appliances like ovens, storage racks, refrigerators, and other equipment

Tables and chairs

The counter

The display with all of your bakery items for guests to see

Restrooms

Windows

Doors

Exits
Restaurant Floor Plan Templates
Use these restaurant floor plan templates to get inspired as you map, or reimagine, the layout and space setup for your restaurant.
Download
13. Hire your bakery team and managers
Now, it's time for you to hire the dream team that is going to run your operation. Depending on the specific offerings of your place, you'll need to hire:
Bakery managers

Shift leaders

Bakers

Pastry chefs

Baristas

Cashiers
When hiring for a bakery or other restaurant, you can use restaurant industry job sites like Culinary Agents, Jobs On The Menu, or Poached.
Now that you're familiar with the steps to start a bakery, you can create a restaurant business plan that can turn your shop into the go-to spot for everyone looking for a sweet morning (or afternoon, or evening) pick-me-up.
Ready to get started? Use our bakery business plan template to make sure you've checked all the boxes and set your bakery up for success.
Related Bakery Resources
Bakery Business Plan Template
Use this free bakery business plan template to easily create a great business plan that organizes your vision and helps you start, grow, or raise funding for your bakery.
Download