DISCLAIMER: This content is provided for informational purposes only and is not intended as legal, accounting, tax, HR, or other professional advice. You are responsible for your own compliance with laws and regulations. You should contact your attorney or other relevant advisor for advice specific to your circumstances.
There's nothing like pulling apart a still-warm croissant, biting into a donut fresh from the fryer, or digging into a huge slice of three-layered cake. Choosing what kind of delicious menu items your bakers will whip up on a daily basis is a fun part of developing a bakery business plan, but once the menu's all figured out, it's time to choose the right prices for each item.
Bakery owners know that their business hinges on attracting customers to try their baked goods — and keep them coming back as often as possible. To achieve this, the menu prices have to be just right: not so expensive that customers will only be able to grab a treat from you once a month, but not so cheap that you're not making ends meet as a business.
The bakery business includes a variety of types of bakeries, some more readily profitable than others. There are cupcake shops, wedding cake bakeries, bakeries that showcase baked goods from a specific culture, bakeries that also offer coffee and a little bit of seating space, bread-focused bakeries, and so many more. And within the baking business, prices also range widely: a wedding cake bakery can charge hundreds, if not thousands, for their creations that take a week to make, while a bakery or cafe makes money by making tons of small sales every day.
Every business owner has to balance covering their operational costs and attracting loyal customers, so we'll dive into how to do just that for your new bakery — or, how you can adjust prices in your existing bakery to better reflect the cost of doing business in 2022.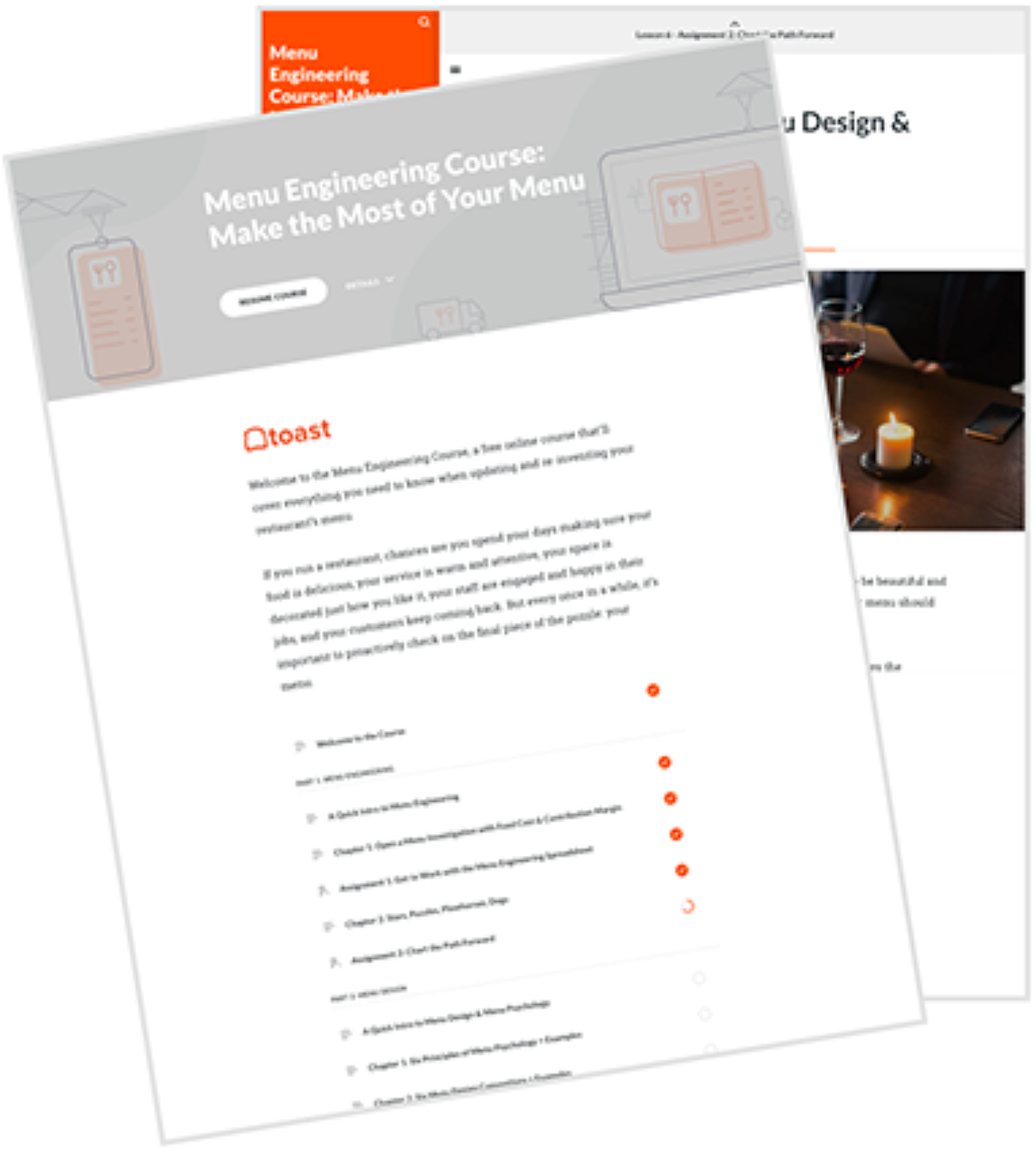 Menu Engineering Course
Take this course to make the most of your menu. Learn about menu psychology and design, managing your menu online, and adapting your menu to increase sales.
Download
Bakery menu pricing
The markup on baked goods is often very high, as many of the primary ingredients of popular baked goods are very low-cost, like flour and white sugar.
However, when bakeries get more specialized, using higher-quality ingredients like French or Irish butter, as well as fresh fruits or Valrhona or Callebaut chocolate, the ingredient cost skyrockets, meaning the prices will also need to increase significantly. And if you sell cakes, you'll have to consider the difference between whole cake pricing vs. slice pricing.
It's also important to consider the overhead costs of your bakery business and how each menu item will contribute to covering them. Are your bakery products made in a commercial bakery outside of the city center? Or are you baking onsite at an airy and inviting downtown location with tons of foot traffic? The cost of various types of bakery spaces will vary, and they'll influence the selling price of each of your baked goods.
Variable costs, like utilities, labor cost, and ingredient cost, can all fluctuate, so it's important to keep an eye on your expenditures. If they go up, your prices will have to as well. And in 2022, the cost of virtually everything has skyrocketed, so don't be afraid to increase your prices so you can keep the sweets coming.
What is a bakery pricing strategy?
Bakery pricing strategies are the various approaches you can take when choosing how much to charge for every menu item at your cafe in order to achieve your bakery's financial goals. It's normal to combine a few different strategies, so try them out and see what works best for your specific bakery business model.
What pricing strategy do bakeries use?
There are many to choose from! A wedding cake bakery will use a different pricing strategy than a cookie shop, but both will require taking a data-driven approach that factors in all business costs.
Food cost percentage pricing for bakeries
Food cost percentage uses this key restaurant industry metric to determine the best price for every menu item. To choose the right price, simply take the ingredient cost of each item, assign a test price, and calculate the food cost percentage that you'd get with that test price. If it's too low, increase the price and re-calculate.
How do you calculate food cost percentage?
Here's how to calculate food cost percentage for each of your baked foods:
Food cost percentage = Total ingredient cost per baked good / Total revenue per baked good
Most hospitality businesses aim for a food cost percentage of about 30% overall, so some baked goods can be a little higher and others can be a little lower, but the business as a whole should target around 30%.
Factor Pricing for Bakeries (aka Markup Pricing)
When a bakery takes the time to rent a space, hire staff, stock up on inventory, and prepare goods for consumers, they're doing a lot of work in order to get a croissant in the hands of a customer. This work can be summed up as the "factors of production", a concept that represents the markup that customers pay for goods prepared for them, instead of baking that croissant at home.
To calculate the right markup (or factor) that you want to charge for your baked goods, follow these steps.
Here's how to calculate factor pricing for each bakery item:
1. Decide on your target food cost percentage. Let's go with 30%.
2. Then, use this formula to find the pricing factor needed to reach your ideal food cost percentage for this specific item.
100 / [ideal food cost percentage] = [pricing factor]
In this example, it'd be 100 / 30 = 33.3
3. Then, find out how much to charge for this item by multiplying the cost of the baked goods' ingredients by 3.33.
3.33 price factor x $1.25 ingredient cost = $4.16 ideal price. You can round up or down for a neater number, like $4.15 or $4.20.
4. There's also a shortcut formula you can use once you've understood how factor pricing works. Simply divide the cost of the baked good's ingredients by the target food cost percentage to get the ideal item price.
$1.25 item ingredients cost / 0.30 (30% food cost percentage written as a decimal) = $4.16 price.
Gross Profit Margin Pricing
This bakery pricing strategy uses gross profit margin as the main metric to guide pricing decisions. How can you make each menu item more profitable?
The average food cost percentage to shoot for is 30%, so you're left with 70% gross profit for each item. (Note that this isn't net profits, which is what's left over after you also deduct labor cost, overhead, and other expenses). Experiment with various prices and plug them into the following formula to determine the gross profitability of each baked good.
Profit margin = 100 x (Revenue - Cost of Ingredients) / Revenue
Profit margin = 100 x (5.00 - 1.25) / 5.00
Profit margin = 75%
If you see that an item isn't selling very well, it might be too expensive. With a 75% profit margin, there's some wiggle room, so you can try a slightly lower price to target more like 70% profit margin.
Profit margin = 100 x (Revenue - Cost of Ingredients) / Revenue
Profit margin = 100 x (4.25 - 1.25) / 4.25
Profit margin = 70.5%
What is a good profit margin for a bakery?
Like other restaurant businesses, bakeries can hope to make anywhere between 3 and 5% net profit margin. Though bakeries tend to have lower costs than restaurants, they also have significantly lower average check size.
Wedding cake bakeries and other order-ahead, high-volume bakeries may be able to bring in higher profits, as they can typically operate out of more affordable spaces and have a much higher cost per order.
Three-Tier Pricing (aka Good-Better-Best)
By offering three versions of an item at escalating price points, you give customers the opportunity to treat themselves to something a little more special than they'd initially been planning — and increasing their check size while they're at it. For example:
A simple ice cream sandwich: 4.00
An ice cream sandwich with deluxe cookies: 5.25
A deluxe cookie ice cream sandwich dipped in caramel or chocolate and covered with sprinkles: 7.25
Combo Pricing
There's nothing more classic than a coffee and a pastry, so why not encourage your customers to buy both with an attractive combo price? If you sell an espresso for $3.00 and a croissant for $4.50, you can offer a bundle deal of an espresso and a croissant for $6.50. If this strategy encourages more customers to opt for that croissant, it doesn't matter that the overall profit margin is a little lower: they're still ordering more baked goods than they would have otherwise. And maybe they'll opt for their new favorite combo on a regular basis now that they've tried it.
What are the advantages of using a bakery pricing strategy?
Being strategic in your bakery pricing, as opposed to arbitrarily setting prices and hoping for the best, helps businesses achieve their goals and course-correct when things aren't going as well as expected. If your bakery pricing strategy isn't working out, you'll notice in the data from your POS and inventory solutions, and you'll be able to try a different approach.
Some business goals that a good bakery pricing strategy can help achieve include:
Increasing staff pay
Investing in a new industrial stand mixer
Offering health coverage for full-time employees
Investing in a rebrand
Renovating the space to include seating
Starting to offer higher-end baked goods with fancier ingredients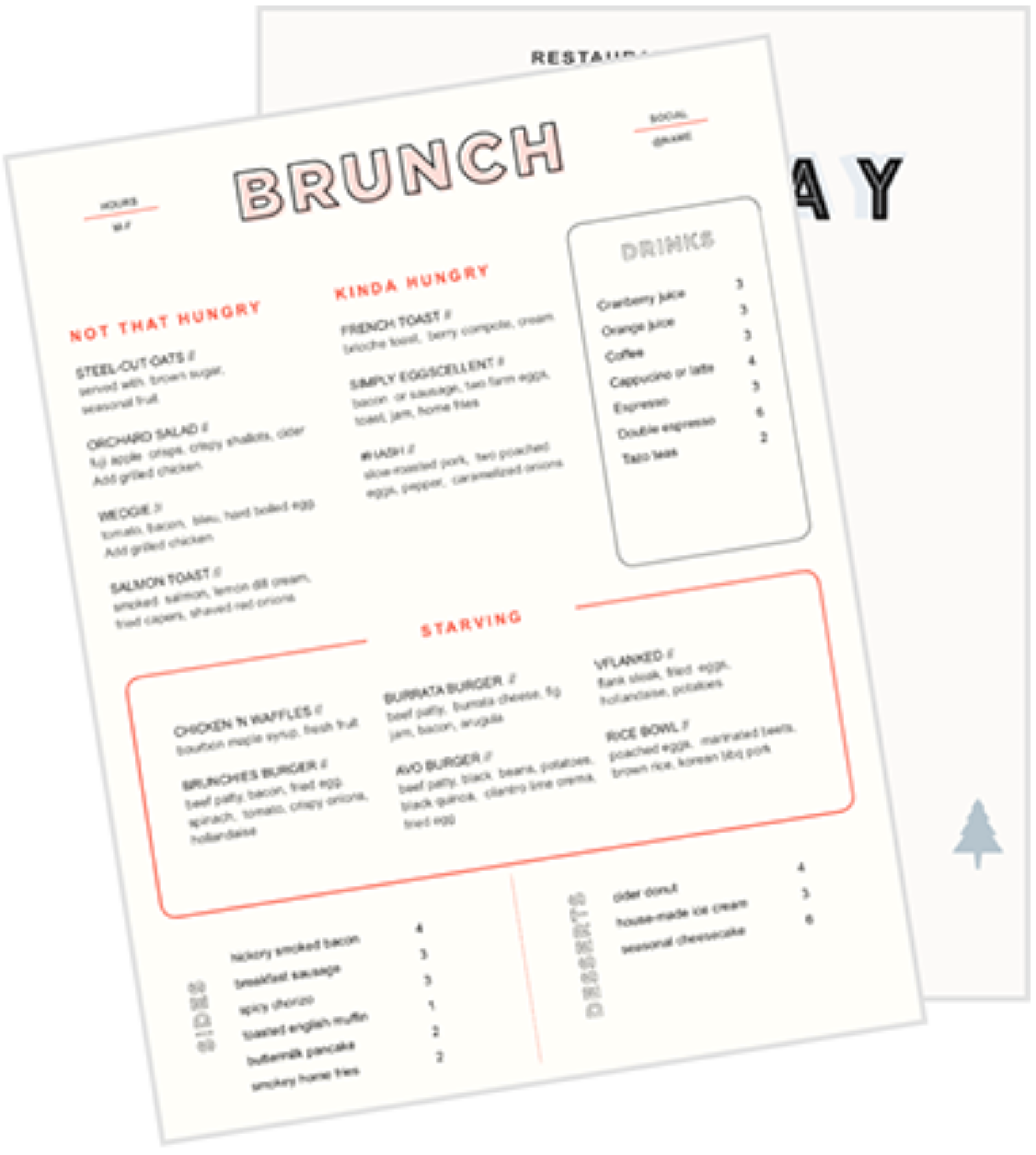 Restaurant Menu Templates
Use these menu templates as a starting point for your menu design or to give your menus a refresh.
Download
Factors to consider when setting food prices
Your target audience
Who is your customer base? Are they in finance and willing to pay high prices for their twice-a-week macaron treat? Or are they college students looking for a pick-me-up after a rough exam? Determine who your target market is, how often they prefer to shop at a bakery, and how much they typically spend when they do. Premium pricing might make sense and help increase the perceived value of your offerings, or an end-of-day BOGO special might bring customers scrambling through your door. Do your market research and price accordingly.
The market
Who else is selling baked goods nearby? It's important to take a look at the landscape in your immediate area and in your city as a whole to determine how to choose competitive pricing for your menu.
Other menu items
Compare the price of every menu item against its competition: yes, that's the other items on the menu! A fancy BLT sandwich made on homemade bread should cost more than your classic grilled cheese with Kraft singles.
Menu engineering is the art and science of comparing the popularity and profit margin of every one of your menu items against each other, and it's an extremely helpful tool for increasing the overall profitability of your bakery. To learn more about menu engineering, read Make Your Menu a Money-Maker with Menu Engineering.
Bake the very best treats and keep the customers coming
Bakery menus must be priced with both the customer, and your bottom line, in mind. Dig into the data from your bakery POS and inventory solution to keep on top of your controllable costs, and adjust prices when circumstances change, like in times of inflation or if you're trying to increase staff pay. Providing your community with delicious and celebratory baked goods is an incredibly fun way to spend your days — and if you price your menu right, you'll be able to do it for years to come.
Related Restaurant Resources