Restaurant menu pricing isn't the most straightforward of things. But that's restaurant life for you – you might run into something a bit complex but there's always the determination and drive to keep pushing forward.
How Restaurants Use Menus to Offset Labor Costs and Other Expenses
With over half of restaurant professionals citing high operating costs and food costs as a top challenge, restaurant owners need to find ways to offset everything it takes to keep restaurants going. Besides flat out raising prices, which many owners are hesitant to do, restaurants can use creative, strategic methods to offset these costs, like restaurant menu design, restaurant menu pricing strategy, and menu engineering.
Improving Restaurant Margins: Tips on Leveraging Your Restaurant Menu from Successful Restaurant Owners
Tom Kelly, CEO of Revenue Management Solutions, says that today's restaurant consumer is ok with paying more for quality food, but won't settle for less or worse service. While many restaurant owners are looking for ways to improve margins, and thus are quick to cut costs, Kelly warns, "The truth is that most consumers today will tolerate the higher price, but they won't tolerate the lesser service."
J. Marie Sheppard advises restaurant owners to "focus on the details, because your customers do" when thinking about how to optimize their restaurant to improve profitability. Everything from the aesthetics of the physical environment to the menu to the online experience are important to your end customer when choosing where they dine.
Menu Optimization Strategies
Restaurant menus have the potential to sell your items for you. Restaurant menu engineering and psychology are a great place to start and incorporate menu pricing strategies.
Menu Psychology and Menu Pricing Strategy
Here are a few ways to use menu psychology and menu pricing strategy to improve your restaurant's profitability.
Analyze your menu and how well each item performed over the course of the past month, quarter, or year. Look at profitability and popularity.

Ask your staff which items should be featured: leverage your serving staff, host/hostess, chefs, cooks, marketers, customer service or support staff, and others to learn what items are most worthy of featuring.

Review the latest research on pricing when choosing things like including currency symbols, using whole numbers, font size, and more.
When it comes to establishing a pricing strategy for your restaurant, you can think of it as a balancing act. You want to price your menu to offset operational costs across the business – not just limited to the kitchen – but you also need to consider your customers' expectations and do some research into how similar menu items are priced in the market.
Along with brushing up on menu engineering, developing an in-depth menu pricing strategy will ensure you're not only making your money back but adding a little padding your pockets with increased profits.
Speaking of menu engineering, check out the Menu Engineering Course below to learn how you can make the most of your menu and become a menu engineering pro.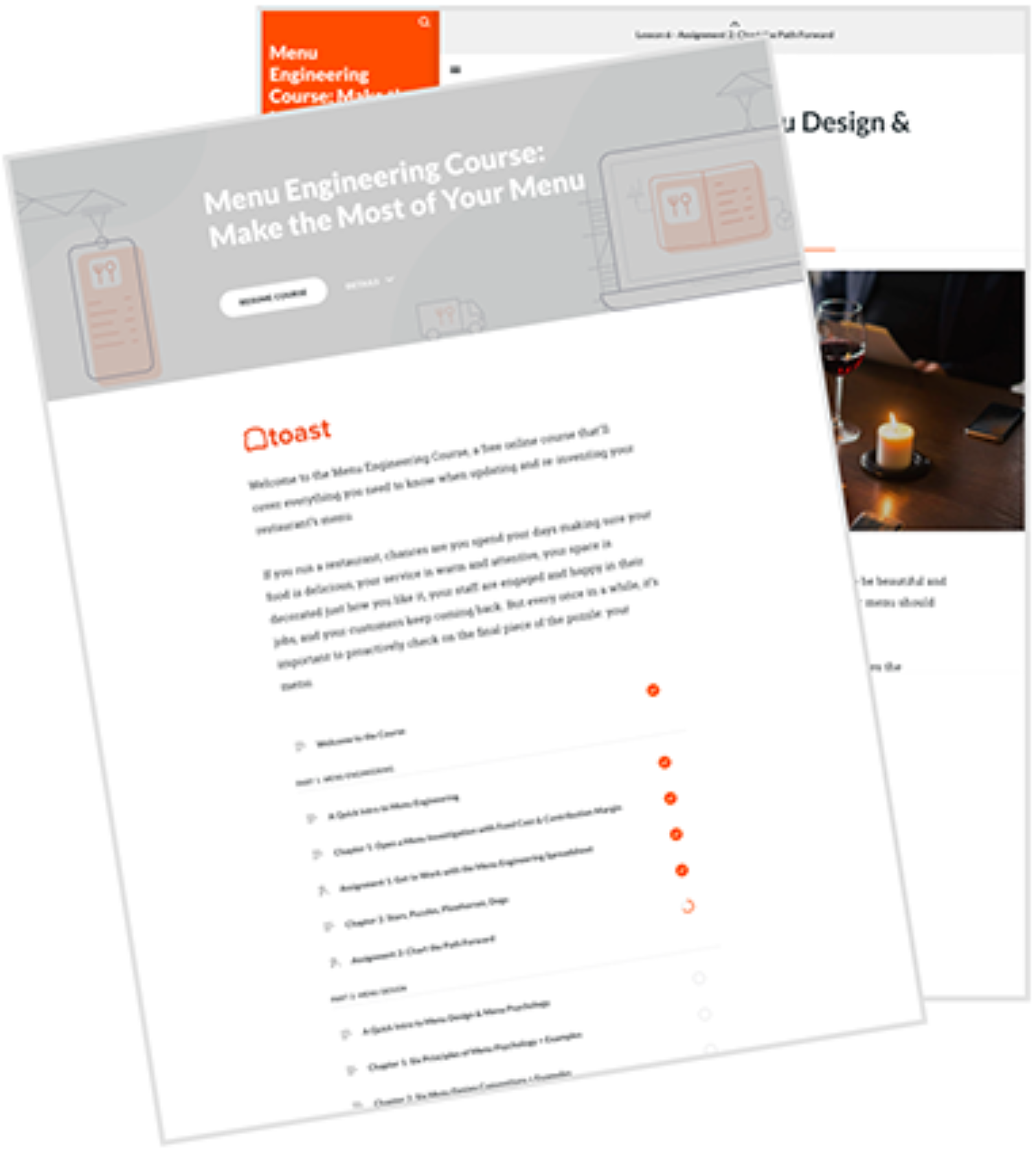 Menu Engineering Course
Take this course to make the most of your menu. Learn about menu psychology and design, managing your menu online, and adapting your menu to increase sales.
Download
Now let's dive in.
5 Steps to Creating a Knockout Restaurant Menu Pricing Strategy
Step 1: Cost out your menu
The first step in creating a menu pricing strategy for your restaurant is costing out your menu.

If you want to keep the money coming in and thrive in an industry well known for thin margins, knowing the food cost percentage for each of your menu items is a good place to start. To do this, you need the following:
Food cost formula
Here's a complete guide on food cost formulas and calculating food cost percentage.
A general food cost formula is:
Food Cost Percentage = (Beginning Inventory + Purchases – Ending Inventory) ÷ Food Sales
Before, you might have spent a bunch of time manually costing out your menu with a red pen and any number of spreadsheets. A food cost calculator streamlines a lot of the messy work by:
Calculating the food cost percentage for each menu item
Determining the cost per pound and/or cup of each ingredient
Sharing the top five most popular items on restaurant menus in your state and for your concept type
Giving you the ability to create custom menu items based off your results
By understanding your food costs, you'll make playing the menu pricing game that much easier.
Step 2: Price your menu by looking beyond your competitors
Your business is unique, so even when it comes to something like menu pricing, why compare yourself to others?
Every restaurant has different food costs, on top of different operational costs. Plus, it's hard to really know a restaurant's pricing strategy if you aren't on the ground floor.
An important thing to keep in mind here is that creating value goes beyond price. Value isn't purely driven by price – value's created when you deliver on things that aren't as quantifiable, including service, atmosphere, and food presentation
Keep that in mind when pricing out your menu. Pricing at the commodity level is a never-ending battle of who has cheaper prices, and it's one that'll detract from your business's true value.
What is a menu pricing model?
Depending on the market or customer-base for your restaurant, you will want to choose the right menu pricing model for your specific audience. A few restaurant menu pricing models are:
Promotion-based with feature items heavily favored/featured

Upscale with minimalist menus, no currency signs, and whole numbers

Limited menu for farm-to-table or fluctuating supply operations

Prix Fixe (price fixed) menus

A menu organized by cuisine
What pricing strategy do restaurants use?
Restaurants use many different pricing strategies, like those outlined above. Choose the pricing strategy that is most relevant to your target audience and pricing structure. Fast casual restaurants may choose a more promotional strategy whereas fine dining restaurants may choose a Prix Fixe menu.
Step 3: Play to your strengths
Think of your menu like your greatest hits album, a representation of what you and your team do best.
Menu items that showcase you and your team's talents allows you to differentiate your brand and stand out from the crowd – and, in turn, price your menu differently.
Being different is a good thing, and it can even lead you to charging a premium for your top items.
Step 4: Study the market
While looking into your competitors' exact menu pricing strategies might not get you too far, you'll still want to do some research to better understand the way the larger market prices menu items. This will help you conduct a competitive pricing analysis.
Here's a quick exercise:
Gather menus from 5-7 restaurants in your market and identify overlaps with your menu.
For comparable menu items, pinpoint a high point, a low point, and calculate an average price.
Now based on your restaurant's specific value, how can you price your item with this competitive analysis in mind?
For example, a hamburger in Albuquerque, New Mexico may cost two to three dollars less than a hamburger in Santa Fe (45 miles away) because the market in Santa Fe will bear it.
Think about the last time you were at the airport and paid $5 for bottled water and $7 for a yogurt. Depending on location and value, you can charge what makes sense, but only to a point: Value is about value. If you price gouge your guests and they don't feel it was worth it, you'll lose them fast.
Keep your pulse on the market, including which restaurants are opening and which restaurants are closing, and continue refining your menu every few months.
Step 5: Find balance in your menu
One of the keys to a successful menu pricing strategy is to balance your high-cost menu items with your low-cost ones. But finding balance isn't an overnight process. It takes time, testing, and ongoing analysis to really dial in and get your menu just right.
Here are a few things you can do to help you get there:
Keep your food costs updated so you know what every item on your menu costs.
Invest in a point of sale system that can generate accurate product mix reports.
Stay patient, focused, and committed to the project.
To continue to optimize your menu, you'll also need to learn the principles of menu psychology and menu engineering. This will help you maintain balance but also increase your profits.
How you price menu items, where you place items on your menu, and how you continually update your menu is critical to getting that balance just right.
The Truth About Menu Pricing
The truth is that there's no real one-size-fits-all menu pricing strategy. There are so many variables to consider: your brand, your market conditions, your overhead, your staff, and your guests.
At the end of the day, your guests will be the ones to give you feedback on your menu prices. So listen and give them the space to share.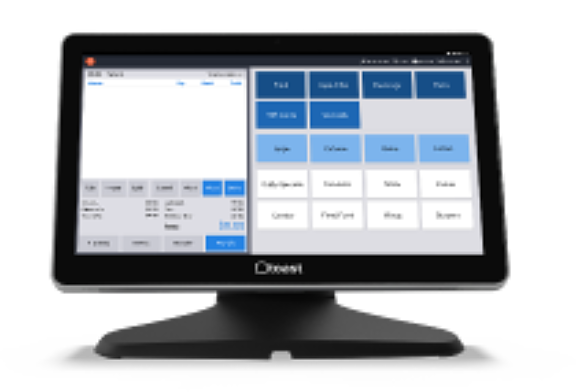 Learn how a better point of sale system can help you run your restaurant.
Read now