Restaurant accounting is a beast. You can be an expert with decades of experience in positions from chef to general manager and still not be a restaurant accounting expert. So where's the best place to start?
We reached out to Benson Willis, Partner and Founder of Bistro Accounting, to get his insights on successful restaurant accounting. He has decades of experience in the hospitality industry, moving between hotels and restaurants, and he founded Bistro accounting in 2009. They're an accounting service just for restaurateurs.
Below is our interview with Benson and his advice for restaurant accounting.

My name is Benson Willis. I've bounced back and forth between hotels and restaurants since 1987. I've done everything from the guest service side of things to back of house chef and everything in between. I was an assistant manager, an accountant, controller, general manager, and part of the team that opened Hotel Veritas. I've had years of restaurant accounting experience.
I learned how much different it was working in accounting in an industry I loved vs. one I didn't care about when I worked at a furniture store for a while. The industry makes a huge difference. I love being on the service side, it's very appealing. I get bored very easily, so now having my own business and with a lot of clients makes things interesting.
Working for 17 different companies over the years before Bistro Accounting has given me great insight to offer clients I work with now. I've worked for small restaurants and large corporations, which helps me with small cafe like Three Little Figs and huge restaurants like Coppersmith. We love Toast and highly recommend the system to our customers.
What makes restaurant accounting unique?
It's the language that makes it so different.
I had a phone call with a potential client the other day and they could tell I speak the language of hospitality finance. It's important to have that intimate knowledge of how restaurants work. For example, all companies keep double entry book keeping with debits and credits. This part isn't unique, but what is is unique is understanding all of the different line items that are relevant to a restaurant. Which ones are important to care about?
What are the pros and cons to outsourced restaurant bookkeeping instead of in house?
I'm biased, but more and more people are beginning to do outsourced accounting.
By outsourcing, you already have a trained staff. You don't have to worry about turnover. There's no training. Costs are even lower because there are no employee benefits (vacation days, sick days). You don't have to provide office space. In a restaurant, square footage is extremely valuable. You don't have to buy computers and equipment. The outsourced restaurant accounts also have the experience already and can offer comparative data.
One downfall to outsourced bookkeeping is that some people really like to have the person sitting in the chair that they can talk to anytime. They can go right to them, have them sign a check, or answer a question immediately. Small restaurants like to do their own bookkeeping, but there are outsourced accountants who can reliably.
What are your top 3 general restaurant accounting tips?
1) Review Your Prime Costs on a Weekly Basis
Prime costs are the numbers needed to know your profit of margin after overhead. Food, beverage, and labor are the three biggest expenditures that a restaurant has. They need to be monitored every week. A POS system is great for keeping track of these reports.
2) Keep Your Chart of Accounts Simple and Personalized
A chart of accounts is composed of different accounts and line items that make up a general ledger statement. Way too many people over complicate the chart. Don't take a generic GL and call it your own. Personalize it for your restaurant, line by line.
3) Reconcile all the Balance Sheet Accounts Before Looking at the P&L Each Month
The balance sheet accounts list liabilities and assets. They're one of the major financial statements. The profit & loss statement (P&L) helps a restaurant owner understand their net profits or losses at the end of the month. Some people want to go straight to the bottom line on the P&L, but that net income on the P&L is the result of making sure all the numbers before it on the balance sheets are correct.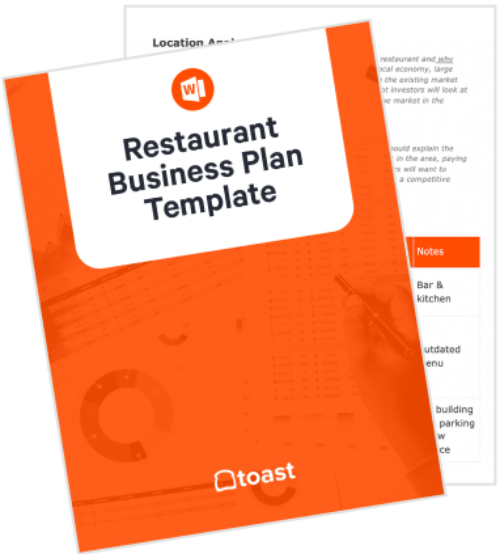 Restaurant Business Plan Template
A restaurant business plan explains in detail how the restaurant will operate once doors are open. Organize your vision and ensure that nothing is overlooked with these free template from Toast.
Download
What are some of the biggest mistakes you've seen with restaurant accounting?
People Not Doing Any Accounting at All
Some of the clients we take on have never done anything except bare bones; they'll pay their bills and pay their staff and that's it. This is not good because they have no idea what's going on in their business.
Not Receiving or Reviewing the P&L in a Timely Manner
We have people who have never seen a P&L statement prior to working with us. Or, they'll check it three months later. At that point, it's ancient history, and you can't make changes or clarify what happened.
Overcomplicating That Chart of Accounts
This goes back to the tip I suggested, but it's worth reemphasizing. Using too many line items that don't apply to a restaurant's business makes it hard to stay organized. We had one person on a consulting project who had a specific line item for the little jelly packets that you use to put on a piece of toast. That's too detailed for P&L. If you're in the jelly business, fine, but if you just own a cafe that's a bit much!
What are other suggestions for successful restaurant accounting?
Talk to Other Restaurant Owners
Sometimes they'll be doom and gloom, sometimes they'll be optimistic. Share your struggles and your triumphs. Learn about what's working in their restaurants and about the challenges they're having. Apply what you learn to your own business.
Make Time to Talk to Your Bookkeeper Away From the Restaurant
Whether your bookkeeper is in house or outsourced, talk to them outside of the restaurant. Owners and managers are so used to jumping up to help a customer, mitigate an issue, or answer a phone.
Be Honest and Transparent About Your Finances
If you don't know what a P&L is, say it. Have your bookkeeper go over everything from A-Z with you. It's important to always start where you are and in order to do that, you have to be clear about what you're doing right and what you're doing wrong. For example, if you have mixed personal finance with business or have paid employees under the table, you want to be honest so your accountant can help you fix it.
What benefits does restaurant tech bring to accounting?
The POS system is the primary source for all the revenue and all of the cash. We want everything to go through there as much as possible so that nothing slips through the cracks. Why?
Keeps accounting organized. When everything is mapped correctly, the POS is hugely helpful in keeping accounting organized. The first step of setting up the system properly is so important.
Make it easier to reconcile cash. For example, you're able to run petty cash through a POS rather than having them on scraps of paper stuck in the safe. It's easier to track the expenses.
Credit card reconciliation is simpler. It's our job as bookkeepers to make sure the money actually goes into the bank. I think this is what Toast does extraordinarily well.
A strong hosted online portal makes access easy. Having a hosted portal is phenomenal, bookkeepers don't have to deal with scanned copies of reports, they have direct access.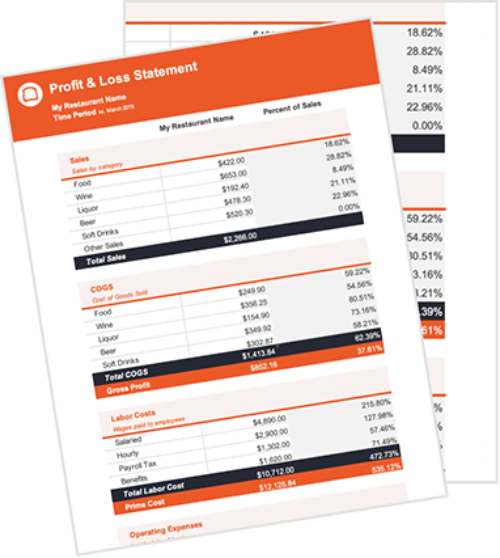 Restaurant P&L Statement Template
Evaluate your restaurant's financial strengths and weaknesses with the free P&L and income statement template.
Download