Restaurant accounting is a beast. You can be an expert with decades of experience in positions from chef to general manager and still not be a restaurant accounting expert. According to Benson Willis, an accountant with decades of experience in the hospitality industry and Founder of Bistro Accounting, the world of restaurant accounting is multifaceted. So where's the best place to start? Read on for our insider tips and restaurant accounting best practices.
DISCLAIMER: This content is provided for informational purposes only and is not intended as legal, accounting, tax, HR, or other professional advice. You are responsible for your own compliance with laws and regulations. You should contact your attorney or other relevant advisor for advice specific to your circumstances.
Restaurant Accounting Best Practices
Accurate bookkeeping for your restaurant can either be what keeps you afloat or sinks you. Ideally, overseeing the finances at your restaurant is less of a juggling act and more of a balancing act. In 2019 the overall restaurant industry hit a new sales high of $863 billion, up 3.6% from the year before. And even though COVID-19 reshaped the way we patronize restaurants, the industry is expected to bounce back fruitfully in the coming years.
No matter which way you slice it, proper restaurant accounting is the backbone of the industry. To ensure you are playing by the books, follow these restaurant accounting best practices.

11 Restaurant Accounting Tips + Best Practices
Study and get familiar with how restaurants work and operate

Use restaurant-specific language

Review your restaurant prime costs— food, beverage, and labor— on a weekly basis

Keep your chart of accounts simple and personalized, instead of using a generic general ledger

Reconcile all the balance sheet accounts before looking at the your restaurant's income statements (profit & loss - P&L) each month

Talk to other restaurant accountants, learn about what's working in their restaurants and about the challenges they're having, then apply what you learn to your own business

Hold meetings with your manager outside of the restaurant or restaurant hours, to ensure you have their full attention and they aren't distracted by mitigating issues

Be transparent about your finances— and insist that restaurant managers and owners are being transparent with you

Don't overcomplicate the chart of accounts— using too many line items that don't apply to a restaurant's business makes it hard to stay organized

Always review the P&L in a timely manner, if you wait too long that information because ancient history and you'll no longer be able to make changes to it or clarify what it means

When in doubt, outsource your accounting— when restaurants do the bare bones (pay their bills and their staff and nothing else) they aren't able to view their bookkeeping holistically and things fall through the cracks, outsourcing your accounting to a third party can help you see your restaurant's finances more clearly
How do you categorize restaurant expenses?
A classic mixup for those in the restaurant industry is that between restaurant costs and restaurant expenses.
A restaurant cost is a one-time expenditure on a resource, like kitchen equipment, furniture, or dishes.

A restaurant expense is all of those recurring payments that generate revenue, like utilities, payroll, and rent.
Restaurant expenses typically fall into one of five categories.
Restaurant Expense Categories
Rent and utilities: such as electricity, water, cable, internet, phone makeup between 5-10% of revenue

Food and beverage: between 25-40% of food sales

Payroll: roughly 30% of revenue, including 10% for management salaries

Insurance: will vary depending on your type of insurance and insurance provider

Marketing: depending on the degree that your restaurant prioritizes marketing, this will vary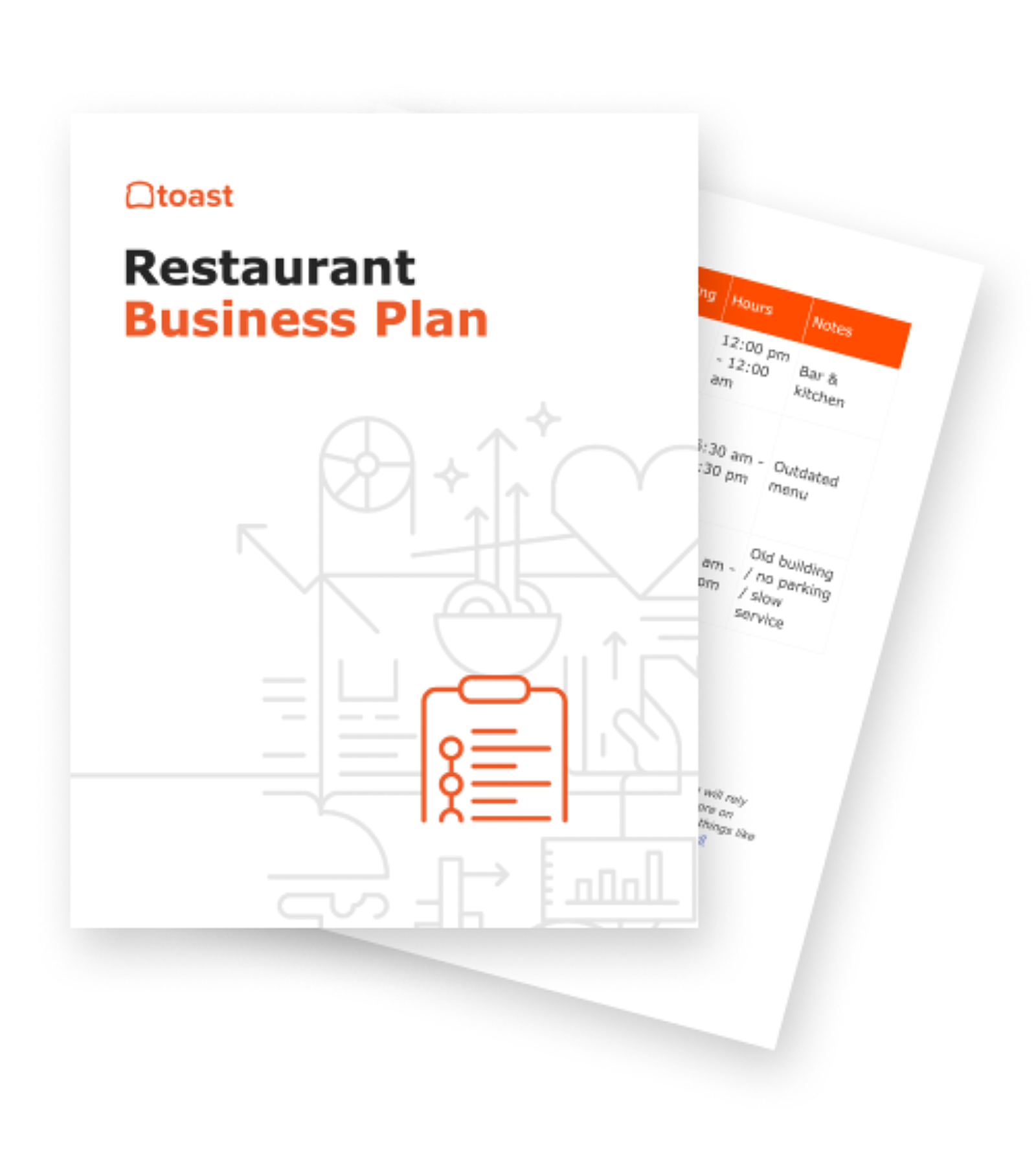 Restaurant Business Plan Template
No matter where you're at in your restaurant ownership journey, a business plan will be your north star. Organize your vision and ensure that nothing is overlooked with this free template.
Download
Restaurant Accounting Software 101
When it comes to the software you will use for bookkeeping in your restaurant, the alpha and omega is your restaurant POS system. As the primary source for all the revenue and all of the cash, you want everything to go through there as much as possible so that nothing slips through the cracks and your data is as accurate as it can be.
Your restaurant POS system is essential accounting software because:
It keeps accounting organized. When everything is mapped correctly, the POS is hugely helpful in keeping accounting organized.

It makes it easier to reconcile cash. For example, you're able to run petty cash through a POS rather than having them on scraps of paper stuck in the safe. It's easier to track the expenses when all expenses are in one place.

Restaurant credit card reconciliation is simpler.

A strong hosted online portal makes access easy. Having a hosted portal is phenomenal, because bookkeepers don't have to deal with scanned copies of reports, they have direct access.
Outsourced vs In-house Restaurant Accounting
Small business owners rank their accountant as the #1 most important job on their team and the key to their success, In the past, in-house accountants have been the traditional form of restaurant bookkeeping, but companies of all sizes have increasingly turned to outsourced accounting solutions. Let's walk through the pros and cons of each to determine whether outsourcing or keeping your accounting in-house is right for your restaurant.
Benefits of Outsourcing Restaurant Accounting
By outsourcing, you already have a trained, expert accountant.

You don't have to worry about turnover.

Costs are even lower because there are no employee benefits (vacation days, sick days).

You don't have to provide office space— in a restaurant, square footage is extremely valuable.

You don't have to buy computers and equipment.

Outsourced restaurant accountants can offer comparative data.

Outsourced accountants offer a consistently high quality of work because accounting firms require their employees to stay up to date on training and certifications.
Downsides of Outsourcing Restaurant Accounting
Although they will be CPAs, they may not have any restaurant experience and could require a learning curve.

Because they are not working on-site, you will rely on asynchronous communication tools to communicate with them the majority of the time.

Outsourced accounting can be more expensive, they typically charge an up-front fee and an hourly rate.
Benefits of In-house Restaurant Accounting
Your accountant is more accessible, when you need them to quickly sign a check or answer a question you can pop into their office.

You can control the salary that your in-house accountant is paid.

Your in-house accountant is more of a team member to your restaurant staff.

In-house accountants have the opportunity to grow and evolve alongside your company, they will be more prepared to meet your restaurant's new needs.

Your restaurant will be the sole client of your in-house accountant, leading to a more loyal and dependable relationship.
Downsides of In-house Restaurant Accounting
In-house accountants may vary in their skill sets and not necessarily have a restaurant background.

In-house accountants typically work a classic 9-5 schedule, for late night restaurants this could create a communication barrier.

If you don't have much experience with accounting yourself, hiring the best person for the job could be a month or years-long task.
Effective restaurant bookkeeping is the key to any successful organization. Whether you are running a family owned diner or the local branch of a chain restaurant, the importance of your bookkeeping cannot be overstated. To learn more about the ins and outs of restaurant accounting, read our Accounting Reports Overview + Reporting and Analytics for Restaurant Guide.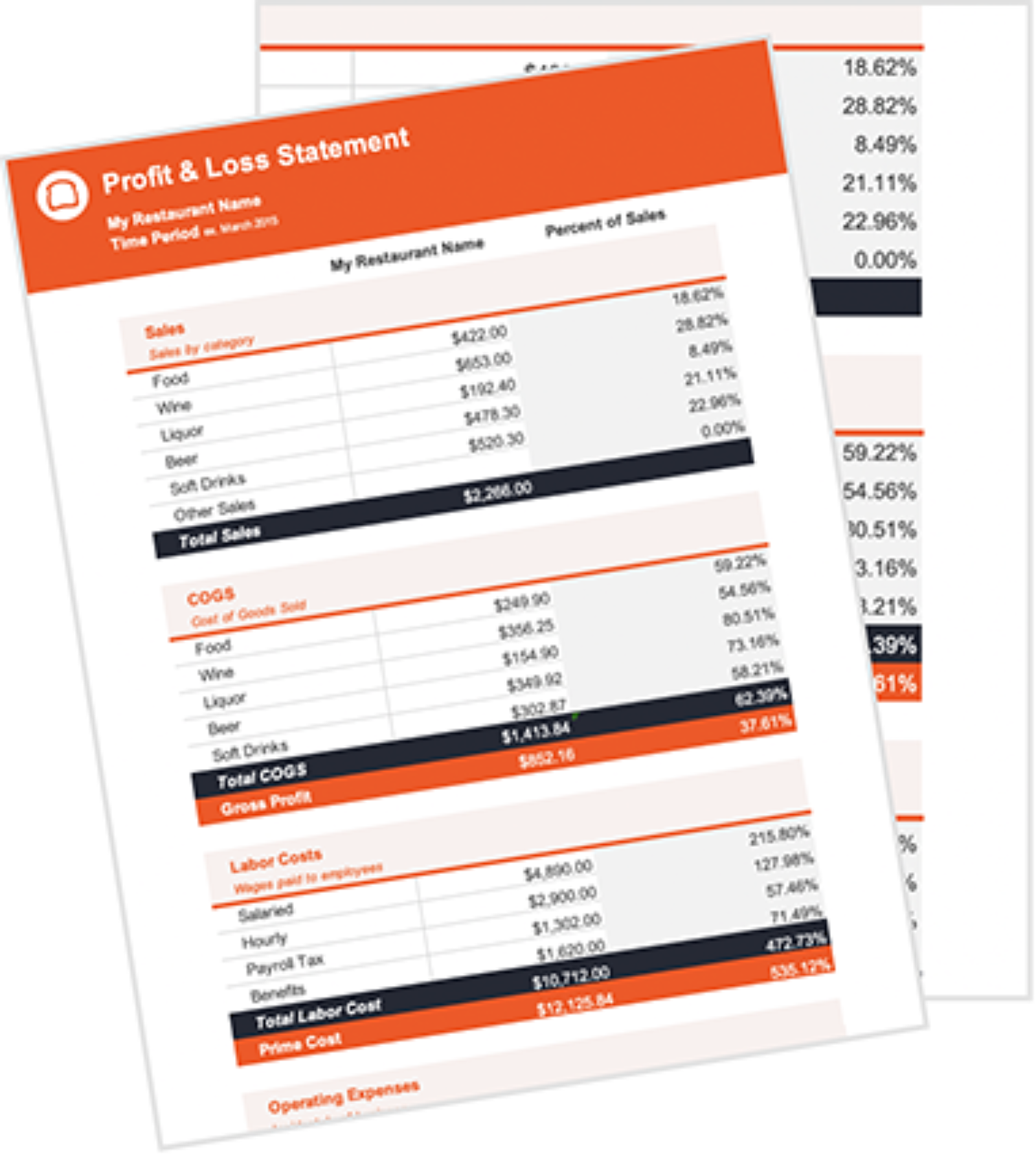 Restaurant P&L Statement Template
Evaluate your restaurant's financial strengths and weaknesses with the free P&L and income statement template.
Download