When it comes to starting a food truck or a restaurant, there are many things to take into consideration. What events do you frequent, how do you control food waste, which analytics are you tracking to measure success?
To get the inside scoop, we spoke with Roman Rytov, CEO and co-founder of food trucks Wheely Grilly and Incrediball Falafel as well as soon-to-be restaurant Bandora in Atlanta, Georgia.
Rytov's experience is unique because this is his first foray into the food industry. Before working at Wheely Grilly, he was Senior Director of Information Management at SAP. Now, he's leveraging experience from this "previous life" to grow his concept, with agile development, prototyping, beta testing, GTM, customer acquisition, and more.
Below is a Q&A with Rytov about how he used agile development to verify his concept and what his vision is for a transparent, "real-time" restaurant.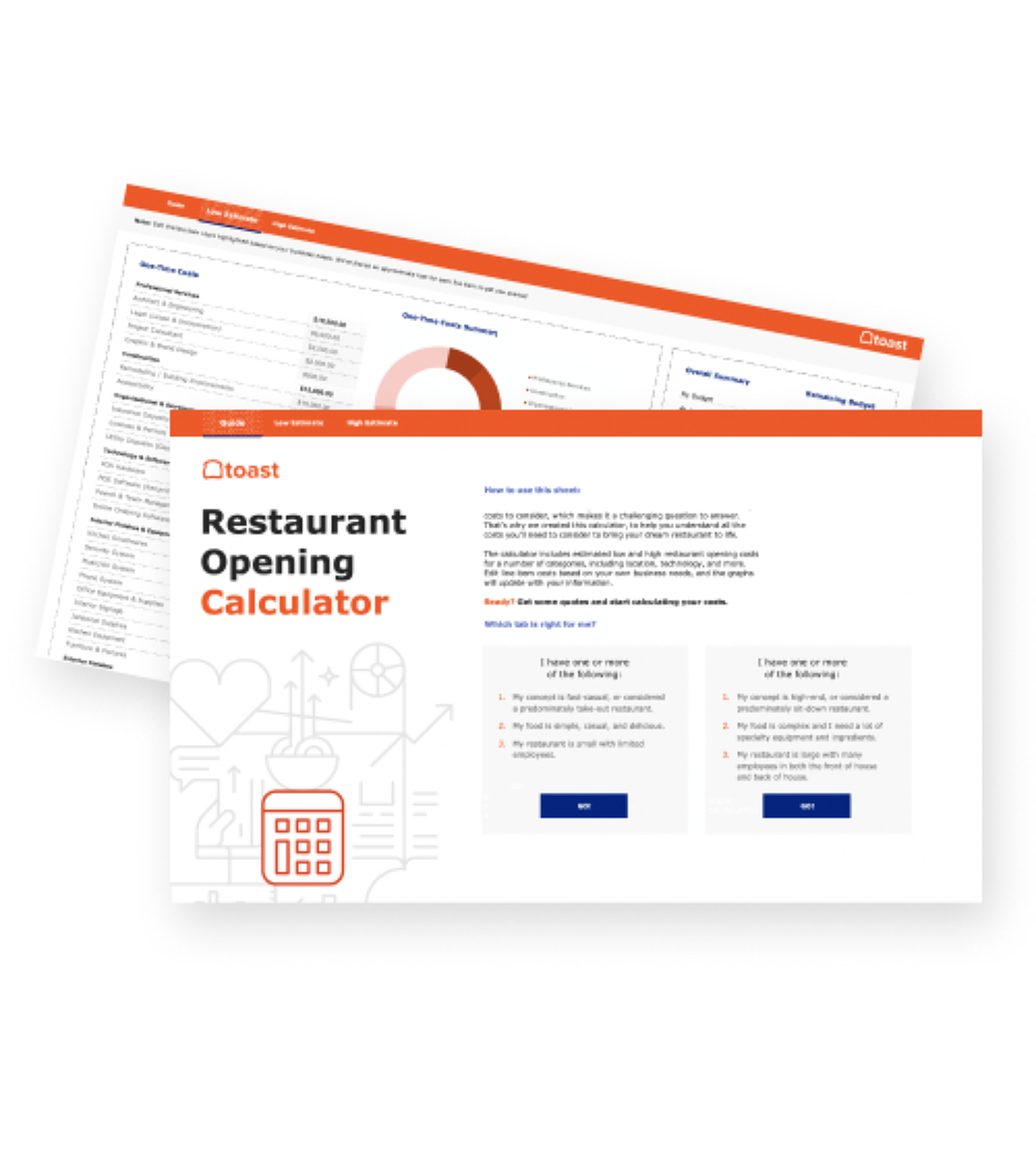 Restaurant Opening Calculator
This calculator lays out some of the fundamental financial costs of opening a restaurant, so you can start planning and bring your dream restaurant to life.
Download
What was the catalyst for your decision to switch from the IT industry?
I'm not the type of guy who can do the same thing for a long time.
I started at SAP as a solution architect. Then I switched to managerial, customer-facing, and more. SAP was a large company - they have over 100,000 people - and at such a huge company, you can always find a new challenge and a new thing to learn. I did development, product management, marketing, rollout, consulting, education... But suddenly, it was harder to find something more exciting.
Simultaneously, I met with a good friend of mine, Genady Goldman, who was running different restaurant establishments here in Atlanta. He was asking for advice - how to start a restaurant, what I thought from my experience starting projects - and he mentioned that a food truck might be something he was interested in. It looked interesting and cool, and I started helping him from very theoretical approach. I didn't mean at that time to jump off the cliff. But the more and more I got into the theoretical and research side, the more and more intrigued I was. Reading about different food trucks from Portland, LA, Austin, Boston, I suddenly started getting excited again.
Together, we adjusted a bit of the vision. He suggested I join the venture. However, I wasn't interested in joining a small business. I'm not saying it's bad; just for me, I was interested in something bigger. If we were doing this in a startup manner, and together were on the same page that we want to grow a food empire, then let's do it. It's all about scalability from day one. That was the plan, and that's how we started.
Why did you start with a food truck?
We decided not to open the restaurant first, because it's obviously very risky. Instead, we thought about how we can verify our assumptions on the food, the concept, etc., taking the agile development approach.
The chief idea is that you don't develop too far based on theoretical asssumptions. You check and verify everything, and every assumption must be verified by your customers, by your contacts. Then you either persevere, or you don't. With that approach, we decided to start with a food trucks pos first.
What were some of the hypotheses that you tested early on?
Agile development has two major concepts:
Verify everything
Complete the MVP, minimum viable product.
Don't wait until you're absolutely perfect on every aspect of your solution; give something to the market that the customers can appreciate at minimum, and start an interactive process with the customers of getting feedback, adjusting, improving, deviating from the recent plan, etc.
For us, from the beginning, the plan was to be in the space of Middle Eastern street food. We said from day one that we don't want runners, we don't want service; we want to be what we call the Middle Eastern Chipotle.
That was the focus, but what does that mean? Even in Israel, there are various options. There are different factors to the food: how you present it, what exactly you offer, how long a menu to create, etc.
With a food truck, you are under an additional pressure, because it's almost like an expedition. You take with you what you can, you think about the longevity of the product, expiration, what you're allowed and not allowed to cook.
We started with what we thought was a simple menu: skewers, chicken, and salads. However, we found that the skewers were not warmable. You're not allowed to have any raw meat in a food truck, so you need to partially precook it. Then you warm it up and it dries out. So we got rid of the skewers. With the salads, we started playing with different ingredients. If you make it too juicy, it doesn't survive, even in the coolers and fridges. If you make the sauce too liquidy, it's inconvenient to eat while you're walking. So we changed the individual ingredients for every aspect - the size, presentation, packaging, etc.
Can you share an example of a lesson you learned when starting the food truck?
Sure. Let's say you're going to an office-dense area. People want to take the food with them back to their work. We brought some plastic boxes, which are very convenient containers, to make that easier. The problem was, people weren't seeing what we were selling. So one day, we tried an open container instead. Yes, admittedly it's not very convenient to those who wanted to take it back to the office, but let's just try it. That's one of the assumptions we never had a chance to test until then.
We switched it, and the effect was immediate. People started coming and saying, "I saw a guy walking from here with a gorgeous looking dish." They didn't know the price; they didn't even know the name of the food truck. They just wanted the food.
It's not rocket science. There are many small assumptions that you take for granted, and you may not realize that you've even made that assumption. In retrospect, there are literally dozens of assumptions for every aspect of running a food truck - how you park the truck, what events do you go to, what events you don't go.
How do you decide what events to go to?
Let me tell you another story. We were extremely excited that we were able to bring the food truck to Six Flags the last spring break.
It had a steep fee but there would be 30,000 to 40,000 people a day. We did a cost analysis to see if it would be worth it. We figured 1,000 meals seemed reasonable and 500 meals would be a safe assumption so we double shifted, brought fully loaded freezers and sold only... 115 meals.
Now we started to understand why. People don't come to theme parks to eat. If they do eat, they want something really heavy, really hefty to fill them up once. Plus, Middle Eastern food is not really appealing to the average visitor of such parks. So that's an example of an assumption about location that we needed to test.
What's the biggest challenge running a food truck?
The biggest problem with running just a food truck is the food waste. Food waste comes in many different forms. For example, say there's an event that you pay $200 to participate in. The The organizer is expecting 1,000 people to attend.
However, the evening before the event, the weather forecast shows 50/50 rain. So you take the risk. In the morning it's a bit cloudy, and then it starts raining. And instead of 1000 people, only 100 people show up. So you end up paying extra labor, and you prepare all the food that you have with no means of selling it. And that's why the food truck business doesn't make sense as a sole stream of revenue.
What is a "real-time restaurant?"
We're bringing the concept of transparency to restaurants. When we build a scalable business, we will be looking for additional money from investors. At that moment, we'll need to share all the numbers - our projections, our current sales, average check amount, frequency of customers, etc. If we want to share it with our investors, why not just share it from day one with everybody? We won't share our compensation information, or our secret ingredient for the falafel, but we will share everything else.
In that way, we'll be open-book management. The plan is to share weekly revenue, customer amount, and even vegetarian meals vs. meat meals to show the aggregate numbers between the two.
Another way we're creating a "real-time restaurant" is we're putting web cameras in the kitchen, maybe even to the dining area as well, 24/7. Anybody can visit our website and see what's going on in the kitchen, how exactly the food is being cooked. We also want to show exactly which employees are on shift on the site in real-time, so you can see the faces of the people who would be serving you.
Is it a big deal? No. But it's one of the many ways we want to build intimate relationships with our customers. The more they know about us, the more trust they have in us, the more beneficial it will be for the brand overall.
How does restaurant technology play into your vision?
Our dreams are so big long-term that I wanted to find a solution that would grow with us along that way and enable us doing what we're trying to do.
We were looking overall at at least 25 different systems, and we decided to go with Toast Restaurant POS. Online ordering was a showstopper, multi-location management was a must, and individual reporting is critical. Many systems have what they call reporting, but it's not in-depth. In reality, I want to see individual customer reporting, including every individual item she bought, in which location, at what amount. Then, we can define the trends that are empowering for us.
I wanted to have that very fine grain level of data at my fingertips. Toast won that competition. When we took all of our qualifying factors together, there were no other options.