As a new restaurant owner, you're faced with tons of key business decisions before you even open your doors to the public — from developing your restaurant branding and logo to writing your mission statement and core values, and from choosing your floor plan and kitchen layout to designing your restaurant menu.
And that's not even all of them! Of the many decisions you'll make when opening a restaurant, the most important is arguably your new restaurant's name. And, as many restaurateurs know, this can sometimes be the hardest part.
You want something memorable that'll help you stand out from the 1 million restaurants in America, but you also need a name that represents your brand and describes your concept in a manner succinct and engaging enough to pique the public's interest.
In this piece, we'll walk you through:
Things to consider when naming a restaurant.

Restaurant name ideas and restaurant name list to inspire you.

Helpful resources for new restaurateurs, including the steps to copyright or trademark your new restaurant's name.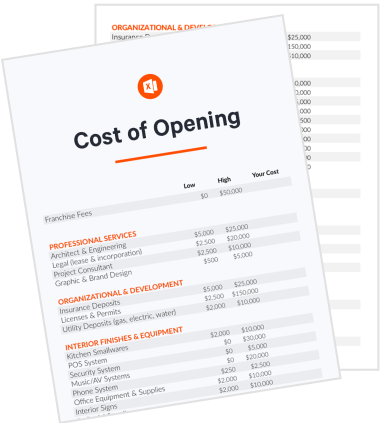 The Cost of Opening a Restaurant
How much does it cost to open a restaurant? Find out using this interactive calculator from Toast.
Download
How Do I Choose a Restaurant Name?
Some folks get their start on an Easy Bake Oven™ in a childhood kitchen, while others' passion for food and hospitality gets ignited by a mentor at an impactful first job. However they got here, the restaurant industry has become home to over 15.3 million American workers, many of whom hope or plan to open up their own spot one day.
Naturally, many restaurateurs regard their first restaurant as their baby: the product of a lifetime of dreams, hopes, and wishes. As such, their first foray into restaurant ownership deserves nothing short of the perfect name.
As we touched on earlier, a lot goes into choosing the right restaurant name. It needs to be equal parts eye-catching and unique, while also accurately conveying what a restaurant is all about — mainly what type of food people can expect to be served when they pop in for a visit. It should seem cool without trying too hard, be trendy without hopping on a bandwagon (we're looking at you, brands who are too cool for vowels), be easy enough to spell and remember, and (this one's extra important) not be too similar to any other restaurants or small businesses in your area. You don't want to inadvertently send foot traffic to the competition!
With all that in mind, here are some tips to get you started on the path to discovering the right restaurant name for your new spot.
1. Write down your restaurant's mission, vision, purpose, and core values.
Your restaurant's mission statement is part autobiography, part north-star. It describes who you are, why you're here, and what you plan to accomplish as a member of the restaurant community, while also acting as your guiding light for any and all business decisions that need to be made — including naming your restaurant.
Your restaurant's mission statement can and should play a large role in choosing the right name for your restaurant.
Let's do a little exercise. If you've developed a mission statement for your restaurant, have it close by; if not, that's fine, too. Grab a pen and paper and write down the following:
The type of cuisine you'll be offering

Any business goals you have, like being the first to serve food from a specific culture in your area or to run a zero-waste restaurant

The intended personality and vibe of your restaurant

Adjectives you'd use to describe your restaurant

Your name (and the name of your business partners, if any)

Any family names that are important to you

The neighborhood or town where it will be located
The purpose of this exercise is to pull out words and phrases that describe your restaurant and may warrant inclusion in your restaurant's name. This list will also come in handy when building out your business plan.
When you can't think of anything else to add, read back over your list of superlatives, adjectives, and descriptors and circle your favorites. These will be the building blocks of your restaurant name.
2. Choose a name that isn't already taken
This one's important: Before settling on a restaurant name or logo, do your research and make sure it isn't already taken by another restaurant or business, especially one that's in your area.
Aside from the obvious — confusing potential customers and sending business to the competition — you may also find yourself in legal hot water if you choose a name already taken by another restaurant or business with a copyright or trademark on one or more of the terms in your restaurant's would-be name.
Here are some resources you can use to look up business names:
To learn more about copyright infringement, including what counts as copyright infringement and what doesn't visit Copyright.gov.
3. Use a restaurant name generator to spark new ideas.
Can't get your creative juices flowing? Believe it or not, restaurant name generators can lend a helping hand. If you think you're above it, consider this fun fact: Donald Glover (a.k.a. Childish Gambino) got his stage name from a Wu-Tang name generator.
Here are five great name generators for you to play around with. Some ask for guidance in the form of keywords (have your mission statement list handy), while others just assemble random combinations of words.
While some of the suggested names and combinations these generators spit out will be completely silly and unusable, they'll help you get the ball rolling and narrow down what kind of name you are (and aren't) looking for. Who knows, you may even find the perfect restaurant name hiding in the results.
4. Ask your community for restaurant name ideas
If you're looking for inspiration, or perhaps a tie-breaker on two restaurant name ideas, ask the public for their input. If they end up picking the name you run with, they'll be much more likely to support your business and promote it to their family and friends — after all, they helped you pick your name! Here are a few ways to solicit feedback on your name from your community:
Post a public poll on your new restaurant's Facebook and Instagram pages. (You may need to pay a little to advertise this poll to the masses, since you likely won't have a big following of your own just yet.)

If you don't have a list of people to ask, SurveyMonkey's Target Audience is a great paid resource. Write the questions you'd like answered — like "Which restaurant name do you like better" — and SurveyMonkey will distribute them to predetermined target groups or included as a bonus question on another company's survey.

Send a questionnaire via snail mail to members of the community around your new restaurant's location asking for their opinion on your restaurant's future name.
To ensure you get responses, you can sweeten the pot with an incentive or two. Consider raffling off a free meal on opening night, inviting the decisive voter in for a ribbon-cutting ceremony and photo op, or naming a menu item after the respondent who suggests the best name.
It can also be helpful to look to other restaurants for inspiration, especially those that seem to share your restaurant's values or vibe. And on that note, let's look at some lists — from cool restaurant names toclever restaurant names and everything in between — to help you brainstorm.
60 Real, Creative Restaurant Name Ideas to Inspire You
When choosing a name for your new concept, there are a number of directions you could go in. From puns and plays on words to pop culture references, we've compiled restaurant names in a variety of categories to provide you with inspiration as you start spitballing, brainstorming, and pitching ideas to your team.
Clever Restaurant Names
Funny (and Punny) Restaurant Names
1. Cheesy Does It — Saratoga, New York
2. Bizzy B Cakes — Albuquerque, New Mexico
3. The Dairy Godmother — Alexandria, Virginia
4. Kale Me Crazy — Atlanta, Georgia
5. Woks It 2 U — Leander, Texas
6. Nacho Problem — Durban, South Africa
7. Divine Pastabilities — San Diego, California
8. Nothing Bundt Cakes — Texas-based with locations nationwide
9. Lettuce Eat — Monroeville, Pennsylvania
10. A Salt n Battered — Charleston, South Carolina
11. Brew'd Awakening Coffeehaus — Lowell, Massachusetts
12. Rolling in Dough Bread Company — Moss Bluff, Louisiana
13. Lettuce Entertain You Enterprises — Chicago, Illinois
14. Juan More Taco — Fredericksburg, Virginia
15. Wok N' Roll — Cambridge, Massachusetts
16. Wild Thyme Gourmet — Highlands, North Carolina
17. Fattitude — Boise, Idaho
18. Hip Stirs Coffee House — Brookville, Ohio
19. What the Pho — Bellevue, Washington
20. Bite Mi Asian Kitchen — Long Beach, California
21. Pho With Us — Austin, Texas
22. The Mother Trucker — Naples, Florida
23. Garden of Eat'n — Roseville, California, and Auburn, California

Restaurant Names That Are Pop Culture References
24. The Lockhart Bar (Harry Potter book/film series) — Toronto, Canada
25. 16 Handles (Sixteen Candles: 1984 film) — New York, New York, and others
26. Tequila Mockingbird (To Kill a Mockingbird: 1960 book) — New Canaan, Connecticut
27. Life of Pie (Life of Pi: 2002 Yann Martel novel) — Ottawa, Canada.
28. Lord of the Fries (Lord of the Flies: 1954 novel) — Melbourne, Australia
29. The Glass Onion ("Glass Onion:" 1968 Beatles song) — Falmouth, Massachusetts (When their 2-year-old son suggested that the restaurant be named after one of his favorite Beatles songs, "Glass Onion," Josh and Tally Christian couldn't say no.)
30. Pita Pan (Peter Pan: 1904 play and later Disney movie) — New York, New York
31. Planet of the Crepes (Planet of the Apes: 1968 novel and later movie & TV show) — Tucson, Arizona
32. Thai Tanic (Titanic, 1997 film) — Washington, D.C.
33. Santa Baby Bar ("Santa Baby," 1953 Eartha Kitt song) — Chicago, Illinois
34. Jekyll & Hyde Club (Strange Case of Dr Jekyll and Mr Hyde: 1886 novella) — New York, New York
35. BeetleHouse (Beetlejuice: 1988 film) — Los Angeles, California; New York, New York; Washington, D.C.
36. Rock Lobster ("Rock Lobster," 1979 B-52s song) - Chandler, Arizona
37. The Holy Grail Pub (Monty Python and the Holy Grail: 1975 film) — Plano, Texas
Restaurant Names That Use Alliteration

38. The Angry Avocado — The Dalles, Oregon
39. Jajaja — New York, New York
40. Pork on a Fork — Phoenix, Arizona
41. Mama Mai's Noodles — Stevens Point, Wisconsin
42. No Name Restaurant — Boston, Massachusetts
43. Girl and the Goat — Chicago, Illinois
44. GRILLRILLA — Hanover, Pennsylvania
45. Leaping Lizard Cafe — Virginia Beach, Virginia
46. He's Not Here Bar — Chapel Hill, North Carolina
47. 2 Dudes Brew & Que — Monroe, Louisiana
48. Dough Doughnuts — New York, New York
49. Buck & Bull — Pittsburgh, Pennsylvania
Unforgettable and Unique Restaurant Names
50. Promiscuous Fork — San Diego, California
51. Fat Baby — Boston, Massachusetts
52. The Drunken Taco — Fort Lauderdale & Coral Square, Florida
53. Dubious Clams Brewing Company — Excelsior Springs, Missouri
54. Call Your Mother: A Jew-ish Deli — Washington, D.C.
55. Killer Pizza from Mars — Oceanside, California
56. Plan B Burger — West Hartford, Connecticut
57. Bun Huggers Old Fashion Hamburgers — Flagstaff, Arizona
58. Spanked Puppy — Colchester, Vermont
59. Holy Smokin Butts BBQ — Tucson, Arizona
60. Foulmouthed Brewing — Portland, Maine
Things to Do After You've Chosen a Restaurant Name
Once you settle on a name for your new restaurant (Congrats!), you're ready to get movin' and shakin' opening it! Check out these helpful resources from Toast to make sure you're starting your journey to restaurant ownership off on the right foot.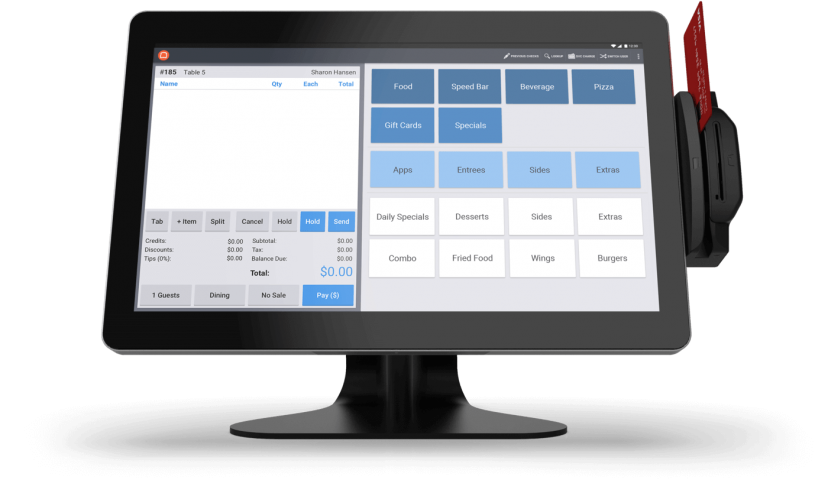 Built for restaurants just like yours.
Toast's restaurant technology includes point of sale, kitchen display screens, online ordering, loyalty, analytics, payroll, and more.