DISCLAIMER: This content is provided for informational purposes only and is not intended as legal, accounting, tax, HR, or other professional advice. You are responsible for your own compliance with laws and regulations. You should contact your attorney or other relevant advisor for advice specific to your circumstances.
Seafood Restaurant Business Name Ideas
Summer is quickly approaching, and fresh seafood season is upon us. The great news is, studies show that 70% of seafood consumers prefer to eat out at a restaurant, rather than make it at home. So if you're thinking of opening your own seafood restaurant, there's no better time to do it.
One of the first steps in building your seafood restaurant is choosing the right restaurant name. It will be attached to your branding forever, leading people to your establishment. That means the name has to genuinely represent your business and, most importantly, be something you love.
Here are four major steps for identifying the right name for your seafood restaurant, along with ideas to further inspire your new and exciting venture!
How do I choose a seafood restaurant business name?
Finding the perfect name all starts with brainstorming. Here are a few key tips to jumpstart your name-generating process.
Write down your vision, focusing on your mission and core values
Make sure your desired name isn't already taken
Play around with a name generator to spark new ideas
Reach out to your community for name ideas
What's in a good seafood restaurant name?
For starters, it's unique to a business. Your name should stick in the minds of your patrons, reminding them of your brand and representing your personality. It should also reflect what goods and services your business offers. Lastly, your name should be easy to remember and spell, so that potential patrons can find you on Google or social media.
1. Write down your vision for your seafood restaurant business
Start thinking about your mission statement, which describes who you are, why you're here, and what you plan to accomplish as a new enterprise in your community. These details will all influence your business' name. Then, use the exercise below to get your creative juices flowing!
Grab a pen and paper and write down the following:
The kind of food you'll be offering

Your core values and mission

The personality and vibe of your restaurant

Adjectives you'd use to describe your restaurant

Your name (and the name of your business partners, if any)

Any family names that are important to you

The neighborhood or town where your restaurant will be located
The purpose of this exercise is to pull out words and phrases that describe your seafood restaurant. Some of these may make up part or all of your name while some may not.
When you run out of things to add, go back and read over your list of words and phrases, circling your favorites. These will all be building blocks for your future business name.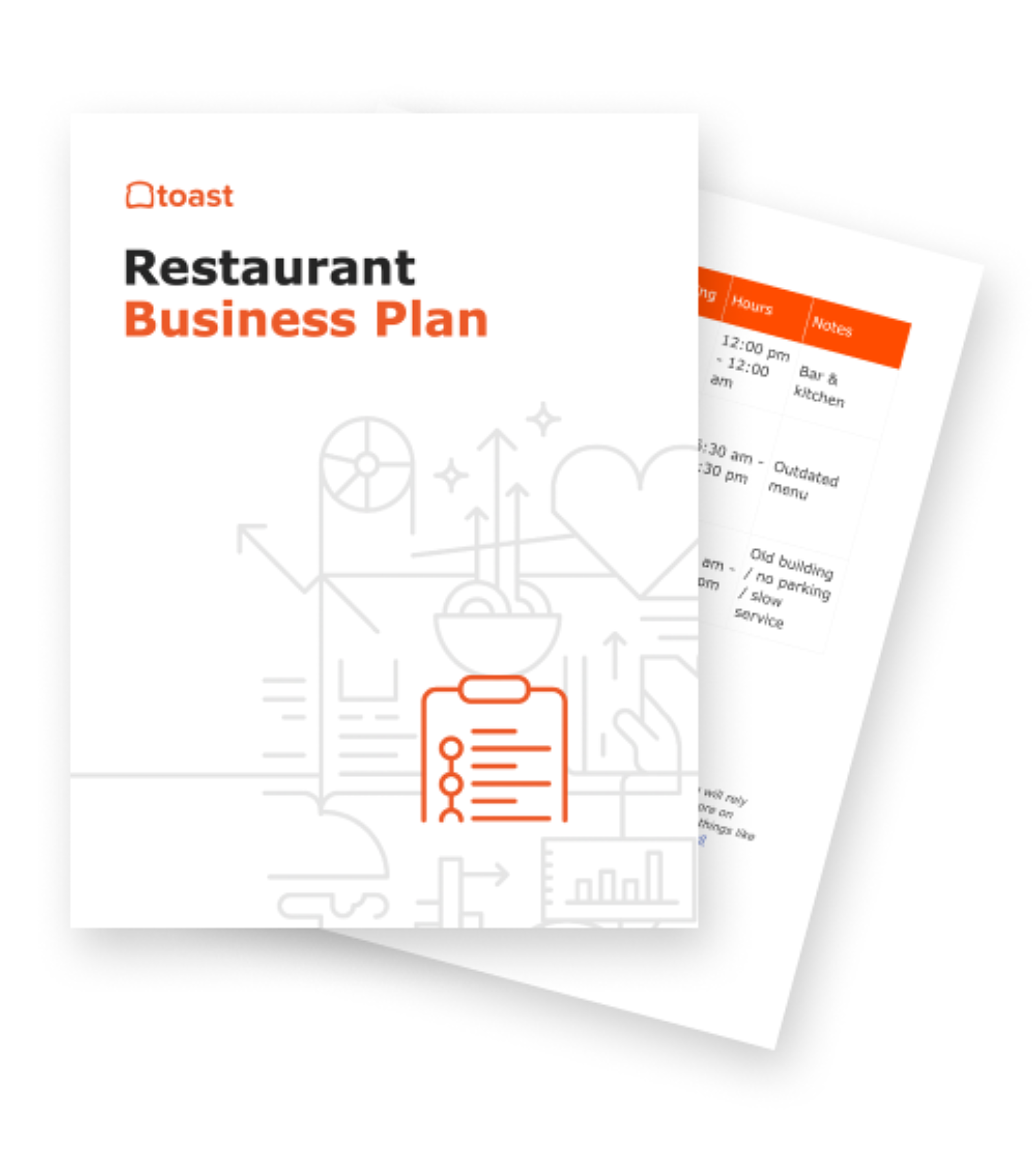 Restaurant Business Plan Template
No matter where you're at in your restaurant ownership journey, a business plan will be your north star. Organize your vision and ensure that nothing is overlooked with this free template.
Download
2. Choose a name that isn't already taken
Needless to say, it's important to make sure your seafood restaurant's name doesn't already exist. Once you've settled on a handful of contenders, ensure your favorites aren't already in use by existing businesses by running each name through the following resources:
Google search

Google My Business

The Yellow Pages

The Better Business Bureau

The United States Patent and Trademark Office's Trademark database search
Be thorough with your research, as copyright infringement can come with steep penalties, something new businesses especially need to avoid. To learn more about copyright infringement, visit Copyright.gov.
3. Use a name generator to spark new ideas.
Name generators are an excellent tool to inspire different word combinations you may never have thought of.
Some generators ask for guidance in the form of keywords, while others simply assemble random combinations of words. No matter the generator, it's good to have your keyword shortlist on hand.
Sure, some of the suggested names and combos you receive will be unusable. But, they'll still help you identify what you like and what you don't.
Restaurant and Bakery Name Generators
4. Reach out to your community for business name ideas
People love seafood. That's why most people who start seafood restaurants do so with their community in mind. So, why not build a relationship with locals from the very beginning of your business?
One brilliant way is to ask your community to contribute to the name brainstorming process. This helps foster a strong relationship and gets people excited for your launch.
Social media is an excellent platform for community-building. It offers simple tools for outreach. On Facebook and Instagram, for example, you can add posts, reels, and stories to showcase your new business. Just don't forget to follow and interact with local businesses, organizations, and influencers in your area.
To generate hype, consider asking community members to suggest names or vote on your favorites. You can do this by incentivizing them through the name-generating process. How? Try including a raffle, giveaway, or future discounts for those who participate. And don't be afraid to get creative. The more unique and special your offer, the more likely people will contribute their name ideas.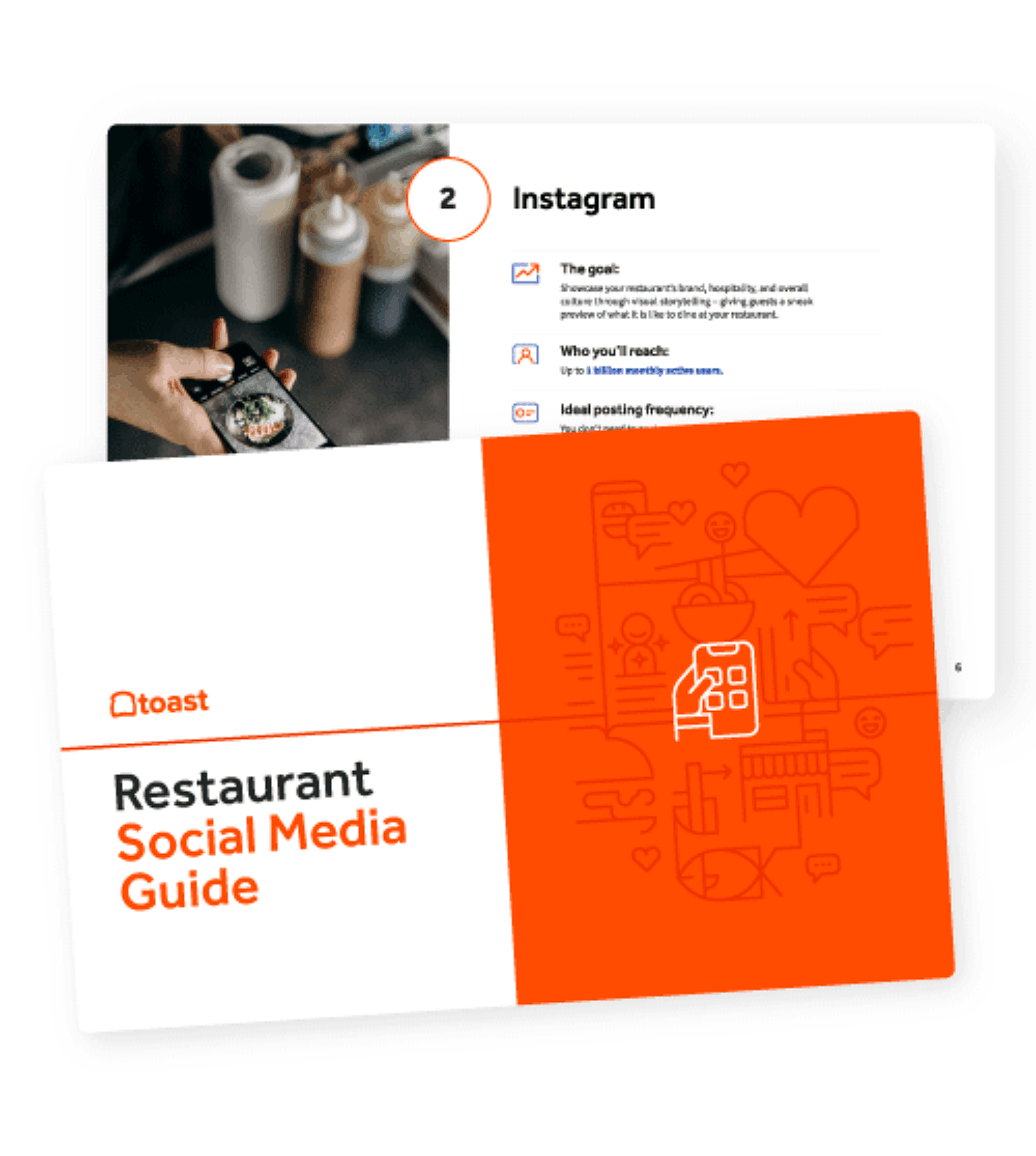 Guide to Restaurant Social Media Marketing
Learn how to optimize your social media presence to showcase your brand, tell your story, attract new customers, and engage with your audience.
Download
51 Real Seafood Restaurant Name Ideas to Inspire You
Taking some name inspiration from successful seafood restaurants is never a bad idea. These names can help you identify the exact theme and personality you're aiming for, whether it's creative, cute, or funny.
Here are 51 of the best seafood restaurant business names around the country:
Creative Seafood Restaurant Business Names
Reef – Houston, TX

Local Tide – Seattle, WA

Lure – Atlanta, GA

BOIL Seafood House – New Orleans, LA

Half Shell – Chicago, IL

EAT: An Oyster Bar – Portland, OR

Azul – Chicago, IL

Salty's on the Columbia – Portland, OR

Angler – Los Angeles, CA

Stoic & Genuine – Denver, CO

4 Bells – Minneapolis, MN

Hook Line & Sinker – Dallas, TX
Unique Seafood Restaurant Business Names
Neptune Oyster – Boston, MA

Herb & Sea – San Diego, CA

Bon Ton Atlanta – Atlanta, GA

Ceviche Project – Los Angeles, CA

Girl Diver Atlanta – Atlanta, GA

Wild Standard – Boulder, CO

River Twice – Philadelphia, PA

Pinefish – Philadelphia, PA

Cafe Pacific – Dallas, TX

Lovers Seafood and Market – Dallas, TX
Rhyming or Alliterative Seafood Restaurant Business Names
Summer Shack – Boston, MA

Southpark Seafood – Portland, OR

Steven's Fine Food & Seafood Market – Riverdale, GA

Matt's in the Market – Seattle, WA

The Sea, The Sea – London, UK

The Shanty Supper Club – Denver, CO

Eastside Eat + Drink – Minneapolis, MN

Brown Bag Seafood Co. – Chicago, IL

Flying Fish Company – Portland, OR

Sea Salt – Nashville, TN

Guard and Grace – Denver, CO

Surf & Soul Spot – San Diego, CA

Summer Salt – New York, NY

Smack Shack – Minneapolis, MN

Dive Coastal Cuisine – Dallas, TX
Funny Seafood Restaurant Business Names
Saltie Girl – Boston, MA

Son of a Gun – Los Angeles, CA

Fish N Beer – Denver, CO

Bully Boy – Atlanta, GA

The Angry Crab – Chicago, IL

BeetleCat – Atlanta, GA

The Walrus and the Carpenter – Seattle, WA

Mr. Fish & Chips – San Diego, CA

W. H. Stiles Fish Camp – Atlanta, GA

Oh Manna Fish Market – Los Angeles, CA

Two Dudes Seafood Restaurant – Ponde Verda Beach, FL

The Fish Keg – Chicago, IL

Fishing With Dynamite – Manhattan Beach, CA

Fish 101 – Encinitas, CA
Found the best seafood restaurant name? Here's what's next.
Once you've picked your name, it's time to rock and roll your way to seafood success. Next up is building a solid
business plan, floor plan, and marketing plan. With your plans in order and the perfect name under your belt, there's no doubt you'll be the go-to seafood spot for everyone in town.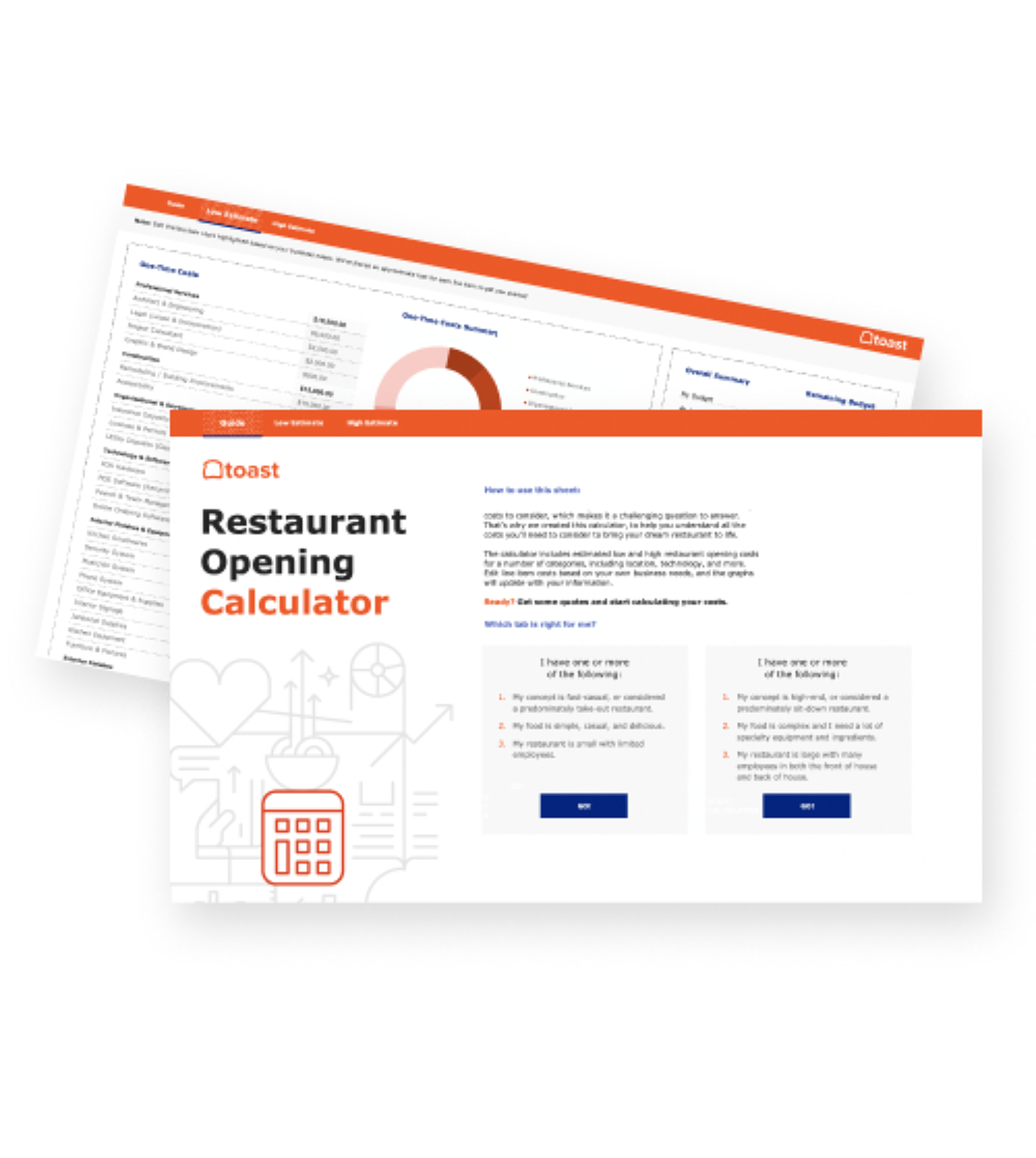 Restaurant Opening Calculator
This calculator lays out some of the fundamental financial costs of opening a restaurant, so you can start planning and bring your dream restaurant to life.
Download