DISCLAIMER: This content is provided for informational purposes only and is not intended as legal, accounting, tax, HR, or other professional advice. You are responsible for your own compliance with laws and regulations. You should contact your attorney or other relevant advisor for advice specific to your circumstances.
Your back-of-house staff controls food consistency and quality, which a study by the University of North Texas found to be key factors in restaurant success. Meaning, it's critical that you give your BOH team the best possible training.
Recipe cards are one of the easiest ways to level up your training. They can be referenced at any time by any employee, meaning your dishes will be the same every time, and you'll reduce food waste. The results? Greater control of your restaurant costs and happier customers.
What are restaurant recipe cards?
Recipe cards are editable templates that you customize for each recipe on your menu. Yes, we're talking about the same type of recipe cards that became popular with housewives in the 40s (though you don't have to keep yours in a cute floral box).
This is one of those "if it ain't broke, don't fix it" situations. The idea may seem antiquated, but we promise it will help solve your modern-day BOH training challenges.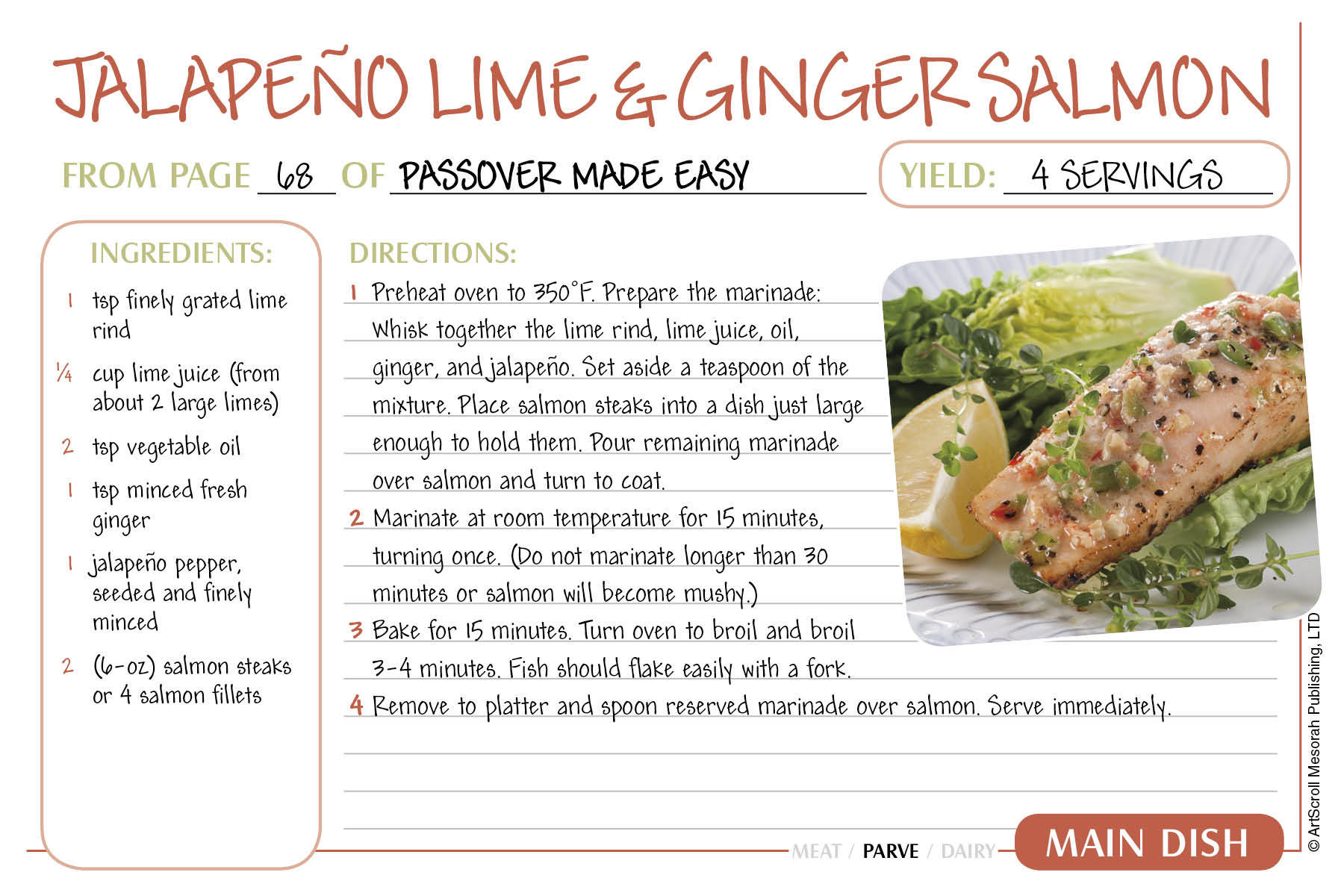 Source: ArtScroll
Recipe cards include:
Recipe

Ingredients

Preparation instructions
Use them to note everything about a specific dish that a cook might need to know, from ingredients to procedures to plating notes. You can print the cards for your staff or make them available to view online (that is, if you can handle employees having their phones out at work).
Restaurant training recipe cards can include any number of helpful tips for your BOH (back of house) staff:
Recipe with background information

Ingredients with allergens highlighted

Plating information

Pairings

Storage notes

Prep time
Recipe Card Template
Train your team with this recipe card template, a customizable Excel sheet that outlines recipe requirements for chefs and back of house staff.
Download
Why should you use restaurant recipe cards for training?
Recipe cards serve as reference guides showing exactly how to make a dish, so it tastes great and remains consistent for guests.
Recipe cards benefit restaurants by:
Reducing training time for new BOH staff

Improving employee performance and job satisfaction

Decreasing staff stress

Improving communication and outcomes with customers with allergies

Saving money on ingredients

Strengthening relationships between kitchen and serving staff
There's no guesswork needed if a dish is detailed on a recipe card for the entire kitchen to access. New guy forgets what garnish goes on the gumbo? No big deal — recipe card to the rescue.
Stephen Hightower, managing partner of City Hospitality Group, uses recipe cards at all five of his restaurants. He says, "The end result of using recipe cards is that we do everything the same way every time. The recipe is costed out properly, we eliminate waste, and the business makes more money."
The median lifespan of restaurants is under five years. According to Robert Irvine of "Restaurant: Impossible," inexperience and bad management are the top two reasons restaurants fail.
Your restaurant can beat the statistics by improving BOH training. Recipe cards are perfect for the initial training of new hires and for keeping established employees on top of their game.
How do you make your own restaurant recipe card templates?
Step 1: Gather the following info for each dish on the menu:
Name of dish — Yes, this one is obvious, but the best place to start is at the beginning.

Name of chef who created it — If any questions pop up, your staff will know the best person to ask.

Prep time — When BOH knows how long a dish will take, they can find the best way to fit that prep into their day.

Menu information — Adding the menu description, which menu the dish is on (lunch or dinner), and what category it falls under (starter, main, side) helps chefs know exactly what guests are expecting when they order this dish.

Serving size details — Include the recipe yield, the serving size, and the number of servings to curb food waste and inconsistent portion sizes.

Ingredients — Always include the quantity and measurement for each ingredient listed, and stay consistent with the measurements you use.

Procedure — Directions on how to make the dish are critical. See Step 2 for more information about making this section easy to understand.

Plating notes — Recipe cards help employees execute a chef's vision, and that extends to how the dish looks on the plate.

Allergen information — This category is easy to forget since it doesn't directly relate to making the dish, but it's critical that BOH references allergen information so they always send out a dish that's safe for guests with allergies.

Storage notes/shelf life — Including this information ensures guests will always receive quality food.

Last revised date — Changes happen quickly in restaurants. With this date, employees know if they're looking at the most current information.

Photo — Adding a photo of the plated dish is a great option to ensure the plating is just as consistent as the taste.
Step 2: Decide how detailed your recipe card procedures need to be.
This will depend on the experience level of your kitchen staff. Experienced cooks and classically trained chefs are familiar with industry terms, so you can write your recipe cards in "chef speak." These cards have shorter instructions and are quicker and easier for a trained chef to reference. If your kitchen staff is on the green side, you may need to be more detailed in your directions.
Here's what that might look like:
Experienced: Cook custard in Bain Marie at 200° for 1 hr. Chiffonade basil.
Inexperienced: Place ramekins of custard in a pan of hot water 1-2 inches deep. Bake at 200°F for 1 hour. Stack leaves of basil, roll tightly lengthwise, and slice into thin ribbons.
Or, you can give your inexperienced cooks the "chef speak" recipe cards along with our Giant List of 101 Culinary Terms All Chefs Should Know. This option works well for kitchens that have a mix of experienced and inexperienced staff.
Step 3: Get an employee to test the recipe cards.
When testing the cards, try to find a tester that doesn't have experience with that particular recipe. Having someone go in without prior knowledge means they're relying completely on the card. If the dish doesn't come out right, you'll know something is likely missing or not worded clearly.
Testing the recipe cards is an important step. We know, you needed them like yesterday, and it takes time to test them all. Be comforted by the fact that when you hand over the tested cards, they will be correct. Correct recipe cards are the only good recipe cards.
Best Practices for Training BOH Restaurant Staff
When training servers, kitchen staff, and other back of house restaurant employees, empower them with knowledge. When a staff member has to defer to others for expertise, it can create a worse experience for both the staff member and the customer. When all of your staff have access to information, your staff is empowered to be independent and serve for the diner.
Document all training materials.

Create materials relevant to newbies to the restaurant industry as well as veterans.

Empower individuals to seek out information on their own.

Use recipe cards as a standardized tool for back of house staff to work with chefs and cooks.
How to Incorporate Restaurant Recipe Cards into Your BOH Training
Emily Dyer-Schiefer, owner of the hospitality consultancy The Kitchen Think, opens four to five restaurants each year. Every single one uses recipe cards to train BOH. Her implementation looks like this: "The cards are printed and either framed or laminated and hung in the kitchen. New hires receive a training pack with the cards in them. They're also trained on each dish and will need to recreate each dish in their section without guidance, using only the recipe cards, before they are left alone on that section."
Make recipe cards accessible.

Print and laminate recipe cards and store in a binder.

Use plain language or provide a glossary for culinary terms.
Restaurant Cost Control Guide
Use this guide to learn more about your restaurant costs, how to track them, and steps you can take to help maximize your profitability.
Download
Let BOH know that the recipe cards you've created are for everyone, new or not. The cards are there to ensure recipes stay consistent from day to day and cook to cook. Stephen says, "Every one of my cooks uses the recipe cards. It's not an easy thing to keep a dish consistent, and my cooks take a lot of pride in the challenge of making a dish right every single time."
Make your recipe cards easily accessible. The easier it is for BOH staff to access them, the more likely they are to use them. Print and laminate your cards or put them in page protectors in a binder to save them from greasy fingerprints and other kitchen hazards.
Free Recipe Card Design Tools for Restaurateurs
Canva is a free web-based design service that caters to those of us who excel in areas other than graphic design. Its drag-and-drop feature and library of graphics mean you can easily put together recipe card templates that are functional and, as a bonus, look great. You can also create your templates in Microsoft Word or Excel.
If the thought of designing your own templates has you in a panic, take some deep breaths — we got you. Our free downloadable recipe card template has everything you need. Use it to create recipe cards that will enhance your BOH training and stabilize your profits by cutting down on waste and incorrect portioning. Grab the template below.
Related Restaurant Cost Resources
Back of House Management Guide and Resource Kit
This guide and resource kit will help you develop an efficient back of house management system to ensure quality and consistency in your restaurant's kitchen.
Download