What's the first thing your customers see and the last thing they consult before they order?
It's not a complicated riddle. If you said the restaurant menu, you're absolutely correct: the restaurant menu is your restaurant's most important marketing material.
When you think of your restaurant as a funnel - a marketing term used to describe the customer journey - here's what it often looks like:
Customer hears about your restaurant from a friend
Customer visits website, checks out website menu
Customer visits restaurant, orders from restaurant menu
Restaurant menu design & menu engineering affect exactly what they order
If you think about it, restaurant menu design can make or break your restaurant's profits. If your least profitable item is the most prominent on the menu, your entire sales trajectory could be off.
So why do many restaurateurs ignore their restaurant menu design and simply throw menu items on the page?
I think part of the reason is that they just don't know where to start and make it more complicated than it needs to be. If you can't afford a designer, and want to take a stab at making a menu yourself, here's my simple 10-step process to how to create a restaurant menu, plus some menu templates to get you started.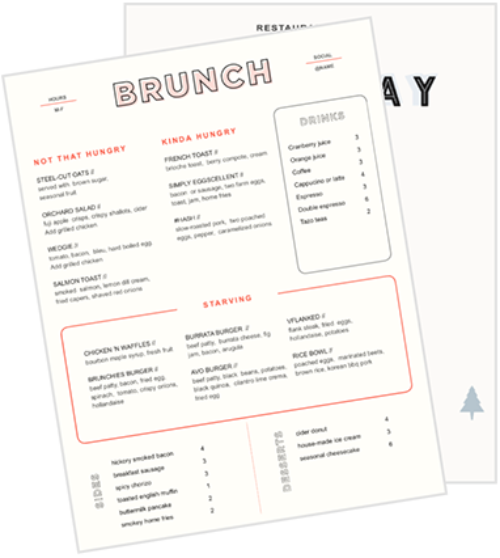 Restaurant Menu Templates
Use these menu templates as a starting point for your menu design or to give your menus a refresh.
Download
1. Write all your menu items down on one sheet of paper to see them or Google Sheet.
You don't need to start with the menu design itself. In fact, I don't think you should; you'll just get daunted by the blank page and abandon the project. Instead, start with what you know like the back of your hand: the menu offerings.
Using Excel, a Google Sheet, or even pen and paper, list out all of the meals you offer, rapid-fire. I like to use Google Sheets for this, because it's easy to cut, copy, and paste different items, and the sheet will save automatically. Click here to use my template. Don't forget to click File > Make a Copy for your own version.
2. Logically order your menu into sections.
Have you ever seen all your menu items listed out, unencumbered by menu design? If not, simply seeing this list can be pretty illuminating. Viewing your menu items in a different situation might inspire you to categorize them differently.
The next step, now that you've written all your menu items down, is to start logically ordering your menu into sections based on what you want to appear first. Fill out the "Category" portion of the template, listing out whether your menu item is an appetizer, entree, dessert, or any other category. Then, decide which menu items you want to appear first on the menu; you may want appetizers to appear the top of your menu, and you may want a particular appetizer to be at the top of the list because it's a star according to your menu engineering worksheet. Simply move around your menu items until they're in the exact order you want them to appear on the menu.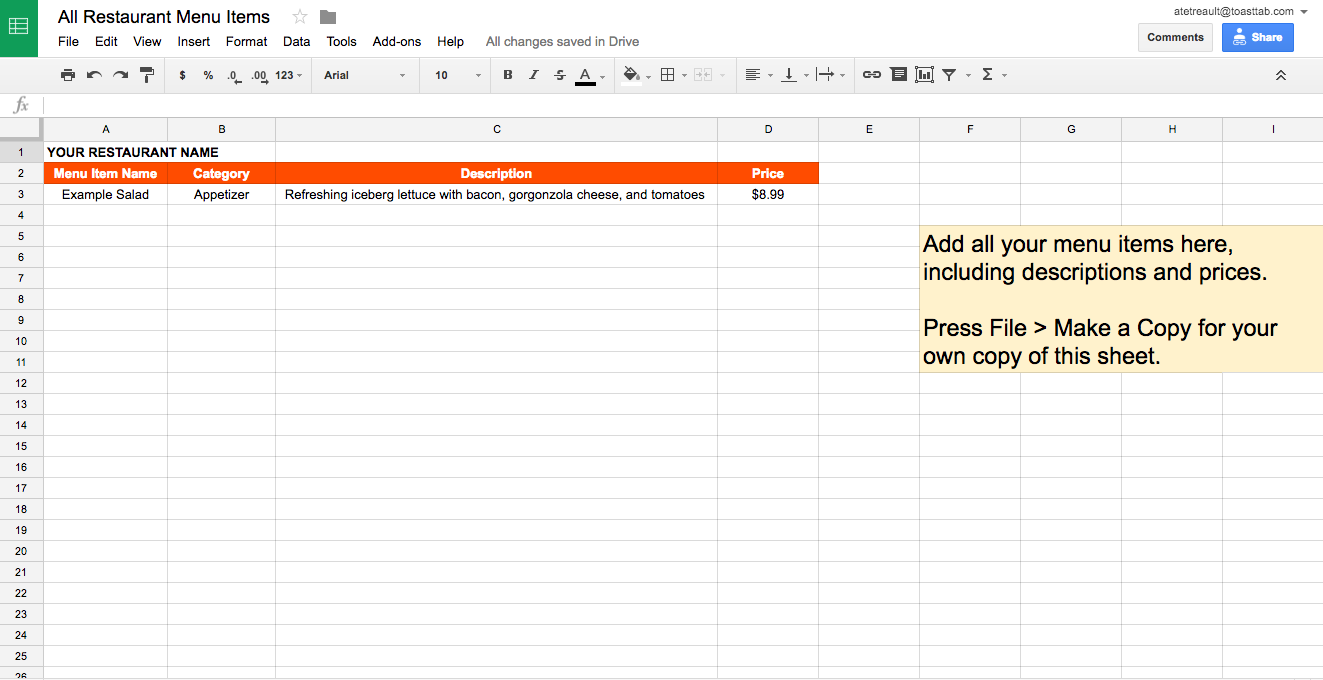 3. Decide on a color-scheme based on your restaurant brand.
Now that you have all your menu items laid out on the sheet in an order that makes sense, take a little break from staring at cells and start thinking about design. Choose a color scheme for your menu that reflects your restaurant brand. This can be as simple as choosing three colors you might want to see on the menu, or deciding that you want your menu to be black and white to save money on printing.
We could write a whole blog post about how colors affect your restaurant's perception, but for now, here's Chron on the psychology of restaurant colors, and here are a few color resources designers swear by:
4. Consider the prices on your menu items.
Notice that we haven't added prices to our spreadsheet yet? That's because I don't think you should just add prices willy-nilly. Menu prices - and how you portray them - are the most important aspect of the restaurant menu.
If you're working off of a previous menu, add in your current prices, and then take a step back to analyze them. Put yourself in your customers' shoes. Is it odd that this appetizer is more expensive than this entree? Based on the restaurant sales data in your point of sale system, could you afford to tweak this menu items' price a little bit, especially if it's a puzzle or plowhorse?
If you're really starting from scratch, download our guide to menu engineering to learn how to make data-based decisions on how to price your menu based on your inventory prices and food cost percentages. Even established restaurants could benefit from a refresher on how to use data to make these types of decisions.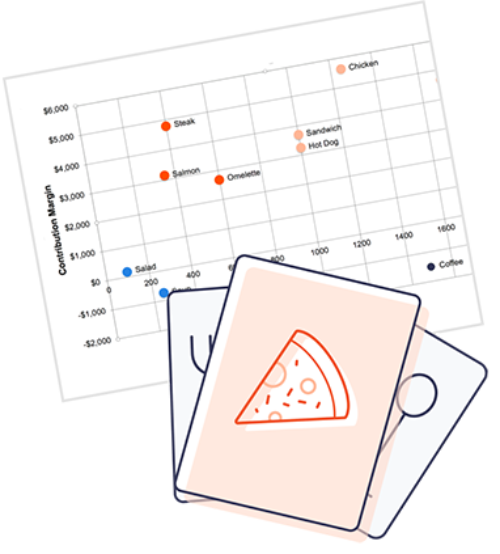 Menu Engineering Worksheet
Use this worksheet to determine which items on your menu are your strongest performers and which ones are costing you the most.
Download
5. Describe each dish, in titles and description.
Next is the fun part - at least for me as a writer. We haven't touched the "description" column yet in the sheet.
You could hire a copywriter to come up with mouthwatering restaurant descriptions, but I think the best menu descriptions come from the heart.
Consult the chef who created the menu items, think about the story behind each and every meal - the inspiration for its creation, the sourcing of its ingredients, the effort it takes to make - and write down a short description of each menu item on your sheet. Make sure to have at least one adjective for each menu item (that could even be a new category, if you want to start customizing the sheet). Delicious hot buns, delectable meatloaf, refreshing salad - you get it.
6. Translate into a menu, keeping placement and menu design in mind. Keep it short.
Now comes the hard part: translating all your hard work on that sheet to a menu design. If you're hiring a designer, simply giving them that sheet make their life so much easier.
If not, you can use software like Microsoft Word, Microsoft Powerpoint, or the Adobe Suite, and use these menu templates to get started. As you do, keep in mind these menu design best practices:
A menu has to be easy to digest. As some might say, "Keep it simple, stupid." Your customers will be overwhelmed by a large menu, so try to keep it to one or two pages.
Remember the golden triangle. Our eyes typically start in the middle of a page, then move to the top right and top left, so consider putting high-margin dishes at the center and upper right corner of your menu.
Use price strategically. A study at Cornell found that diners who ordered from a menu without dollar signs ($) spent significantly more than those who ordered from a traditionally priced menu. Consider removing dollar signs from your menu, and don't list menu prices in a single column so it's easy for customers to compare.
7. Add photos with caution. You may have to hire a food photographer.
This is a mistake many restaurants make. Once you have a skeleton of your menu laid out, you start to add more and more to it. The fact is, menu design benefits from white space, and the more photos or icons you add, the more distracted customers are from your actual content - the food, and those awesome descriptions you just wrote.
You may want to include photos of your most profitable menu items, but these photos need to be high quality - and that quality needs to translate to print. You may have to hire a food photographer to take these photos; you definitely don't want to use a smartphone. Work on your food presentation skills first, and then hire a photographer or a friend to take the perfect photo for your menu.
8. Mock up fonts, margins, spacing, and overall composition.
You have a color scheme, a general idea of how you want your menu items to be laid out on the page, and possibly a few photos you want to include. Now, it's time to put it all together to create a restaurant menu.
At this point, many restaurateurs hire a menu designer or turn to menu templates to give them a starting point. It can take an hour, a day, or a week to go through different iterations, considering margins, spacing, fonts, and overall composition. You could create a simple menu like Red Feather did or a more complicated menu like Maudie's. Keep iterating, and don't be afraid to ask for help - from friends, family members, designers, and even existing customers - to find the best fit for your menu.
Also, don't forget: updating your menu should be easy. If you don't leave space to add or remove menu items over time, especially if your menu changes seasonally, then you may have to start this whole process over again. As many guests - especially the loyal ones that keep coming back - will remember your menu design and where to find their favorite items, you'll want to make sure it's easy to update, so you don't have to overhaul your menu design again and again.
9. Select the final layout after everyone signs off on design and content.
So you've created a restaurant menu. Now, create a few more. And more. And more. Come up with a few design choices to share with your business partners, and vote on which you think is best for your restaurant brand. Your stakeholders will want to review the content - exactly how you're describing each menu item - as well as the prices and the cohesiveness of your brand.
Go through the approval process, and select the menu that you're most excited about. You could even argue for the design you think will increase sales based on data from your restaurant menu software.
10. Proofread and print the final design.
Finally, it's time to print your restaurant menu. But first - take a moment to proofread your menu and send it to someone who hasn't been staring at it for the past week. One misplaced comma or small typo could change your guests' perception of the restaurant. Don't skip this step, because if you do, you could waste a lot of money printing menus that will just end up in the trash.
When you're ready to print, you could simply use Staples printing service to print on quality paper for cheap or use one of these restaurant menu printing services:
The cost of printing depends on how many menus you want, but printing approximately 200 8.5" by 11" menus can cost between $150 - $200.
How do you design your restaurant menus?
With over 10,000 subscribers here at Toast, I'm sure some of you have designed your own menus before. What was your process? Did you hire a menu designer, or did you do it yourself? What software did you use? Did you analyze all your restaurant items first, or did you just start with a blank page? What did we miss in this blog post, and how could we make this process more accurate?
Also, if you want to start designing your own menu, or simply want menu design inspiration, download our 10 menu templates by designers here at Toast to help you get started below.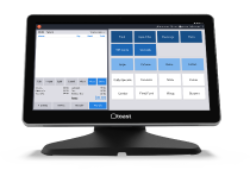 Learn how a better point of sale system can help you run your restaurant.
Read now