The staff schedule holds a ton of power in a restaurant.
In front of house, servers want the shifts that bring the most tips. In back-of-house, the cooks need to be comfortable working the stations you've assigned them to, which isn't always a given. Both groups need time off, and sick days and emergencies can't be avoided.
These factors are compounded by the fact that only about 44% of employees work full-time in restaurants, according to the National Restaurant Association. This means it's likely your staff are juggling multiple jobs and multiple schedules.
If your restaurant's schedule makes life more difficult for your staff, they'll be frustrated. Whether you're on your 10th restaurant location or new to the industry, if you master the art of the staff schedule, your team will love you a little bit more.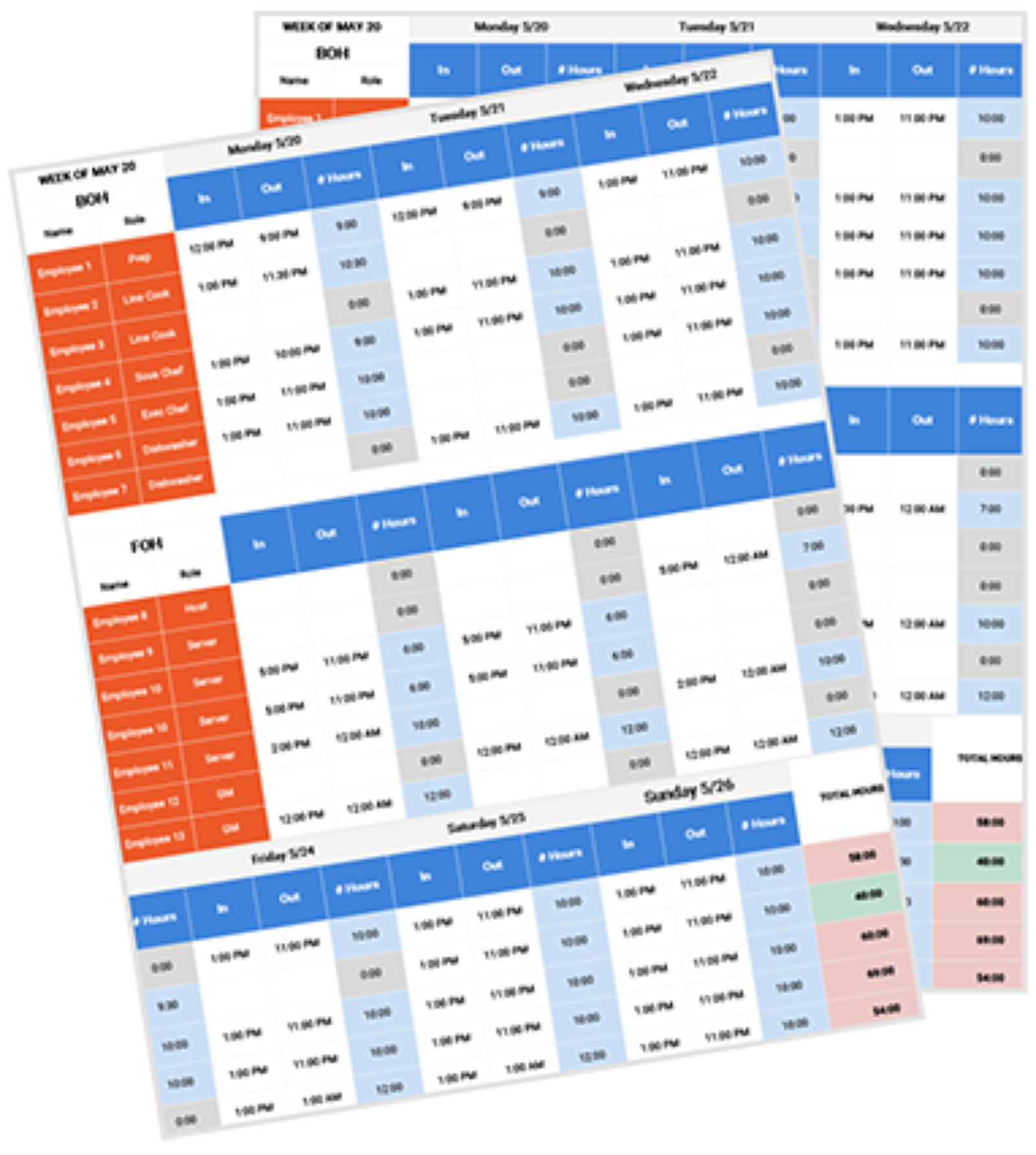 Restaurant Scheduling Template
Use the restaurant scheduling template, a customizable Google Sheets template, to schedule your restaurant staff's shifts so employees can access it on the go.
Download
Work by Example
The job of a restaurant owner or manager is to strengthen their team. This could mean regularly showing appreciation and catching people doing things right, like Leslie Ciccone of (swah-rey) does, but it also means taking care of yourself to encourage your staff to do the same.
The restaurant industry's notoriously long hours and physically demanding work make time off a nonnegotiable if you want to survive. Make this clear to your employees by taking time off yourself. If your team sees you working to the point of burnout, they'll feel the need to do the same.
Honor and Monitor Time Off
When you hire a new team member, make sure they understand your expectations of how much they'll typically work and when, and tell them your time off policy. This has to work both ways, though. To show you care about your staff's wellbeing, do your best to honor their requests for time off.
If, throughout their employment, they're reliable, hard workers with a good attitude, the hassle of honoring the occasional request for time off is worth it to make sure they stick around. To minimize last-minute time-off requests, which can screw up the schedule for weeks, check in with your staff frequently about their availability. Don't wait for them to come to you the week before a long weekend.
Designate a regular time (monthly or biweekly) for staff to submit or update their availability so that you always have access to their most up-to-date scheduling needs and wants. By getting time off requests as early as possible, you'll avoid "just-in-time" scheduling, which gives employees little or no notice of what their work schedule will be like, diminishing any shot they have at work–life balance.
Try Open or Set Shifts
If you're getting feedback from staff that they don't like the shifts they've been scheduled, try changing things up completely. Here are two approaches you can take:
Try scheduling open shifts. Every two weeks, publish your schedule with a few unassigned shifts and give your staff a time frame in which they can volunteer for them. This is a great way to accommodate the needs of staff who want to get in as many hours as possible while keeping your less-available staff happy with the shifts they want.
When employees get to volunteer for shifts, you offer them the chance to work by choice, not obligation. You'll ultimately have final approval in how the schedule shapes up, but by offering employees the chance to choose the shifts that interest them, you'll introduce collaboration, flexibility, and ownership into the scheduling process.
Another great option is to try out set shifts. This means all your employees have a firm schedule that rarely changes. Set shifts aren't flexible, but they're stable. If your staff are the type that crave a little bit of stability in a hectic industry — especially if they have kids or relatives to care for — they'll appreciate this scheduling tactic.
"Working [the] exact [same] shifts every week sounds kind of boring, and you're gonna mix it up some but with minor exceptions. Man, that can really be a great way of maintaining a positive relationship with your employees," says Joe Hannon.
Hannon worked front-of-house and management for 11 years before switching gears and getting a job at Restaurant365. "Obviously you have to have loyal employees to do this and pull it off. You have to have some pretty good cross training, too, so people can fill in for other positions."
"Working [the] exact [same] shifts every week sounds kind of boring, and you're gonna mix it up some but with minor exceptions. Man, that can really be a great way of maintaining a positive relationship with your employees."
And if a staff member quits, you know exactly which shifts you need covered, he added. This is a sign of stability and organization in a restaurant, and the right candidates for your team will love that. "You go into the interviews and have a plan of attack. You're like, 'I just need Tuesday through Saturday from 5:00 PM to close. You get Sunday, Monday off every time.'"
Schedule Sidework
Instead of adding housekeeping items onto the end of an already-long closing shift, consider booking certain employees for shorter shifts devoted to side work, administrative work, or chores.
While shorter, task-based shifts might not be everyone's preference, assigning behind-the-scenes work in smaller chunks could be the perfect scheduling solution for those with limited availability who still want to pick up hours when possible. Plus, even with restricted availability, those employees will have a chance to stay in the loop with the restaurant, which makes it easier for them to jump back in once they're more available.
One caveat: Familiarize yourself with relevant call-out and minimum shift time bylaws in your state before introducing shorter shift times.
Cross-Train
Cross-training is crucial in restaurants. If you can invest the time in training your line cooks to work every station, you'll be prepared for days when you're understaffed, and you'll be able to schedule any cook whenever there's a timeslot or station open.
This works in front of house as well: Make sure your servers know how to bartend — if they're of legal age to do so — and vice-versa.
You don't have to take on the task of cross-training alone. If you have a cook who has been shining lately, ask them to mentor a younger cook who could stand to learn a new station or two. Mentorship can be extremely rewarding for both parties and encourages collaboration among the whole team.
Use Your Data
A printed staff schedule in the back room doesn't cut it for workers today. Most of us want access to our schedules from anywhere. By integrating your restaurant tech with staff scheduling software, you'll gain access to a wealth of scheduling and sales data that can inform your future schedules. This data can let you know which are your busiest and slowest nights so you can staff strategically — and prevent having to cut staff members who aren't needed on a shift they've planned to work. Going high-tech also minimizes the amount of time you'll spend making the schedule.
Once you're collecting data about your sales and your labor costs, you can do some deeper analysis to figure out when you should schedule each of your staff members. Find out which of your servers are top performers at lunch and dinner, and make sure you're scheduling them accordingly. The skill sets needed to work a busy lunch and a busy dinner are similar but not exactly the same. Your lunch superstar might be amazing with kids, and your dinner champion might have a knack for upselling wine.
There's an unspoken rule in many restaurants that "good" shifts and sections are commonly reserved for your staff with most seniority, to show appreciation for their loyalty and time. But there are a ton of other ways you can show appreciation to your staff, and your schedule should be made using insights from data, not feelings.
If you want to test the waters of digital scheduling for free, try this responsive online scheduling template.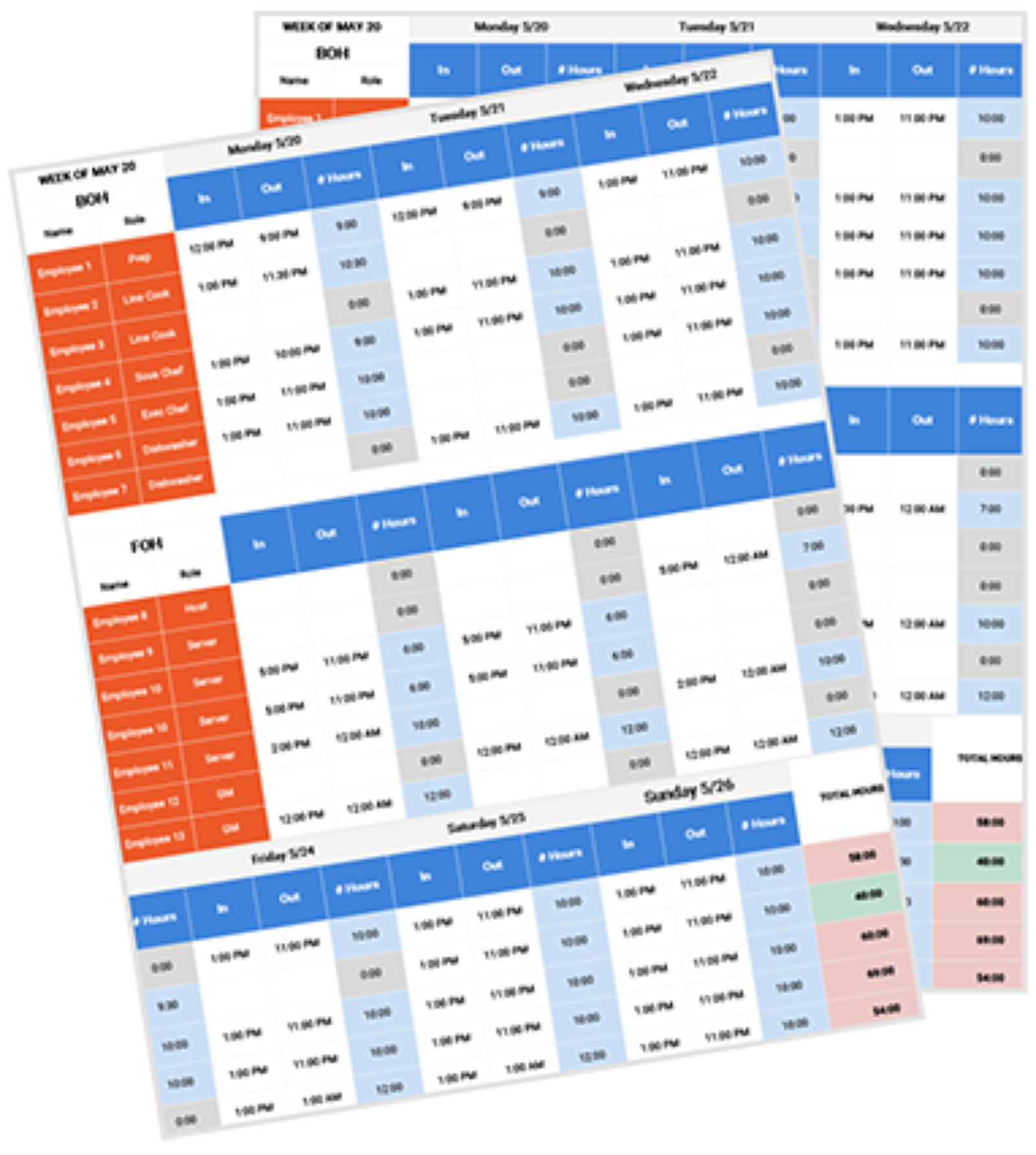 Restaurant Scheduling Template
Use the restaurant scheduling template, a customizable Google Sheets template, to schedule your restaurant staff's shifts so employees can access it on the go.
Download
Plan for Holidays
To make things easier on yourself and your staff during the craze of the holidays, create a holiday time off policy. And if you can, pay time and a half for especially sought-after days off like Christmas and New Years Day. Make these shifts worth it for your workers. Consider providing a small gift to each employee who works on these big holidays, and make sure they have a good amount of time off scheduled for shortly after the holiday rush.
Ask your staff to submit their holiday availability at least a month in advance to help with your holiday scheduling, and communicate to your staff that last-minute holiday day off requests can't be accommodated.
An alternative holiday scheduling method is to hire seasonal staff who are available on holidays. Bring them on well in advance to get them trained and ready for a very hectic few weeks at your restaurant.
Some restaurateurs are using sites like Pared or Instawork to find last-minute and temporary staff. Calling in a temp team requires fast onboarding and trust in your core team, but it can relieve some of the pressure around the holidays (and even no shows).
Another option is to consider not opening on the big holidays at all if you think that giving that day off to your staff will make them happier. The lost revenue from Christmas Day diners could be worth it if it means you don't have to replace staff.
Follow Shift Regulations
Labor law compliance is nonnegotiable, so you need to stay on top of changing regulations in your city or state — not just to avoid fines but to do what's best for your staff.
According to a study conducted by Tsheets, only 50% of shift workers get their schedules two weeks in advance, 20% have had to pay for last-minute childcare due to being called in to work, and only 37% are not compensated for lost time if their schedules are changed last minute. All of these factors add up to unhappy employees who are unlikely to stay at a restaurant for very long.
To stop this, some regions have started to create legislations around predictive scheduling — also known as fair or secure scheduling — which is a legal step toward minimizing the negative effects of shift work felt by employees.
These legislations can prevent workers from having to work "clopens," they can regulate mandatory employee breaks (both between and during shifts), and ensure predictable pay and advance notice on when they'll work. These laws also have a penalty schedule detailing how much a business will owe for failing to stick to any of the regulations outlined in the policy, so it's good practice to keep records of all past schedules in case of an audit.
Strategic scheduling gives you the chance to create shifts employees will want to work, to inspire engagement, to maximize efficiency, and to encourage accountability. When employees can prepare, learn, grow, and count on camaraderie and support in their workplace, they're going to look forward to punching in and getting involved.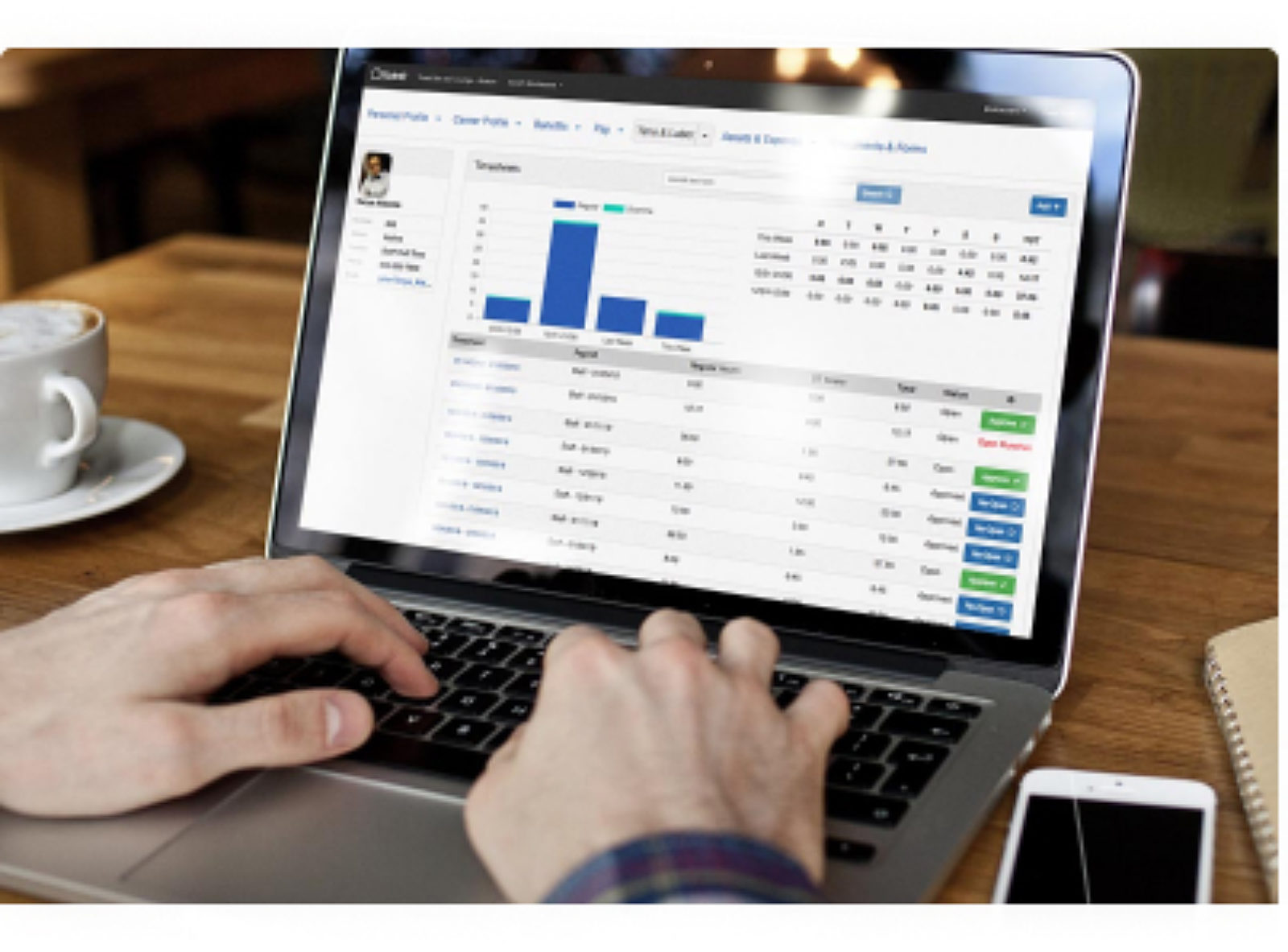 Built to make restaurant teams better.
A payroll and team management platform built for restaurants to help you and your team succeed.