DISCLAIMER: This content is provided for informational purposes only and is not intended as legal, accounting, tax, HR, or other professional advice. You are responsible for your own compliance with laws and regulations. You should contact your attorney or other relevant advisor for advice specific to your circumstances.
The restaurant industry has a notoriously high annual employee turnover rate. In 2018, it reached a five-year high, eclipsing 75%. Women in front-of-house roles, especially bartenders, make up a large portion of those leaving restaurants in search of opportunities that offer safer, more supportive workplace culture, reliable wages, skills training, and career advancement.
If you ask female bartenders about the biggest challenges they face in the workplace, you'll typically hear the following themes revealed to you at lightning speed: an underestimation of their skills, unwanted sexual advances, and unreasonable beauty standards.
"When you live off of tips, you're split between providing hospitality and setting boundaries for the types of behavior you will not tolerate. And when you're a bartender and the people around you are influenced by alcohol, that's harder to do," says SarahGrace, 27, manager of Boston's Paris Creperie Seaport.
Women in the restaurant industry are often still limited to certain positions, denied others, and feel pressure to look a certain way to get ahead or make a living wage.
"When women demonstrate their capabilities and show leadership skills, many times they are perceived as aggressive or too assertive," says Shannon Salupo, Corporate Beverage Manager of Quaker Steak & Lube in Cleveland, Ohio. "Yet, if they show characteristics of being kind and nurturing, they may not be perceived as strong leaders. It can be a double-edged sword."
Despite the monumental strides made by the #MeToo movement to create safer, more supportive, sexual-harassment-free workplaces for women, there's still work to be done to protect and support women working behind the bar.
Gender Inequality in Bars isn't a New Problem
In early American history, a woman's role behind the bar was a far cry from the all-female bartending competitions we see today. In the early 1900s, there were only 150 female bartenders in the US — only 0.3% of the restaurant workforce, wrote Jeanette Hurt, author of "Drink Like A Woman: Shake. Stir. Conquer. Repeat."
In 1948, the Supreme Court granted a ruling that prevented women from tending bar, which remained unchallenged by the restaurant industry until 1971. A feminist clerk named Wendy Webster Williams took the ruling up as a case of job discrimination with the California Supreme Court in the early 1970s. Once California struck down the sexist ruling of 1948, the decision created a ripple effect, and women across the country returned to bartending.
The Washington Post reports that a study done by the Bureau of Labor Statistics in 2015 showed that women make up 60% of the bar workforce in the United States. While we've made significant advances since the 1940s, the restaurant industry still has more work to do to protect and uplift women.
During the height of #MeToo, ABC News reported that 30% of women have experienced unwanted sexual advances at work and, out of these, 23% have had sexual advances made towards them from someone higher up in their organization. 8 in 10 women who have dealt with sexual advances said it was harassment, and one-third reported abuse. And the most upsetting statistic of all: Of the women who were surveyed, 95% said their male harasser went unpunished.
Harassment can come from customers, but "there's also in-house harassment," says SarahGrace. "And when that behavior isn't immediately addressed, you create a toxic work environment. And the number one thing my industry friends and I talk about is unwanted attention from guests."
As drinking accelerates through the evening, bars can be a terrifying workplace for even the most hardened female bartenders. Inappropriate behavior from guests can be a problem during almost every shift. This behavior can be identified as suggestive comments but often also outright inappropriate statements and advances.
Erin Wade, of the restaurant Homeroom, in Oakland, CA, is one woman in the restaurant industry who's leading the charge in preventing sexual harassment in the workplace. Wade explained her approach to helping managers protect their restaurant staff to Toast on an episode of The Garnish.
It's a simple yet effective color-coded system staff can use to rate the level of harassment they're experiencing and to discourage inappropriate behavior from guests. Wade's problem-solving approach was unique: She gave her staff the liberty to develop a strategy that they felt would best help them.
Staff Series #3: Erin Wade
Erin Wade on Creating a Safe, Inclusive Restaurant Work Environment
"What's been so amazing is that we came up with it as a way of dealing with the problem, but what it's actually done is help curb the problem," Wade said.
The system is simple: A worker can report an incident to their manager in real time as a yellow, orange, or red incident, depending on the severity. In the case of a yellow or an orange, the manager takes over the table. In the case of a red, the customer is asked to leave.
"No one really walks into a restaurant and sticks their hand up someone's shirt, which is the incident that set this off," she continued. "But what they do do is they start by checking that person out. And then they lob low-level inappropriate comments at them. They're testing the waters. So when you change the power dynamic at that [point], it tends to stop it from escalating into a bad situation."
Often, restaurants don't have a designated HR department or a person who takes on the role of HR coordinator. Without this, employees — especially women, people of color, and people who identify as LGBTQ+ — often suffer in silence.
"Creating a safe, supportive environment in which female employees can succeed is still such a lofty goal," says Karen Hoskin, CEO and co-founder of Montanya Distillers, in Crested Butte, CO. "#MeToo put some important people on notice and may have begun to shift the culture, but there is still a great deal more work to be done."
Create Equal Opportunities for Advancement
Gender inequality's role in career advancement is the same in hospitality as it is in other fields. Even with their best efforts, skills, and education, women continue to earn less than men and are frequently passed over for management positions. Women encounter this issue from the moment they try to start their business.
Companies founded by women are challenged from their first days of operation, as they represent only 2% of the venture capital transactions in the United States, according to Forbes. In comparison, combined male-female teams earned 17% of the venture capital pie in 2017.
"Female-founded companies have a tendency to generate a larger return for investors and pay off on time or early," says Hoskin. "So we have a great deal of work to do to create an equal financing environment for female-founded companies in food and beverage."
A four-year study conducted on gender inequality in the workforce by Mckinsey & Company revealed that for every 100 men promoted to a manager position, only 79 women made the cut. A gender inequality study done by trade conference Tales of the Cocktail reported that female bartenders earn 87 cents to every dollar that their male counterparts bring in.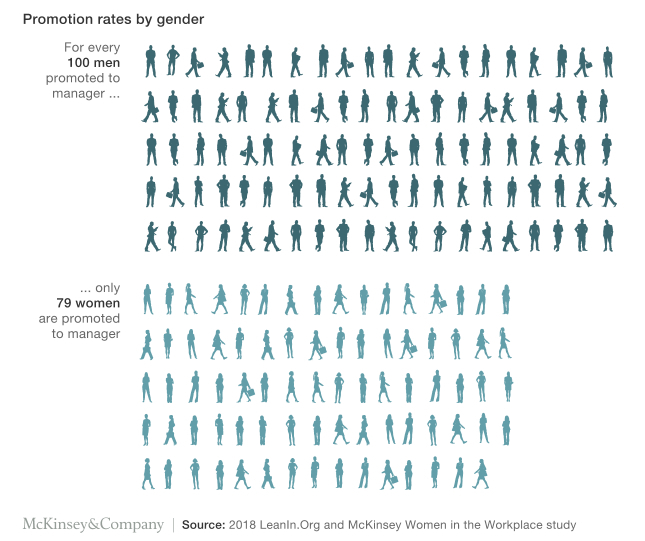 "You're passed over for management positions, your skillset is underestimated, and your value is based on your looks rather than your talent," says SarahGrace. "Guests ask me if I know certain drink recipes more often than I've ever seen male bartenders questioned for the same thing. I am not immediately perceived as capable. I have to work a lot harder to prove my skill set and knowledge, and I can't look bad when I'm doing it."
Hoskin echoes this. "I am often mistaken for someone with no decision-making clout," she says. "My decisions are questioned more often. I have to establish that I have knowledge before I am taken seriously — something my male colleagues rarely waste time on."
When women do succeed, their authority is often questioned as there are so few women-owned businesses within the restaurant industry. A 2017 round-up in Eater showed that women only represented 31% of their chef and owner reviews that year.
How should you combat this? "Elevate women into management positions and involve their oversight and input into the workplace," says Hoskin. "Sometimes the male owners and managers benefit from a gender-balanced team approach to set the right tone. My philosophy is that the inside of your establishment should reflect the outside in terms of gender, ethnicity, race, and sexual orientation. If it doesn't, it's a good time to self-assess bias inside your doors."
As a restaurant owner or manager, make the hiring process transparent so that you find women with the right skills and experience.
"Even the most seasoned bartenders will benefit from bar training," says Salupo. "Not only to learn the new recipes but to keep techniques and processes fresh in their minds. Managers should take time to meet regularly with their bartenders to share positive feedback as well as understand what the bartender's goals are so they can be supported."
Invest in Your Team, and Trust Them
Creating a diverse team is important to protect your staff, but it can also significantly improve your business. A study by the Anita Borg Institute showed that staff turnover rate is 22% lower in businesses with diverse teams. Another study by PwC reported in Fortune showed that 60% of female directors considered gender diversity paramount in a business, and 42% were vocal supporters of racial diversity.
There are a ton of ways you can offer support to your female bartenders and help them thrive professionally, which will ultimately lead to amazing dining experiences for your guests. It begins with providing assistance and support in difficult moments, investing in your employees, educating yourself and your team, and sometimes taking on the role of an HR manager.
Fostering a supportive culture will create the most efficient (and balanced) bar team for you, where your employees feel joy when they come to work instead of dread. The women (and everyone, really) you employ will ultimately take more pride in what they do and work harder for your establishment in the long run.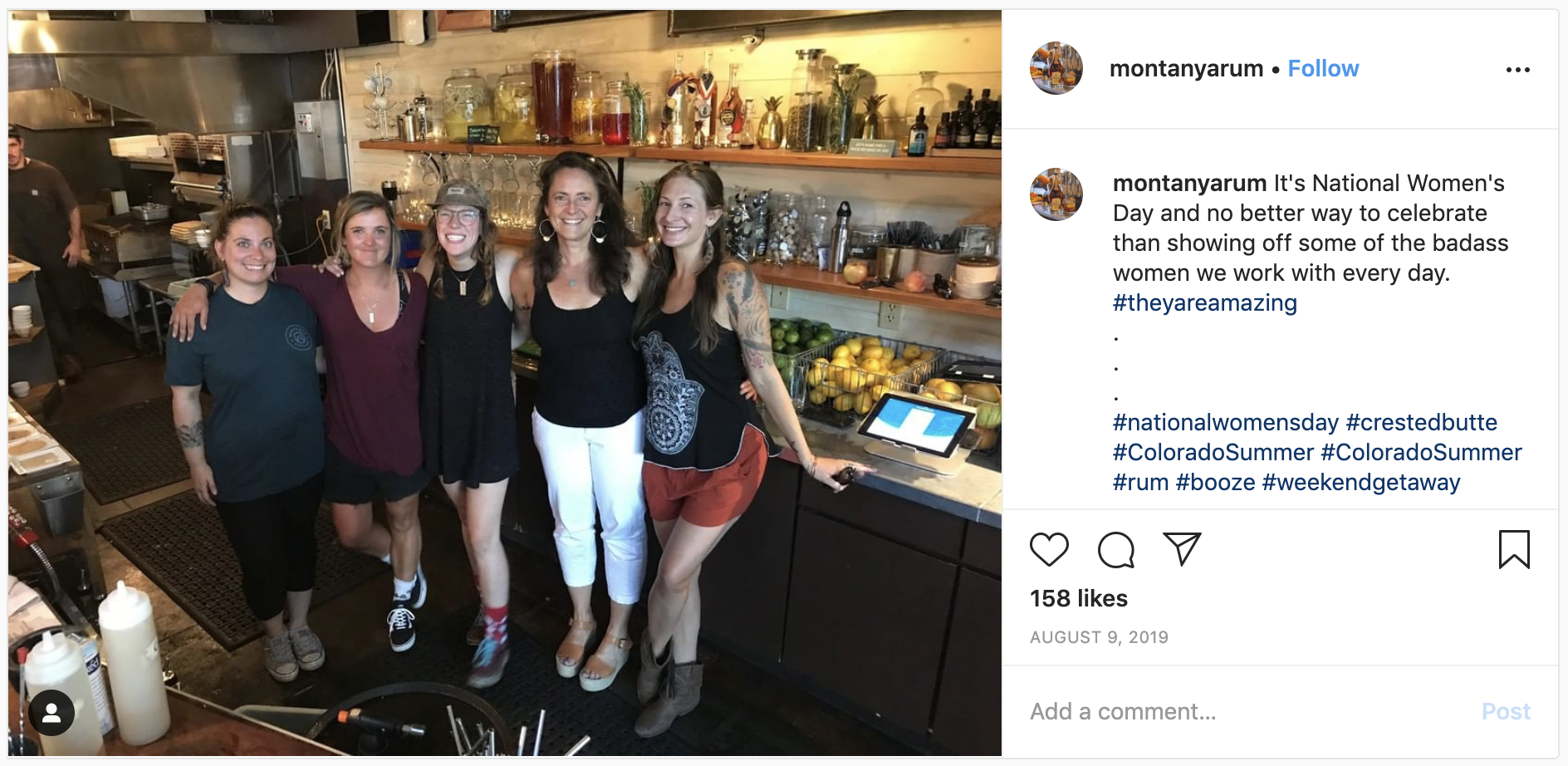 Once you've created a safe working space, encourage your female bartenders to speak up about harassment. Take it upon yourself to create the same zero-tolerance policy for sexual harassment that a 9-to-5 HR department would have. Female bartenders are more likely to put up with bad behavior if they're afraid of the consequences for reporting harassment.
When it comes time to put this policy into practice, don't waver, says SarahGrace of Paris Creperie. "Stand behind us when we cut guests off. Be invested in our safety. Properly address reports of harassment. Believe women when we come to management with concerns, because chances are, if we're making a formal complaint — taking that risk — then it's likely been a long time coming."
Gender inequalities in the restaurant industry can be overcome if we work together for the benefit of the entire industry.
Related Bar Business Resources