Restaurants today have a tall task when implementing the right design elements. Impeccable restaurant interior design requires a deep understanding of the concept you are trying to create and the environment you're working with.
Spending time on this will benefit you in a number of ways. In the age of social media, your customers are your best advertisers and by using tools like Instagram, Twitter and Facebook, they have the power to spread the word about your eatery to hundreds or thousands of followers.
Your restaurant interior design can empower them to do that. Here are a few examples of restaurants whose design elements are featured almost as much as their menu items:
Sightglass Coffee Four Barrel Coffee
Paying attention to the details in your restaurant design can take you a long way with word of mouth and social sharing. Paul Basile, a highly sought after designer for San Diego restaurateurs, shares this sentiment on Restaurant Hospitality: "Expressing passion in the overall design and the intimate details, you can feel and see when something was done right and is handcrafted. That expressiveness is passed along to the guests when they notice something new every visit --like finding a new little gem."
He lends a few other tips to consider when you're thinking about the design of your restaurant such as focusing on the customer experience, creating a mood that coincides with your food and drinks, and placing materials of differing styles, types, and histories within the same space to induce a deeper response between what is expected and what is experienced.
While we all wish we could hire Paul Basile to design our restaurants, a $250k + budget isn't always there. It's time to get creative on your own. The good news? It's not impossible. Below, find examples of design elements and cheap ways you can implement them to spruce up your restaurant interior design.
1. Add style with minimalist shelving.
Minimalist shelving is an easy way to add function and style to your restaurant. Play around with different shapes or textures to create the look you desire. Most of these projects can be done yourself, making it budget-friendly. A few examples below: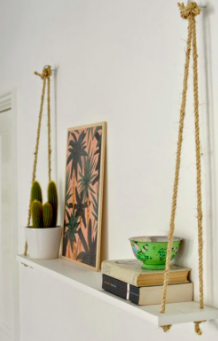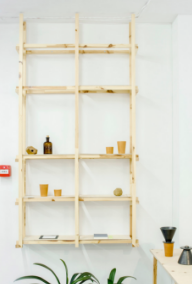 DIY Hanging Shelf | DIY Crate Shelves
2. Feature beautiful (but low-maintenance) plants. Plants are a great way to update your space on a rotating basis. Every week could be different if you wanted it to (and if budget allows). Or you could use low maintenance plants, like air plants, to bring the outdoors in! A few examples below: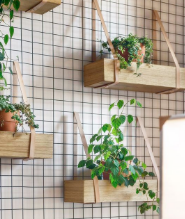 3. Showcase local art.
Make your restaurant a part-time gallery. Using a lesser-known local artist will make this project free!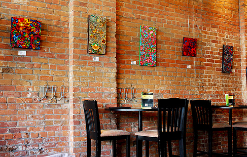 4. DIY some inspiring lighting fixtures.
Switching up your lighting fixtures is a great way to define a space and create a specific mood. These are typically DIY friendly projects as well if you have the correct electrical work set up.
5. Offer unique seating options.
Unique seating is always a differentiator, as booths and stools are all too common in the industry. Repurposing an existing chair with a fresh paint job or mixing and matching different types of chairs can liven up your environment.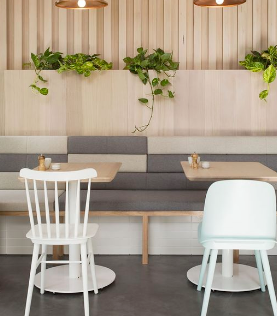 What are your restaurant interior design ideas?
With the average price of a restaurant layout redesign being anywhere from 250k to over 1 million, these tips are meant to give your space an extra boost without breaking the bank. The best part is, you don't need to set it and forget it. Switching up a paint job, changing out a few fixtures or adding unique shelving can be projects you repeat over and over again (time allotted). Don't have an eye for design? We suggest a simplistic approach. Keeping walls white and using consistent textures for your surfaces will give you the ability to add colorful accents and have fun accessorizing your space.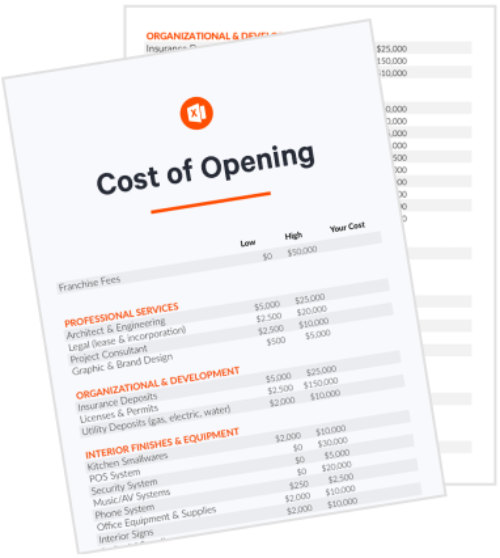 The Cost of Opening a Restaurant
How much does it cost to open a restaurant? Find out using this interactive calculator from Toast.
Download