DISCLAIMER: This content is provided for informational purposes only and is not intended as legal, accounting, tax, HR, or other professional advice. You are responsible for your own compliance with laws and regulations. You should contact your attorney or other relevant advisor for advice specific to your circumstances.
Essential Deli Equipment List
The deli occupies an essential space in American restaurant culture. The success of a deli – as with any restaurant – is directly correlated with the quality of equipment used in production.
A major part of your deli's business plan is considering what equipment is essential for your operations and budgeting for the costs of the equipment. This is necessary to do if you want to launch the deli of your dreams.
This guide is here to help you make strategic decisions when searching for and investing in restaurant equipment for your new deli.
Restaurant Business Plan Template
No matter where you're at in your restaurant ownership journey, a business plan will be your north star. Organize your vision and ensure that nothing is overlooked with this free template.
Download
What Equipment Do You Need In a Deli
The equipment list for your deli will depend heavily on your menu, the size of your space, and the overall business model. By knowing the details of your deli, you can begin building your shopping list.
Here's a basic deli equipment guide to help get you started:
Ovens
Grills and Ranges
Ventilation
Freezers and Refrigerators
Microwaves and Toasters
Food prep surfaces
Food prep equipment
Knives
Cutting boards
Pots and pans
Food processors
Mixers
Storage containers and shelving
Safety Equipment
Gloves
First Aid Kit
Date Labels
Sani-buckets
Bar rags
Food grade cleaning supplies
Chemical Safety Data Sheets
Sinks
Compartment sinks
Disposal sinks
Handwashing sinks
Restaurant Point of Sale System
Kitchen Display System
Service wear
Display cases
Table service essentials
Paper boats, plates, or clamshells
Utensils
Napkins or linen
How Much is Equipment for a Deli
The equipment costs of a deli aren't much different than other restaurant models. It can cost anywhere from $20,000 to $400,000 to outfit your deli's kitchen for operation.
With such a large range of costs, you'll need to think carefully about your budget to ensure that you can get and afford the equipment you need. This means considering not just your equipment for your kitchen, but your dining and service too. To keep your budget in check, it is never a bad idea to consider various restaurant financing options.
---
Read this next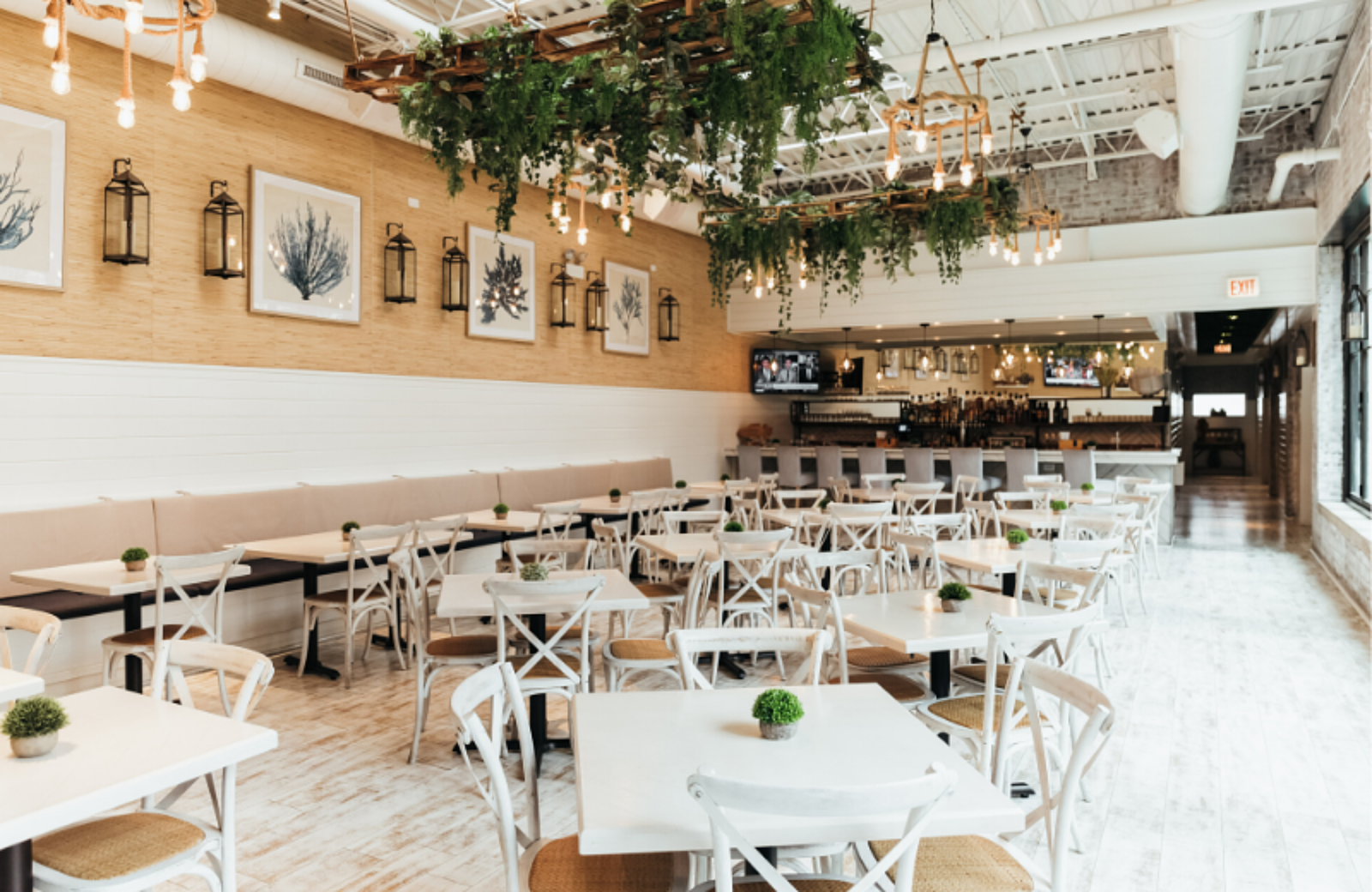 The Complete Guide to Restaurant Financing and Loans
Whether you're opening a new restaurant, expanding your concept, or renovating within your existing four-walls, you're going to need capital to make it all happen.
Things to Consider Before Buying Deli Equipment
Before you start buying equipment, you need to consider what your priorities are. Equipment is one of the most important investments in your new deli. So, you want to make sure to put your energy into finding good-quality equipment, such as grills and ovens, that will be central to the success of your deli.
1. Quality
Essential equipment in your deli's kitchen, like ovens, grills, and stock pots, should be durable, high-quality pieces that you can rely on. Look for equipment that will allow your chefs and cooks to work safely and efficiently. Also, begin thinking about the maintenance each piece of equipment requires, and who will be responsible to do the repairs.
2. Planning your Kitchen Space
Your employees need space to perform their jobs effectively. That means you need to have a layout of your deli ready so that you'll know exactly where your equipment will live.
When planning your layout, focus on how food will be cooked and prepared. You will want to have equipment that is used together nearby each other. This will make it much easier for your chef and cooks to work. Also, you should make sure to leave enough room for counter space at each workstation.
Working with a kitchen planning consultant is an excellent option as well. They offer tailored advice on the layout of your deli, helping you create an appealing environment for both your employees and your guests.
3. Use and Cleaning
Some kitchen equipment will last a lifetime if maintained properly. When searching for equipment, ask your supplier about maintenance. Try to select equipment by how easy it is to repair it. Also, look out for the NSF symbol on food equipment. This symbol ensures that the equipment meets food safety certification standards.
Once you've made your selection, make sure to train your staff to clean equipment properly. Setting equipment cleaning as a standard will help ensure your appliances stay in top condition.
4. Suppliers
Quality equipment is critical to the success of your deli. Building rapport with your equipment supplier is an excellent way to ensure you are accessing the best quality equipment you can find.
Many towns and cities have local restaurant supply stores that, for a membership fee, offer premium ranges of commercial equipment at near-wholesale prices. The best suppliers will be honest about the technology and safety of their products. They'll also do their best to provide you with everything you need, from installation to maintenance and repairs.
5. Sourcing Restaurant Equipment
Sourcing equipment is half the battle. Once you've compiled a comprehensive equipment list, start shopping around. Local restaurant wholesalers often have good deals. You can also consider leasing from a reputable online retailer or renting equipment until you can afford to invest.
6. New vs. Used Equipment
New equipment may seem like the best choice, but some expensive (and essential) pieces of equipment might be better purchased used. Consider looking for used versions of priority appliances (like an oven or deep freezer) that have been maintained over the years. If you're willing to stay on top of the simple maintenance, you'll save money upfront and throughout your venture.
7. Pricing
Don't be afraid to spend on the equipment that is most critical to your deli's success. If your branding focuses on deeply flavorful soups, don't skimp on the stock pots, ranges, and other equipment that will get the most use. If you're dealing with a tight budget, try searching for used equipment and going for lower-quality when it comes to your less important equipment items.
8. Financing or Leasing
Financing or leasing equipment can be a solid option for jumpstarting your deli business. It allows you some wiggle-room in your budget until you're sure that your deli will succeed. Plus, these payments can be tax-deductible just like equipment purchases, allowing you to have more financial liquidity when you open your deli.
Restaurant Opening Calculator
This calculator lays out some of the fundamental financial costs of opening a restaurant, so you can start planning and bring your dream restaurant to life.
Download
Ultimate Deli Equipment Checklist
1. Ovens
Making fresh bread, bagels, and other baked goods requires a large and powerful enough oven to meet the demand of your deli business.
With your business model in mind, think wisely about the oven(s) you will need. Convection ovens are quick and consistent. They work by circulating heat to ensure that food bakes evenly. There are also combination ovens, which circulate heat and create steam. These are perfect for baking crusty bread or steam roasting vegetables.
2. Grills and Ranges
Flat top grills for frying eggs or finishing sandwiches are ubiquitous in delis. That said, a flat top should be on the top-end of your equipment list.
You might also want to add a gas range or other stovetop to your list as well. A gas range is great for cooking batches of soups and sauces. While a gas range can be pretty efficient, it can also be a little pricey. Electric ranges and induction ranges can be suitable and more cost-effective alternatives.
Induction burners are also useful to have as well. They are very sustainable and cost-effective, a reliable appliance for when you need to heat or sauté. Induction burners rely on electromagnetic currents to heat a surface. These currents transfer rather than conduct heat, meaning that the burner surface always stays cool. This makes induction burners very safe and space-conscious pick.
3. Ventilation
Ventilation is crucial for a safe kitchen and service area environment. This goes for any kind of restaurant or foodservice business. Operating any kitchen requires enough ventilation to ensure that the space doesn't fill with the heat and smoke from the ovens or ranges. With that said, you should be thoughtful when planning your ventilation system. Make sure to think about the size of your space, ensuring that your ventilation system has enough power to keep smoke and hot air out.
4. Freezers and Refrigerators
Storing dairy and fresh produce requires cold storage. When it comes to a deli, a walk-in cooler is a great option, as it has enough space for storage and is easy to move in and out of during service. You will also need refrigerators on the production line to house more immediate needs, like bacon, cold cuts, and other temperature-sensitive ingredients.
It is always important to note that refrigerators, like all equipment, can last a long time when properly repaired and cleaned. One big tip for maintaining refrigerators is routinely cleaning the vents. These get clogged very quickly with dust, especially if you're doing a lot of baking in your deli. Not cleaning the vents will do tons of damage to your machine.
5. Toasters and Microwaves
Commercial toasters are nothing like the pop-up toasters you may have at home. These are powerful toaster ovens or conveyer toasters that delis rely on to quickly toast bagels in the morning or heat sandwich bread slices for lunch.
Microwaves are also powerful kitchen tools that can make warming or reheating food a breeze. There are combination convection microwaves out there that are perfect for keeping bread crusty or pastries crispy during reheating.
6. Food prep surfaces
Prep surfaces are a major area to consider when planning the layout of your kitchen. Providing spacious, durable, and easy-to-clean surfaces will make your staff comfortable and help them work productively.
When it comes to choosing the type of prep surface, you have plenty of options. Stainless steel prep counters are a classic pick in kitchens because they are easy to sanitize and won't transfer unwanted heat to products. Another option is poured concrete. It is a cost-effective and just as durable alternative to stainless steel. You also have wood, granite, and other options out there. To make a firm decision, discuss it with your team to see what would help them work best.
7. Food prep equipment
Don't overlook the little things. Making a detailed list of small appliances and utensils that you'll need will set your deli up for success.
Knives
Three words: invest in knives. A central part of cooking, a quality set of knives will ensure safe and streamlined cooking. Make it a priority to have good knife skills and maintenance in your kitchen. You'll also want to invest in a sharpening stone to keep your knives in tip-top shape.
Cutting boards
Quality cutting boards make a noticeable difference when prepping. Boards with lips around the edge (which keeps liquid from spilling off the boards) and boards with handles are reliable and restaurant-approved picks.
Pots and pans
Buying new pots and pans that are of great quality will be valuable assets to your deli's kitchen. Their lifetime can be impressively long when maintained properly. That means less money spent in the future on more pots and pans.
Mixing bowls
Mixing bowls come in a variety of materials that each have benefits and setbacks. Whether you go for plastic, stainless, ceramic, or glass, you need to decide which combination works best for your deli's equipment list.
Food processors
Food processors are a handy and worthwhile investment. They're great for liquefying soups and sauces or ensuring that you get an even chop or mince.
Blenders
While they can be expensive, commercial blenders are useful and powerful machines that will allow your deli to blend soups, smoothies, or even create frozen coffee creations.
Mixers
Stand mixers take some of the labor out of mixing large batches of bagel or cookie dough. While these machines make baking a breeze, they need to be treated with care to avoid repairs that could affect your deli's service.
Storage containers and shelving
Storage is always a must for safety and organization. Ingredients all have specific needs that you must cater to, or else you'll lose money on spoiled or expired food. For example, dry goods need to live far away from any humidity or heat. So, it's best not to place them on a shelf right by the gas range.
You also have to think about the storage for all equipment you're buying, too. The small appliances and accessories all need a place in your bar, a place that should be defined by when and how they're needed by your staff. By keeping your equipment and ingredients organized, you'll set your staff up for work success.
The Rest!
An important but easily-overlooked category is all the rest of the stuff you'll need to operate your deli. Cooking utensils, spice shakers, mixing bowls, and spreader knives for schmear – these are all little things you need to budget for. And, be sure to buy backups for any tiny items that can be easily misplaced or broken. This will save you time and energy in the future.
8. Safety Equipment
All delis are held to food safety standards, which include having certain equipment on hand. Here are a few key examples:
Gloves
First Aid Kit
Date Labels
Sani-buckets
Bar rags
Food grade cleaning supplies
Chemical Safety Data Sheets
9. Sinks
Most food establishments need at least 3 sinks. At your deli, you'll need compartment sinks, prep sinks, and handwashing sinks. Of course, each has its unique purpose.
Compartment sinks are for washing, rinsing, and sanitizing kitchen tools or service wear. Prep sinks are for, as you probably guessed, prepping food. That could be cutting vegetables or thawing meat. Finally, handwashing sinks are essential, as employees need designated areas to wash their hands. Each sink should be dedicated, making sure you meet food safety standards.
Restaurant point of sale systems (POS systems) provides a technological answer to the complexities that come with operating a deli or any restaurant business. POS systems provide a way to integrate inventory management, budgets, sales reports, and communication between the front-of-house and back-of-house operations. Most importantly, they help make customer service seamless, with sleek interfaces for placing and monitoring orders.
Restaurant POS Comparison Tool
A free, customizable Restaurant POS Comparison Tool to research and compare point of sale systems in one Excel spreadsheet or editable PDF.
Download
11. Kitchen Display System (KDS)
Kitchen display systems let your employees know what customers are ordering in real-time. Your KDS sends orders to the kitchen directly from the cashier. The best part is that KDS integrates into your deli's POS system, keeping everything in order so that you can maintain smooth and efficient service.
12. Service wear
Whether your deli is only grab-and-go or offers dine-in services, serving food requires glass wear, cutlery, and dishes. The goal is to find durable pieces that match the aesthetic of your deli without breaking your budget.
Display cases
Many delis use glass or other creative display cases to showcase bread, bagels, sweets, and more. Don't forget about drinks and prepared foods - these will need to be in an accessible refrigerated case.
Table service essentials
Customers need utensils, napkins or linens, and condiments for their meals. To buy the right service essentials, think about your desired customer experience and how utensils, plates, and other services wear will fit your vision.
Utensils
Single-use and permanent utensils are surprisingly expensive for delis. It's important to remember that plastic cutlery adds up and permanent utensils are prone to be lost (or accidentally trashed) by customers and employees. Think wisely about which kind of cutlery you will need.
Paper boats, plates, or clamshells
Necessary for grab-and-go or take-out services, single-use service wear is an expensive, but necessary cost of operating a deli. Think proactively about the types of service wear you need and what can fit in your budget. If you're debating eco-friendly take-out wear, consider your customers. They may leave a better review because your deli is thinking more about the Earth.
We hope that this essential deli equipment guide helps you achieve the deli of your dreams.
Related Deli Resources
Restaurant POS Comparison Tool
A free, customizable Restaurant POS Comparison Tool to research and compare point of sale systems in one Excel spreadsheet or editable PDF.
Download