DISCLAIMER: This content is provided for informational purposes only and is not intended as legal, accounting, tax, HR, or other professional advice. You are responsible for your own compliance with laws and regulations. You should contact your attorney or other relevant advisor for advice specific to your circumstances.
Delis are a classic piece of American food culture. In many cities, you can find one on every block. That must say something about delis, right? So, if you're looking to start a deli business of your own, there's no better time to start than now.
Whether starting a deli in your hometown or building a massive business with locations everywhere, your deli's success comes down to staying true to your vision and having a great concept or theme behind it.
Getting the creative juices flowing around your deli's identity can seem daunting. Don't worry - this list of inspirational restaurant ideas will help you create the deli of your dreams!
Restaurant Floor Plan Templates
Use these restaurant floor plan templates to get inspired as you map, or reimagine, the layout and space setup for your restaurant.
Download
Real-Life Inspiration for Deli Owners
Before you can open your doors, you need to nail down your overall deli concept. Ideas for your deli can be pulled from anywhere, although it certainly doesn't hurt to research real-life delis for inspiration.
Various things have inspired budding deli owners and other restaurateurs to start their businesses. Here are a few:
Creating opportunities for employment in their communities

Filling a hole in the local market or community

A deep love of food and beverage

Building a legacy for friends and family

Bringing a much-loved theme to life
Once you identify your deli theme, you can start to dig into the details. These details are what will inform your brand message - the words that express precisely what your deli is about and what it offers to guests.
15 Deli Ideas and Concepts
No matter what your niche is, the more unique and innovative your deli is, the better. These 15 one-of-a-kind deli ideas will inspire you to create a deli that has lines down the street.
Pick a niche theme
Be creative and innovative to set yourself apart from the competition. A place to take inspiration from is Good Eats With Laura in Costa Mesa. This deli names each sandwich on its menu after a song or musician.
Give back to the community
Making a daily contribution to an organization close to your community's heart is always a win-win. Patrons get a sandwich, you get a packed deli, and a local charity gets a hefty donation. Look for a local charity or organization that supports a cause that speaks to you, and see if they're interested in partnering with you to raise money.
Have grab and go options
One of the best parts of a deli is the reliable grab-and-go aspect. Joe's Deli in Buffalo, NY, has a stocked grab-and-go section, ready for guests to run in and quickly grab their favorite lunch items.
Invite furry friends
There are perks to being a pet-friendly deli, especially if your deli has a great outdoor space. This can be rare. But, if you have the luxury of an outdoor patio, it's a competitive edge for your deli. You can also have a pet-friendly menu too. No pet owner can resist that!
Start a loyalty club
A sandwich club is the perfect loyalty program for a deli business. You can just it up with all the perks - offer frequent patrons discounts or freebies, exclusive tastings, and birthday treats (plus other fun surprises throughout the year!)
Offer competitive wages
Paying your deli employees a competitive wage is a hiring selling point and shows guests that you pay your employees well. If your deli offers table service, like Second Ave Deli in New York City, you could consider switching to a gratuity-free payment model. Many delis and other food and beverage businesses are really thriving with a no-tip, profit-sharing model – learn more here.
Take advantage of your building's architecture
If you're lucky enough to run a deli business out of a unique or historic building, you can let the architecture do the talking. GERE-a-DELI is located in an old bank, complete with high ceilings and old-timey memorabilia and signs. The charm of these design elements only makes the deli experience even more special.
Create a special menu
Regularly adding new sandwiches and salads to your menu is a way to lure in new customers and keep regulars coming back again and again. Remember - even the coolest sandwiches won't be popular if no one knows about them! So, make sure to promote your updates on social media and through email to your loyal customers, keeping everyone updated.
Start a retail shop
If you have any specialty items, think about starting a retail line. You can sell in-store or through your website, offering prepared foods, sauces, or other items to an expanded customer base. This can also include fun merch that reflects your unique deli brand.
Embrace interior and exterior design features
Set your deli business apart by creating a visual experience. This goes for inside and outside your deli. Call Your Mother Deli has larger-than-life colorful murals covering their building, enticing customers to come in and try the food.
Partner with a local bakery
Though you specialize in meat and prepared foods, it can be fun to offer other options. Partnering with a local bakery is a great way to enhance your menu and support your community while you do it. Plus, this partnership comes with plenty of cross-promotional ideas, exposing your deli to brand new customers regularly.
Have a sandwich naming contest
Adding a new sandwich to your lineup? Before you launch, think about hosting a naming contest before release. This event can get the community excited about your deli. You can also offer a free lunch to the person who has the best sandwich name.
Start catering
Think about adding a catering menu to your lineup. These high-volume sales can add money to your bottom line and expand your customer base.
Streamline operations with technology
Technology makes the dining experience easier and more efficient for everyone. Consider adding handhelds, QR code ordering, or other convenient touchpoints into your deli business. It's the little things that will transform your customer experience!
Restaurant Opening Calculator
This calculator lays out some of the fundamental financial costs of opening a restaurant, so you can start planning and bring your dream restaurant to life.
Download
Feel Inspired?
People come up with business concepts every day. But, what matters most is how you bring them to life. Opening a deli requires hard work and, most importantly, following your dreams. Put those both together with this deli ideas guide alongside it, and you'll have an exciting and profitable deli in no time.
Related Deli Resources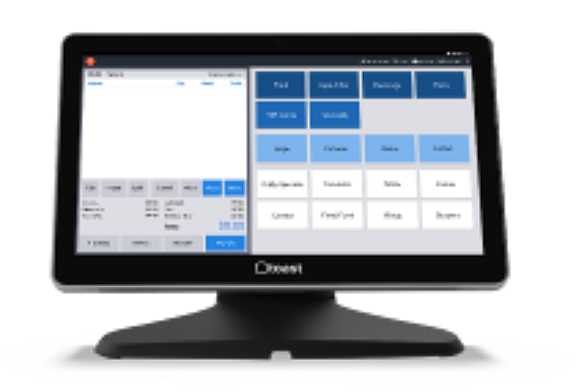 Learn how a better point of sale system can help you run your restaurant.
Read now