DISCLAIMER: This content is provided for informational purposes only and is not intended as legal, accounting, tax, HR, or other professional advice. You are responsible for your own compliance with laws and regulations. You should contact your attorney or other relevant advisor for advice specific to your circumstances.
Cost to Open a Deli
Delicatessens, or delis, are beloved staples known for their high-quality meats, cheeses, and prepared foods like sandwiches and soups. Many are even highly renowned restaurants in their own right. Zingerman's is a deli based in Ann Arbor, Michigan that's been in business since 1981. It's been recognized as one of the best delis in America by Food and Wine, and their chef, Alex Young, received a James Beard award for Best Chef in 2011.
The cost of opening a deli will differ based on a number of factors, such as the type of business you're looking to open. For instance, they can be counter service-only with customers flowing in and out—these kinds of delis are commonly found in Europe, and typically don't offer prepared foods. Delis can also include cafe sections with seating, which clearly requires extra space, equipment, and staff.
Let's take a look at what kind of deli startup costs you can expect.
Whether you're a foodie who's always dreamed of owning your own restaurant or an industry pro ready to take the leap with a new concept, Toast is here to help.
Average Restaurant Startup Costs
The median startup cost to open up a restaurant is around $375,000, based on responses from 350 restaurant owners. This number factors in costs per square foot, as well as pre-operating expenses, kitchen equipment, and construction costs. And keep in mind that some costs are recurring, such as rent, food and beverages, utilities, and marketing.
Use the Toast Restaurant Business Plan Template to start organizing your deli startup costs.
Restaurant Business Plan Template
No matter where you're at in your restaurant ownership journey, a business plan will be your north star. Organize your vision and ensure that nothing is overlooked with this free template.
Download
Average Startup Costs for Delis
The good news is that running a deli often costs much less than operating a traditional restaurant, even if you include a cafe section.
The average deli startup cost ranges from $10,000-$50,000. Depending on your location, you may be able to launch a moderately-sized deli for less than $50,000. For more upscale delis in larger cities, your price will start to rise.
To give yourself a baseline budget, you can use a custom restaurant opening calculator to determine your anticipated costs. Include specific details like your deli theme and concept, possible locations, and the amount of capital you have to fund the venture.
Restaurant Opening Cost by Square Foot
One of the largest costs you'll need to consider is the space itself.
If you buy the location you'll be operating in, you can expect to pay about $178 per square foot. But if you end up leasing, that price will drop to about $159 per square foot — varying quite a bit by location of course.
Restaurant rent on a monthly basis can range from as low as $3,000 to as high as $8,750, depending on square foot, size, and location.
Restaurant Opening Calculator
This calculator lays out some of the fundamental financial costs of opening a restaurant, so you can start planning and bring your dream restaurant to life.
Download
Deli Startup Costs To Expect
There are plenty of variables that come with opening a deli. But having a detailed understanding of the areas where you'll be spending your money can help provide clarity on expected costs.
1. Utilities
A restaurant that averages around 4,000-4,500 square feet can expect to pay an average utility cost of $1,000-$1,200 a month. So this will scale up or down, depending on your square footage.
2. Location
Choosing a restaurant location is going to be an important decision. It's worth allocating a decent amount of money to a location that has good foot traffic, so you can depend on a steady flow of people walking by.
Other choices that can tie into your final location include:
If you want to renovate an already existing building

Taking over an old commercial restaurant or deli space

Shooting for all new construction
Do the necessary research and enlist the help of a restaurant-oriented real estate professional if need be.
3. Deli Interior and Exterior Design
You'll need to ensure that both the inside and outside of your deli match your creative brand vision. Interior design will usually include lights, a phone system, signage, and decor that ties into your style, be it vintage (like a New York-style deli), modern, or hey, even tropical!
If you're able to make changes to the outside of the building as well, you can invest in landscaping, window decor, lighting, patio seating, and signage.
Price Range: $1,000 - $40,000
4. Deli Equipment
Kitchen equipment is a key component that includes preparation surfaces, commercial refrigerators, kitchen utensils, and meat, cheese, and bread slicers. You can choose to buy or lease the equipment, which will change the cost. But on average, you can expect to spend at least $25,000.
Consider buying pre-owned equipment or reaching out to local restaurants and businesses to see if you can lease from them to cut down on costs.
Price Range: $25,000 minimum with room to scale up or down
5. Restaurant Marketing and PR
Restaurant marketing and public relations (PR) can take form in a number of different ways. If you've opened a franchised location, you may have built-in marketing support from your parent company. For an independently-owned deli, you'll be on your own.
You can work with a PR agency to gain coverage, or take to social media to build up an online presence across several platforms.
Price Range: 3% - 6% of sales
Guide to Restaurant Social Media Marketing
Learn how to optimize your social media presence to showcase your brand, tell your story, attract new customers, and engage with your audience.
Download
6. Pre-Operating Expenses
You'll need to have everything ready to go for the actual opening day of your deli. This includes a properly trained staff and a stocked inventory of food, drinks, plates, cups, and more. Expect to pay out a minimum of $20,000.
Price Range: $20,000 - $120,000
7. Deli Capital and Contingency
Deli sales in the first half of 2021 hit close to $20 billion. But you'll need to plan for gradual sales growth as you build your customer base. Be sure to set aside restaurant capital and contingency funding. This should be enough to see you through at least six months of unpredictable sales.
Price Range: $20,000-$250,000
---
Read this next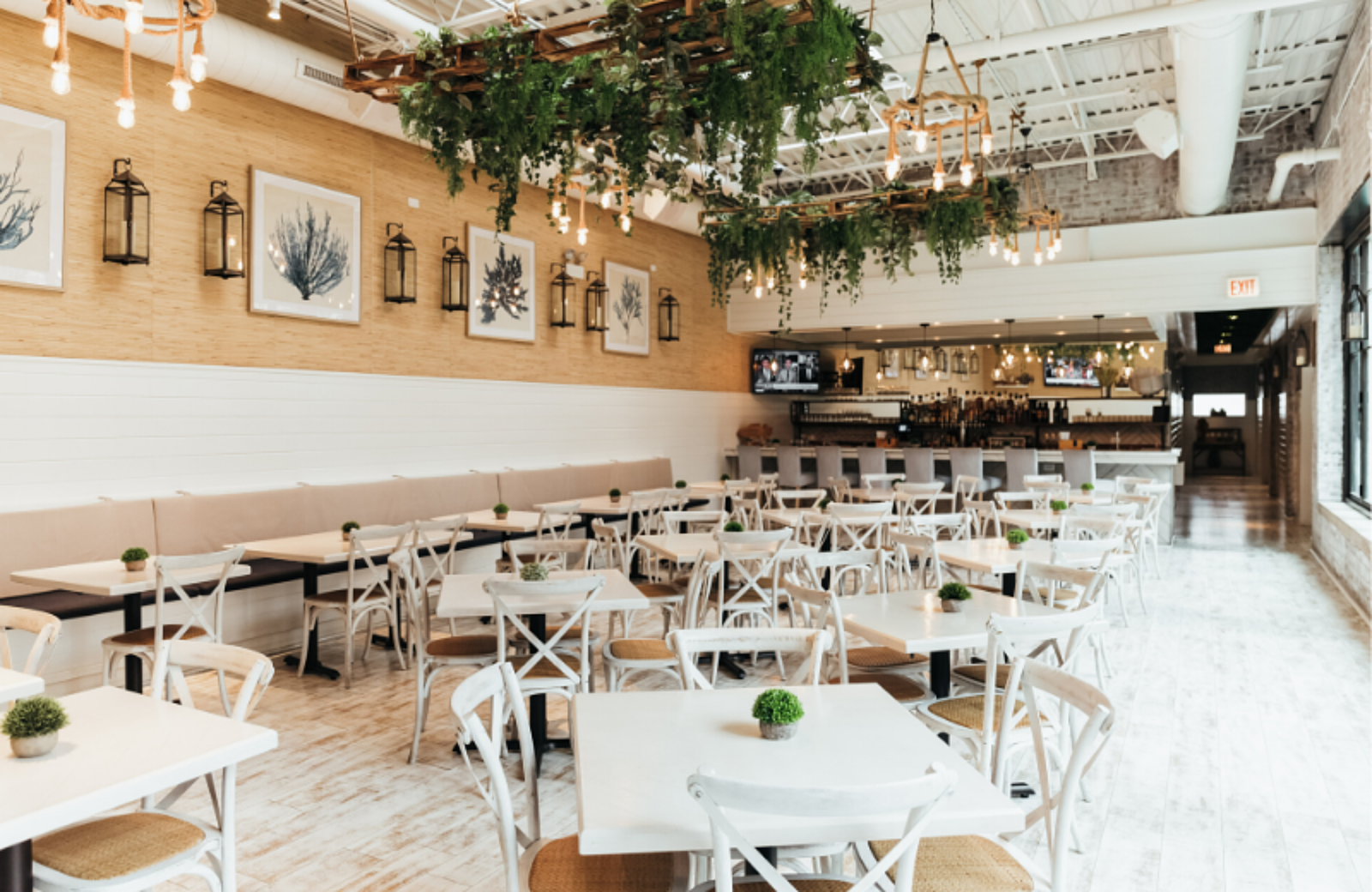 The Complete Guide to Restaurant Financing and Loans
Whether you're opening a new restaurant, expanding your concept, or renovating within your existing four-walls, you're going to need capital to make it all happen.
8. Food Costs
One of the biggest recurring expenses is food costs. And you don't want to unexpectedly run out of anything — especially right at the start. Being well-stocked will help build a reliable relationship with your customers. Like with all costs, food expenses will vary based on what you offer. Take a look at competitors' menus to identify holes in the local market.
Price Range: 28-32% of overall sales
9. Restaurant Technology + POS
Technology such as a user-friendly POS system can make the sales process seamless. Connecting the cashier to the kitchen will help keep wait times low. There are also a number of other features and technologies — such as Order & Pay at the Table — that you can incorporate if you have a cafe option.
You might want to offer your customers a loyalty program, to encourage them to keep coming back. This can easily be incorporated into your POS system.
Price Range: Receive a Quote
Restaurant POS Comparison Tool
A free, customizable Restaurant POS Comparison Tool to research and compare point of sale systems in one Excel spreadsheet or editable PDF.
Download
To make sure you have all the bases covered for your deli opening, check out our complete How To Open A Deli guide.
Open a Deli and Bring Your Delicious Business to Life
Take the time to calculate what your realistic budget is going to be. This will include figuring out how much capital you have and how much you're comfortable putting into each area of your business —- like location, interior and exterior design, and marketing.
You may wind up spending more or less than you initially budget for — but having a well-thought out budget will give you a strong foundation to build from.
Use our custom restaurant calculator to determine your deli startup costs.
Related Deli Resources
Restaurant Opening Calculator
This calculator lays out some of the fundamental financial costs of opening a restaurant, so you can start planning and bring your dream restaurant to life.
Download