DISCLAIMER: This content is provided for informational purposes only and is not intended as legal, accounting, tax, HR, or other professional advice. You are responsible for your own compliance with laws and regulations. You should contact your attorney or other relevant advisor for advice specific to your circumstances.
The food truck market is fast-paced and flexible.
Food truck owners are masters of innovation, often driven by the unique constraints of an on-the-road lifestyle.
This article guides you through different kinds of food trucks, and considers the demands and logistical hurdles of each business model. We're also sharing advice about how to list your truck in ads and online.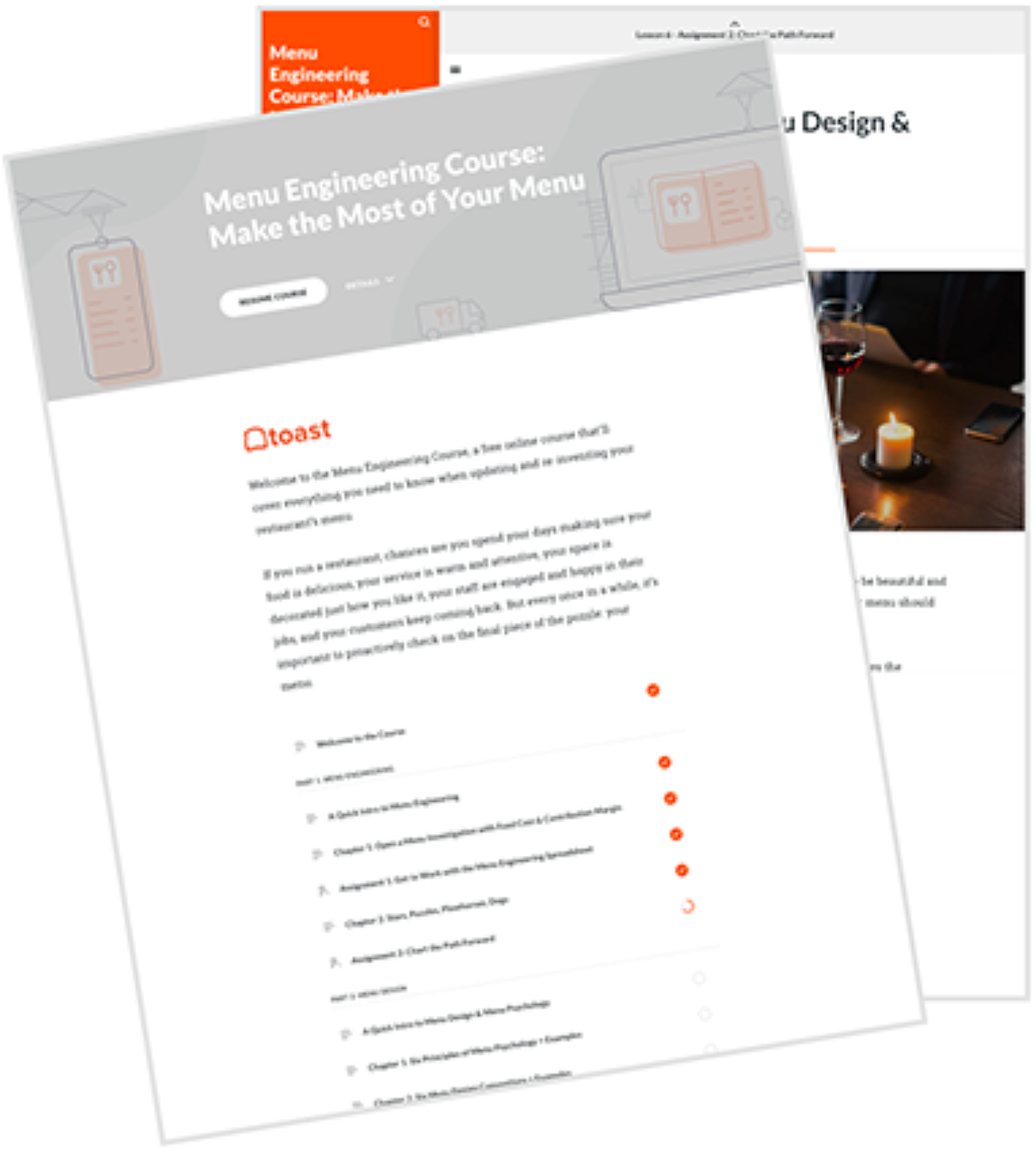 Menu Engineering Course
Take this course to make the most of your menu. Learn about menu psychology and design, managing your menu online, and adapting your menu to increase sales.
Download
Food truck models
Traditional food truck
Food trucks are integral to the history of American street food. When you think of food trucks, you probably picture a step van outfitted with a service window and wrapped with bright vinyl. But box trucks and cargo vans are converted into food trucks almost as often.
Food trucks offer restaurateurs and chefs an alternative to brick-and-mortar restaurants. They're fully mobile, which gives restaurant owners the freedom to follow their fans or find more inviting locations.
The same features that make food trucks great can also impose limitations. Less space for prep and cooking and being vulnerable to weather are just two of the challenges of owning a food truck.
Food cart
Food carts are fundamental to urban street food culture, providing fast and simple eats to busy people.
Big cities, county fairs, and amusement parks are some of the most likely places to find food carts – anywhere that there's consistent pedestrian traffic. New York City has hot dog, donut, or halal carts on every corner, serving the city's 18 million+ residents around the clock.
Food trailer
Another type of restaurant-on-wheels, food trailers can be outfitted with lots of unique equipment that wouldn't work in an enclosed space.
For instance, many chefs find success operating BBQ joints from a trailer. They may be less mobile and often offer less space than food trucks, but it's one of the only ways to put a 25 ft. smoker on wheels!
What are the different types of food trucks?
When it comes to food trucks, finding a niche can have certain advantages, especially as far as digital marketing is concerned. These are some of the most common "tags" that'll help the right customers find your business.
Street food truck
At the core of the food truck movement is a love of street food – tacos, kebabs, and sandwiches are some of the most common food truck fare. Street food trucks stick to classic dishes that can be prepped and assembled quickly. That way, they can serve quality food to on-the-go eaters.
Gourmet food truck
While still offering focused menus, gourmet food trucks work with elevated ingredients and push the boundaries of traditional street food. Everything from lobster rolls to fresh pasta can be found on a gourmet food truck.
Fast food truck
Burgers, fries, and fried chicken are all prime food truck fare. Enjoying all-American fast food at a food truck also seems like a little more of a party than visiting a commercial franchise!
Dessert food truck
Many savory-leaning trucks don't offer a sweet item to round out their menus, so a dedicated dessert truck may be able to occupy a niche.
Vegan food truck
As more eaters embrace the sustainability of the vegan lifestyle, plant-based menus present an appealing alternative. Especially near campuses and in busy urban centers, there will doubtless be a customer base for convenient vegan eats.
BBQ food truck
Grilling and smoking on the road can present a challenge, but BBQ trucks are unfailingly popular. In fact, some of the most popular food trucks in Austin, Texas sling brisket and Korean bulgogi tacos.
How to categorize a food truck
Where your food truck fits into the market will go a long way in determining who seeks it out. And how you talk about your food truck is important – whether through word-of-mouth or marketing channels.
Price point
Prices indicate the quality of ingredients and the time and care that you and your staff put into your products. The price you set will determine if your food truck is treated as an occasional treat or a source of everyday eats.
Atmosphere
When you're branding your food truck, crafting the menu and writing about it online, think about the dining experience that you want to create. Is it pared down and chic or wild and bold? Does it embrace the history of your local area and its culinary traditions?
Service and presentation
Food trucks have no choice but to lay it all on the line. In many cases, customers get a view of how your food truck works before they decide to place an order. Service that's inviting and accessible is likely to attract more attention. Food presentation is crucial for food trucks — think through how your customer will actively enjoy your menu items when deciding on paper and plastic supplies.
Related Food Truck Resources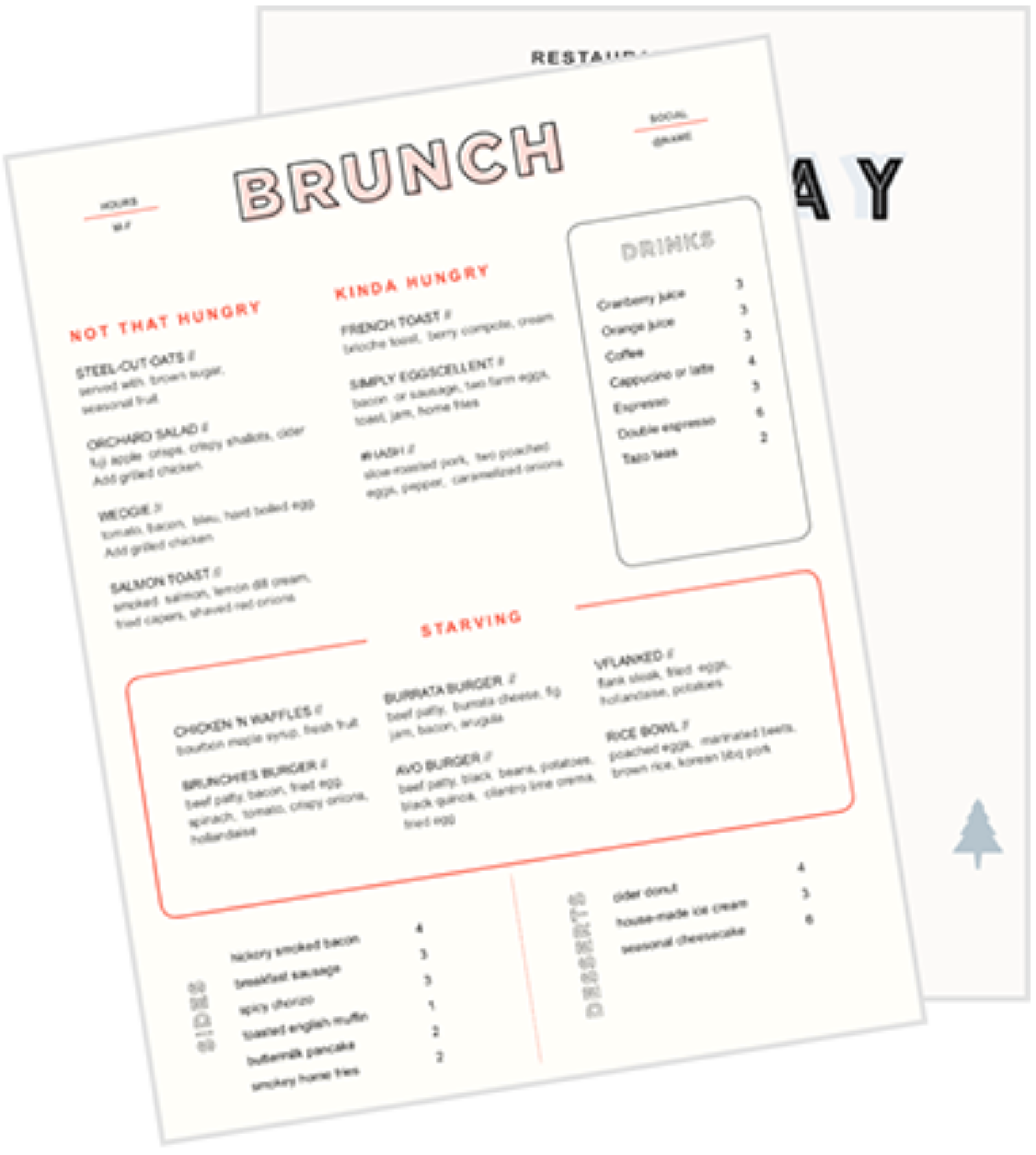 Restaurant Menu Templates
Use these menu templates as a starting point for your menu design or to give your menus a refresh.
Download