DISCLAIMER: This content is provided for informational purposes only and is not intended as legal, accounting, tax, HR, or other professional advice. You are responsible for your own compliance with laws and regulations. You should contact your attorney or other relevant advisor for advice specific to your circumstances.
Sports bars are the go-to places for catching the latest game, with delicious food and your favorite drinks. In many cities, you can find several successful sports bars in every neighborhood. Sounds like opening up a new sports bar isn't a bad idea, right?
Nope, not at all. Sports bars are a core part of American culture. These bars date all the way back to St. Louis in the early 1930s. America's first 'original' sports bar, Field of Dreams opened up as a popular spot for baseball fans next to Sportsman Park. It stayed in business for 34 years.
Today, sports bars have only grown in popularity, and there's no shortage of space for unique sports bar ideas to take hold. Whether you're opening up next to a massive stadium or in a small town, your sports bar's success comes down to staying true to your vision and having an awesome sports bar concept or theme. This will allow you to create a bar that attracts more new and loyal customers
Here's a list of unique restaurant ideas to get your head in the game to create the sports bar of your dreams!
Restaurant Floor Plan Templates
Use these restaurant floor plan templates to get inspired as you map, or reimagine, the layout and space setup for your restaurant.
Download
Real Inspiration for Sports Bar Owners
Before you can open your sports bar, it's important to nail down the overall sports bar concept you have in mind. Ideas for your bar can be pulled from anywhere, although it certainly doesn't hurt to research real-life sports bars.
There are a variety of common notions that have inspired budding sports bar owners and other restaurateurs to start their businesses. Here are a few:
Creating opportunities for employment in the community

Filling a hole in the market or community

A deep love of food and beverage

Building a legacy for friends and family

Bringing a much-loved theme to life

Identifying a really great food pun that deserves to shine

Creating a partnership between food identities or cultures
Once you've identified what the theme of your sports bar is, you can start to dig into the details. These details will form your brand message, the words that express just what your sports bar is about and what it offers to guests.
Here are two excellent examples of brand messages that tell us exactly what each sports bar is all about.
"We pride ourselves on our great food, spirits, and sports. Combining 16 locally brewed craft beers on tap with 15 big screen televisions, we provide the perfect environment to catch a game or to catch up with friends! Our goal is to make Avenue A the perfect place for you, your friends, and your family to hang out." - Speakeasy Tavern
"Born out of our love of fine mixology, great food, good music, and amazing people, Big Dawgs Sports Cafe has become the "Cheers" of Pembroke Pines. Come and relax. Listen to great music, enjoy a couple of drinks with your friends or colleagues. and experience the love of good company and fun for yourself." - Big Dawg Sports Cafe
20 Sports Bar Ideas and Concepts
No matter what your niche is, the more unique and innovative your sports bar, the better. These 20 one-of-a-kind bar ideas are guaranteed to inspire you and fill your future barstools.
Offer a unique view
Bleacher Bar in Boston, MA is situated underneath the bleachers of Fenway Park, with a direct view of centerfield. This is a great way to have a perfect view of the game, without having to buy tickets or pay a cover charge.
Load up on games
Cheeky Monkey, also in Boston, MA, has an extensive game room with pool tables, shuffleboard, ping pong, and more. Plus, they brew their own beers - meaning they have brews you can't find in every bar in the city.
P.S. We highly recommend trying their wild blueberry fruit beer!
Create a unique menu
Although burgers and wings are sports bar staples, there are no rules when it comes to building your menu. Bludso's Bar and Que serves traditional Texas BBQ - with showstopping ribs and brisket - that makes the perfect game day food.
Incorporate different cultures
Sports bars can serve more than just wings and fries. Pub Royale in Chicago attracts all sorts of customers with a delicious Indian-inspired menu. Plus, their unique menu includes something to complement their impressive (and extensive!) drink list.
Go beyond the typical sports
Who said a sports bar only plays football and baseball? Chatham Tap in Indianapolis is a British-style pub where soccer fans can go and watch their favorite teams play from all around the world.
Support the pups
Your sports bar can easily be modeled after a good cause. Say hello to Sidelines Sports Bar in Salem, MA. This sports bar hosts the Sidelines Sports Bar Adoption Event, bringing both beer and pups to one location for a heart-warming adoption day.
Extend your beer list
33 Taps in Los Angeles has, you guessed it, 33 beers on tap every day. Customers can never get bored. They're constantly rotating beers - meaning there is always something new to try!
Add an immersive experience
Why just watch the game, when you can play yourself? Sluggers World Class Sports Bar & Grill has batting cages and other games, letting you brush up on your skills while watching your favorite team play.
Strategically pick a location
The Harp in Boston, MA has great drinks and huge flatscreens – but the location is what steals the show. The bar is located across the street from TD Garden, attracting all the fans leaving Bruins or Celtics games.
Load up on TVs
At Frankie's Downtown in Dallas, no bar guest can get stuck with a bad seat. This bar has a whopping 44 HD TVs. You'll almost feel like you're in the stadium with this front-row view.
Offer an ocean view
Some bars, like O'Maddy's and Clevelander, are fortunate enough to have the real estate that puts their bar directly on the beach (or close enough to enjoy the view). It doesn't get better than the gentle ocean breeze, live music, and lively sports fan atmosphere.
Give back to the community of
Some sports bars have found innovative ways to give back to their community. Oregon Public House in Portland maintains relationships with a number of non-profit organizations, donating their proceeds to them on a regular basis.
Get rid of tipping
Consider switching to a gratuity-free employment model. Paying employees a higher hourly wage is not only incentivizing for your staff but can also appeal to guests as well. Many restaurants are really thriving with a no-tip, profit-sharing model – learn more here.
Incorporate the stock market
The Drink Exchange in Portland, ME takes a unique approach when it comes to their drink prices - they model it after the stock market. Each drink starts at the base retail price, and then rises and falls based on demand.
Add karaoke
Karaoke and bars go hand in hand. Karaoke nights are a fantastic way to get the crowd involved, belting out the classics like "Ice Ice Baby" and "I Want It That Way." You can host your own karaoke nights or partner with a popular local DJ to guarantee a large turnout.
Host a trivia night
An easy way to please the crowd is to host a weekly trivia night hosted by a third-party company like Trivia Mafia and Pub Trivia. Trivia nights are a great way to bring in regulars while offering a fun and friendly competition for patrons to join.
Allow furry friends
There are definitely perks to having a pet-friendly restaurant, especially if you have a great outdoor space. If you're willing to go the whole 9 yards, you can have a pet-friendly menu. No pet owner can resist that!
Partner with a local brewery
If your craft beer sales are through the roof, consider partnering with local breweries to create a proprietary beer for your sports bar. For example, Oath Craft Pizza partnered with Night Shift Brewing in Everett, Massachusetts, and Journeyman partnered with Aeronaut Brewing Co. in Somerville, Massachusetts to create beverage pairings for their tasting menus.
Host events
On big game nights, don't be shy to host exclusive events for superfans. You can create a special menu for the night or have a signature cocktail menu – either way, you're guaranteed to gather a crowd.
Streamline operations with technology
Technology makes the dining experience easier and more efficient for everyone. Consider adding handhelds, QR code ordering, or other convenient touchpoints to your bar. It's the little things that totally transform your customer's experience!
Learn more here about how technology can benefit your restaurant.
Restaurant Opening Calculator
This calculator lays out some of the fundamental financial costs of opening a restaurant, so you can start planning and bring your dream restaurant to life.
Download
What inspires you?
People come up with unique bar or restaurant concepts every day. But, what matters most is how you bring them to life. Opening the sports bar of your dreams requires hard work and, most importantly, following your inspiration. With these two things in your belt, just watch how your sports bar ideas can turn into a successful reality!
Related Bar Business Resources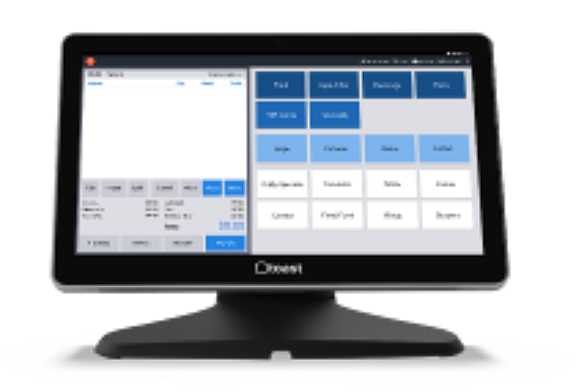 Learn how a better point of sale system can help you run your restaurant.
Read now