DISCLAIMER: This content is provided for informational purposes only and is not intended as legal, accounting, tax, HR, or other professional advice. You are responsible for your own compliance with laws and regulations. You should contact your attorney or other relevant advisor for advice specific to your circumstances.
How Much Does it Cost to Open a Sports Bar?
Sports bars bring communities together. They serve as a meeting place for friends (and rivals!) to catch a game or two throughout the week, and serve up top-notch casual menu items and a wide selection of brews. Who doesn't want to kick back and relax with a burger in one hand and a beer in another, and be transported right into the home section of a favorite team's stadium?
One of Chicago's most popular sports bars is Murphy's Bleachers. They originated as a hot dog stand in the '30s, and now attract Cubs fans before games, during games, after games, and even over the off-season!
If you've begun drafting plans to open a sports bar of your own, the next step is figuring out how much startup funding you'll need.
Read on for an overview of sports bar startup costs and all of the pre-opening expenses you'll encounter on your journey to opening day.
Average Restaurant Startup Costs
Restaurant startup costs vary depending on a variety of factors like location, size, and necessary renovations. On average, the cost to open a restaurant is $275,000 for rented property and up to $425,000 to own the space.
Average Cost of Opening a Sports Bar
Sports bars often incur additional costs to correspond with a larger and entertainment-focused space, including more alcohol and various electronics.
The average cost of opening a sports bar is $400,000 when the property is being rented, and can range anywhere from $100,000 to $1,000,000 depending on the exact scale and scope of the establishment.
Sports Bar Opening Cost by Square Foot
The average cost of opening a bar is $124 per square foot, or $2,710 per seat.
The exact cost of opening will depend largely on the location of your bar, down to the city and even the street it's located on. Use our restaurant opening calculator to estimate the total cost of opening your sports bar.
Then, use those startup cost estimates when creating your bar business plan. Having a business plan is necessary for franchise applications or restaurant capital loans, and it's best practice to have one even if you're funding the operation yourself.
To get a clearer idea of how all your local costs will add up, use the Restaurant Opening Calculator to estimate what it could cost you to open a sports bar.
Restaurant Opening Calculator
This calculator lays out some of the fundamental financial costs of opening a restaurant, so you can start planning and bring your dream restaurant to life.
Download
Sports Bar Startup Costs to Expect
With over 1,218 sports bars open in the country — nearly 200 of which generate annual revenues between $500,000 and $1,000,000 — it's clear that they'll continue to be a mainstay for years to come.
Here are some specific costs to prepare for, including operational and pre-opening expenses.
Sports Bar Startup Expense Checklist
Use this restaurant startup cost checklist to help you plan your sports bar budget.
1. Utilities
Your exact sports bar utility costs will depend on how many flat screens you put up over the bar. Tony C's, a Massachusetts-based sports bar chain, has 76 jumbo screens at their Peabody location, including outdoor TVs on the patio.

Expect to pay at least $2,500 per month on electric, water, and gas bills during the pre-opening stage of your bar. Since restaurants typically have high energy bills, taking small measures to conserve electricity and reduce energy use by 20% — actions like keeping up with equipment maintenance and turning appliances off when they aren't in use — can contribute to a 1% increase in profits.
2. Location
Rent for your bar will reflect the location of your establishment. For example, opening a sports bar on a bustling foot traffic-heavy street in New York City can cost millions more than opening a neighborhood sports bar in a suburb.
Rent or leasing costs for a prime location can range from $110,000 to $550,000. Whereas a sports bar owner who purchases their property and pays a monthly mortgage can expect to pay between $175,000 and $850,000 in upfront costs.
To get your real estate search started, here's How to Find a Site for Your Restaurant.
3. Interior Design
Before you begin designing your sports bar, you need to create your brand. What's the unique appeal of your bar? What sets your place apart from the bar down the street? Which teams or sports will you cater to?
By answering questions like these, you'll be able to design a space that reflects who you are as a bar owner. Depending on the extent of your interior redesign, you can expect to pay up to $65,000 in bar renovations.
When budgeting for your interior design needs, factor in costs for:
Seating and furniture

Television and sound systems

Mounting electronics

Signage and decor

Games like digital tabletop games, arcade games, pool tables, shuffleboard, or darts
To save costs and add personalized flair to your bar, use your own sports memorabilia or vintage items.
4. Sports Bar Equipment
Purchasing equipment is an investment. And if you make smart decisions, certain pieces of equipment can easily last for a decade or two.
Key sports bar equipment includes:
Coolers, refrigerators, and walk-in freezers

Draft beer dispensers

Underbar sinks

Ice machines

Dishwashers

TVs, monitors, and projectors
A jukebox (a digital jukebox like TouchTunes is around $4,000, and a classic jukebox can be closer to $10,000)
---
Read this next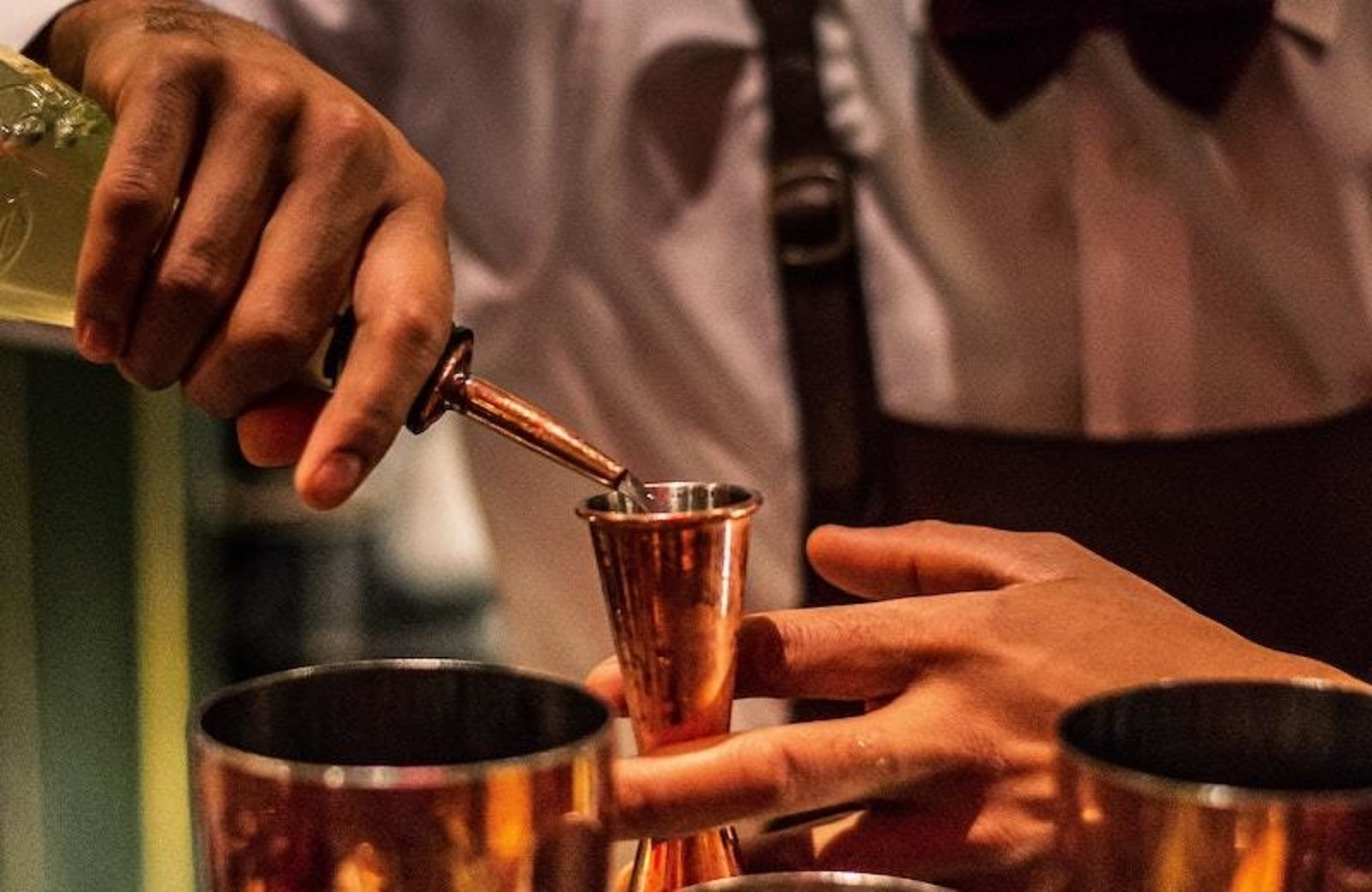 Essential Bar Equipment List
Get your bar and bar kitchen started in style with this ultimate equipment guide.
5. Pre-Opening Expenses
These include everything from training staff members to completing renovations. You'll need to stock up on inventory for opening day such as food and alcohol, dining supplies, staff uniforms, and branded items.
Food and alcohol inventory will range from $6,000 to $13,000. For bars, a typical starting inventory breakdown is 45% beer, 40% liquor, 5% wine, and 10% mixers, but sports bars tend to favor a beer-heavy menu.
6. Marketing, Branding and PR
You'll need to attract an initial customer base. To do so, craft a marketing and branding strategy.
When allocating your bar's marketing budget, include:
Digital advertising

Creating a website

Email marketing

Social media marketing

PR services

Merchandise (swag like koozies, bar towels, t-shirts, and hats)
Marketing costs can range from virtually nothing (if you're tech savvy or have a friend who is) to hundreds of thousands of dollars a year if you invest in a top of the line advertising campaign.
Guide to Restaurant Social Media Marketing
Learn how to optimize your social media presence to showcase your brand, tell your story, attract new customers, and engage with your audience.
Download
Bar Business Plan Template
Use this free bar business plan template to easily create a great business plan that organizes your vision and helps you start, grow, or raise funding for your bar.
Download
7. Restaurant Startup Capital and Emergency Funds
The ideal bar emergency fund is $50,000 in case of potential disasters before and after opening day.
To cover such steep costs, many bar owners choose to either obtain asset-based loans or open business lines of credit. For more information on the financing options available to sports bar owners, read The Complete Guide to Restaurant Financing and Loans.
---
Read this next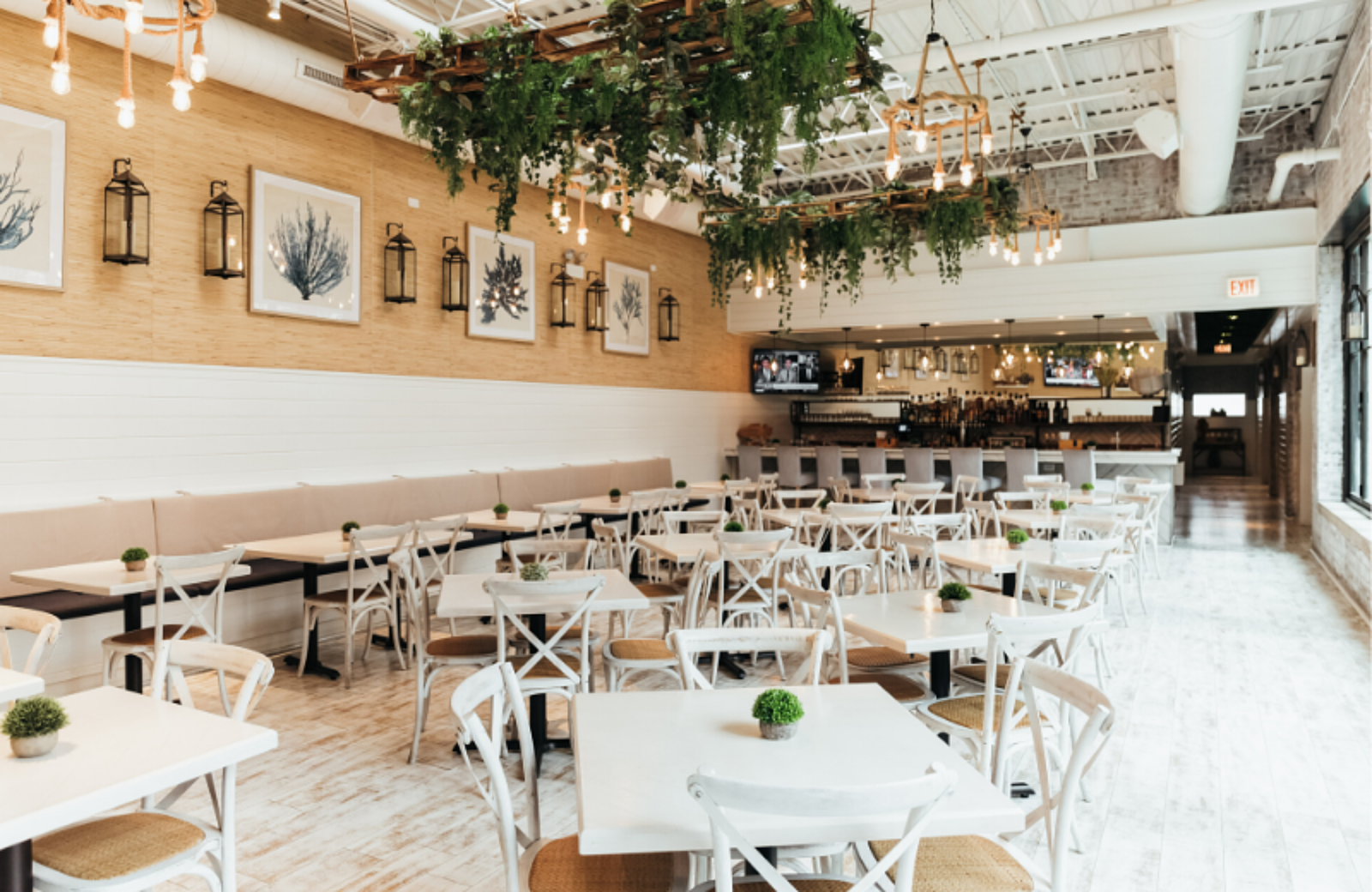 The Complete Guide to Restaurant Financing and Loans
Whether you're opening a new restaurant, expanding your concept, or renovating within your existing four-walls, you're going to need capital to make it all happen.
8. Exterior Design
Your marketing and branding campaigns will attract customers from far and wide, but how can you pull in all of those potential customers walking by on the street?
Use your exterior design to inform passersby about the teams you root for or the theme of your bar. Are you opening a Yankees bar in a midwestern city? Or is your establishment an original stadium-side haunt that hasn't changed since it opened in 1945? Embrace the local community and use sports-related signage to show tourists or new customers exactly what they can expect inside. On average, bar signage costs about $1,000.
9. Organizational and Development Costs
Opening your sports bar will require you to pay for restaurant licenses and permits before opening day, including:
State and local business licenses

Music license

Food license

Liquor license

Certificate of Occupancy
While all permit costs will vary depending on state and local regulations, you can expect to pay between $15,000 and $400,000 on your sports bar liquor license.
10. Professional Services
It'll take a team of professionals to ensure you have a smooth ride to opening day and beyond.
Professional services you can outsource include:
Architects and creatives

A builder or contractor

Lawyers

Accountants and bookkeepers

Marketing agencies and PR firms
The average restaurant pays up to $50,000 in professional service fees during the process of opening a new establishment.
11. Technology and Point of Sale
By investing in up-to-date tech and a comprehensive POS system, you'll be able to provide your customers with the quick and easy service they deserve.
The Toast bar POS system allows sports bar staff to split checks, preauthorize credit cards, and track bar inventory, all from the palms of their hands.
Bar and Lounge POS Comparison Tool
A free, customizable Bar and Lounge POS Comparison Tool to research and compare point of sale systems in one Excel spreadsheet or editable PDF.
Download
12. Food and Alcohol Cost
You'll want to maintain a fully stocked bar at all times. When it comes to alcohol, sports bar owners can expect to pay an average of $6,000 a month on booze alone. Depending on the specifics of your menu—whether you have full sit-down dinner offerings or just wings and/or bar bites, your food costs will fluctuate greatly.
13. Staffing and Management
One of the final steps before opening your sports bar is hiring the dream team that'll keep it running. Staff members such as bartenders, waiters, and kitchen staff will be included in those aforementioned pre-opening expenses. Additionally, monthly sports bar labor costs are $13,000 a month on average, depending on the exact size of your operation.
Here's how to calculate your bar's labor cost percentage as it relates to your overall operating budget.
Is your sports bar ready for tip off?
Opening a sports bar means crafting a winning business plan and having a genuine passion for bar ownership. After that, all that's left to do is turn on your flat screens and flip on the big game!
Related Bar Business Resources
Bar Business Plan Template
Use this free bar business plan template to easily create a great business plan that organizes your vision and helps you start, grow, or raise funding for your bar.
Download