DISCLAIMER: This content is provided for informational purposes only and is not intended as legal, accounting, tax, HR, or other professional advice. You are responsible for your own compliance with laws and regulations. You should contact your attorney or other relevant advisor for advice specific to your circumstances.
Over the past 5 years, the juice bar industry has grown steadily, with over 5,000 active juice bars open in the United States as of 2021. And, it makes sense as to why: juicing at home is difficult and time-consuming while store-bought juices often come with added sugar and preservatives. This makes a juice bar the perfect place for health-conscious consumers. It's a convenient way for them to have their favorite juices fast and freshly pressed.
As juice bars grow in popularity, there's no shortage of space for unique juice bar ideas to take hold. At the end of the day, your juice bar's success comes down to staying true to your vision and having an attractive concept or theme. This will allow you to create a place that draws in more new and loyal customers
Here's a list of unique restaurant ideas to get the creative juices (see what we did there?) flowing!
Restaurant Floor Plan Templates
Use these restaurant floor plan templates to get inspired as you map, or reimagine, the layout and space setup for your restaurant.
Download
Real Inspiration for Juice Bar Owners
Before you can open your juice bar, it's important to nail down the overall juice bar concept you have in mind. Ideas for your concept can be pulled from all kinds of sources, although it doesn't hurt to explore real-life juice bars for inspiration.
Various notions motivated budding juice bar owners and other restaurateurs to start their businesses. Here are a few:
Creating opportunities for employment in the community

Filling a hole in the market or community

A deep love of food and beverage

Building a legacy for friends and family

Bringing a much-loved theme to life

Identifying a great food pun that deserves to shine

Creating a partnership between food identities or cultures
Once you know the theme of your juice bar, you begin defining the details. These details will form your restaurant branding, the messaging, a sentence or two that will explain what your juice bar is and what it offers to guests.
Here are two excellent examples of brand messages that tell us exactly what each juice bar is all about.
"We're just a couple of Boston-born women with a shared love for green juice (and red wine, lol). Back then, there were no cold-pressed juice bars in Boston and we knew we needed to change that. With a couple of our favorite recipes in hand, we invested in a high-end cold pressed machine and sold our first juice at a farmers' market in 2012.
That first sale set us on a journey to spread love through healthy food and it soon became clear that what started as a side hustle would quickly become our life's work." – Laura Baldini & Ellen Fitzgerald, Mother Juice
"Ever since I could remember I fantasized with the beach and the sand between my toes. All I wanted to do was to be surrounded by down to earth, happy & positive people. People who realize that it is the little things that truly matter.
Sharing a tea with a friend, or a healthy smoothie after a hot sunny day at the beach is what I enjoy. After years of living in the heart of South Beach, I decided to take a risk and opened up what I believed in. I believe that this little shop is packed with love and shares the happiness through every product offered." – Patricia Olsen, Under the Mango Tree
20 Juice Bar Ideas and Concepts
No matter what your niche is, the more creative your juice bar, the better! Get inspired with these 20 one-of-a-kind juice bar ideas that will help you generate a line of juice-lovers outside your door.
Have a spectacular view
Who said only restaurants and bars could have rooftop views? Revolucion Coffee + Juice recently opened its 3rd location in San Antonio, TX with 360 views of the city skyline – a lovely way to enhance the refreshing juice experience.
Load up on games
Cafe Landwer in Boston, MA knows how to keep juice lovers around. This cafe not only offers great food, coffee, smoothies, and juices but also has a collection of board games for customers to play while enjoying their beverages.
Create a unique menu
Don't be afraid to expand your menu beyond juices and smoothies. Many juice bars have found success with other types of items. Think drinks, bowls, sandwiches, or even salads. Just be sure to get creative with your offerings!
Incorporate different cultures
Rossa Negra in Niantic, CT combines international fusion cuisine with a juice bar. Founders Jana and Jonny are originally from Ecuador, and channel their love for their culture into their business. At Rossa Negra, you'll find fine dining, prepared food, and fresh juices all at one location.
Support the animals
Aguacate Juice Bar in Miami doesn't just make juice. It also runs the Aguacate Sanctuary of Love, an animal sanctuary that houses goats, pigs, roosters, hens, rabbits, and geese. Of course, your juice bar doesn't have to have its sanctuary. You can simply donate sales to a local animal shelter regularly.
Team up with local farms
Fruits and vegetables are your main ingredients – so why not team up with local farmers to source your produce? Thrive Juice Bar in East Hampstead, NH uses only fruits and vegetables sourced locally. This shows their commitment to top-quality ingredients and the environment, as sourcing from local farmers reduces your carbon footprint.
Add an immersive experience
Juice bars can be a place for more than just juice. Along with the juice bar and animal sanctuary, Aguacate hosts $10 yoga classes every day of the week, such as their full moon and new moon ceremonies. "It's a great place to bring the family. It's a great place to come alone and just be part of nature, and a great gem in Miami and helping to do good things for animals," said one guest.
Strategically pick a location
Think about your target audience, and where they might be. For example, if you are opening a juice bar tailored to active college students, then the closer you set up shop to a bustling campus — or even better, in the building next to the campus gym — the better your chances are of attracting your ideal crowd.
Offer an ocean view
Athens Juice Bar is located right on the shores of North Beach in Miami, offering fresh smoothies and juices with a direct view of the ocean. This location attracts thirsty beachgoers, who can get their juice fix without traveling far from their beach chair.
Try a pop-up juice bar
Not ready to invest in a brick-and-mortar location just yet, but want to test your menu on a new audience? Try opening a pop-up juice bar with a few menu items. You can do this at festivals, farmers' markets, or other gathering spots in your community.
Give back to the community
Giving back to the community is at the core part of Nekter Juice Bar's business model. The business consistently hosts fundraisers for local groups. With each fundraiser they run, they give 20% of all proceeds to an impactful local organization.
Open multiple concepts in one location
People love options. If you have a lot of space to work with, consider adding multiple concepts to one location. For example, South Block, a D.C.-based juice bar, is located in Grace Street Market alongside Grace Street Coffee and SUNdeVICH – a great way to have different menus all in one spot.
Get rid of tipping
Consider switching to a gratuity-free employment model. Paying your juice bar employees a higher hourly wage will incentivize more job applicants and can increase staff productivity. Many food businesses are thriving with a no-tip, profit-sharing model – learn more here.
Consider catering
Though maybe untraditional, adding a catering menu to your juice bar can be massively successful. Juiceade in New York caters to all kinds of events, from birthday parties to office gatherings and weddings. They provide cold-pressed juices, smoothies, and vegan treats for all to enjoy.
Allow furry friends
There are perks to having a pet-friendly juice bar, especially if you have a great outdoor space. If you're willing to go the whole 9 yards, you can have a pet-friendly "juice" menu too. No pet owner can resist that!
Take your juice bar on the road
Food trucks have become so popular over the past few years. This shouldn't make you hesitate to create your own - food trucks can still be a great way to test out your juice bar concept. Here are 3 popular juice bar trucks across the U.S. to take inspiration from:
Host events
For Be Well Juice Bar, hosting community events is an important part of its mission. On their website, it says proudly "Here at Be Well, we understand that without the amazing people around us, there is no juice bar." To showcase their community-minded business, Be Well keeps a running list of local events on their website as well!
Streamline operations with technology
Technology makes the customer experience easier and more efficient. Consider adding handhelds, QR code ordering, or other convenient touchpoints to your juice spot. These little things will make both your staff and your customers' lives much easier.
Learn more here about how technology can benefit your food business!
Restaurant Opening Calculator
This calculator lays out some of the fundamental financial costs of opening a restaurant, so you can start planning and bring your dream restaurant to life.
Download
So, What's Your Inspiration?
People come up with unique food business concepts every day. But, what matters most is how you bring them to life. Opening a juice bar demands hard work and, most importantly, following your dreams. With these two things in your belt, just watch how your juice bar ideas turn into a successful reality!
Related Juice Bar Resources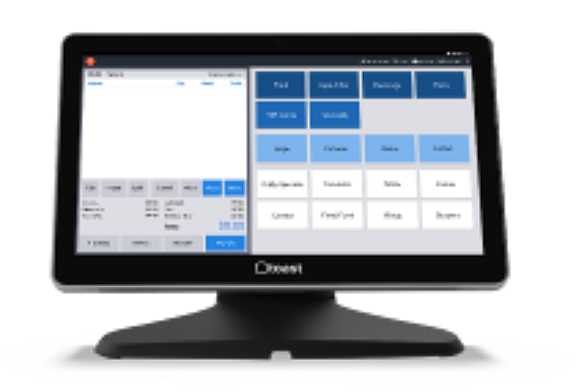 Learn how a better point of sale system can help you run your restaurant.
Read now