DISCLAIMER: This content is provided for informational purposes only and is not intended as legal, accounting, tax, HR, or other professional advice. You are responsible for your own compliance with laws and regulations. You should contact your attorney or other relevant advisor for advice specific to your circumstances.
Cost to Open a Juice Bar
Juice bars have been a staple of the health food industry for decades, and they're only getting more popular with each passing year. In fact, 5,300 juice and smoothie bars opened in the U.S. in 2022 alone!
The fruit and vegetable juice market is expected to hit $257 billion by 2025. To put it simply, it's a great time to be in the juice bar industry.
Juice bars aren't just for walk-in service, either. Many popular cold-pressed juice businesses like JuiceLand in Austin, Texas offer a few ways to order online, via instant delivery, pick up, and bulk ordering. They offer items like superfood lattes, tonics, health shots, juice cleanse systems and plant-based meals to provide their community with a one-stop shop for rejuvenation.
For an overview of all the juice bar startup costs you'll encounter from now until opening day, and helpful resources for creating your restaurant business plan, read on.
Average restaurant startup costs
There are many factors that influence the startup cost of opening a restaurant, including location, size, and menu. On average, the cost of opening a new restaurant is $425,000 when space is purchased, and $275,000 when renting.
Average cost of opening a juice bar
This also depends on factors such as location and scale. Because there are so many different types of juice bars, the average juice bar startup cost falls within a wide range of $25,000 to $400,000.
For example, renting a location that previously served as a juice bar or cafe will be lower on the cost scale than if you were to rent or purchase a spot that requires extensive renovations.
Additional factors that determine your startup costs include whether or not you're opening a franchise (which comes with built-in brand recognition and requires a smaller marketing budget, but usually involves significant franchise fees and liquid cash up front) as well as the format your juice bar will take. Naturally, opening a juice bar cart or truck will cost less than paying rent or mortgage on a brick-and-mortar property.
Juice bar opening cost by square foot
To open a small juice bar, you can estimate to pay between $150 and $800 per square foot depending on if you're leasing or purchasing space. Monthly rent for restaurants can range from $2,000 to $12,000 depending on location and size.
Restaurant Opening Calculator
This calculator lays out some of the fundamental financial costs of opening a restaurant, so you can start planning and bring your dream restaurant to life.
Download
Juice Bar Startup Expense Checklist
Use this restaurant startup cost checklist to help you plan your juice bar budget.
1. Utilities
Utility costs for gas, water, and electric vary greatly between franchise juice bars with full-sized dining rooms and expansive seating areas, compared to, say, juice bar kiosks in shopping centers.
On average, juice bar owners can expect to pay $6,500 for startup utility costs and less than $1,200 per month for ongoing utility expenses.
2. Location
One of the first decisions you'll have to make when opening your juice bar is where your ideal location is. But before you can do that, you must first identify your target customer base.
Ask yourself questions like:
What do your customer's daily routines look like?

What's their purpose for entering your establishment?

What's their familiarity with juice bars in general?

What does the competitive landscape look like?
It's questions like these that'll help you narrow down the perfect location for your juice bar. For example, if your purpose for opening a juice bar is to provide customers with a fast and healthy breakfast or lunch option during their busy work day, your ideal location is in a plaza or on a street surrounded by office buildings.
Wherever you decide to set up shop, the average cost of leasing a centralized location for your juice bar is $150,000.
3. Interior design
Depending on the location you've chosen, you may find yourself with some renovating to do. Start with your concept. What do you want the vibe of your juice bar to be?
A couple of the most popular types of juice bars include:
Counter-only: With no dining space or furniture, counter-only juice bars offer either pre-packaged juices that can be grabbed from coolers, or custom juices that can be quickly made to-go.

Cafe-style: These potentially offer a small menu in addition to made-to-order juices, as well as ample space for customers to relax or work.

Food truck: Ideal for beach areas, concerts, and other populated outdoor areas.
Some juice bars are hybrid combinations of a few different types of spaces. For example, Drink Mamey in Portland, Oregon doubles as an inclusive wellness space built with the Black community in mind.
Once you're able to articulate your layout vision, it's time to begin remodeling. Depending on the extent of your remodeling needs, interior design costs for juice bars average out to be $20,000.
4. Juice Bar Equipment
There are many tools and resources needed to keep a juice bar open and operating smoothly. While equipment costs may seem overwhelming at first, it's important to think of them as a worthwhile investment.
Essential juice bar equipment, with prices from webstaurantstore.com:
Juicers - $160 - $12000

Fruit and vegetable peelers - $2 - $230

Refrigerators:

Reach-in: $1500 to $25,000

Walk-in: $7000 to $21,000

Blenders: $60 to $3000 each

Freezers

Reach-in: $1500 to $36,000

Walk-in: $10,000 to $25,000

Undercounter: $1300 to $7000

Chest freezers:$200 to $2200

Undercounter ice machine: $1300 to $5600

Full size dishwasher: $3000 to $26,000, or an undercounter dishwasher: $2500 to $8500
---
Read this next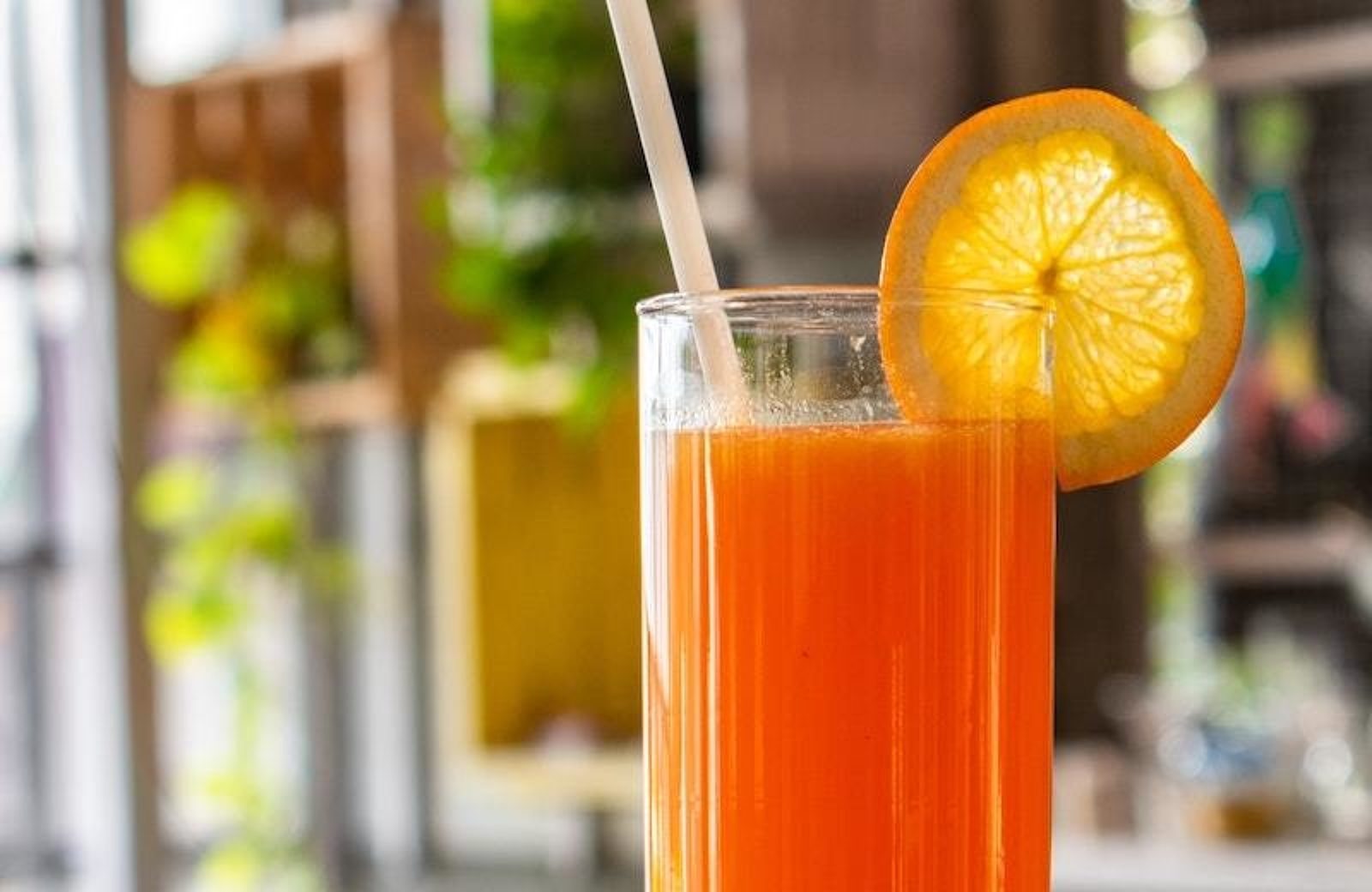 How To Write a Juice Bar Business Plan
Squeezed, cold-pressed, or blended, fresh juice is a health craze that's here to stay – start your juice bar business plan with this template.
5. Pre-Opening Expenses
These include everything from completing renovations to the cost of hiring and training team members to the initial supply of stock you'll need for your soft and grand openings. On average, juice bar pre-opening expenses can cost as much as $100,000 and cover equipment, utilities, marketing, and anything else that contributes to opening your shop.
6. Marketing, Branding, and PR
When it comes to allocating your marketing budget, costs can be virtually zero if you or a friend are tech savvy enough to run your own online campaign. They can also reach hundreds of thousands of dollars if you choose to hire a marketing or PR agency.
Regardless of your juice bar marketing budget size, be sure to include the cost of:
Branded merchandise (like t-shirts, hats, and refillable juice cups)

Creating a website and managing your online presence

Digital advertising

Social media marketing

PR services

Email marketing
Guide to Restaurant Social Media Marketing
Learn how to optimize your social media presence to showcase your brand, tell your story, attract new customers, and engage with your audience.
Download
Restaurant Business Plan Template
No matter where you're at in your restaurant ownership journey, a business plan will be your north star. Organize your vision and ensure that nothing is overlooked with this free template.
Download
7. Restaurant Startup Capital and Emergency Funds
Startup capital refers to all pre-opening expenses, emergency funds, and operational costs for the first few months of business. The average startup capital needed to open a juice bar is $60,000.
To cover these startup costs, many juice bar owners apply for small business or commercial loans and open business lines of credit. For more information on financing options available, read The Complete Guide to Restaurant Financing and Loans.
---
Read this next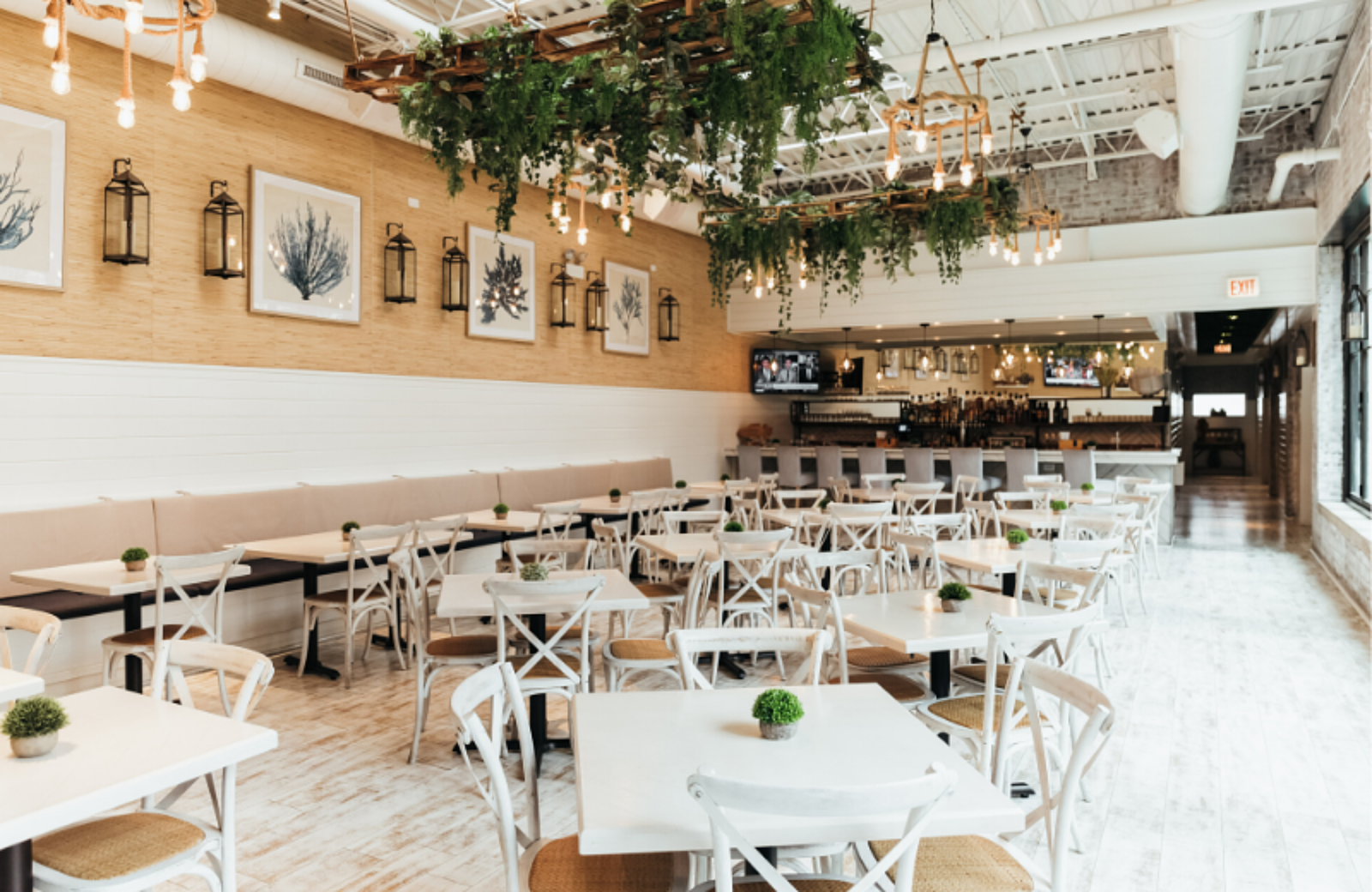 The Complete Guide to Restaurant Financing and Loans
Whether you're opening a new restaurant, expanding your concept, or renovating within your existing four-walls, you're going to need capital to make it all happen.
8. Exterior Design
Think of the exterior design of your juice bar as essential advertising for attracting potential customers. You'll want it to serve as an extension of the branding and/or theme used inside. If your location allows, consider including outdoor seating in your design plan.
Restaurant exterior design costs can run between $1,000-$40,000 and include signage, seating, awnings or umbrellas, landscaping, and decorations.
9. Organizational and Development Costs
Opening a juice bar requires you to file for restaurant licenses and permits before you can open to the public, including but not limited to:
State and local business license

Employee Identification Number (required before you can begin hiring employees)

Food service license

Certification of occupancy

Other local licenses and permits
All juice bar owners need to abide by state and local regulations when applying for licenses and permits. Many states specifically require juice bar owners to also purchase a vendor license, which costs between $10 - $50.
10. Professional Services
Many owners choose to outsource certain responsibilities to seasoned professionals, such as:
Builders or contractors

Architects and creatives

Lawyers

Accountants

Bookkeepers

Marketing agencies
Legal expenses, obtaining licenses and permits, and restaurant accounting services cost an average of $15,000. Additionally, hiring a restaurant business consultant can cost as much as $2,500.
11. Technology and Point of Sale
You'll need to provide a seamless customer experience that includes a POS system you can rely on.
The Toast POS system has everything your team needs, with the ability to accept online orders, offer delivery, and connect with Google Business listings to keep hours updated automatically online.
Restaurant POS Comparison Tool
A free, customizable Restaurant POS Comparison Tool to research and compare point of sale systems in one Excel spreadsheet or editable PDF.
Download
12. Food Costs
First things first: decide if you're just going to offer juices, or complement them with a food menu.
Keep in mind that the more shared ingredients between menu items there are, the more ingredients you can order in bulk, leading to lower food costs.
Overall, you can expect to pay an average of $5,000 a month for fresh produce.
13. Staffing and Management
The last thing you need to do before opening is to hire a dream team of baristas, juicers, cashiers, shift leaders, and managers.
To determine how much of your budget to allocate for labor costs, calculate your labor cost percentage as it relates to your entire operating budget, with a benchmark of 30-35% of revenue going towards employees.
Juicers, Start Your Blenders
Opening a juice bar takes more than just a few blenders and a basket of fresh produce. Owners need to arm themselves with a comprehensive business plan. Now that you know how much it costs to open a juice bar, it's time to start sharpening your peelers!
Related Juice Bar Resources
Restaurant Business Plan Template
No matter where you're at in your restaurant ownership journey, a business plan will be your north star. Organize your vision and ensure that nothing is overlooked with this free template.
Download