Facebook is the most widely used social media network in the world. Over 1.4 billion people are updating statuses, posting selfies, checking-in, and regularly stalking each other. Not only are your guests and potential guests using Facebook, but Facebook is also collecting a lot of useful data about them based on their usage.
We've written before about the power of data to drive repeat customers to your restaurant. Facebook is an information gold mine. Facebook's huge data network allows business owners like you to get very granular with advertising messages. You have the ability to advertise only to the people who would be interested in what you're offering. Steve Governale, industry manager of restaurants at Facebook, said, "We're not reliant only on behavioral data or cookies to infer who people are or what they're interested in – we understand people based on information they share, in addition to standard targeting features available across the web."
Facebook advertising enables you to tap into all that juicy data. In a few clicks, you can get in front of your ideal customers within a 10 mile radius of your restaurant.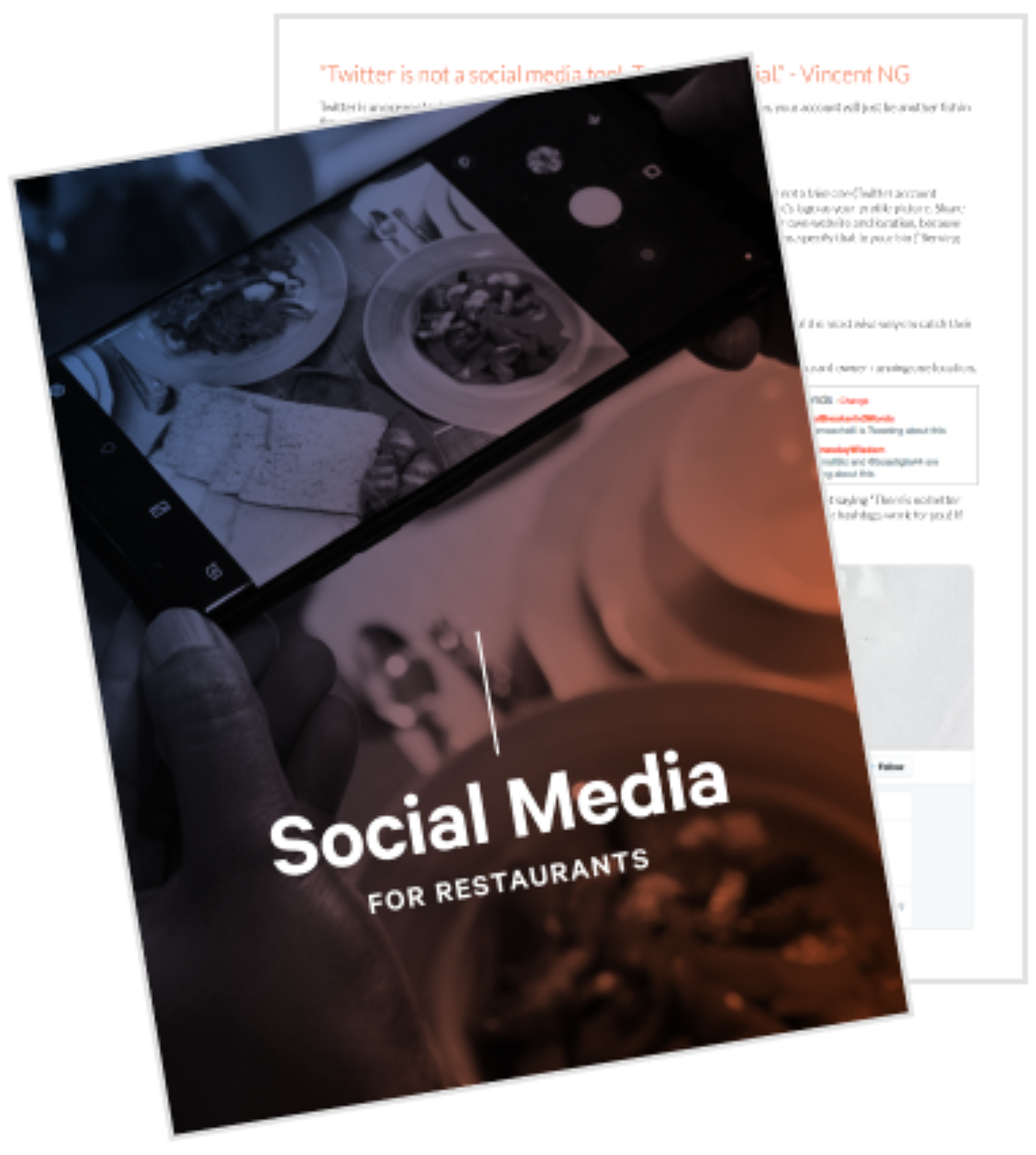 The Guide to Social Media for Restaurants
Develop a social media prescence for your restaurant, connect with your guests, and grow repeat business.
Download
Step 1: Set Up your Facebook Business Page
This is an easy (and fun) process that is required before you can do any Facebook advertising. Even if you aren't advertising on Facebook, you should set up your free page.
You must be a page administrator to start an ad campaign.
Step 2: Select a Campaign Type
From your Facebook Business Page screen, click "Promote." You'll be asked to select what type of ad campaign you'd like to run. There are three campaign types:
Promote Your Website - If you have a high-functioning website or if you're promoting registrations for a specific event, this is likely a good option for you. This option offers robust targeting by users' interest and location. 




Promote Your Page - This campaign type will drive people to your Facebook page and encourage new Facebook likes. If your goal is to increase your Facebook network, this is a good choice. This option offers robust targeting by users' interest and location. 




Promote Your Local Business - This is the easiest way for you to immediately connect with mobile users in your geographic area. This option offers simple targeting by users' location. An example is shown below. 

Once you've selected your campaign type, a pop-up window will appear. Here, you can start building your ad.
Step 3: Build Your Ad
Create your ad on the left side of the pop-up window. The ad builder is made up of 5 parts - Text, Headline, Image, Call-to-Action, and Phone Number. Here are some tips to keep in mind as you complete these sections:
Text - This is your value proposition. What makes your location special? What do guests love about your establishment? This section should pop with enticing and seasonally-relevant keywords. Try to get in the head of your guests: what will catch their attention? 




Headline - This is the main point of the ad and clearly tells the viewer what you're offering. 


Add an Image - Visuals are a powerful tool for communicating your establishment's atmosphere. If possible, choose a photo that was actually taken in your restaurant - not a stock photo. 




Call To Action - This is the most important part! Tell the viewer what you want them to do. Facebook gives you a few different options for a call-to-action button. 




Phone Number - If your call-to-action is to "Call Now," be sure to enter the number you want the user to call. 

View a preview of your ad at the bottom of the pop-up window. Depending on what campaign type you chose, you'll have the option to see what your ad looks like on a desktop or mobile screen.
Step 4: Define Your Audience
For location-based ads, Facebook will use the address you created when you set up your Facebook Business Page. Set the distance from your location that you'd like the ads to run. If you've selected "Promote Your Website" or "Promote Your Page," you will also have the option to select users based on their interests. As you change the distance and interest targeting, you'll see the "Potential Reach" estimate fluctuate. 


Set age and gender parameters based on your restaurant's typical clientele. If you operate a bar, be sure to make the minimum age 21+. 


Set a daily budget based on what you're comfortable spending. Once you hit that daily cap, Facebook will stop serving your ads to users. The "Estimated Daily Reach" is based on your location and budget settings. As you increase budget, you'll see the "Estimated Daily Reach" get bigger and closer to the overall "Potential Reach."


Set a timeframe for your ad campaign. Once you reach the campaign end date, Facebook will stop serving your ads to users.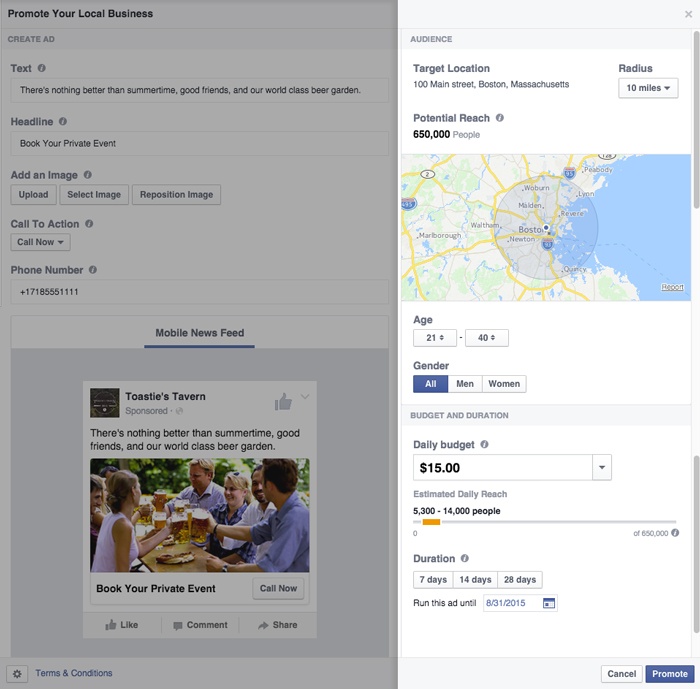 Click the blue "Promote" button.
Step 5: Setup Payment
Before you can publish your ad, you'll need to enter your credit card or PayPal information for Facebook to bill. Later, in "Settings" you can set the spend threshold to indicate when Facebook should charge your account.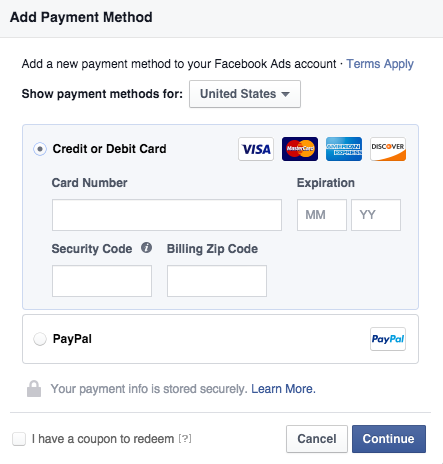 You're done! Sort of.
While it's pretty easy to get started with Facebook ads, you'll want to keep an eye on how your they are performing once you've launched them. As with any purchase, you'll want to determine whether you're getting value for your money. Facebook Analytics will show you how many people have clicked your call-to-action and how much it costs you when they do.
To view your ad campaign analytics, click the "Promote" button on your Business Page and select "Manage Ads."
Restaurant operators often outsource projects like this to agencies and contractors. In this industry, the last thing you need is another thing to manage. Depending on the size of your project, however, it's totally feasible (and much cheaper) to do it yourself. At the very least, it's worth some initial testing to decide if you want to expand the program further with some outside help.