DISCLAIMER: This content is provided for informational purposes only and is not intended as legal, accounting, tax, HR, or other professional advice. You are responsible for your own compliance with laws and regulations. You should contact your attorney or other relevant advisor for advice specific to your circumstances.
Great coffee, an inviting atmosphere, the gentle tapping of keyboards and muted laughter... coffee shops are much more than a place to grab a cup of joe and run. They also serve as important third spaces and community hubs. If you're looking into starting a coffee shop, you'll want to work off of a detailed coffee shop opening checklist that defines your cafe goals, including your brand identity and style.
From your coffee shop decor to your menu items, your coffee shop tech, location, and more, you'll want to build a physical and online space that's consistent with your brand — and will be memorable enough to attract regulars.
The good news is that there is no one "right" formula for designing a coffee shop or cafe; cafe decor ideas can range from funky and vintage to ultramodern and sleek. Without further ado, here are 10 coffee shop decor ideas to help spark your imagination.
10 Coffee Shop Decor Ideas for 2021
1. Find Unique Coffee Shop Wall Decor
If you're looking for your coffee shop to stand out among the competition, invest in some unique coffee shop decor. Don't be afraid to add some personal relics, too! It's about making your coffee shop wall decor right for you and your brand. Another option for wall decor is supporting local artists with a rotating gallery. One example is The Cuppo Coffee and Tea's wall, which is filled with local art for sale that doubles as decor. The wall art is carefully curated with a palette of warm, earthy tones, keeping in line with the design elements of the cafe.
2. Paint the Walls or Create an Accent Wall
Since we're still talking about walls, art is not the only way to add life to blank walls. Consider painting your walls in a color that matches your brand, or paint an accent wall. Secret Garden, a coffee shop turned cocktail bar at night, takes the garden theme literally with an Instagrammable white flower accent wall. The accent wall is a surefire standout in the industrial-style, modern greenhouse, making it a perfect backdrop for taking selfies or pictures of latte art.
3. Choose the Right Coffee Shop Lighting
When it comes to creating the perfect decor for your coffee shop, lighting is one of the most important elements; from bright and vibrant to dim and demure, the right lighting can articulate a mood in a way few other elements can. While there are a few fluorescent bulbs overhead, natural light is the star here at Brass Tacks — the oversized windows and open industrial layout lends a bright and airy feel to the space. The natural light floods in from almost every angle, perfect for taking flattering photos of food (and customers).
4. Create Unique Cafe Tabletops
Don't underestimate coffee shop furniture and decor for conveying your brand's ethos and style. Think of ways to incorporate your brand's personality into unlikely elements, like a tabletop. Customers love to take pictures of latte art — and Vibrant uses this fact to their advantage by adding in a terrazzo-style coffee table in their coffee shop. The muted neutral tones provide just enough contrast without competing with the star of the show.
5. Get Vintage Coffee Shop Decor Secondhand
Think that getting coffee shop decor will consume a considerable part of your budget? It doesn't have to. Vintage coffee shop decor doesn't have to be expensive, and some of the best vintage finds can be found at secondhand stores for a steep discount — and you can even DIY some coffee shop decor if you like! Take Agora Coffee, for example: they've opened their doors to customers since 2001, and not much has changed since then. Wooden walls, stained glass windows, and vintage posters add some retro flare to the space — and the old-school (and functioning!) jukebox doesn't hurt, either.
6. Keep the Pastry Case Pristine and Pretty
We've placed a good amount of focus on getting your coffee shop decor right, but being neat and organized is paramount—no one wants to patronize a coffee shop that looks disorganized, no matter how beautiful the decor is. Never underestimate the visual power of an organized pastry case, clear signage, and clean serveware. Below, Sweet does a great job with keeping their pastry case clean and enticing—the macarons are laid out in an ombre design, the cupcakes are neatly arranged and labeled, and there are virtually no crumbs on the cake stands. The result is a visually arresting display that captures customers' attention when they arrive.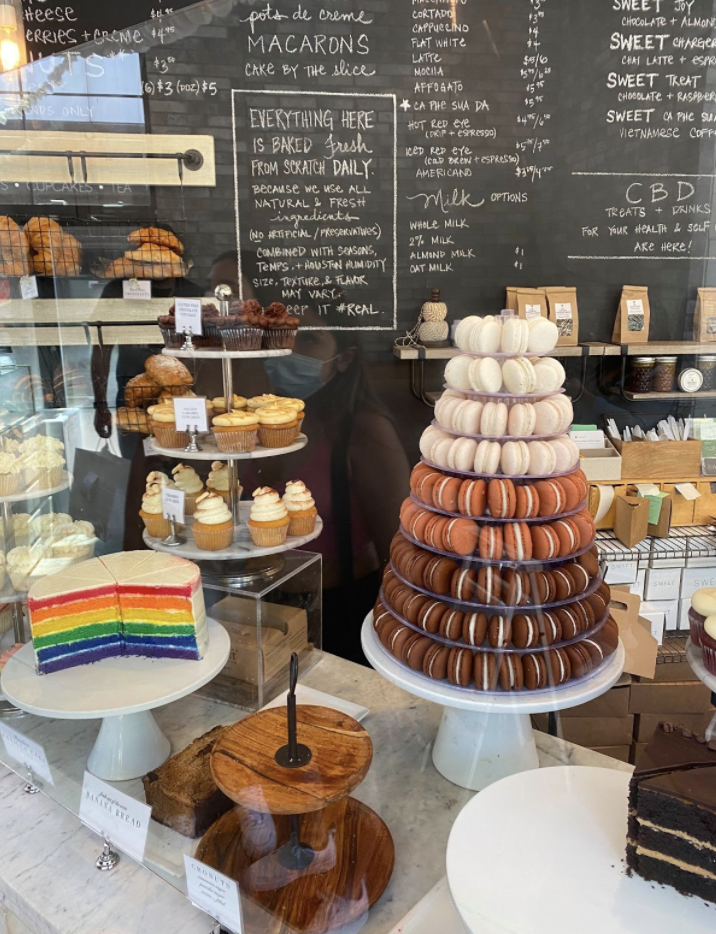 Photo by Vonnie Williams
7. Let Customers Experience Your Coffee Shop Kitchen Decor
The pastry case isn't the only place to display your organizational skills. If you have an open kitchen, use it as an opportunity to use everyday tools as coffee shop kitchen decor. As with your pastry case, cleanliness is important here. Below, Common Bond Cafe's open, clean, and bright kitchen has an abundance of natural light coming from the floor to ceiling windows. Loaves of bread and takeaway boxes are neatly arranged, giving the kitchen an airy and clutter-free feel.
8. Build a Communal Bookshelf
Customers often come to coffee shops to read, so why not curate a collection of books for them? Day 6 Coffee has created a comfortable reading nook with oversized leather seats and books casually placed on the table and several bookshelves, creating an inviting atmosphere for anyone to curl up and read.
9. Source Unique — and Comfortable! — Chairs
When thinking about cafe seating, striking the perfect balance between durability and comfort is key, especially if you plan on attracting regular customers who can relax and linger for hours (and purchase a few items in the process). Thinking Cup takes relaxing seriously — their space combines cafe-style tables and chairs with a comfortable assortment of couch benches and bars, creating a laid-back atmosphere that makes customers want to stay all day.
10. Beautiful Bathrooms
Bathrooms are another opportunity to tell your brand's story. If a bathroom is beautiful, well-lit, functional — and of course, clean — guests will be more likely to take and post a selfie. Charley St's famous avocado wallpaper creates an easy Instagrammable moment for guests. Interesting design elements, like a wooden mirror and a bright, geometric tiling below completes the space.
Cafe Decoration Inspiration
Coffee shops entail much more than their name implies — they're great meeting places and integral part of our neighborhoods. It's all the more reason why coffee shop decor is important: through colors, furniture, lighting (and even bathrooms), you can communicate your brand's identity and ethos. When it comes to decor for your coffee shop, don't be afraid to experiment and do what's true for your brand — your customers will definitely take note!
Related Coffee Shop Resources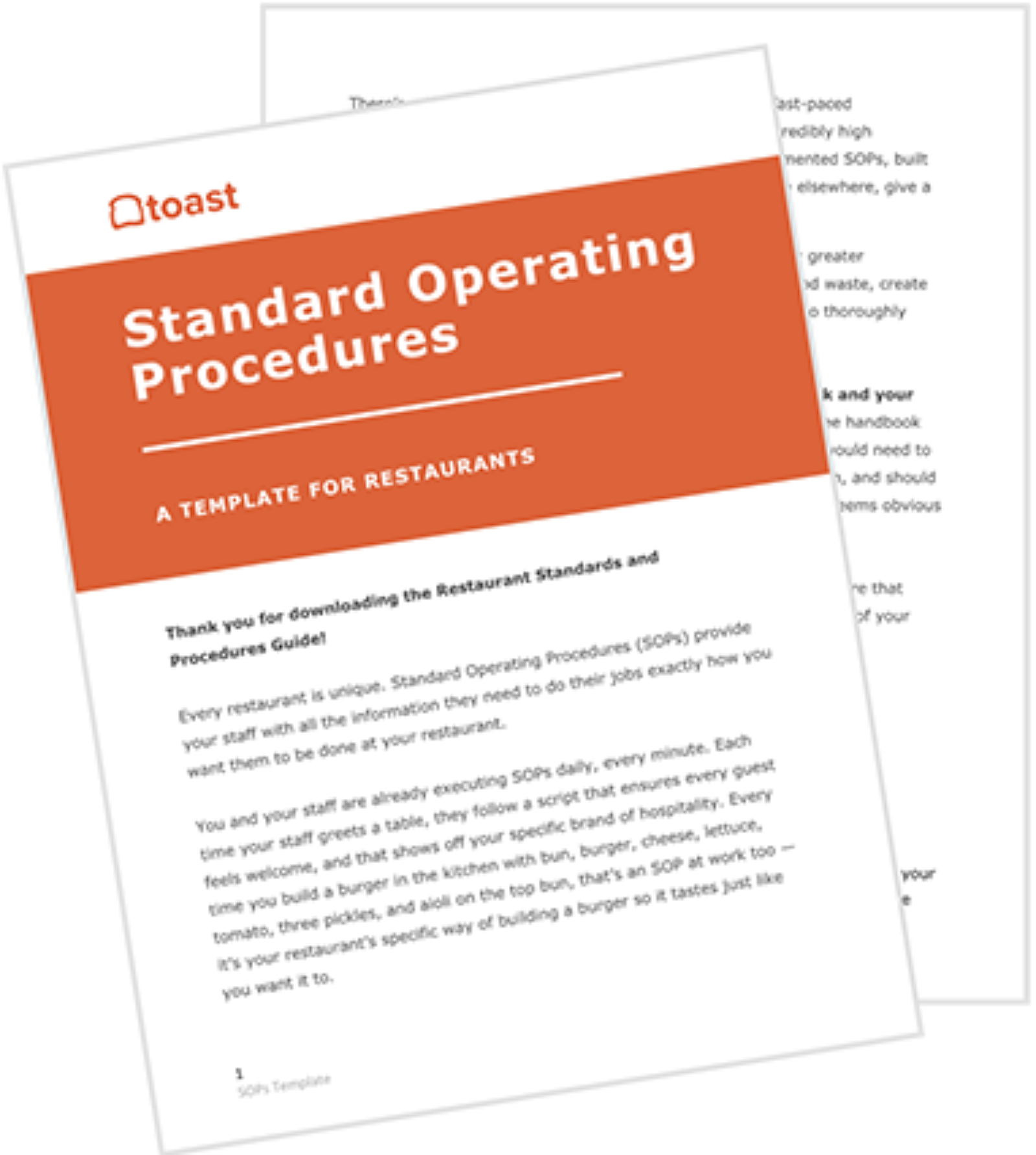 SOPs Template
This template will help you create SOPs for your entire business, so you can create consistency and easily train employees.
Download