Whether you run an upscale fine dining restaurant or manage a fast food franchise, you've seen the difficulties that come with hiring and maintaining a great restaurant team. Understanding the reasons for major restaurant employee turnover is just the first step in being able to combat it.
Historically, the restaurant industry hasn't provided much career growth for workers, which means the majority of staff hold the same job, or one of similar responsibility and authority, for a really long time. This lack of progression combined with demanding hours and pace contributes to burnout, and if you can't provide a reason for your staff to stay, they won't.
Restaurant work requires an exorbitant amount of patience, perseverance, and flexibility. Servers, for instance, work long hours on their feet without the luxury of a set paycheck or schedule, and they often feel they lack recognition for their work. Many of us do.
Most restaurants can't afford to provide health care or employee benefits, and the long hours and late nights are a hotbed for harassment and substance abuse. This industry makes it tough to keep top-notch employees who are eager to come to work and brave enough to put up with its sh*t.
So what can you do?
With a turnover rate of 75%, the odds are against you. But there are ways to make working at your restaurant different and better than others. Think about all the tasks involved in hiring a new restaurant employee: creating and posting job descriptions, interviewing, and onboarding. Now, think about how each step of this process affects an employee's experience. You need to nail it. Every step of the way. If you can manage that, you'll have happier employees who remain at your restaurant for longer and who ultimately reward you with more satisfied customers, better company culture, and a better bottom line.
Teamwork Dreamwork
Your front of house, back of house, and management staff are all working toward increasing your restaurant's revenue, but does your dishwasher know what a profit and loss statement is? Do your bussers know their personal effect on the business? Do your servers know the industry's profit margins?
Enter open-book management (and the larger theme of being transparent with your team, regardless of their role or tenure).
Implementing open-book management allows your entire staff to know what you know — that keeping a restaurant alive is all about teamwork. By literally opening your books and addressing operational challenges in a collaborative way, your whole team can think like business owners and feel responsible for the success of your restaurant. Every single employee in your kitchen, dining room, and bar contributes to your restaurant's success. Tell them that. No matter their title, all of your employees should have the ability to gain real-world knowledge, contribute ideas to improve business efficiency, and feel like their voice is heard.
"Our approach to open-book strategy is to take a lot of management functions and delegate them to staff as things that really enrich their jobs and that tap into the intelligence that they bring and that would otherwise be wasted," said Henry Patterson, senior partner at ReThink Restaurant. Every employee has something to offer. Let them prove it.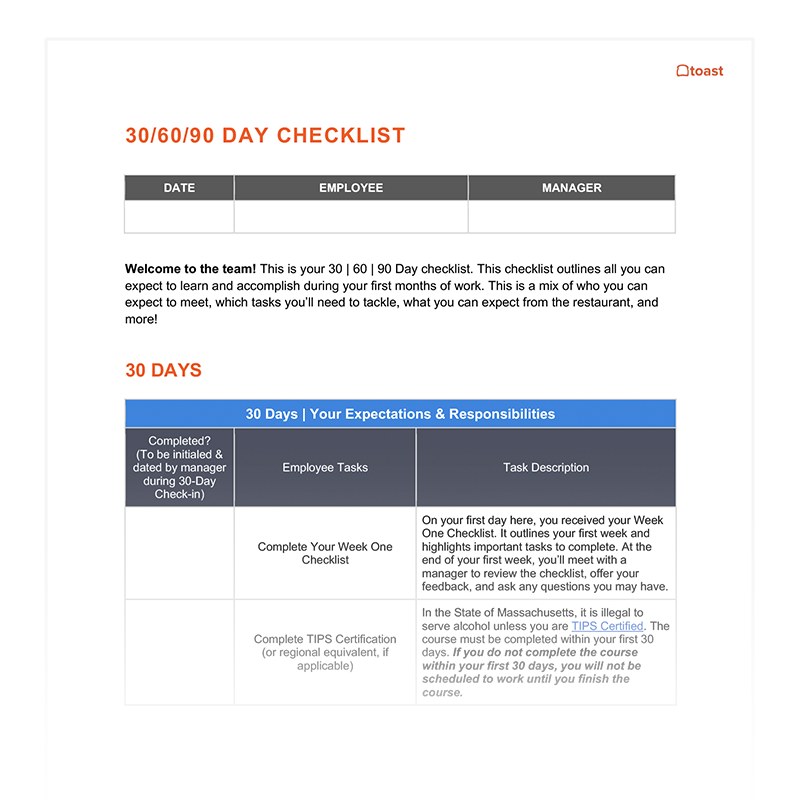 30-60-90-Day Checklist
Outline exactly what new employees should learn and accomplish during their first few months at your restaurant in this customizable Word doc.
Download