According to a recent report from Toast, restaurant owners and operators cite hiring, training, and staff retention as their biggest challenges in 2019. The labor crisis is real, and restaurant professionals across the country are frustrated by the state of staffing.
Here's a common scenario in restaurant management: You've finally hired a great employee to fill that line cook job. You're psyched about bringing on the new hire only to find yourself disappointed when they wind up uninspired and unsuccessful a few weeks into the job.
Sometimes this is unavoidable, but there's a tool to stop this from happening. And chances are, it's already in your restaurant.
Communication between management and staff is such an important part of an employee retention strategy. Noting this, we've built a restaurant employee handbook template to help restaurant management and staff get on the same page about acceptable workplace behavior, expectations, and roles and responsibilities. In this guide, we'll walk through the steps to creating your own.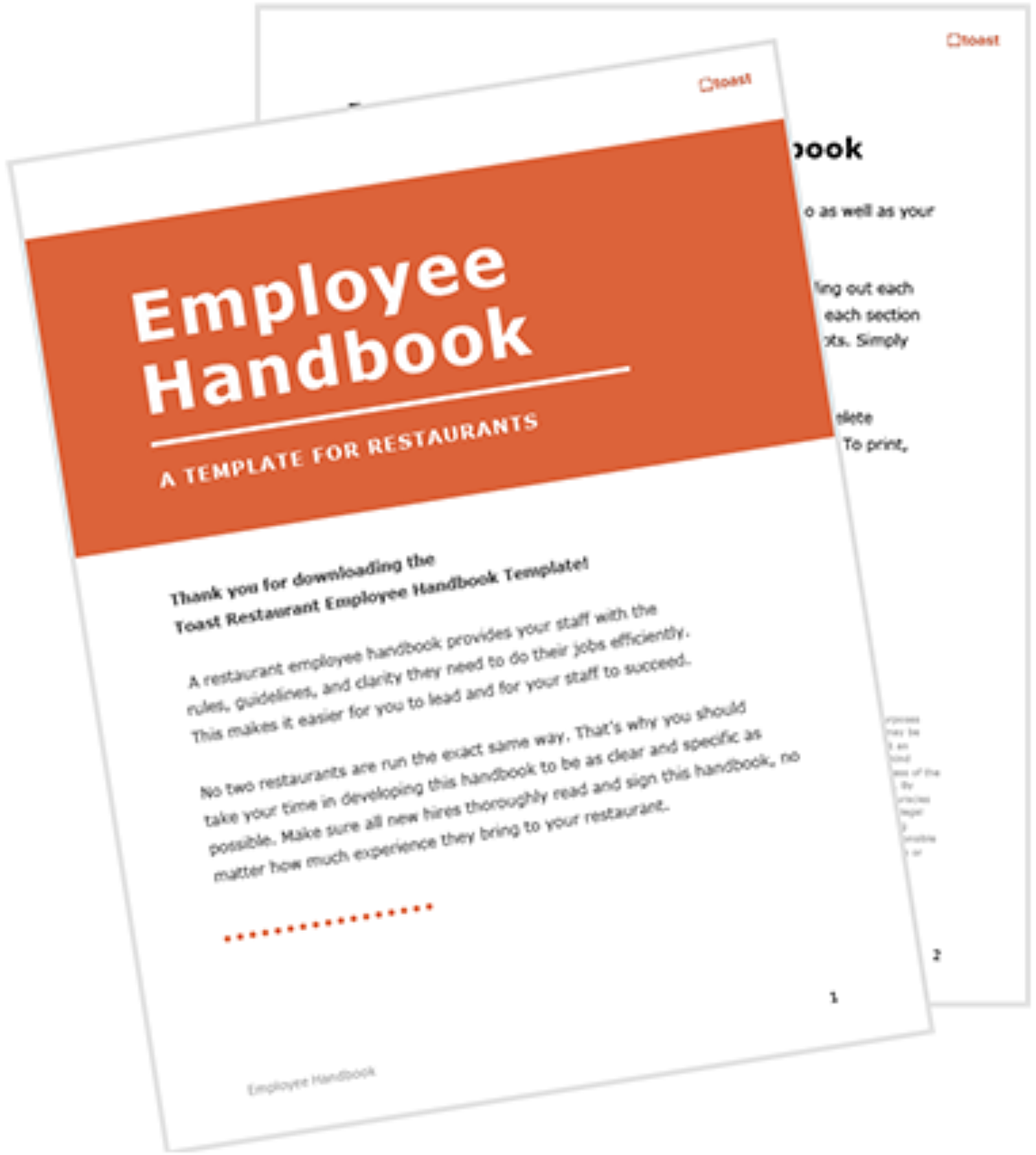 Employee Handbook Template
Outline your restaurant's staff policies in this customizable Word doc to help restaurant management and staff get on the same page.
Download
The Handbook Introduction
Be honest — if you were given an instruction manual, would you read every single word? Yeah, me neither.
Your employee handbook's introduction is your new hire's first glimpse at your company. The stronger the intro, the more likely employees will know it's worthwhile to read the handbook in its entirety.
Make yours as inviting and interesting as possible. Don't feel like you need to be overly professional. The tone of your handbook should match the tone of your restaurant, so make it charming, make it quirky, whatever — make it sound like your team.
A welcome letter from your founder or owner is a great way to engage your new employee and give them a reason to read on. Include the history of your restaurant, and give your staff a taste of what made you want to be in the business. If you can be relatable and find common ground with your new hires, you've got a great chance of establishing their respect right off the bat.
What to include in this section:
A welcome note
A brief history of the business
A handful of key takeaways about the restaurant's brand positioning and operations
A brief outline of the following sections included in the handbook
A legal disclaimer explaining the employee handbook is not a legal contract
Restaurant Core Values
Danny Meyer, founder and CEO of Union Square Hospitality Group, says, "Your core values are the way you behave while you're attending to your culture." As the culture of your restaurant changes, your core values should remain the same.
Since these values should be unwavering, they're a guiding force for assessing how your restaurant is performing, whether you're hiring the right people, and every challenge in between. Your core values should highlight your restaurant's passion for food, service, and hospitality. Documenting them keeps you honest.
Your restaurant should exist as more than a place of work. A 2015 study by the Nielsen Group found that 66% of the global millennial population is willing to pay more to support brands that are "committed to a positive social and environmental impact."
Considering there are more than 80 million millennials in the U.S., you probably have a few on staff who feel the same way. Explaining your core values to new hires encourages them to do a gut check that they're working in the right place. Your employees should evaluate whether your core values align with their own, and the sooner they make that assessment, the better.
What to include in this section:
A list of your restaurant's core values and why they were chosen
Your restaurant's mission statement, if you have one
Acceptable Workplace Behavior
Whether you're a dive bar or a fine dining restaurant, a certain level of professionalism should always be expected in the workplace. Including a section in your restaurant employee handbook that outlines acceptable and unacceptable behavior at work is important for a variety of reasons. An important one is that it gives management the opportunity to hold everyone on staff accountable for their performance.
Your workplace behavior section should mirror your core values and cover everything from dress code to how your staff should treat other team members, along with repercussions for failure to follow these guidelines. Include rules about cell phone use, how to handle guest or staff conflicts, and punishable offenses.
It's important to communicate that your staff should always feel safe, supported, and respected while at work. Clearly state that any behavior that detracts or threatens the working environment will not be tolerated.
What to include in this section:
An overview of expected conduct and behavior
Required attire (including grooming requirements)
Rewarded behavior and fireable offenses
Systems and Processes
There's an undeniable overlap among restaurants when it comes to operational processes, but your restaurant likely has its own unique way of doing business.
We refer to these as systems, and they're meant to keep everyone on the same page. Chef David Scott Peters, founder of TheRestaurantExpert.com, describes a system as "A way of doing anything and everything in your restaurant — to guide you towards following best practices… These systems allow others to run the restaurant how you want without you having to be there. This way, you can work on your business rather than in it."
Even the most experienced industry professionals need to adjust to the way their new restaurant does business when they join a new staff. Your restaurant employee handbook is the perfect place to outline how you expect everything to be done in your restaurant, from dishwashing to handling a health emergency.
Creating checklists of opening and closing duties is an efficient way of making sure all tasks get done everyday. These should be specific to cooks, servers, bartenders, and managers, and they should be trainable. Instead of spending your time demonstrating processes to every new hire, your staff should be able to do that for each other. Make systems simple while still ensuring they meet your standards so that all employees are capable of handling them.
Include how to use your tech and tools in this section. Give your new employee an overview of any equipment they might need to use. Give them an overview of your restaurant point of sale, your scheduling software, and other technology you might use. Make sure your servers know how to request time off, how to ring in meals and drinks, and how to void checks. This doesn't have to be a step-by-step guide, because your trainers will fill in any gaps, but make it as clear as possible.
What to include in this section:
Health, sanitation, and allergy protocols
Scheduling and time off
Opening and closing checklists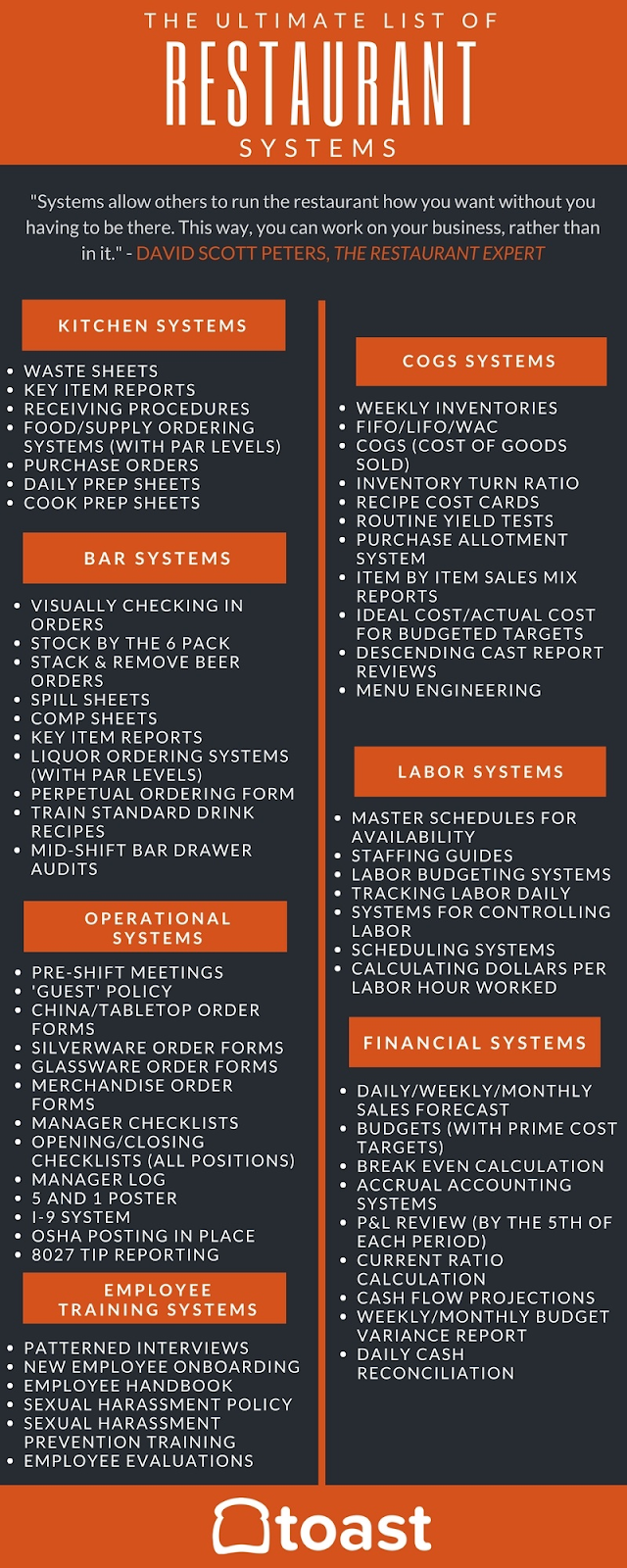 Employee Pay and Benefits Overview
Your restaurant's benefits package should detail how your employees will be paid, your restaurant's overtime policy, breaks and meals (make sure you look into your state's legal requirements for how often breaks must occur), time off, employee benefits overview and explanation, and any other things that make working for your restaurant rewarding.
Address all the frequently asked benefits questions here, and be thorough, because benefits packages can be really confusing. The 2019 Bank of America Workplace Benefits Report revealed the number of companies offering employee wellness packages has increased, but employee understanding or awareness of available benefits is quite low. This demonstrates an important need for you to go in-depth on what you offer your employees and how they can take advantage. Charts and graphs can be a helpful way to visualize the complicated information surrounding benefits.
What to include in this section:
How employees will be paid (pay check, direct deposit, etc.)
Overtime policy
Breaks and meals
Holidays, vacations, and time off
Insurance
Additional employee benefits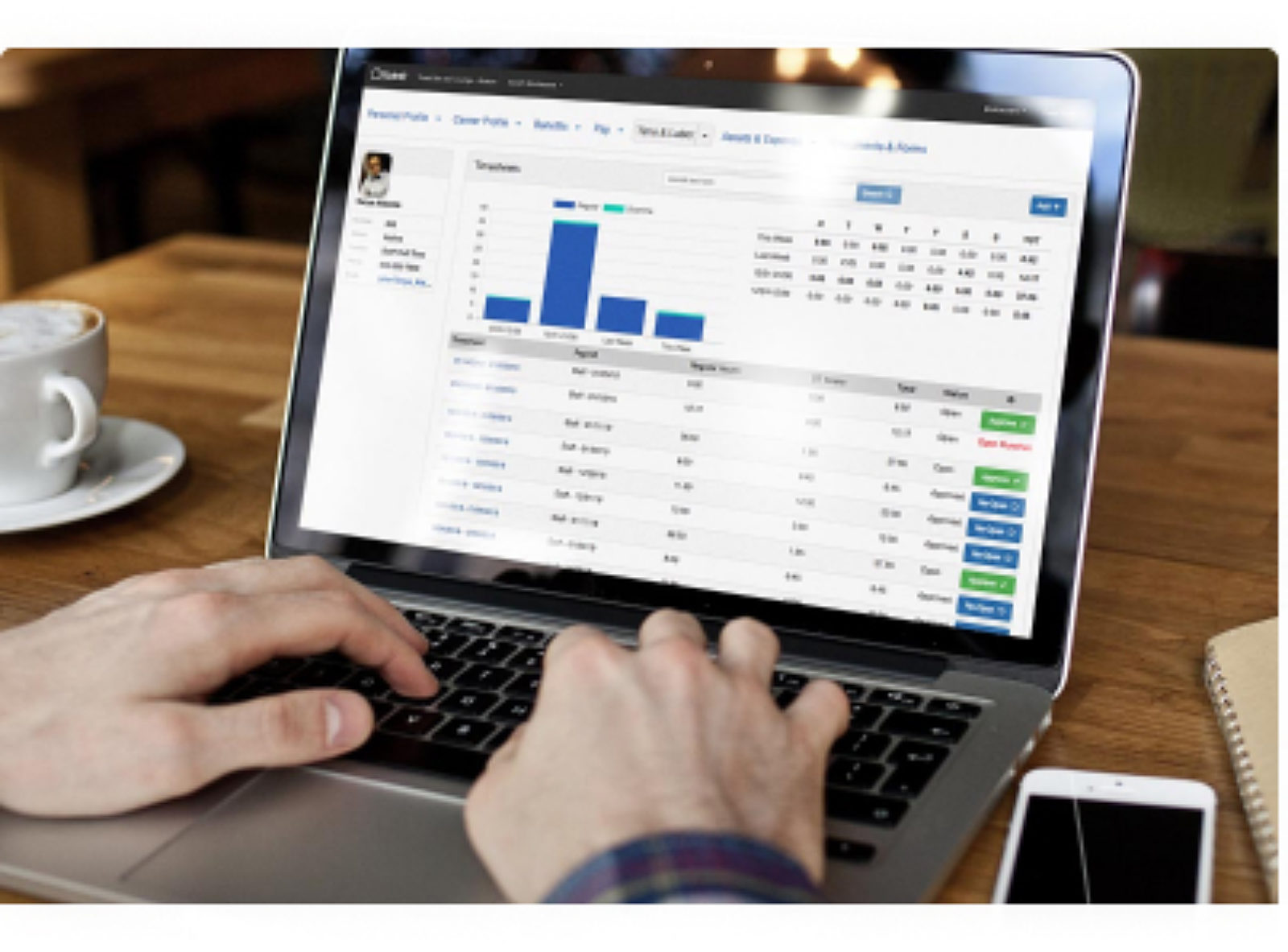 Built to make restaurant teams better.
A payroll and team management platform built for restaurants to help you and your team succeed.
Anti-Harassment Policy and Complaint Procedure
In alignment with your workplace behavior section, it's especially important to reinforce that sexual harassment and assault will not be tolerated in your restaurant, and that if an employee feels uncomfortable, offended, or violated, they're encouraged to come forward to a member of your restaurant's management without fear of retribution.
The image below, from the handbook of a chain of Subway restaurants, does a great job of explaining their procedures for handling reports of unacceptable behavior by a staff member.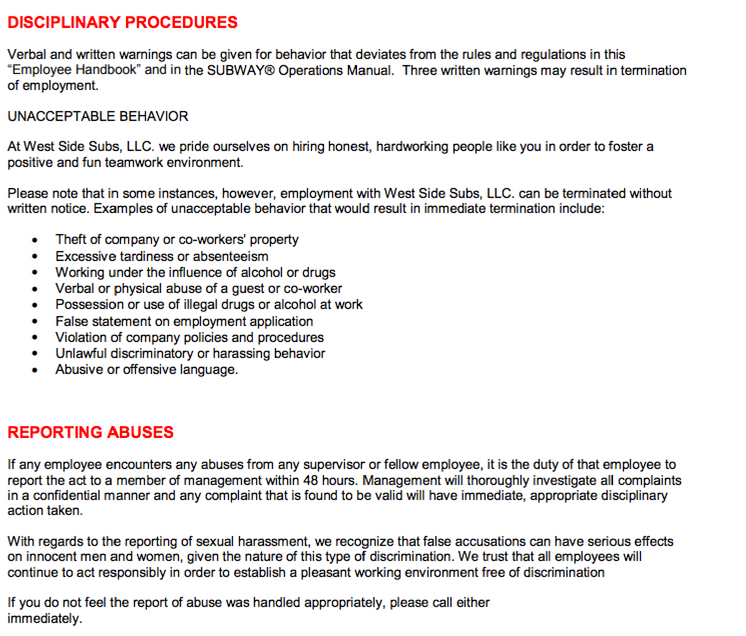 Don't shy away from laying out all punishable and fireable offenses. There should be a clear line for employees when it comes to unacceptable behavior. Include a response plan for management and an explanation of how harassment issues should be dealt with so everyone understands what to expect should an incident occur.
Erin Wade, of the restaurant Homeroom, in Oakland, CA, is leading the charge in preventing sexual harassment in the restaurant workplace.
Erin's system is a simple yet effective color-coded system staff can use to rate the level of harassment they're experiencing and to discourage inappropriate behavior from guests. Wade's problem-solving approach was unique: She gave her staff the liberty to develop a strategy that they felt would best help them.
"What's been so amazing is that we came up with it as a way of dealing with the problem, but what it's actually done is help curb the problem," Wade said. Learn more about Homeroom's anti-harassment system on this episode of The Garnish.
What to include in this section:
Punishable, fireable, and prohibited offenses
How to report abuse or harassment
Management's response plan for inappropriate behavior claims
Conclusion and Signature
While this isn't a legal document, having employees sign the handbook shows their understanding of the rules. This also gives you a tool to refer to if questions arise or if you find a staff member isn't following the rules.
What to include in this section:
A final welcoming sentiment
A line for their signature and date
You're Ready.
Strong management and staff communication empowers your employees, shares your philosophy, and makes sure your new hires start working as a team — and fast. Download the employee handbook template to get started.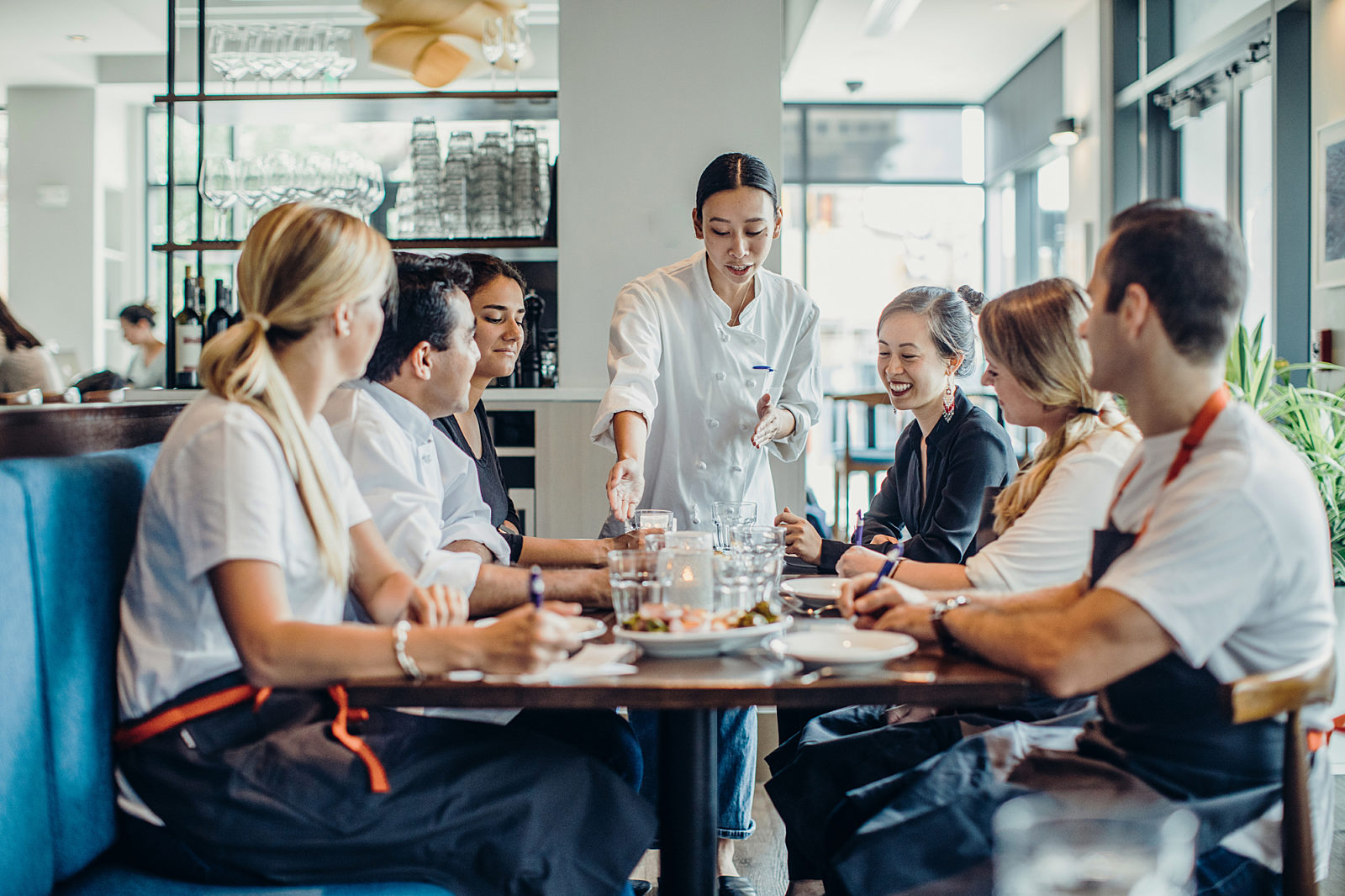 Hiring the Modern Restaurant Workforce
In this five-chapter interactive course, you'll learn how to master the hiring cycle so you can get back to doing what you love.