According to a recent report from Toast, restaurant owners and operators cite hiring, training, and staff retention as their biggest challenges in 2019. The labor crisis is real, and restaurant professionals across the country are frustrated by the state of staffing.
Here's a common scenario in restaurant management: You've finally hired a great employee to fill that line cook job. You're psyched about bringing on the new hire only to find yourself disappointed when they wind up uninspired and unsuccessful a few weeks into the job.
Sometimes this is unavoidable, but there's a tool to stop this from happening. And chances are, it's already in your restaurant.
Communication between management and staff is such an important part of an employee retention strategy. Noting this, we've built a restaurant employee handbook template to help restaurant management and staff get on the same page about acceptable workplace behavior, expectations, and roles and responsibilities. In this guide, we'll walk through the steps to creating your own.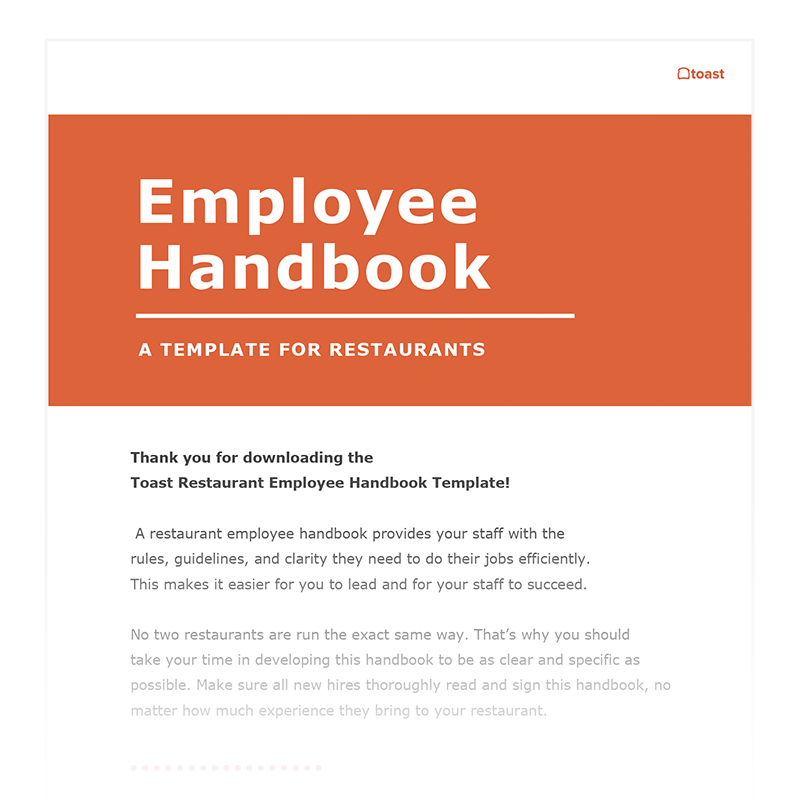 Employee Handbook Template
Outline your restaurant's staff policies in this customizable Word doc to help restaurant management and staff get on the same page.
Download
The Handbook Introduction
Be honest — if you were given an instruction manual, would you read every single word? Yeah, me neither.
Your employee handbook's introduction is your new hire's first glimpse at your company. The stronger the intro, the more likely employees will know it's worthwhile to read the handbook in its entirety.
Make yours as inviting and interesting as possible. Don't feel like you need to be overly professional. The tone of your handbook should match the tone of your restaurant, so make it charming, make it quirky, whatever — make it sound like your team.
A welcome letter from your founder or owner is a great way to engage your new employee and give them a reason to read on. Include the history of your restaurant, and give your staff a taste of what made you want to be in the business. If you can be relatable and find common ground with your new hires, you've got a great chance of establishing their respect right off the bat.
What to include in this section:
A welcome note
A brief history of the business
A handful of key takeaways about the restaurant's brand positioning and operations
A brief outline of the following sections included in the handbook
A legal disclaimer explaining the employee handbook is not a legal contract