DISCLAIMER: This content is provided for informational purposes only and is not intended as legal, accounting, tax, HR, or other professional advice. You are responsible for your own compliance with laws and regulations. You should contact your attorney or other relevant advisor for advice specific to your circumstances.
If there's one universal trait of a successful restaurant, it's the ability to run great shifts, day after day. Pre-shift meetings are a core part of that steady success.
When the steps of service flow smoothly, when food arrives when it should, when tables are set and cleared in record time, and when your patrons leave stuffed and satisfied, it feels freakin' good. Everything works. This perfect harmony is what we all strive for.
Having your team focused, informed, and pumped up for their shift invites great things to happen. This is what a great pre-shift meeting can do.
Employee Handbook Template
Outline your restaurant's staff policies in this customizable Word doc to help restaurant management and staff get on the same page.
Get free download
What Is a pre-shift meeting?
A pre-shift meeting occurs before meal service in a restaurant, where the manager on duty huddles up their team to relay important updates, coach them and give advice, and get the team excited for the upcoming shift. Sometimes they happen over a shared staff meal, and sometimes they're a quick five-minute update.
The pre-shift meeting happens before the hustle of the lunch or evening rush takes over. It's a period where managers can share updates to the menu, answer accompanying questions, assign server side work and pre-shift work, and address other housekeeping tasks.
The pre-shift meeting can be an effective tool for managers to motivate restaurant staff. It's your chance as a manager to focus your team on directing their collective kinetic and creative energies toward a singular mission: delighting guests and creating memorable dining experiences that blow out expectations.
Here's how to make the most of your restaurant team's pre-shift meeting.
At Mei Mei, Monthly Meetings Include 30 Minutes of Peer Training
It's just one of the ways that Mei Mei incorporates constant training into the restaurant's culture.
Be consistent
Your pre-shift meeting should be a habit for both management and staff. Require your scheduled staff to attend all pre-shift meetings, and host them at the same time — usually 15 minutes before shift starts — and the same place every day. If you can get into the habit, your staff will always remember to be there. Make it easy for them.
Make sure your pre-shift meetings are as fun as they are valuable. They shouldn't be 15 minute rambles where you lose control of the room. Consistently delivering helpful information that your staff will retain and take into the shift is what will make your meetings effective.
Inform, instruct, inspire
To get the most out of your pre-shift meetings, institute some structure. This is where the three i's come in: inform, instruct, and inspire.
Here's an example of how you could structure your pre-shift meeting:
1:00 min: Welcome
2:00 min–5:00 min: [Inform] business updates and side work assignments
6:00 min–11:00 min: [Instruct] skill building and teaching
12:00 min–15:00 min: [Inspire] praise and pep talks
Inform
The first section of your pre-shift meeting should cover general information about the day, including the shift team's roles, scheduling changes, team birthdays, weather implications on service, special events or reservations, and projected level of busyness (based on reservations or historic data, etc.).
Instruct
The instruct section of the pre-shift meeting is your opportunity to teach your team new skills or information.
For example, your chef could discuss menu adjustments, specials, or a limited availability featured dish; your bar manager could discuss a special featured cocktail or invite a rep from your alcohol distributor to come in and speak to proper pairing techniques.
Teaching your staff new soft skills will help them put their best feet forward when serving guests. It'll also help them develop professionally and advance their careers. Your front-of-house staff are the face of your brand to guests and prospective customers, and they should be able to give your guests a one-of-a-kind experience, with confidence and flair. Communicate what you expect that to look like on the floor.
Inspire
This is where the fun happens.
Focus on getting your staff excited for the shift ahead. Share an inspirational quote (avoid the cheesy ones), give a pep talk, or kickoff a contest. Contests, or employee gamification tactics, are popular ways for restaurant managers to use the power of healthy competition to drive sales and staff engagement.
Typically, these contests revolve around who can sell the most of a certain type of beer, cocktail, or appetizer in a given period of time. You can reward either individuals or the whole team for their efforts. For example, the three top sellers might get to hand off their side-work for a week, but if the whole team surpasses X number of units sold, they get a pizza party. Whatever the prize, make sure it's a great incentive.
The inspire part of your pre-shift meeting is also a chance for you to acknowledge or recognize team members who did an outstanding job in the past week. An accomplishment, no matter how small, is still worthy of praise.
Thank your staff trainers for onboarding assistance, your line cooks who busted out a big rush like champions, or recognize an individual for surpassing sales goals. Make it mandatory for your managers to find at least three team members or groups to thank for their efforts.
Employee Feedback Template
Use this customizable Word doc to guide self, peer, and manager reviews with your employees.
Get free download
Plan it out and write it down
Prepare the theme of your pre-shift meeting and talking points ahead of time. While there are many steps and processes that make up a great shift, one factor is certain: nothing beats preparation.
A pre-shift notes template is a great way to promote open communication between your team members, document what was covered during your pre-shift meeting, and track the progress on any to-dos that were assigned.
Post your pre-shift notes on a clipboard where every team member can see it. Rotate among your managers whose turn it is to facilitate the day's pre-shift meetings. Require managers to fill out the pre-shift notes in advance and share with the rest of the management team so everyone's on the same page.
You could also rotate the responsibility of running the pre-shift meetings amongst staff members, or have different staff members cover different sections. This will help staff get more involved in your restaurant's operations and feel comfortable presenting in front of large groups, a skill all servers need to have.
When it's time for the meeting, grab a blank version of the pre-shift notes template and go. Here's an example of what a pre-shift notes template could look like: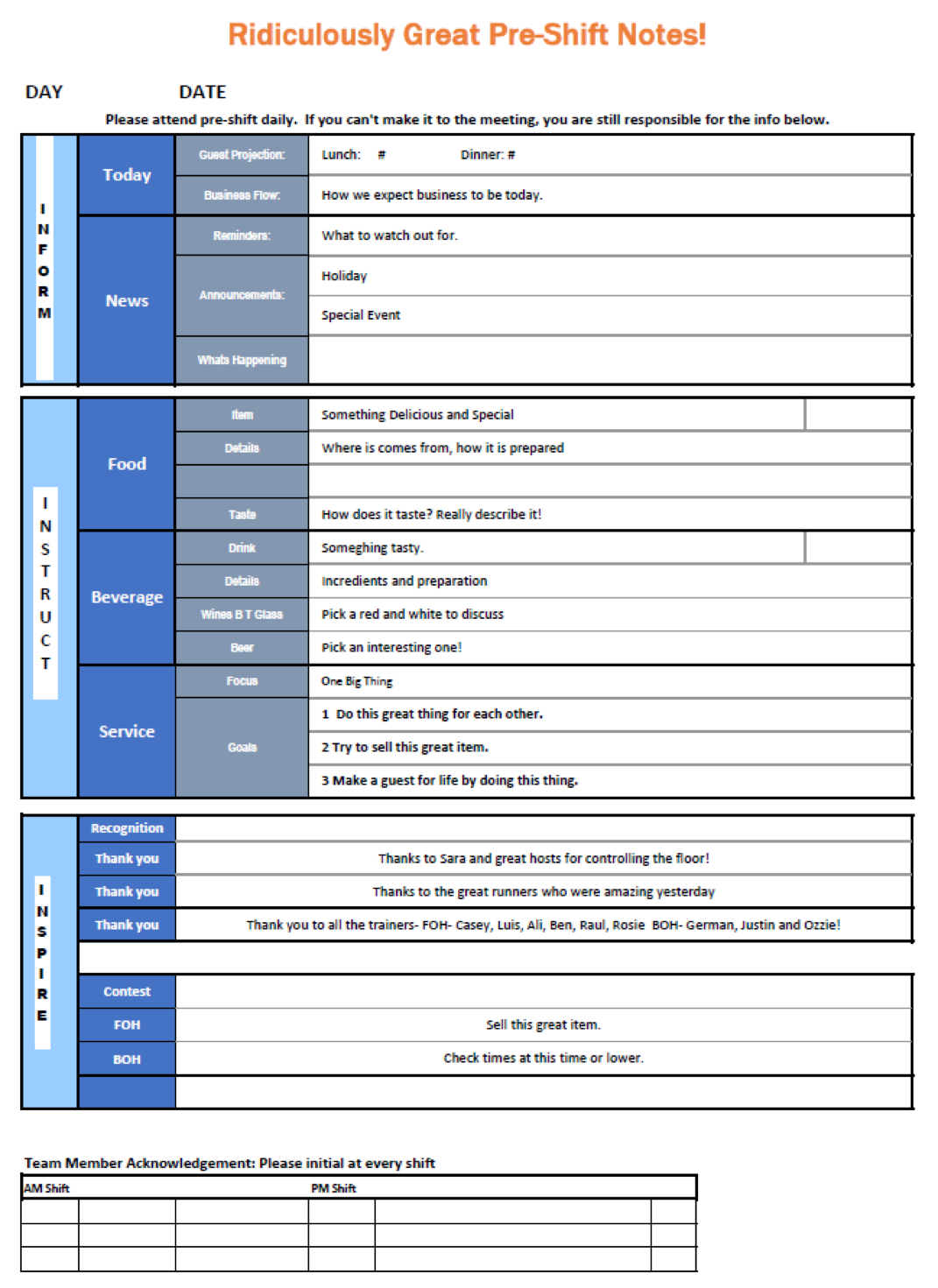 Your team's pre-shift meeting is more than a meeting. It can make your team happier and your restaurant run smoother. Through proper structuring and techniques, you can simultaneously focus and motivate your team, setting them — and your business — up for success in the shift ahead.
Related Restaurant Operations Resources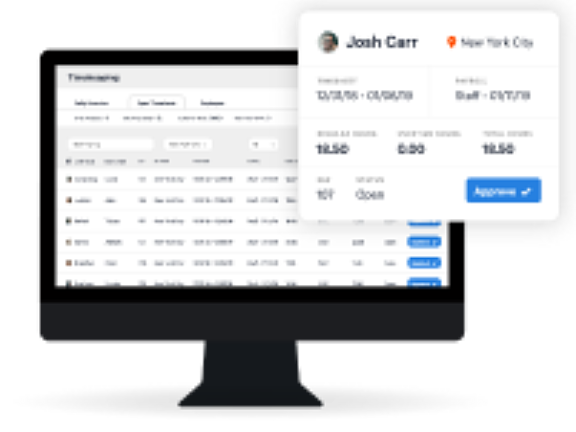 Learn how a better payroll system can save you time and make your staff happy.
Read now