Restaurant life is fast, and everything is about speed. Sometimes you get too wrapped up in paperwork or running the numbers to remember that you have an interview at 1 p.m. All of a sudden, your candidate is here — so you wing it.
But here's the thing: Job applicants can always tell when the person interviewing them is prepared, and when they're not. When you're familiar with an interviewee's impressive resume feats (or even just their name), you set a tone of respect that clues potential job candidates into how they'll be treated if they're hired to work in your restaurant.
Interviews work both ways. You're trying to decide if this candidate is the right fit for your business and will work well with your other employees; they are trying to determine if you seem like a good person to work for. Maybe they've already had a great interview today, and you being unprepared just solidified their choice to work for your competitor.
If you've put a job description up, your goal is to hire the best person you can. Make the caliber of your interview process fit the caliber of candidates you're looking for.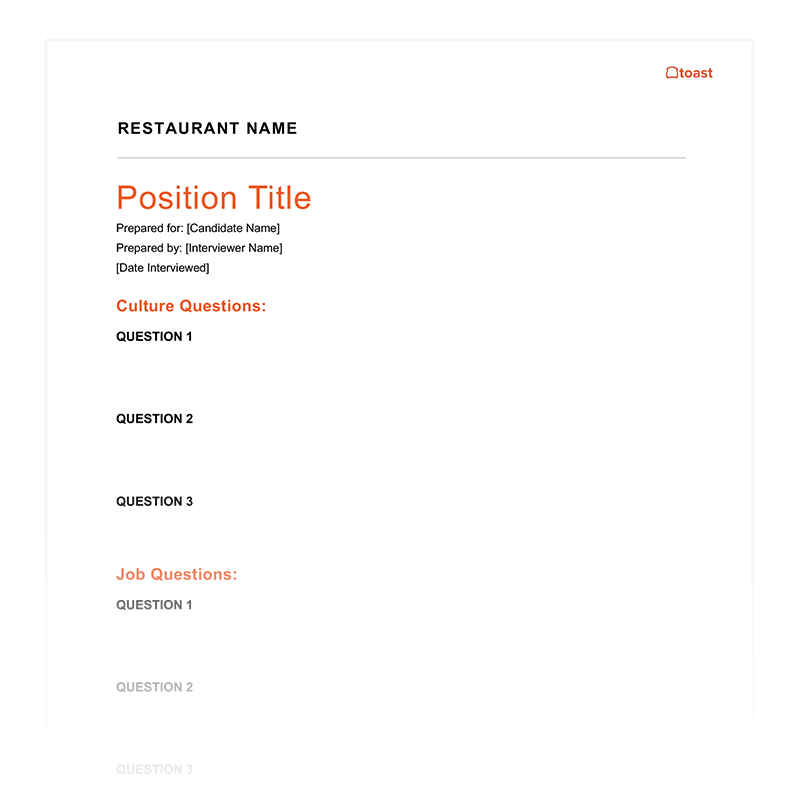 Interview Questions Template
With culture questions, experience questions, and situational questions, this customizable Word doc will guide your interviews with prospective candidates.
Download
Preparing for the Interview
When you seem prepared, calm, and excited to get to know the person you're interviewing, you'll be much more likely to get the information you need to know whether or not you want to hire them.
To get ready, think about the role you're hiring for and the job description you wrote for it. What does your candidate need to succeed? If you have trouble thinking of questions at first, don't worry! You'll find an expansive list later in this guide.
It's also important to do your homework before writing questions, so you're not asking for information already in the candidate's application. Comb over their resume and read letters of recommendation, if provided, so you don't waste precious time.
Interview standardization is a key factor in mitigating hiring bias (which we will dive deeper into later), so try to have a rough agenda that you follow for each interview. It's useful to clear 10–15 minutes before and after an interview time slot to ensure you're dedicating the same amount of time to each person, and leaving yourself enough room for additional questions. You should also decide beforehand if you'll start with a description of the role, or ask the interviewee to talk about themselves and their accomplishments first. With a general game plan like this in place, you'll look prepared and attentive while granting equal opportunity to each applicant.