No matter which role you just filled, your restaurant orientation and onboarding process is critical to the success of your new team member. A good onboarding process shows your new employee you care and that you go above and beyond for your staff. Setting this standard early on will make them happy they joined your team.
The onboarding process is everything that needs to happen between "you're hired" and "here's your station." There's plenty to get done during this period of the hiring and training process, and often, a some of these steps get glossed over or skipped altogether.
Here's a tip: You can delegate different parts of the onboarding process to different employees to lighten the load and so that more people on your team will have a chance to connect with the new hire before they get cooking (or serving or accounting or whatever).
In this guide, we'll walk through the details of what each step in the onboarding process involves. We'll also suggest when an employee can take on part of the checklist so it doesn't all fall on you.
One caveat — whether or not you delegate, but especially if you do, make sure each person responsible initials a tracking sheet to make sure every step gets done.
All these steps can be taken care of in a (paid) orientation shift for your new employee, which can range in length from two hours to a full day. If you have multiple employees starting around the same time, try to get them all in for an orientation together.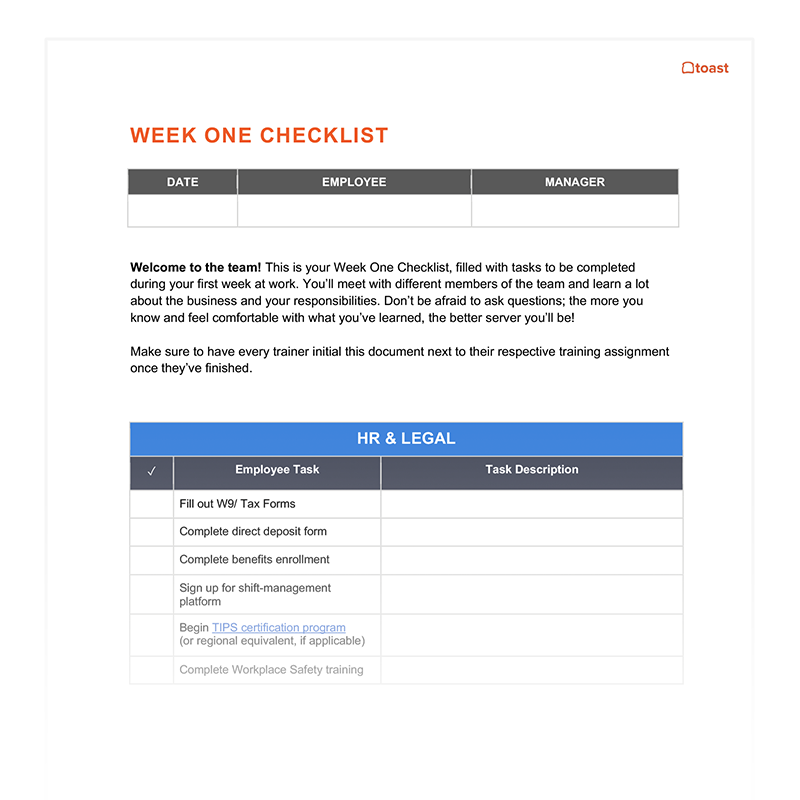 Week 1 Checklist
Help new employees start off right with this customizable Word doc of tasks for their first week, including HR, certifications, training, and more.
Download
New Hire Checklist for Restaurant Employees
Do the dang paperwork.
It's not fun but it must be done. Before your employee can get to work, you'll need to get all their paperwork in order. This crucial step should be done by a manager or owner.
The following two forms need to be collected and submitted:
W4 form to calculate how much federal tax you'll have to withhold from each employee's pay.
I-9 form, which is submitted to United States Citizenship and Immigration Services (USCIS) to make sure a new employee is legally allowed to work in the U.S.
Keep copies of all of these forms for every employee in their file.
Then, you'll need to report the employee to your state new hire registry.