DISCLAIMER: This content is provided for informational purposes only and is not intended as legal, accounting, tax, HR, or other professional advice. You are responsible for your own compliance with laws and regulations. You should contact your attorney or other relevant advisor for advice specific to your circumstances.
This content is for informational purposes only and is not intended as legal, accounting, tax, HR, or other professional advice. You are responsible for your own compliance with laws and regulations. Contact your attorney or other relevant advisor for advice specific to your circumstances.
As a restaurant owner or operator, your job is to protect your business and your team.
An employment agreement is a document that outlines the rights, responsibilities, compensation, and restrictions of an employee.
Though similar in nature, employment agreements and job offer letters are not the same thing. Here's how they may be different .
A restaurant job offer letter is a summary of the position being offered to the job applicant, including the name of your business, their intended title, their start date, compensation, and any guaranteed employee benefits. Offer letters may be extended to anyone you've offered a position on staff, though most restaurants don't extend formal offer letters to hourly employees. We've included a customizable, restaurant job offer template below to help you get started off on the right foot.



A restaurant employment agreement is usually legally binding, details in full the obligations, expectations, compensation, and rights of the employee, and is typically reserved for higher-level employees who have authority over key business decisions and access to sensitive information about how the business is run.
In this post about restaurant employment agreements, you will learn:
Which positions sometimes have an employment agreement and why

Why some restaurants have staff sign an employment agreement

What are some common pieces of an employment agreement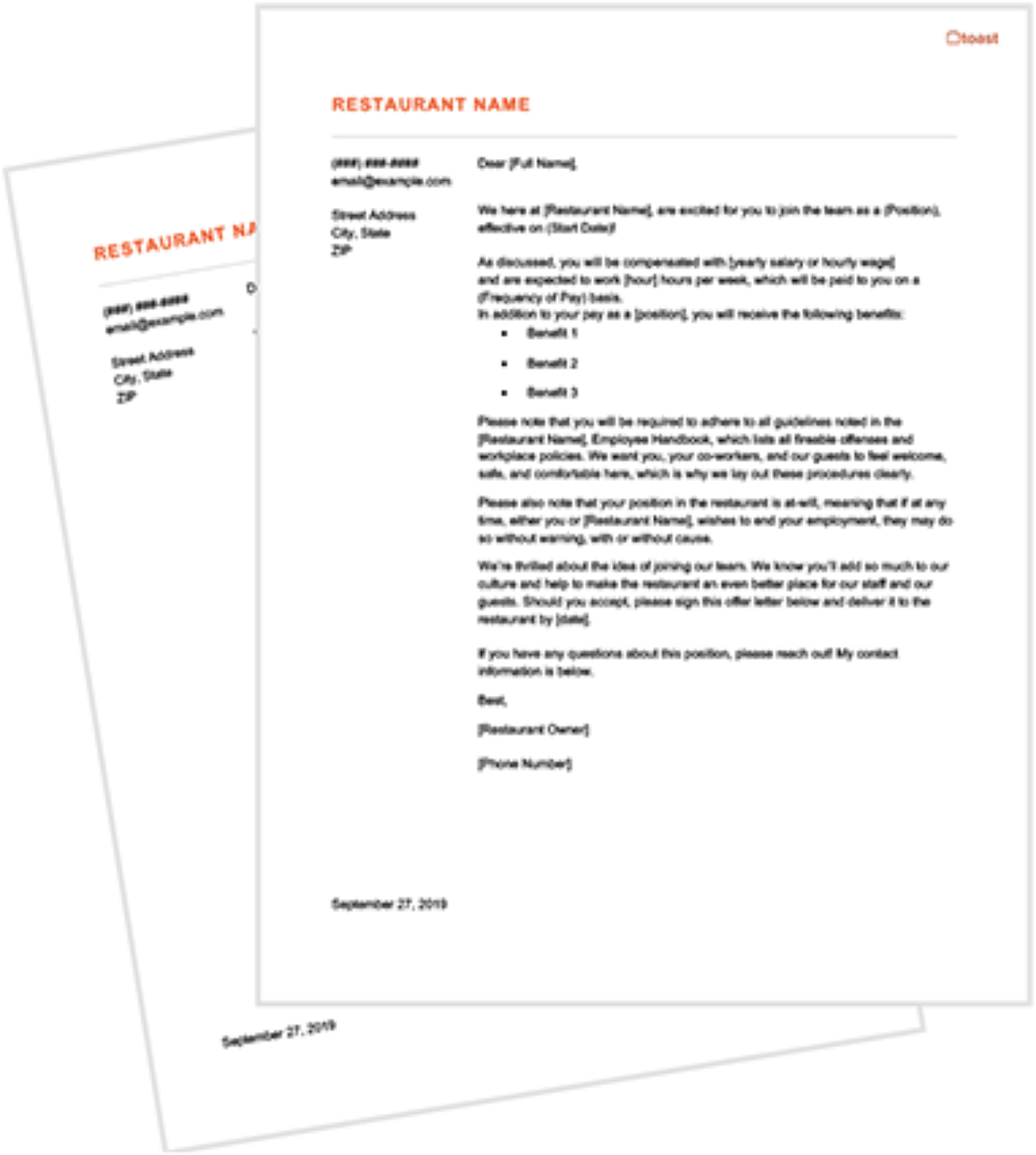 Offer Letter Template
When offering jobs to new hires at your restaurant, use the offer letter template to outline wages, benefits, and expectations.
Download
Which Restaurant Positions Sometimes Have an Employment Agreement?
Employment agreements are typically extended to upper-level employees in a business. In a restaurant, these are typically employees who:
Are salaried

Have the authority to make and execute on key business decisions

Play a strategic role in developing and overseeing your day-to-day operations and processes

Know sensitive information about how your restaurant is run

Could potentially leave and re-hire your existing staff at another restaurant
With the above description in mind, the following common restaurant positions might warrant an employment agreement upon hiring:
District or regional manager

General manager

Executive chef

Kitchen manager

Front-of-house manager

Bar manager

Sommelier
There might be other employees who work in roles that expose them to sensitive information about how your restaurant is run, like a sous-chef, who you might want to consider having sign an employment contract, too.
In the restaurant industry, hourly employees in the restaurant — those working on the line, behind the bar, at the host stand, or on the floor — are sometimes given a job offer letter when they're extended an offer of employment, but not often. In most restaurants, the hiring manager will give a verbal offer, and then on the employees first day they're given a copy of the restaurant's employee handbook, which the new-hire is required to sign after reading.
Why Some Restaurants May Have Staff Sign an Employment Agreement
Depending on your business, having your more senior restaurant employees sign an employment agreement might be a way to look out for the health and wellbeing of your business while also respecting their rights as an employee.
Running a successful restaurant requires a team who's willing to lend their time, energy, and creativity to the cause.
Take your executive chef, for example, who's undoubtedly one of your most important hires. Your restaurant's executive chef is master and commander of your kitchen. They provide the creative genius to power your brand, delighting your guests night after night with dishes that are as appetizing to the stomach as they are to the eyes. The intrinsic role they play in developing and perfecting what is debatably your restaurant's most important and iconic asset may be grounds for a contract.
It's also common in the restaurant industry to see executive chefs pursue opportunities outside their current role to hone their craft, grow their personal brand, and expand into new profitable business ventures. A chef choosing to grow their personal brand outside the four walls of your restaurant may be grounds for a contract.
Chef Chris Hill on Building Your Brand
Chris shares stories of his first days working in the Atlanta Fish Market up to working as a renowned cook and influencer in the restaurant industry.
What are the common elements of a restaurant employment agreement?
The following section is an overview of some of the content that typifies an employment agreement. It's provided for informational purposes only and not for the purpose of providing legal, employment, career, or other professional advice. Employment agreements and the processes around deciding what to include vary from business to business, so for detailed instructions and advice about how to approach creating a restaurant employment agreement, consult with your legal counsel directly for the most accurate information
A restaurant employment agreement should be unique to your restaurant, the position, and the role of the employee in your business.
In general, an employment agreement may include, among other things, provisions about:
The employee's role and responsibilities

The employee's compensation and potential bonuses

How they're expected to conduct themselves inside your business

Working for the competition

Causes for suspension, dismissal, or termination
1. Employee's name, title, and start date, and your restaurant's name.
This one's pretty self explanatory: Many employment agreements start with a simple sentence that includes the new employee's name, your restaurant's name, their position, and their start date.
2. Compensation
Typically, compensation or salary is first reflected as an annual lump sum, then broken down into the amount they're paid in a pay cycle. For example, if your employees are paid bi-weekly, you may want to explain in your agreement what the employee's annual salary is, and what they can expect to be paid on those pay dates.
3. Job description
Including a well-thought-out, detailed job description promotes transparency with your team from the start. By having a clear job description, there will be little room for ambiguity or confusion with respect to the expectations of your employee. This may make it easier to hold your employees accountable for outstanding work or when things go wrong.
Restaurant Job Description Resources from Toast:
5. Causes for termination
In the majority of states, employees are considered "at-will," meaning they can resign and be fired at any time and for any reason (with a few exceptions, including terminations based on race, age, or gender). Senior employees, like a regional manager or general manager, will sometimes negotiate employment agreements so that they might only be fired for "cause" (i.e., for good reason).
6. Image & Publicity Terms
The rising popularity of celebrity chefs and mixologists has opened new doors for many executive chefs and bartenders around the country with entrepreneurial ambitions. It has also become a consideration for diners: When deciding where to eat, guests are not only interested in the menu but who's behind the menu.
The success of your restaurant can shine a spotlight on your executive chef or bar manager, and, alternatively, the existing popularity of a chef or bartender might propel your restaurant into the spotlight.
Since established chefs and bartenders have the ability to draw crowds, you may want to consider including provisions in your employment agreement that allow you to use the name and image of your chef or bartender in advertising and promotions for your restaurant, so long as the chef or bartender remains with your restaurant.
Related Restaurant Operations Resources