Restaurant Marketing: Your Guide to Marketing a New Restaurant
After a rough year wherein the restaurant industry worked to survive hit after hit, things are beginning to look up. Not only are restaurants beginning to see the light of a bright and promising future, but more and more restaurants are emerging each day, eager and excited to join the party. 1.6 million new restaurant jobs are projected to be created in the next ten years.
The industry is expanding. For new restaurants looking to add their voice to the conversation, this means spending more time on marketing to ensure you get heard amongst all the noise. By taking your marketing in creative and enticing directions, new restaurants can successfully introduce themselves to their future customers and become a valuable contribution to their communities.
Let's dive into everything you need to know in order to effectively market a new restaurant.
Why is marketing important for restaurants?
Whether they are a chain with dozens of restaurants scattered across the country or the flagship offering of a mom and pop passion project, all restaurants benefit from marketing. Restaurant marketing is how you spread the word about your restaurant in order to attract customers.
For new restaurants intent on making a name for themselves, how and where you market your new place could mean the difference between having an opening month with your dining room at full capacity or seeing an opening quarter in the red.
Not only do new restaurants need to present themselves to the public through marketing in a way that entices customers to come in and see what all the hubbub is about, but they are also tasked with initially introducing themselves to their community. Sure, customers may be curious enough to checkout your restaurant based on the size and shape of your "Now Open" banner alone. But to really make a good first impression, new restaurants need to use their marketing to communicate their purpose and clear brand voice. The more that customers feel they know about your origin story and what compelled you to open the restaurant in the first place, the more willing they will be to choose your restaurant on their night out over one of their old favorites.
For established restaurants looking to hone their marketing strategy, here is the comprehensive guide to Restaurant Marketing.
RESOURCE
Restaurant Marketing Plan
Create a marketing plan that'll drive repeat business with this customizable marketing playbook template and interactive calendar.
How do you attract customers to a new restaurant?
The main purpose of marketing for new restaurants is to create an appealing reputation for your place that is a genuine reflection of your values and purpose behind opening.
It's also an opportunity to make sure your restaurant can be found online and that your potential patrons know how, when, and where to find you.
It can be difficult to attract customers to a new restaurant. Sure, you have the allure of being a new undiscoverable experience to fuel interest in your place. But on the other hand, you are up against who knows how many established spots that have the advantage of having pre existing relationships with the customers you are trying to attract. Overcoming this unavoidable bias takes clear and direct marketing that answers customers questions before they have the time to answer them.
When it comes to choosing a restaurant, customers are looking for restaurants that:
Are clean

Serve properly prepared food

Offer a variety of menu items

Provide an ideal ambiance

Are appropriately priced

Communicate their hours and specials accurately online
The added challenge presented to new restaurants is that on top of all of these qualities, restaurants that are new on the scene also have to:
Offer customers a new experience

Transport dine-in customers with their unique atmosphere

Have a clear voice and brand messaging

Communicate why they are necessary to the community
To be comprehensive, the marketing campaign you craft to introduce your restaurant to the surrounding community should communicate to your potential customers how you intend on achieving these goals.
5 Steps for Marketing a New Restaurant
With the right marketing strategy, any new restaurant can make a name for themselves in no time. By the end of these five steps, you'll have a line around the block of people waiting for a seat at the hot new place they've been hearing so much about and can't wait to try.
1. Write your restaurant's mission statement.
Your mission statement is an overview of the goals of your restaurant and your purpose as a restaurant owner. In addition to serving as your introductory statement to new customers, your mission statement should also include your restaurant objectives and reason for being. Once you write your mission statement, use the language you've chosen to drive the rest of your marketing campaign in order to present cohesive messaging to customers.
An effective mission statements answers the questions:
What does your restaurant do?

Who do you serve at your restaurant?

What are your goals as a restaurant?

What is your restaurant's purpose?

What does your restaurant believe in?

How does your restaurant work toward achieving your goals?
For a complete breakdown of how to write an effective mission statement that accurately reflects your company values, here is how A Mission Statement Can Bring Your Restaurant's Values to Life.
2. Establish an internet presence for your new restaurant.
In 2021, having an internet presence is necessary for restaurants. A staggering 90% of customers check out a restaurant online before dining there, which means that if you don't have even a simple website for your restaurant then you will be unlikely to be discoverable. And not only is an internet presence essential for restaurants to be found, they also present a great marketing opportunity.
Websites are infinitely customizable. If a restaurant does a good enough job of crafting a well designed, user friendly, and informative website for itself then it has already done a solid amount of marketing heavy lifting.
Find resources for creating your restaurant website here:
In addition to creating a website, it's best practice to set up a Google My Business listing, which appears when people search for your website on Google. (You can integrate your Google My Business account with Toast and automatically update your restaurant hours and information, which helps patrons find your up-to-date hours online.)
Now, you can move forward and use your website as a landing page from which to direct all of your social media efforts. Speaking of...
3. Design your restaurant social media strategy.
The primary goal of new restaurants is to create a good reputation for yourself, an effort that starts with generating positive brand awareness for your restaurant. To do so, creating social media accounts for your restaurant is a good first step that puts you directly into the conversation with your potential customers. Not only can you use your social pages to promote the opening of your new place, but it serves as a prime location to show off your restaurant's personality in order to engage with customers.
As you move forward you can continuously use your social media presence to stoke interest in your restaurant and advertise promotions, menu changes, or holiday closures.
When you use social media to market your restaurant, you aren't alone. 91% of restaurants have Facebook accounts and 78% are present on Instagram, which is a big leap from only 24% of restaurants having Instagram accounts in 2018.
4. Introduce your new restaurant to the community.
No matter where your restaurant is precisely located, every new restaurant that emerges immediately becomes a member of its surrounding local community. For restaurant owners and managers, this means it is your responsibility to make it clear to your local community members why you have chosen the location you did to house your restaurant. The more active a restaurant is in their community, the easier of a time they'll have maintaining customer loyalty.
One good way to make a good first impression on your local community is to host an event or sponsor a charity. It's actions like these that let your customers know that not only do you provide them with a fun and delicious meal experience, but that you are also a beacon of good. With 53% of restaurant owners saying that they plan to invest in being a community event or charity sponsor, it's clear that this marketing trend is catching on.
5. Don't be afraid to re-introduce your restaurant online.
Of course, it's important to focus your marketing efforts on making a solid first impression with your customers in order to generate initial interest in your restaurant and spread brand awareness. However, it's also important to remember that when it comes to spreading awareness about a new restaurant, sometimes there is an opportunity for more than one first impression.
Creating hype and maintaining buzz about a restaurant can be difficult for those establishments that are struggling to gain traction. In these cases, restaurant marketers should take it as an opportunity to reintroduce themselves to the community in another effort to spark awareness.
Take the kickoff of a new season as a way to kick off renewed interest in your restaurant. For example, advertise a weekend celebrating the beginning of Fall, with autumnal drink specials and deals on seasonal apps or dishes. Treat the entire weekend as a community party, hire a local musician to remind customers of your place as a member in the community.
Best Practices for Marketing a New Restaurant
When marketing your restaurant, remember to abide by best practices such as:
Creating genuine marketing content that is an accurate reflection of your restaurant's mission statement.

Take the time to develop a unique brand for yourself that is both distinct and welcoming.

Find out what is stopping customers from coming to your restaurant, and tweak your marketing to retarget hesitant customers.

Make a name for yourself as a community member by participating in local events and initiatives.

Maintain your restaurant's online presence and keep a close eye on ensuring hours and contact information are up-to-date.
For a complete guide on all that it takes to successfully market a restaurant, download our Restaurant Marketing Guide today.
Related Restaurant Marketing Resources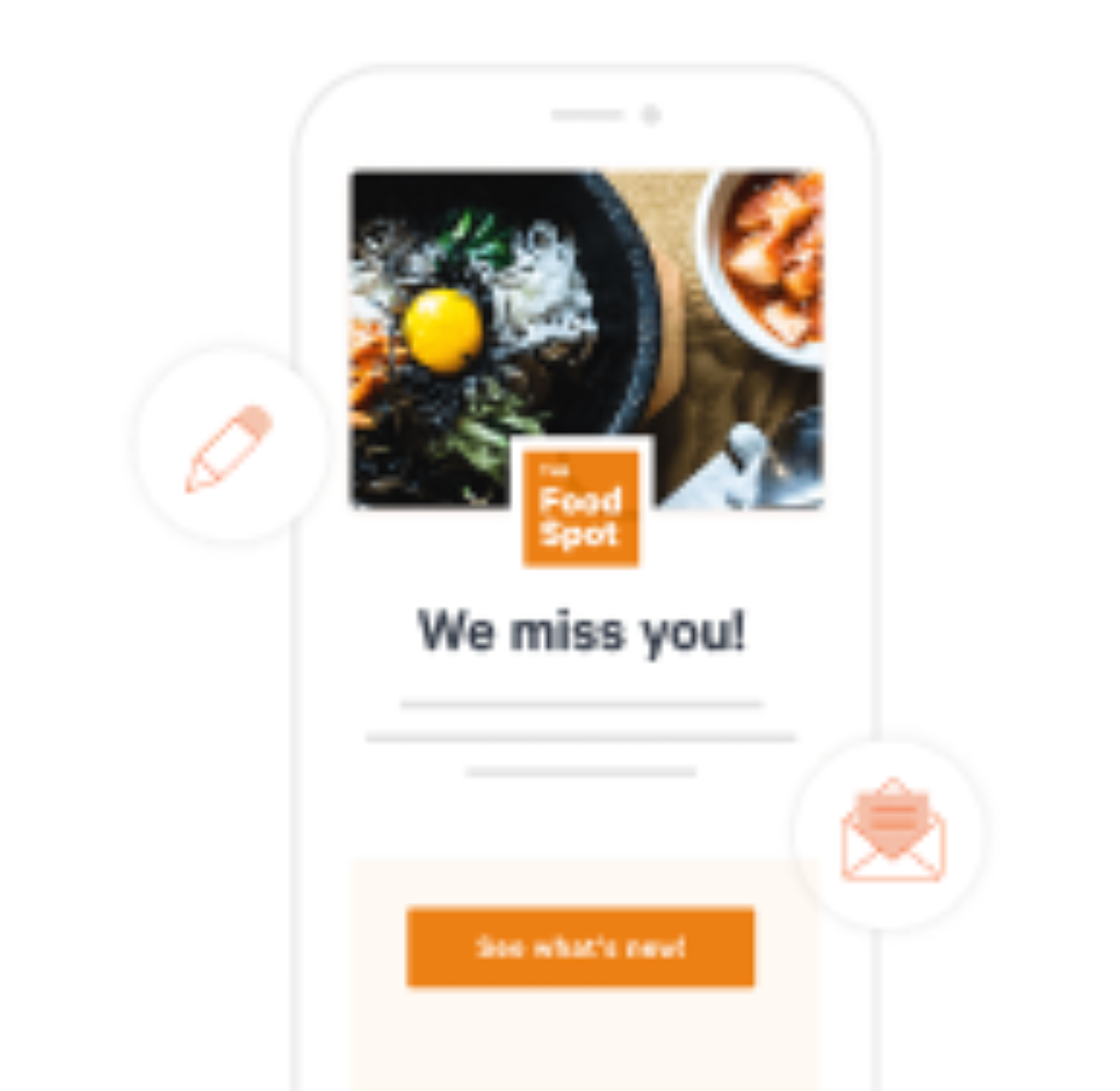 Tech Tip
Learn how guest marketing tools can help you get your customers coming back.
Read more
DISCLAIMER: This information is provided for general informational purposes only, and publication does not constitute an endorsement. Toast does not warrant the accuracy or completeness of any information, text, graphics, links, or other items contained within this content. Toast does not guarantee you will achieve any specific results if you follow any advice herein. It may be advisable for you to consult with a professional such as a lawyer, accountant, or business advisor for advice specific to your situation.